Well, that didn't last long.
Per Adrian Wojnarowski of Yahoo! Sports, Doug Collins has informed the Philadelphia 76ers that he will not be returning to coach the team next season.
Collins spent just three seasons as the Sixers' head coach and his tenure in the City of Brotherly Love was anything but smooth.
Philadelphia never reached contender status under his tutelage, and his brief stint was marked by a number of in-house controversies, all of which (likely) contributed to his eventual departure.
Just how turbulent was Collins' incumbency?
More than anyone could have realistically foreseen.
May 21, 2010: Doug Collins Returns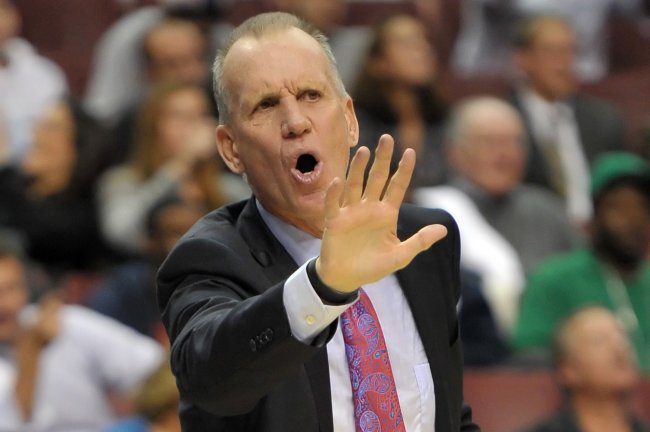 Drew Hallowell/Getty Images
Following a disastrous 2009-10 campaign that saw the Sixers go 27-55, Collins was hired to replace Eddie Jordan and help right the ship.
At the time, Collins seemed like the perfect fit. He spent eight years with the organization as a player after they drafted him with the top pick in the 1973 NBA draft.
"Doug Collins is a coach that can make an immediate impact," said Comcast-Spectacor chairman Ed Snider (via ESPN.com). "He has all the attributes that we are looking for in a new head coach and we are happy to welcome him back into the Sixers family."
Like I said, this seemed to be the perfect pairing. Collins had history with the Sixers and an attachment that other candidates didn't. Under him, the Sixers would eventually recapture the magic that stemmed back to Larry Brown's days at helm.
Or, rather, they were supposed to.
April 27, 2011: Improvement Through Disappointment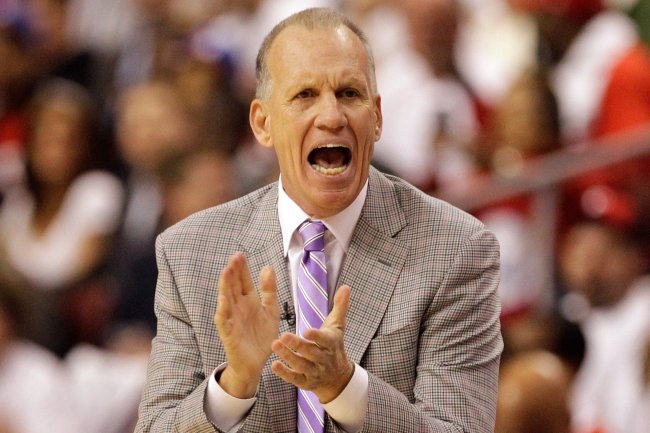 Rob Carr/Getty Images
In his first year as the head coach, Collins led the Sixers to 14-game improvement. That 41-41 record was good enough to secure seventh place in the Eastern Conference.
Philadelphia went on to lose in the first round against the eventual conference champion Miami Heat, but knowing what the team had faced just one year ago, that was enough for most Sixer fans.
The Sixers were trending up under Collins, and this was to be the first of many playoff berths, a building block that would one day culminate in legitimate championship contention.
February 13, 2012: Atlantic Division Bliss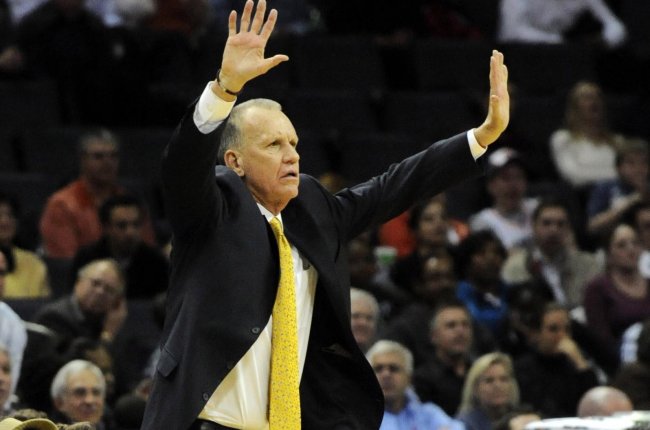 Sam Sharpe-USA TODAY Sports
"Pinch me."
That's what crowds of Sixers fans were likely saying after their team beat the Charlotte Bobcats and improved to 20-9 through the first 29 games of the shortened 2011-12 season.
At this point, Philadelphia was sitting atop the Atlantic Division, in front of both the New York Knicks and Boston Celtics. Though not considered a powerhouse, the Sixers were emerging as a dark-horse contender.
But while the team's stingy defensive ways would last, the same could not be said of their place in the division.
March 21, 2012: Collins Not a Fan of Evan Turner
Following a loss to the Knicks, Collins ripped Evan Turner's offensive game.
To be fair, so many of us have criticized Turner's offensive prowess (or lack thereof) before this season, but this wasn't Collins' first beef with the former second overall pick.
Turner, himself, once expressed a fondness for the way Collins yelled and pushed him and the rest of the Sixers, but something tells me that public castigation isn't what he was talking about.
Of course, young Evan isn't exactly someone for whom Collins has been willing to make an exception. He was no stranger to berating some of his other players (spoiler) during his stay in Philly.
April 4, 2012: Thaddeus Young and Collins Not on the Same Page...or in the same Book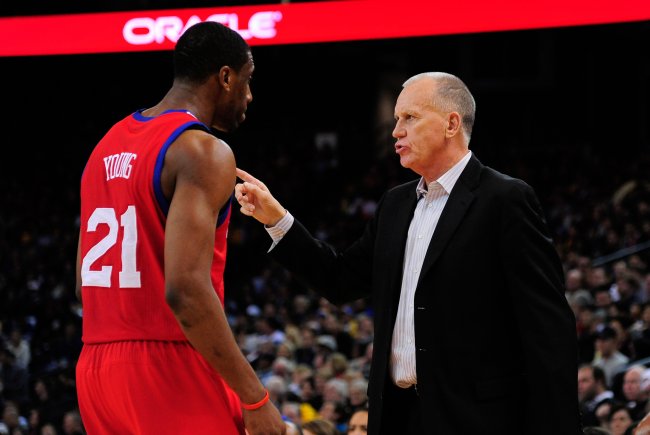 USA TODAY Sports
I told you it wasn't just Turner.
Toward the end of the lockout-truncated 2011-12 campaign, Collins openly questioned the health and stamina of Thaddeus Young, essentially deeming him overtired.
Young, however, had no idea what his coach was talking about (via Bob Cooney of The Inquirer):
I'm fine, I'm good. I keep telling coach I'm fine but he keeps telling me I'm worn down. I know how my body feels. I'm good. Coach says that I'm worn down, so I can't change what he's thinking. All I can do is go out there and keep continuing to play and not worry about what coach is thinking about being worn down. I'm just going to continue to play, continue to stay healthy and be great.
Collins remained steadfast in assessment, reiterating the need for himself to keep Thad's minutes down:
I try to keep away from putting him in the game too early, that's what I try to do," Collins said. "With Spencer [Hawes] able to play his minutes, now I can get to that 3- or 4-minute mark without having to go to Thad and I think that's important. He reminds me of [former Sixer] Bobby Jones that way. Bobby was geared to play X number of minutes, and if he didn't play the first 8 of the game or the first 8 of the third, then he only had 32 minutes left, and I just think for Thad, we have to keep him fresh.
I understand the whole "Coach knows best" adage, but no one understands a player's body better than that player himself. If Collins had been able to cite specific examples or games when Young was lagging, then at least we (and Young) would have had a rhyme or reason to his methodology.
But he didn't, which left Young and the rest of us wondering why Collins felt it such an imperative to conserve the energy of a youthful and athletic talent.
April 8, 2012: Tough Love for the Philadelphia Softees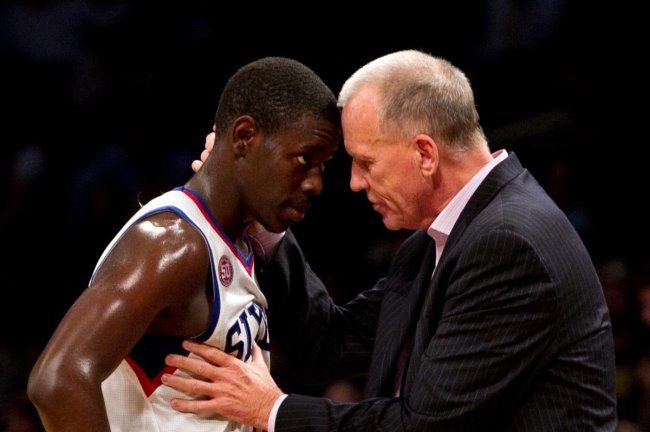 Debby Wong-USA TODAY Sports
Collins is blunt. We know this. So are we really surprised that he dealt his team a low blow after they were picked apart by the Celtics?
Following the 24-point beatdown, Collins felt it pertinent to call the Sixers "sensitive" and "fragile" (via Kurt Heilin of NBC Sports' ProBasketballTalk):
The one thing about players today is that they're very sensitive, and very fragile. They didn't grow up with tough coaches. You know, I had my ass kicked since I was six. It's a different time, and so I treat this team very much with kid gloves. I really do, and I'm still looked at as an ogre…

It's terrible, I mean, it's hard. It really is hard...I honestly find myself during the games looking at the coach [and asking], 'Was I alright with those guys during that timeout? Did I hurt anybody's feelings? Was I OK?'… 'Coach, you're fine, you're fine'… I said 'OK, OK, I just wanted to make sure I didn't hurt anybody's feelings.' That's the sensitivity, and the younger the guys, it seems like the more sensitive. And that's what you're wrestling with.
If you're ever in need of a good conversation about the diminishing psyches of today's professional athlete, Collins is your guy.
What Rondo did to the Sixers that prompted Collins to go off on them.
Regardless of whether Collins is correct in his assessment or not, does he really think that his rant would've been the way to reach his players? He's openly admitting that they're soft, and then berating them for it.
If he really believed he was supposed to coddle the athletes in his care, he should be buying them ice-cream sundaes, not belittling the hell out of them.
Incidentally, the loss against the Celtics came on Easter Sunday, but there was no candy-giving of any kind from Collins. He opted to adorn his team with baskets full of hot vitriol instead.
May 26, 2012: Bittersweet Ending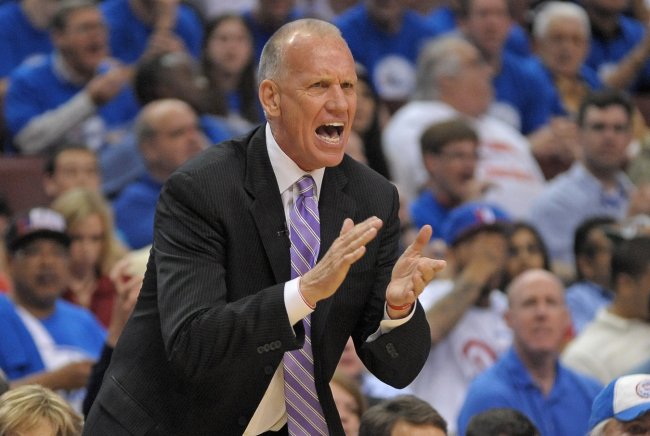 Eric Hartline-USA TODAY Sports
After beginning the season 20-9, the Sixers went 15-22 the rest of the way, finishing eighth in the Eastern Conference and earning a first-round date with the top-seeded Chicago Bulls.
One injury to Derrick Rose later, and the Sixers found themselves advancing through to the second round against the Celtics. Philadelphia fell to Boston in seven games, coming within one victory of an Eastern Conference finals berth.
On the one hand, Philly's surprising run was cause for celebration. On the other, it wasn't. Had Rose not gone down, there's a strong chance the Sixers wouldn't have gone as far as they did.
Toss in their midseason collapse and the need for change trounced any satisfaction the team's postseason excursion had yielded.
June 12, 2012: More Power, Please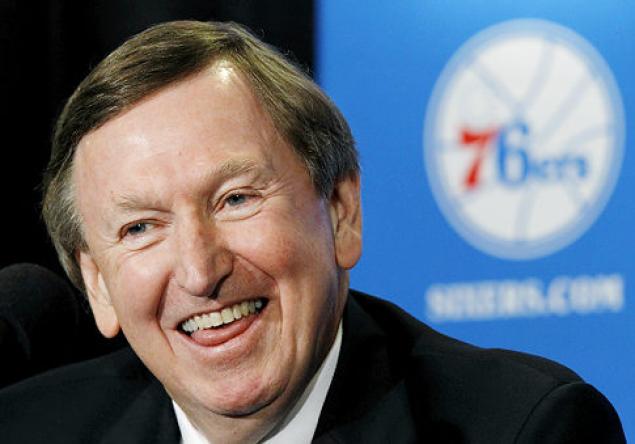 Entering the 2012 offseason, what did Collins want?
More. Power.
(Cue Tim Allen "more power" grunts.)
As the Sixers began a search to replace Rod Thorn, reports surfaced that the relationship between Thorn and Collins was fractured and cited the latter's desire for more organizational control as the cause (via Adrian Wojnarowski of Yahoo! Sports):
Philadelphia 76ers coach Doug Collins is making a push for increased organizational power and has been a driving force behind the movement to replace team president Rod Thorn, league sources told Yahoo! Sports...The Thorn-Collins relationship has been problematic for the franchise for two years, and it grew more strained this past season with the departure of GM Ed Stefanski, who had served as a buffer between the executive and coach.
Collins was apparently pushing for Danny Ferry to succeed Thorn, but the Sixers eventually settled on Tony DiLeo as general manager. Thorn retained his role as team president and all was forgiven.
Just kidding.
July 19, 2012: In Kwame, Collins Trusts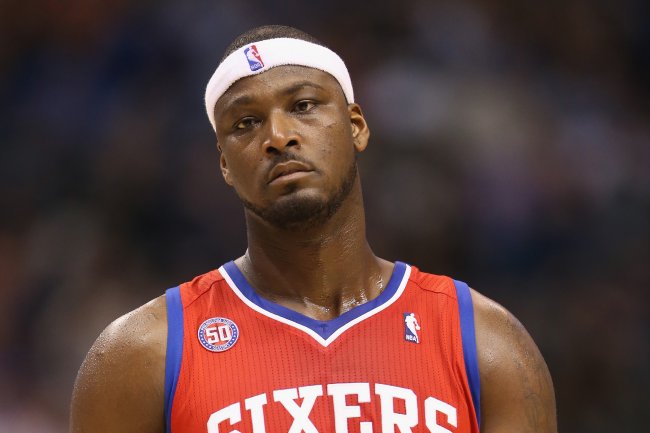 Ronald Martinez/Getty Images
This one still puzzles me.
Immediately upon signing Kwame Brown, Collins declared that he would be the Sixers' starting center (via John N. Mitchell of The Inquirer):
How highly does Sixers coach Doug Collins think of former No. 1 overall pick Kwame Brown at this point in his career? Highly enough to anoint him the team's starting center months before the Sixers are to convene for training camp.

Speaking Tuesday afternoon at a news conference at the Philadelphia College of Osteopathic Medicine, Collins said he expects to start Brown and slide Spencer Hawes, last season's starting center, over to power forward in a lineup that will also see Jrue Holiday, Evan Turner, and Andre Iguodala back in the starting lineup.
I get the whole "let's shift Spencer Hawes to power forward" spiel, but when given the choice to include Brown in your starting lineup and to not include him, you always go with the latter.
Always. No excuses.
Somewhat luckily, Collins was saved from his own proclamation. Injuries limited Brown to just 22 games during the 2012-13 campaign, and he started just 11 of those.
Depleted as the Sixers wound up being, I shudder at the prospect of what it would have been like to watch Brown start in Philadelphia all season long.
August 12, 2012: Hello, Bynum. Happy Trails, Iggy.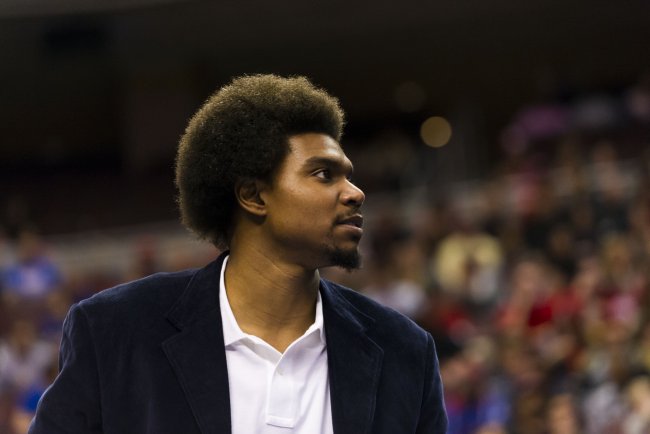 Howard Smith-USA TODAY Sports
As part of the four-team trade that was known as the Dwight Howard blockbuster, the Sixers procured the likes of Andrew Bynum from the Los Angeles.
While the pact cost the team Andre Iguodala, Bynum was supposed to make a better franchise cornerstone. Not only would he prevent Collins from voluntarily starting Kwame Brown, but he was coming off his first All-Star campaign.
This was the beginning of something amazing.
In very un-Collins-like fashion, Dougie took the diplomatic approach when welcoming Bynum to the team and bidding adieu to Iguodala (via Kurt Heilin of NBC Sports' ProBasketballTalk):
When you think about adding Andrew Bynum, a big man who can score in the paint, rebound and block shots — something we desperately needed — and Jason Richardson adds another shooter to our lineup, so I'm very excited.

On the flip side of that you have to trade somebody and Andre Iguodala had a brilliant career for the Philadelphia 76ers. I coached him for two years, he helped me win a lot of games. I'm very, very appreciative of him and I wish him well in Denver.
Collins was excited. Philadelphia was excited. Even without Iggy, all seemed right in Sixer land.
October 1, 2012: Two More Seasons of Collins...We Think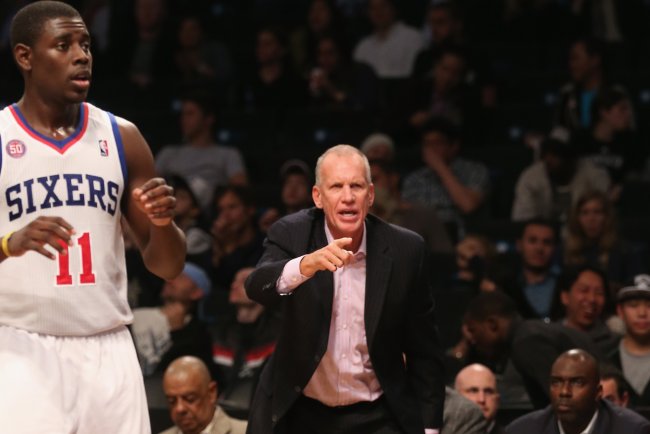 Bruce Bennett/Getty Images
Prior to the start of the 2012-13 campaign, the Sixers picked up the 2013-14 option on Collins' contract.
He had signed a four-year deal in 2010 and after two straight seasons in which he guided Philadelphia to the postseason, it appeared he was destined to spend at least another two years ambling the sidelines there (2012-13 included).
With Bynum now in tow and the Sixers being heralded as Eastern Conference contenders, the move seemed like a no-brainer. Why wouldn't Philly want Collins around for a few more years at least?
Soon enough, that question would go from rhetorical to genuine.
October 30, 2012: Who Needs Math When You've Got Guts?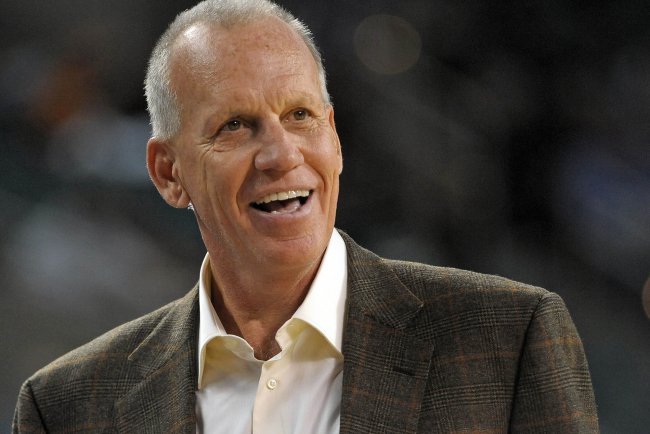 Eric Hartline-USA TODAY Sports
Collins doesn't like advanced statistics. Not even slightly. He abhors them. Like he would blow-his-brains-out hates them.
Seriously? Seriously.
His preferred method of coaching is comprised of the extensive use of his gut (via Mike Jensen of The Inquirer):
76ers coach Doug Collins was asked the other day if he was an analytics guy.

"No. If I did that, I'd blow my brains out," Collins said after a practice last week. "There's 20-page printouts after every game - I would kill myself."

"My analytics are here . . ." Collins quickly pointed to his head. ". . . and here." He pointed just above the white waistband of his Sixers sweat suit - to his gut.
I'm not saying that Collins should be pouring over 20 pages of analytics after every game, but there's strength in numbers. They tell you things. They help you discover facts.
For instance, through their first 80 games of the season the Sixers are 33-47, and they will not be making the playoffs (see what I did there?)
And that's not even advanced stats we're mulling over there. Just imagine what Collins could have accomplished had he embraced the mathematical side of basketball.
Somewhere, Daryl Morey is shaking his head in disapproval of Collins and muttering, "tisk, tisk."
January 15, 2013: Are the Sixers Tuning Doug Collins Out?
Following a mid-January loss to the New Orleans Hornets, the Sixers dropped to 16-23 and all hell appeared on the precipice of breaking loose.
The team had played inconsistent basketball all season, Bynum was still nowhere to be found, and Collins was on the brink of imploding.
Fittingly enough, Collins went off (sort of) on The Inquirer's John N. Mitchell after he asked if the Sixers were beginning to tune Collins out.
"Are you kidding me," Collins asked. "You're kidding me, right? You're digging."
Let this be a lesson to all the young and budding beat reporters out there: If you ever come across a team Collins is coaching, be careful what questions you ask, because he may tear you a new one in front of all your peers. And if you're as sensitive as his players, he may even make you cry.
In case you're wondering, he went on to say the answer to that question was "no."
February 26, 2013: Collins Goes Bonkers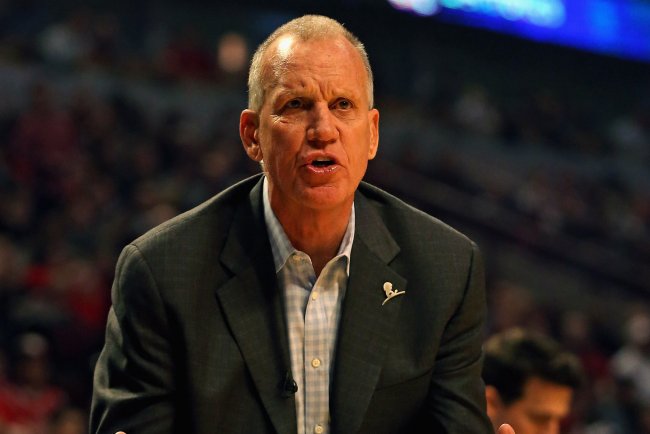 Jonathan Daniel/Getty Images
And you thought the post-game presser following the Hornets game was colorful.
After watching his team get pummeled by the lowly Orlando Magic, Collins went off. Completely off. Like "I'm not entirely convinced he wasn't trying to get fired" off.
Normally, I wouldn't force you to endure through a video 10-plus minutes in length, but this one is more entertaining than anything. It's worth a watch. All of it.
Here's a brief snippet of what it has to offer. Collins was discussing the benching of his starters (via CSNPhilly.com):
Hey, you know what? They weren't getting it done. What were we down, 17? We went from seven to 17. And I go back to [coach Hank Iba], that voice I always here [sic], "Hey son, if you don't want to play, your substitute does. Give somebody else a chance." We did and we cut it to five.
That only begins to scratch the surface of what Collins divulged in this presser. He was animated, honest and, quite frankly, unabashed by anything he had to say.
It was just legendary. How legendary?
Let's put it this way: Philadelphia hasn't seen an interview this eventful since Allen Iverson reminded us all that we were talking about practice.
April 11, 2013: Do the Sixers Want Collins Gone?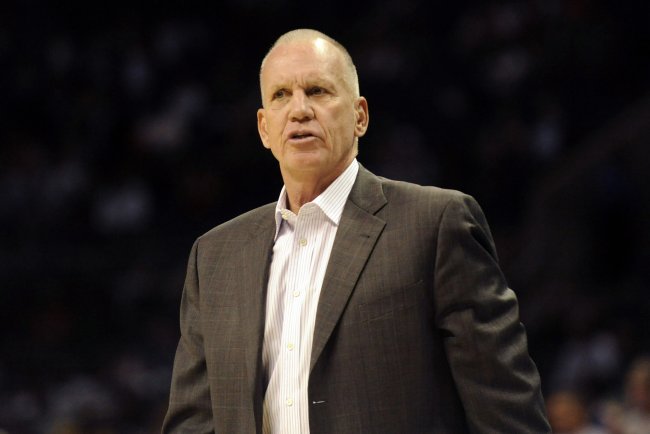 USA TODAY Sports
More than a month after his epic rant, a report began to surface that the Sixers didn't want Collins to return as coach next season.
Per Bob Ford of The Inquirer, the organization was hoping that Collins would step down:
According to multiple league sources, the 76ers organization privately hopes that coach Doug Collins decides not to return for the 2013-14 season and, regardless of his decision, it does not intend to extend his contract - which has one year remaining...The passion and energy that come with Collins also come at a cost. He wants to win so badly that he is demanding with those above him, and with those on his roster. Some members of the organization would prefer a coach who is a bit more pliable in his dealings with management and players.
Ouch.
There's nothing like being told you're not wanted, yet there is no intention of getting rid of you for at least a year. This reads like something out of a book dedicated to really destructive breakups.
But wait, maybe Collins was wanted.
John Finger of CSNPhilly.com went on to "refute" Ford's report:
If Doug Collins does not return to coach the Philadelphia 76ers next season, it won't be because the Sixers want him out, according to a league source as well as Collins' agent.

The source said the Sixers are completely supportive of Collins as he heads into the last season of his contract as the team's head coach..."The relationship with Doug, me and Sixers management has been terrific," Langel said. "What they told me beyond this season and as recently as today and yesterday is how long Doug stays here is Doug's decision."
Well, alright then.
Though an open-ended invitation to coach seems a bit far-fetched, but this wouldn't be the first time anonymous sources were either misleading or didn't exist (re: every trade rumor ever).
April 14, 2013: Who Do You Believe?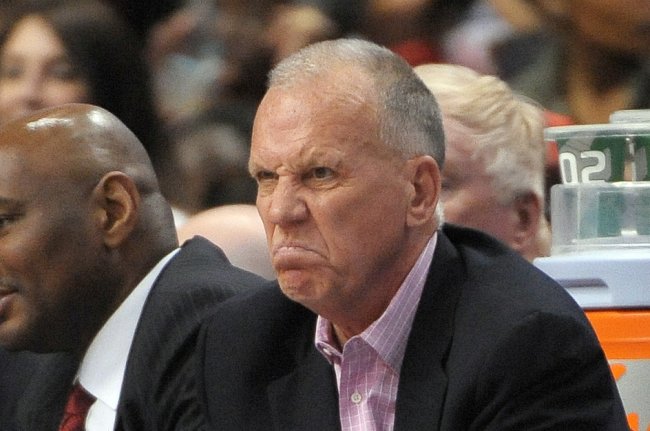 Eric Hartline-USA TODAY Sports
According to Adrian Wojnarowski, Collins informed the Sixers that he would not be returning to coach the team next season:
Philadelphia 76ers coach Doug Collins has informed ownership that he will resign at season's end, league sources told Yahoo! Sports.

Collins, 62, has one year left on a four-year deal, but has told management he won't return to the sidelines. Collins' possible return to the franchise in another role – perhaps in the front office – hasn't been ruled out, a source said.

Ownership wanted him to return for the final season of a contract that would've paid him $4.5 million, one source said, but Collins informed owner Josh Harris of his decision to leave in recent days.
Departures like this usually reek of conspiracy theories, but it appears as if it was Collins who made the ultimate decision.
Given how close he appeared to a mental breakdown at any point of the season, it's not surprising either. He thought he was going to be taking control of a contender this year, but instead wound up directing a lottery-bound faction that is still contemplating whether it will invest its future in a center with seemingly degenerative knees.
Did Collins leave voluntarily?
Does that read like something Collins would want to be a part of?
Absolutely not.
Let's also not forget that he apparently created some very real rifts within the organization, especially over this past offseason, when he was smitten by the prospect of the team replacing Thorn.
Based off what we know, this is the best-case scenario for all parties involved. The Sixers are no longer employing an unhappy coach, and Collins gets to leave on his own accord.
He also gets to shield himself from the overly emotional athletes that have (apparently) come to dominate the Sixers' locker room. He's now free to scream, cuss, go without showering, bite the bark off trees or do whatever else it is that manly men such as himself do.