10 NFL Studs Most Deserving of the Madden 25 Cover
Chris Graythen/Getty Images
Joe Flacco is one of the players who is worthy of earning the cover of Madden 25.
Being selected for the cover of the yearly edition of Madden is one of the highest honors in professional sports and serves as proof that the honoree(s) is officially unofficially the man.
EA Sports decided to shake things up this year for its cover athlete selection process. To compete with March Madness, the company decided to hold its own 64-player tournament to determine who gets the cover of Madden 25.
The players were divided into 32 current stars (one player per team) and 32 NFL legends. Results were entirely determined by fan voting. The field has been narrowed down to a Final Four of Barry Sanders, Jerry Rice, Arian Foster, and Adrian Peterson.
Since throwbacks have no place on a Madden cover (leave that to 2K Sports), we can ignore Sanders and Rice. Peterson and Foster are decent options, though there are definitely players more deserving of being a Madden cover athlete based off their performance during the 2012-13 season.
That is what the Madden cover should signify: the ultimate NFL stud of the moment.
If EA Sports had not given fans all the power (rookie mistake) or had done a field entirely full of current players, the Final Four might look more representative of the NFL superstars who excelled last season.
Begin Slideshow

»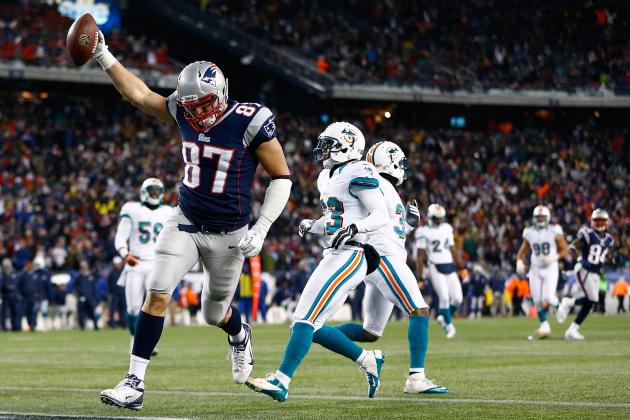 Jared Wickerham/Getty Images

Gronk made it to the Sweet 16 of the fan tournament before eventually falling to Peterson. There is no shame in losing to a Final Four contender, though the fact Peterson won with 81 percent of the votes is ridiculous.
Very few players symbolize the modern NFL like Gronk. He is an absolute monster on the field and is widely considered to be the best tight end in the game.
Not only is he fearless on the field, but he is not afraid to show off his hard-partying lifestyle. How many NFL players can say they have been offered porn deals?
Gronk's 2012 campaign was cut short by a broken forearm, which diminished his overall numbers and his chances of getting the Madden cover. But if he had made the cover, very few people would have argued that the cover was not featuring a dominant player.
This one is admittedly a long shot. He may not be the biggest name out there, but Jones was a major part of Baltimore's Super Bowl run and could have very easily been named Super Bowl MVP instead of Joe Flacco.
Before he even got to the Super Bowl, Jones caught that Hail Mary pass that sent the game against the Broncos to overtime. That may have had more to do with the ineptitude of Rahim Moore, but Jones was still in the right place at the right time.

Then came his Super Bowl heroics. Not only did Jones catch a 56-yard bomb from Flacco for a receiving touchdown, but he also broke the NFL record for longest kickoff return for a touchdown with 109 yards.
Right now, you can catch Jones on Dancing With The Stars, getting jiggy with Karina Smirnoff. He is trying to fill the dancing shoes of Emmitt Smith, Hines Ward and Donald Driver by becoming the fourth NFL player to win.
The man now has a Super Bowl ring and is holding his own on a dance competition show. What else does he have to do to prove he is Madden cover material?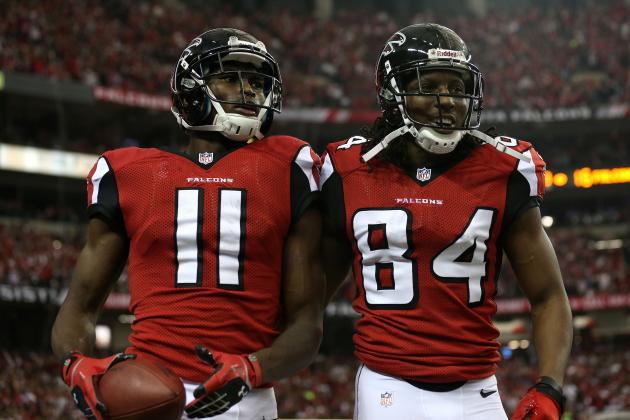 Streeter Lecka/Getty Images

Having two players on the cover is not unprecedented. It happened for Madden 10 when Troy Polamalu and Larry Fitzgerald shared the cover. Why not do the same with arguably the best wide receiver duo in the game?
White was already a proven commodity coming into 2012. He ended last season with 92 receptions for 1,351 yards and seven touchdowns.
Jones' ascension to the status of an elite receiver is what took Atlanta from good to scary good this season. He wound up catching 79 passes for 1,198 yards and 10 touchdowns.
The Falcons came within one game of a Super Bowl appearance. So it would not be too out-of-the-box to honor its two best players with a Madden cover.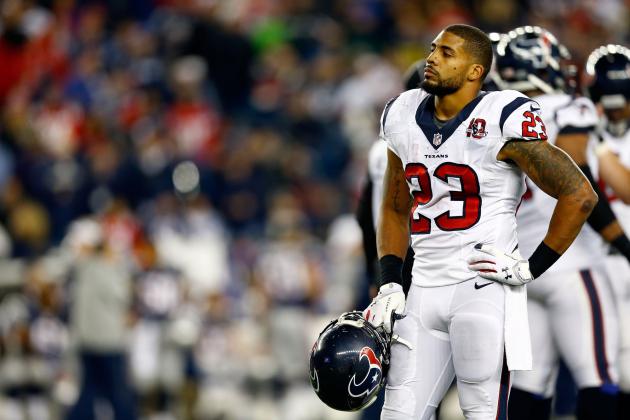 Jared Wickerham/Getty Images

Foster is only this high on the list because he is in the actual fan-voted Final Four. He faced some stiff competition along the way from the likes of Julio Jones, Colin Kaepernick and Russell Wilson.
The fact that he is still alive proves he is clearly a household name at this point. Coming off a 1,424-yard and 15-touchdown season will do that to you.
It is quite possible that though Foster has name recognition on his side, he is not quite as flashy as other past cover athletes (Peyton Hillis notwithstanding). For a more exciting Houston player, you should check out…
Very few defensive ends have taken the league by storm the way Watt did last year. Anyone who has a move named after him has enough notoriety to warrant Madden cover consideration.
You almost have to question the decision not to put him in the fan-voting tournament. Sure, running backs will always garner more attention than defensive players. But Watt transcended his position enough this year to deserve a chance at the Madden cover.
The Watt Swat became a staple of every Texans game this year. Watt had 16 defended passes credited to him this year, which is more than many secondary players can muster.
Add to that his 20.5 sacks and you have a human flyswatter who is a general nightmare for opposing quarterbacks. EA Sports: Take notes for next year's Madden.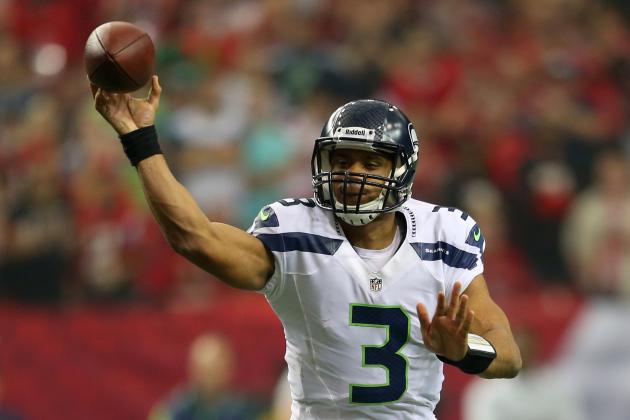 Mike Ehrmann/Getty Images

This may technically be cheating, but a Madden cover featuring Andrew Luck, Robert Griffin III and Russell Wilson would be one to remember.
All three had fantastic rookie seasons and redefined what it means to be a fresh face in the NFL. They all led previously struggling teams to the playoffs and look poised for years of NFL success.
Wilson, in particular, is a great story because he took the starting job in Seattle from Matt Flynn and developed into possibly the best quarterback in his rookie class as the season progressed.
Of course, Luck and Griffin might have something to say about that claim. But a cover that put a spotlight on all their accomplishments would be fair and, well, pretty awesome.
For a guy who came out of nowhere, it is hard to deny that Kaepernick was one of the biggest stories to come out last season.
The man only got a start because Alex Smith got hurt, but played at such a high level that 49ers coach Jim Harbaugh decided to ride Kaepernick's hot hand all the way to a Super Bowl appearance.
His scorching-fast passes and scrambling ability ignited the 49ers' offense and gave the team the extra dimension it was missing. San Francisco came within three points of their sixth Super Bowl.
Anyone who leads his team to a Super Bowl deserves to at least be considered for a Madden cover. It could be a consolation prize, if nothing else.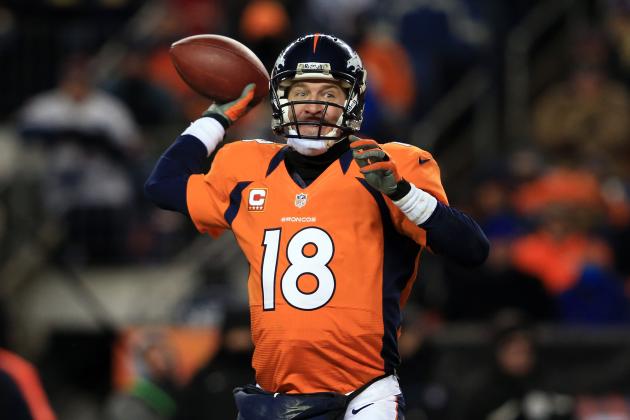 Doug Pensinger/Getty Images

If Rahim Moore did not forget how to play his position at the worst possible moment, Manning might be the clear favorite for the Madden 25 cover.
He took over a Denver squad fresh off the Tim Tebow era and made them a 13-3 team with the best record in the AFC. Yes, Tebow won a playoff game and Manning did not. But still.
Coming into 2012, everyone was worried about Manning's neck holding up for an entire season. Well, now everyone is expecting him to lead the Broncos to the promised land next year.
It really makes no sense that EA Sports chose Von Miller to represent the Broncos in its tournament over Manning. As if Manning needed another chip on his shoulder to light his fire.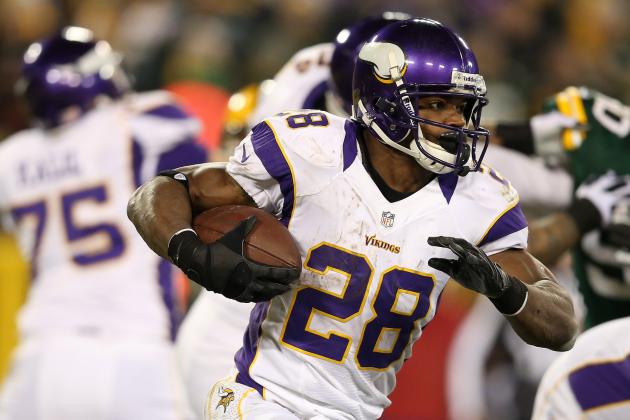 Andy Lyons/Getty Images

There is no other way to say this: Peterson is a physical freak of nature. If he does not win the EA Sports bracket, there is no justice in this world.
Who saw Peterson coming back from an ACL tear and challenging Eric Dickerson's single-season rushing record? He came within nine yards of making NFL history, an incredible feat for a player who could barely walk months before the season started.
We all knew he was gifted, but now it appears that Peterson is more machine than man. He can run right through defenders, juke them, or just use his speed to get down the field.
Plus, he has karma on his side. He already missed time with a significant injury, which means the Madden curse might choose to leave him alone.
Seriously, just give Peterson the cover already.
Look, the man is the reigning Super Bowl MVP and just completed one of the most impressive postseasons in NFL history. How could he not be most deserving of the cover?
Flacco tied Joe Montana's record for the most efficient postseason ever with 11 touchdowns and zero turnovers in four playoff games. As much as I hate to admit it as a Steelers fan, Flacco's performance throughout the playoffs was incredible.
He currently is the highest paid player in NFL history and is set to play Johnny Unitas in the upcoming film Unitas We Stand.
This begs the question: EA Sports, why did you choose Ray Rice to represent the Ravens in your fan-voting tournament? How could you omit the most "it" NFL player in the league from your bracket?
Drew Brees got the cover after winning a Super Bowl. Aaron Rodgers got it after he won his ring. Flacco is getting a raw deal. No player deserves to be on the cover of Madden 25 more than Joe Cool.