Nickell Robey: Video Highlights for Former USC CB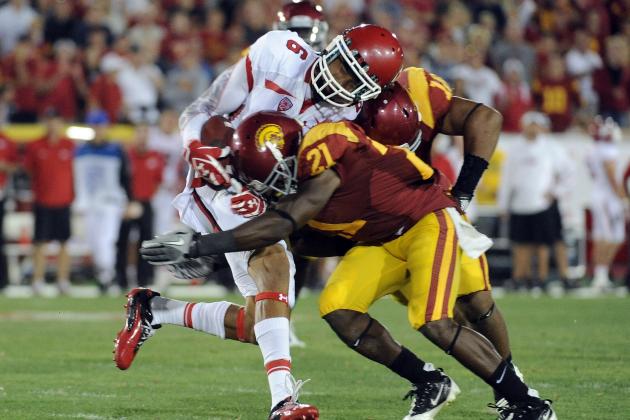 Harry How/Getty Images
Robey is undersized but has the talent and tenacity to make an NFL impact
Big, strapping cornerbacks are en vogue in today's NFL. Guys like New York's Antonio Cromartie and Seattle's Brandon Browner are the new prototype at the position.
That puts USC's Nickell Robey in a tough spot as he enters the 2013 NFL draft. He goes in at just 5'8" and 169 pounds.
But that didn't stop him from making 37 starts across three seasons at one of the most prestigious college football programs in the nation. It didn't stop him from receiving First-Team All-Pac 12 honors in 2011, either.
Robey is a top-notch athlete. In addition to playing football, he was also on the USC track team as a long jumper and sprinter. After a disappointing 4.53-second 40-yard dash time at the NFL combine, he blazed a 4.35 at his pro day. He also recorded an impressive 40.5" vertical.
His USC career ended with 163 tackles and seven interceptions. He took three of those picks to the house for touchdowns. That gives you an idea of the kind of athletic ability this kid possesses.
Robey decided to forgo his senior season to enter the 2013 draft. Due mostly to his diminutive stature, he received a "day three" projection from the NFL Advisory Committee. He's expected to be selected in the fourth round or later.
Robey could certainly prove to be a value pick, though. He has athleticism and ball skills to thrive as a slot corner at the NFL level.
Let's take a look at some of the highlights of his three-year career at USC.
Begin Slideshow

»
This was one of the biggest plays of Robey's college career.
USC is knotted up at 27 with Andrew Luck's Stanford Cardinal with a little over three minutes left in the game. Robey is in off-man coverage against wide receiver Chris Owusu.
Before the ball is even snapped, you can see Robey looking into the backfield to try to get a read on Luck's move. He's clearly looking to make a play on the ball.
Robey gives Owusu a cushion off the snap and baits Luck into the throw. He displays an impressive burst to break on the football, step in front of Owusu and make the interception. It's an easy jaunt to the house from there.
Kirk Herbstreit sums it up nicely: "Great instincts, great athletic ability…"
Robey showcases his ball skills on this interception.
Check him out at the top of the screen. He gets position on the inward-breaking receiver, anticipating the route. Then he's strong enough to snatch the ball away from the receiver.
By the way, that's wide receiver Michael Floyd, who went 13th overall to the Cardinals in the 2012 draft.
Robey is tougher than his size would indicate.
On the first play of this highlight reel, Robey is at the top of the screen in press coverage. He does a good job using his hands to fight for position on the quick slant. Robey is in the receiver's hip pocket when the ball arrives. He gets a hand on the ball, leading to the interception by a teammate.
Here's another example of Robey playing bigger than his listed size.
It's athleticism that's on display first, though. Robey stops on a dime and explodes to his left to get into position to make a play. We can't tell for sure, but it doesn't even look like Notre Dame wide receiver Robby Toma was Robey's man.
Regardless, Robey displays some serious hops to knock the ball away. The timing here was also perfect. Robey swats the ball as soon as it hits the receiver's hands.
Think this guy can't hit? Think again.
Granted, Robey gets a clean look on this blitz. But he has no problem laying the wood.
It's also worth noting that Robey times this play perfectly. He disguises the blitz, only peeling away from his man an instant before the ball is snapped.
Cornerbacks need to be able to tackle in today's NFL. Robey puts his skills on display here.
He shows good anticipation and pursuit to track down the ball-carrier. More impressive is his ability to shed the would-be blocker. Robey uses his size and quickness to his advantage to dip below and around Stanford's Ryan Hewitt. Then he makes a solid, wrap-up tackle.