It's been a slow climb, but South Carolina has found itself on the periphery of the BCS National Championship hunt in each of the last two seasons, both of which culminated with bowl wins and 11-win seasons.
But that's not good enough. Not now. Not with this roster.
Despite the loss of running back Marcus Lattimore, the Gamecocks are returning two SEC-caliber quarterbacks in Dylan Thompson and Connor Shaw, their leading receiver from a year ago in wide receiver Bruce Ellington and some guy named Jadeveon Clowney at defensive end.
Maybe you've heard of him? We know Michigan running back Vincent Smith has.
How many steps forward did South Carolina take towards breaking through that glass ceiling during spring practice?
Quite a few, especially on offense.
The biggest issue that South Carolina addressed this spring was at the running back position, where sophomore Mike Davis has established himself as the go-to running back now that Lattimore has gone on to the NFL.
Curtis Wilson-USA TODAY Sports
The sophomore dazzled all spring, culminating with a 40-yard touchdown run in the Garnet and Black spring game. He was told by head coach Steve Spurrier after the game that the job as South Carolina's starting running back was his, according to the Charleston (S.C.) Post and Courier.
"I just wanted to try to separate myself from other people, and kind of stand out so I could get the starting job," Davis said. "I was told (Saturday) that I have the starting job so far."
That's significant because Davis beat out redshirt sophomore Brandon Wilds for the top spot on the depth chart. The last time we saw Wilds in prolonged action, he was topping the 100-yard mark on the ground three times over the last five games of the 2011 regular season when Lattimore went down with his first injury.
South Carolina's running game is going to be healthy in 2013 with Davis taking control, especially when senior dual-threat quarterback Shaw is added to the mix this summer.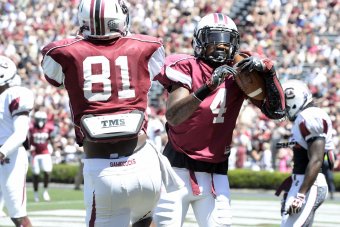 Curtis Wilson-USA TODAY Sports
Outside, the Gamecocks are fine at wide receiver with Ellington. But they needed a little more punch and found it this spring.
Shaq Roland was the talk of Columbia this spring and showed what he was capable of with four catches for 44 yards and a touchdown in the spring game. He was Mr. Football in the state of South Carolina as a high-schooler in 2011, but didn't see the field that much as a freshman. That will change in 2013.
But it was tight end Jerell Adams, who caught five passes for 112 yards and two touchdowns in the spring game, who really turned heads in the passing game. The 6'6", 224-pound sophomore has the size to be a reliable over-the-middle target for either quarterback and is athletic enough to be a matchup nightmare for opposing defensive coordinators.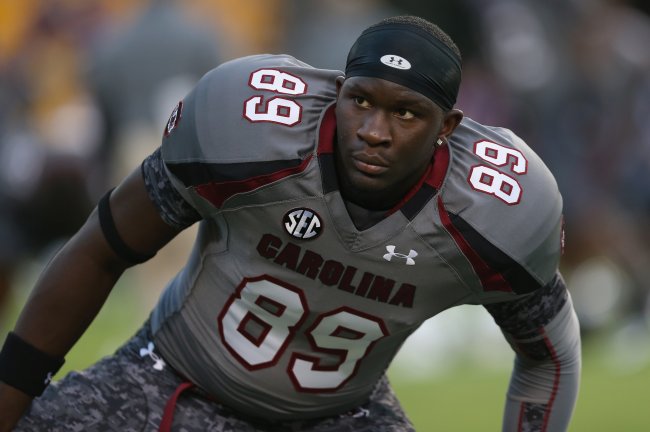 Ronald Martinez/Getty Images
Toss in wide receiver Shamier Jeffery to the mix, and the Gamecocks are loaded with talent at the skill positions on offense, which will make them incredibly dangerous this fall.
The biggest questions are on defense, and that's where most of the questions remain for the Gamecocks.
Will South Carolina win the SEC East in 2013?
Defensive end Jadeveon Clowney is going to be a boss. We know that. But behind him, experience and depth is an issue in that back seven.
Sharrod Golightly solidified his spot at the hybrid "Spur" position, but freshman Jordan Diggs pushed him for playing time this spring. But the two true linebacker spots are still up in the air. "Will" linebacker Cedric Cooper missed spring, and Kaiwan Lewis and T.J. Holloman both bounced around between "Will" and "Sam" spots this spring.
The silver lining for the Gamecocks is that their linebacking corps, for the most part, is versatile. That's good news for defensive coordinator Lorenzo Ward, because coaches love to have versatility in order to match up properly with the variety of formations in the college game in this day and age.
South Carolina's secondary is going to be fine, and the fact that most of its starters were held out of the spring game for precautionary measures gave some of the younger guys the opportunity to gain much-needed experience.
Jadeveon Clowney's TD catch in the Garnet and Black Game
The overwhelming takeaway from South Carolina's spring game was Clowney's 54-yard touchdown reception from quarterback Connor Mitch from off of the sideline. Behind the highlights, though, plenty of the difference-makers in 2013 showed what they were capable of.
Can this team get back to Atlanta, play for the SEC Championship Game and establish itself as a legitimate BCS National Championship contender?
We know it has the schedule to do so. Judging from what we saw on Saturday between the white lines at Williams-Brice Stadium, it has the talent on the roster as well.