Miami Football: Post Spring-Game Two-Deep Depth Chart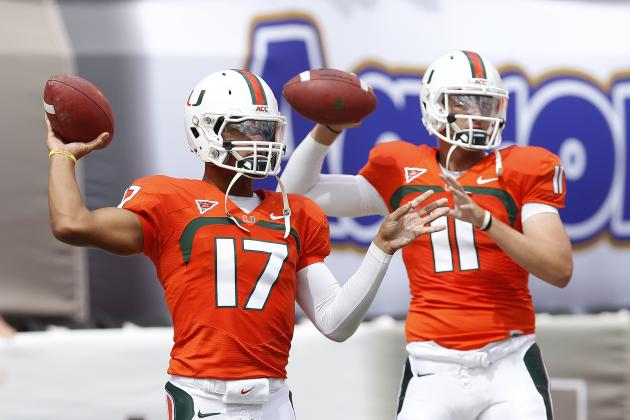 Joel Auerbach/Getty Images

The Miami Hurricanes completed their spring football season with the spring game on Saturday at Sun Life Stadium. The orange team, led by senior quarterback Stephen Morris, pulled out a 35-20 victory over the green team.
Although there were plenty of good things that came out of the game, the defense showed that it still needs a lot of work before the season begins in August.
Here is my take on the recently released post-spring depth chart.
Begin Slideshow

»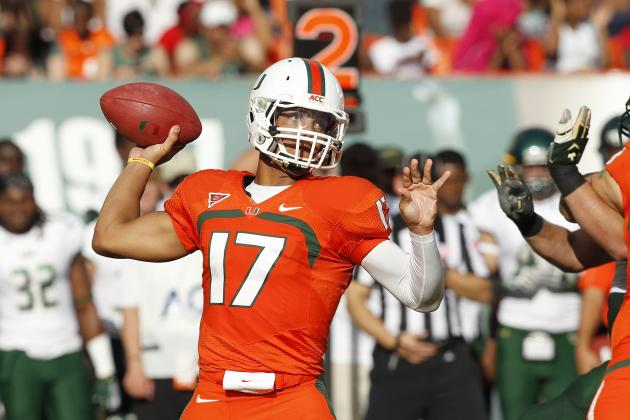 Joel Auerbach/Getty Images

Starter: Stephen Morris
Really a no-brainer as Morris was solid all spring long. He completed a good spring season by throwing four touchdowns (and no interceptions) in the spring game. He will be the starter this fall and barring injury, all season long.
Backup: Ryan Williams
Although the battle was heavy between Gray Crow and Ryan Williams, I believe Williams won the backup role based solely on experience. Having started 10 games with Memphis in 2010, Williams has already proven his worth on the field.
For now anyway.
My take:
I 100 percent agree with Coach Golden's decision on Williams over Crow. As good as Crow is, Williams has a better understanding of the speed of college football and is better suited to backup Morris.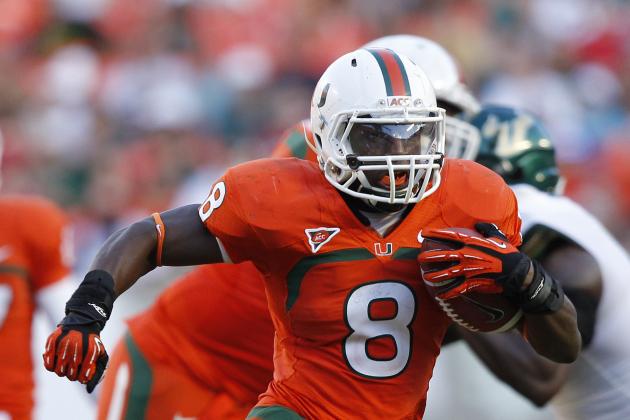 Joel Auerbach/Getty Images

Starter: Duke Johnson
Much like the situation at quarterback, Duke Johnson is the clear-cut winner of the starting running back of this team. Duke displayed why he may be a Heisman candidate with quick, shifty moves during the spring game.
If Duke stay's healthy, there is no doubt in my mind that he can become a Heisman candidate toward the end of the season.
Backup: Dallas Crawford
Eduardo Clements would normally be the backup but missed the entire spring session due to a herniated disk. Dallas Crawford had a good spring and will be a good backup while Clements recovers.
Clements has stated that he will be ready for contact this fall.
Starting fullback: Maurice Hagens
Just like last season, Maurice Hagens will be the fullback this fall as well as the rest of the season. Hagens is a great blocker and by the looks of the spring game, may see a few more carries this season.
My take:
The coaches chose exactly who I would have at running back. Danny Dillard is the third running back but didn't do enough to jump Crawford this spring.

Mike Ehrmann/Getty Images

Starters: Phillip Dorsett, Allen Hurns

Phillip Dorsett missed the spring game but has already proven he is the best receiver the Canes have and that is saying something considering the fact that this team is loaded with good ones.
On the other hand, the second receiving position is a toss-up. Allen Hurns, Rashawn Scott and Herb Waters all had a great spring and it really doesn't matter which one the coaches decide to start.
Backups: Herb Waters, Rashawn Scott

Although Scott and Waters may come off the bench, it doesn't mean they won't see as much time as Dorsett and Hurns. Scott is a playmaker while Waters is the deep threat the Hurricanes have been missing since Tommy Streeter.
My take:
I honestly think Scott did enough to overtake Hurns opposite heading into the fall season. Scott is such a tremendous athlete that caught everything thrown his way all spring long.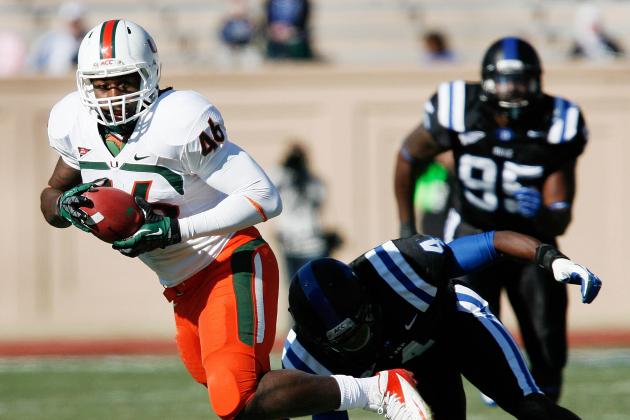 Mark Dolejs-USA TODAY Sports

Starter: Asante Cleveland

Asante Cleveland had a good spring and earned the starting position heading into the fall season. Cleveland also was the starter heading into last fall but ultimately lost his spot to Clive Walford.
Backup: Beau Sandland, Clive Walford

Walford and Beau Sandland had a decent spring but neither player played as hard as Cleveland did. Sandland needs to work on his blocking while Walford needs to play harder to earn the starting position back before the season begins.
My take:
I think Walford is the best overall tight end on the team and deserves the starting nod heading into the fall. Walford proved last season that he is a threat receiving as well as blocking.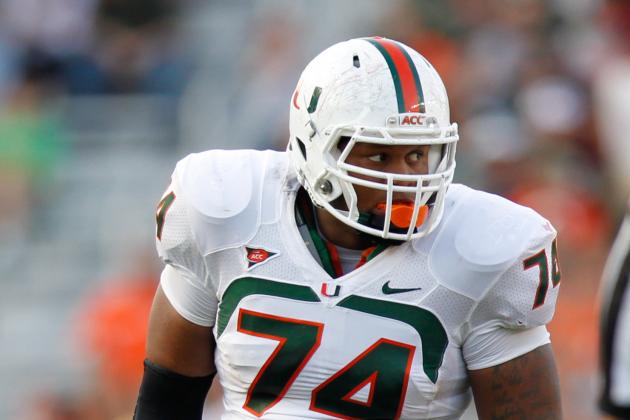 Greg M. Cooper-USA TODAY Sports

Left tackle starter: Ereck Flowers

Plain and simple, Ereck Flowers may be the best offensive lineman the Hurricanes have on staff and that is saying a lot considering the amount of studs there are on this team.
Left tackle backup: Malcolm Bunche/Taylor Gadbois

In my opinion, Bunche is the backup to Flowers. Don't get me wrong, Bunche is just as good as he was last season, I just think Flowers is too good to be a backup.
Taylor Gadbois was good this spring as well and with the possibility of Bunche playing guard (see Offensive Guard's slide), he may become the first tackle off the bench.
Right tackle starter: Seantrel Henderson
As long as Sentrel Henderson keeps his mind right, there is no doubt he holds downs the right tackle position. He has struggled with injuries and personal problems since he came to Miami but has looked determined to change things this season.
Right tackle backup: Ereck Flowers/Sunny Odogwu
I like Sunny Odogwu and late this spring he showed he had the talent to be a legitimate backup this season. Flowers may be Henderson's backup as well, so I am not sure exactly how much time Odogwu will see this fall.
My take:
I am 100 percent behind the coaches on this one. I think Flowers and Henderson and the two best tackles on the team and deserve to start this fall.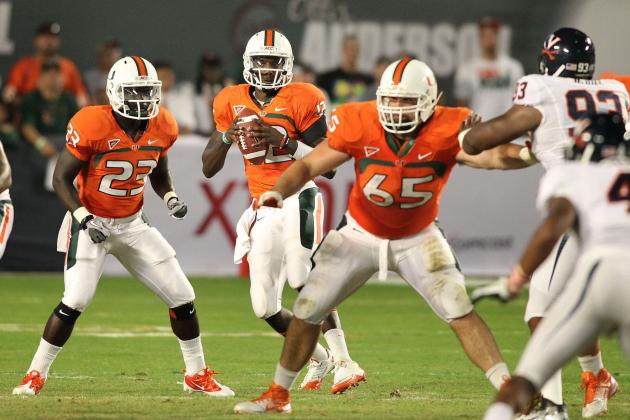 Robert Mayer-USA TODAY Sports

Left guard starter: Malcolm Bunche

With the emergence of Ereck Flowers, the coaches had to put Malcolm Bunche somewhere, but sticking him in front of Jon Feliciano was shocking to me.
Granted, Feliciano didn't have the greatest spring but has played a lot at Miami and has proven to be a terrific guard.
Left guard backup: Jon Feliciano
Don't look too much into Feliciano playing behind Bunche this fall. Feliciano has been playing the guard position for awhile now and should overtake the position sometime this fall.
I think.
Right guard starter: Brandon Linder
Just like the other guard spot, Brandon Linder will have this position locked down come fall season. The 2012 All-ACC senior has 29 starts at Miami. Linder was held out of the spring game with an injury.
Right guard backup: Danny Isidora
Danny Isidora has been a big surprise so far this spring and will be Linder's backup this fall and most likely all season long.
My take:
Surprised really that Feliciano is behind Bunche on the depth chart but I never seen every practice this spring. I know Bunche is able to play any position on the offensive line, I just don't see him starting at guard in the first game of the season.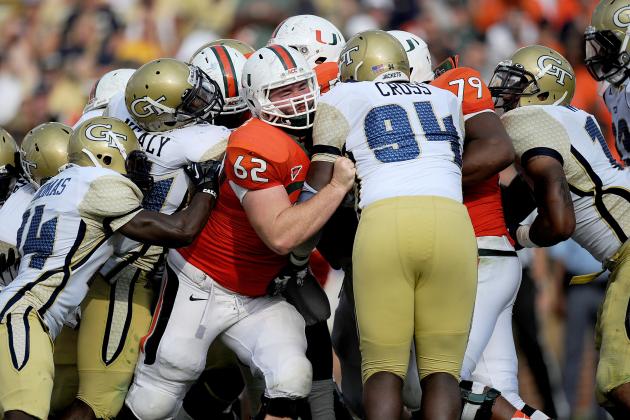 Kevin Liles-USA TODAY Sports

Starter/Backup: Jared Wheeler/Shane McDermott

With regular starting center Shane McDermott out all spring Jared Wheeler started and didn't miss a beat. Wheeler is very talented and would start on a lot of football teams.
The coaches are unsure who is starting this fall so they listed either/or.
My take:
I think McDermott will overtake the position once he is 100 percent healthy.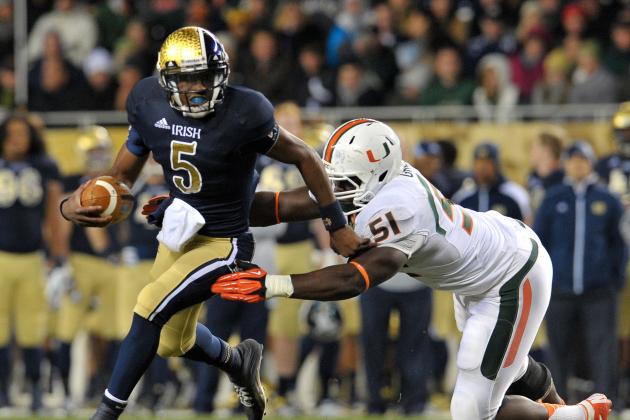 Matt Cashore-USA TODAY Sports

Starters: Anthony Chickillo, Shayon Green
Anthony Chickillo and Shayon Green are the listed starters come fall. Green was solid in the spring game while Chickillo still needs a little more work.
With the way the defensive played last season, both players may be hard-pressed by the backups for playing time all season long.
Backups: Jalen Grimble/Kelvin Cain, Jelani Hamilton
The defensive line struggled this spring so Jalen Grimble, Kelvin Cain and Jelani Hamilton all have opportunities to grab one of the starting positions sometime this fall.
My take:
I agree with the coaches decision but again, the way this defense looked this spring no one is safe from the bench. Not even Chickillo.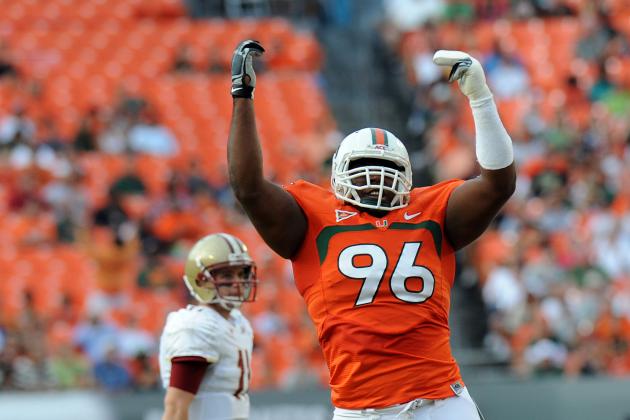 Steve Mitchell-USA TODAY Sports

Starters: Luther Robinson/Curtis Porter, Olsen Pierre
When healthy, Curtis Porter is a tremendous defensive tackle. Problem is that he rarely is healthy enough to play. He has played in a total of 16 games since 2009. So far this spring, Porter has shown how much of a force he is when he is healthy.
That being said, Luther Robinson had a terrific spring and deserved the co-starter the coaches list him as on the depth chart heading into the fall season.
Olsen Perre should be the other starting tackle as he had a good spring season himself.
Backups: Luther Robinson/Curtis Porter, Corey King

Corey King also had a very solid spring season and deserved the the backup role to Pierre.
My take:
Honestly, I like Porter as the starter. Porter is so strong and disruptive, exactly what a defensive tackle needs to be.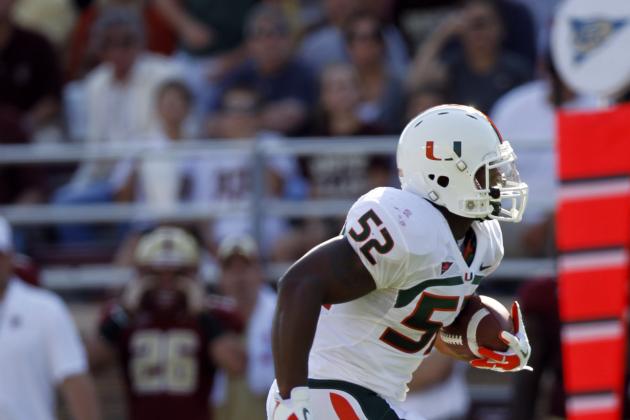 Greg M. Cooper-USA TODAY Sports

Starters: Alex Figueroa, Denzel Perryman
Alex Figueroa was beat up a little bit during the spring but could have possibly been the most impressive player on the team.The true freshman out of Virginia deserves the starting spot this fall.
Denzel Perryman is as good as ever and his work ethic this spring has shown that he has the opportunity to dominate. He will obviously be No. 1 on the fall depth chart and throughout the entire season.
Backups: Tyriq McCord, Tyrone Cornileus
Tyriq McCord moves from defensive end this spring and has proven he is going to excel there as well. He is just a terrific athlete and a great pass-rusher.
Tyrone Cornileus played in all 12 games last season even starting in three, but will be the second-stringer due to the emergence of Figueroa.
My take:
I am with the coaches and pick Figueroa and Perryman as the starter's. They are the two best outside linebackers on the team.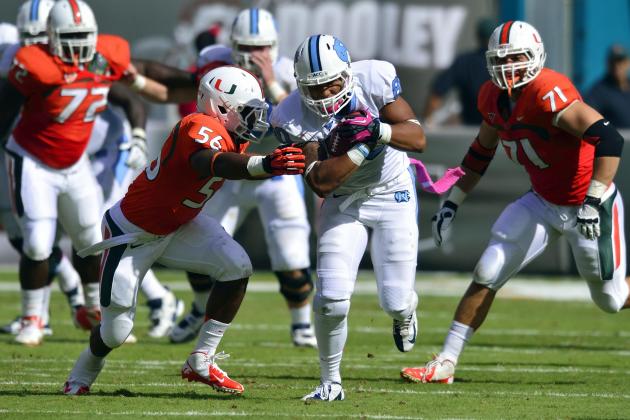 Steve Mitchell-USA TODAY Sports

Starter/Backup: Raphael Kirby/Jimmy Gaines

Raphael Kirby is an absolute beast and I think he deserves to be the starter come fall. That being said, the coaches listed both Kirby and Jimmy Gaines as the possible starter come this fall.
My take:
I think Kirby is the more deserving of the two but that doesn't mean I would be upset if Kirby never started this fall. Both players are great, it's just that Kirby is more exciting to watch with his de-cleating hits.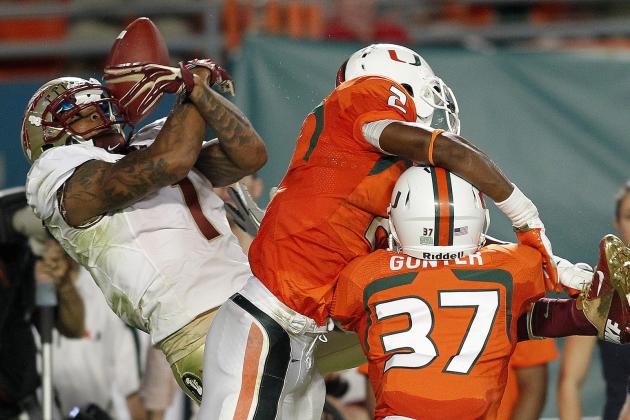 Robert Mayer-USA TODAY Sports

Starters: Tracy Howard/Ladarius Gunter, Antonio Crawford/Nate Dortch
The coaches are obviously stuck on who should start at cornerback so they have them all listed as either/or.
My take:
I think Ladarius Gunter shined at cornerback this spring and is the clear-cut favorite over Tracy Howard. I also thought Crawford had a better spring and would be my listed starter this fall.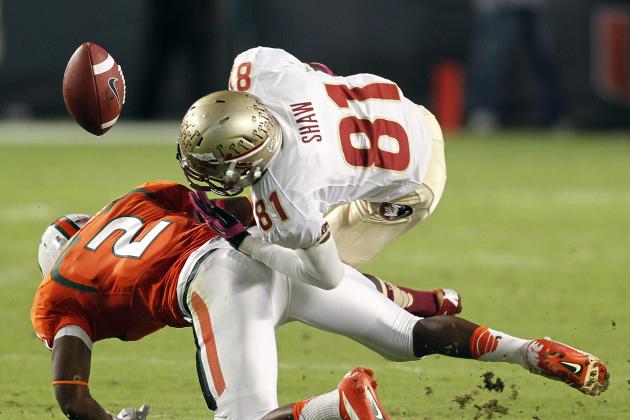 Robert Mayer-USA TODAY Sports

Starters: Rayshawn Jenkins/AJ Highsmith, Deon Bush
AJ Highsmith came into the spring session as the starter over Deon Bush but that won't happen again this fall. Bush is one of the best safeties in the ACC and will have his No. 1 spot when fall rolls around.
Rayshawn Jenkins was listed as the starter this spring and deserved it playing lights-out all season long. Jenkins is a tremendous athlete that I believe might be the most underrated player on defense.
Highsmith has gotten better and more experienced over the spring and earned the shared spot as starter by the coaches.
Backups: Kacy Rodgers II

Kacy Rodgers started seven games last season at safety but just isn't as good as any of the above mentioned safeties. Unfortunately for Rodgers, barring injury, he probably won't get another seven starts this upcoming season.
My take:
Just like the cornerbacks, I honestly believe that both Bush and Jenkins were good enough to take the starting positions heading into the fall.