2013 NFL Mock Draft: Full 1st-Round Predictions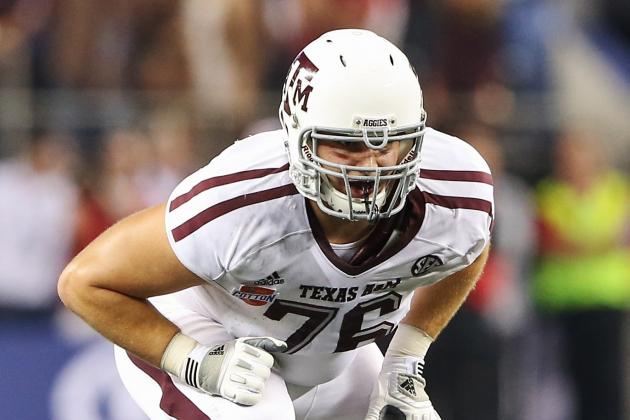 USA TODAY Sports
Texas A&M left tackle Luke Joeckel remains a likely choice to be the No. 1 overall pick.
The 2013 NFL draft appears to be the league's most unpredictable selection meeting in years. Just 10 days away from the draft's opening night, it's still not clear which players will be selected among the top few selections.
For potential top-two draft picks Luke Joeckel (Texas A&M offensive tackle), Geno Smith (West Virginia quarterback) and Dion Jordan (Oregon outside linebacker), projections from media draft analysts vary greatly. As much as any other draft in recent memory, this draft is set up for some big surprises, both in risers and fallers, on Day 1 of the draft April 25.
In the following 32 slides, I break down my latest projections for the current 2013 NFL draft order as it stands.
Disclaimer: I regularly publish my mock drafts on NEPatriotsDraft.com. For the sake of keeping this mock draft unique and open to different possibilities, I chose not to project any top-10 trades. (I projected two top-10 trades in my latest mock on NEPD.)
Begin Slideshow

»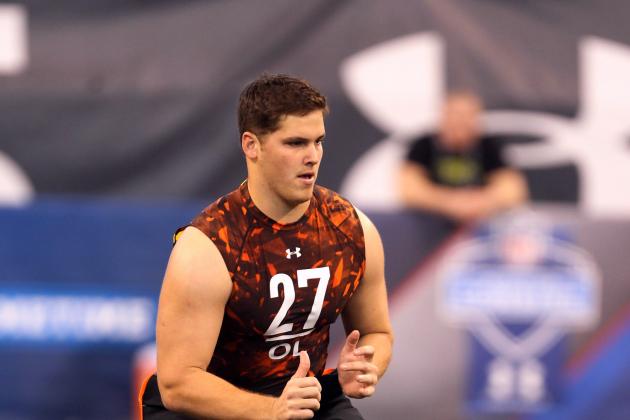 Brian Spurlock-USA TODAY Sports

Two schools of thought have prevailed as the most likely scenarios for the Kansas City Chiefs' No. 1 overall selection. The Chiefs could upgrade their pass protection and draft the best and safest prospect in the draft in Texas A&M left tackle Luke Joeckel, or they can make a riskier, high-upside selection in Oregon outside linebacker Dion Jordan to add an impact player for their defense.
This decision could come down to what the Chiefs plan to do with their veteran players.
Left tackle Branden Albert was franchise tagged this offseason, but the Chiefs do not have a long-term deal in place and he could be traded, according to ESPN's Adam Schefter. The Chiefs already have a very good combination of pass-rushing outside linebackers in Tamba Hali and Justin Houston, but Hali's future with the team could be in jeopardy given his total cap hit of $39 million over the next three seasons (per Spotrac).
According to both Bleacher Report's own Ryan Riddle and Detroit Lions Draft's Jeff Risdon, the Chiefs are leaning toward drafting Jordan. That could be a smokescreen, however, and the more logical scenario for the Chiefs would be to draft Joeckel. Joeckel is much more of a sure thing prospect than Jordan, and Albert could have very good trade value, while releasing Hali would cost the Chiefs $9 million in dead money next season.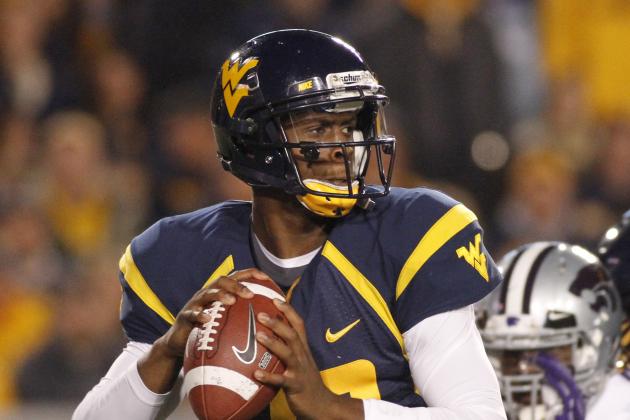 Justin K. Aller/Getty Images

Given the importance of a franchise quarterback to an NFL contender, the Jacksonville Jaguars' decision process at the No. 2 overall pick will likely come down to whether they believe West Virginia's Geno Smith can be the quarterback they need to bring the Jaguars back to NFL prominence.
Considering that general manager David Caldwell, head coach Gus Bradley, offensive coordinator Jedd Fisch, director of player personnel Terry McDonough and vice president of technology and football analytics Tony Khan all attended Smith's pro day (according to the Jaguars' official Twitter account), it would seem they are strongly thinking about drafting Smith second.
Blaine Gabbert is still young, but he hasn't proven himself to be a long-term starter during his two seasons in Jacksonville.
Caldwell previously called the team's quarterback competition "wide-open" at the NFL Scouting Combine (h/t NFL.com). However, if the Jaguars believe the athletic, strong-armed and mechanically-sound quarterback is worth the early selection, expect them to pull the trigger and make him their signal-caller of the future.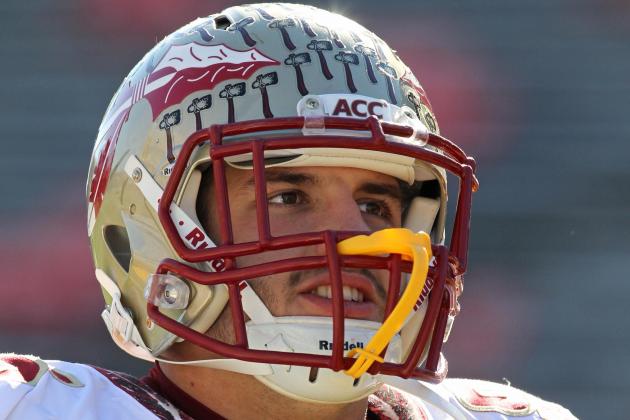 Mitch Stringer-USA TODAY Sports

Current projections for Florida State defensive end Bjoern Werner range everywhere from the top five to somewhere in the second round, and he remains the best all-around defensive end in the draft class even though workout warriors have directed the focus away from him.
For the Oakland Raiders, who need to add a premier pass-rusher at defensive end, Werner would be the best choice with the No. 3 overall pick.
Werner may not run like a linebacker, but he is a very effective pass-rusher who is quick and explosive off the snap, technically sound and also strong against the run. The Raiders really need a defensive end who can contribute immediately on all three downs, and they can get that from him.
Trading down may be the best-case scenario for the Raiders, as they may be able to still get Werner even if they move down a few spots, but whether anyone will be looking to move up to the top three is uncertain.
As the Philadelphia Eagles shift to a 3-4 defense, they are in need of additional personnel to team up with 2012 first-round pick Fletcher Cox on their front line.
The Eagles could quickly have one of the NFL's best 5-technique pairings if they draft Utah's Star Lotulelei to start opposite Cox.
Lotulelei's stock was falling due to heart concerns after he was sent home from the NFL Scouting Combine, but he appears to be fine. He has since been cleared by a heart specialist (h/t USA Today) and participated fully in Utah's pro day.
In a 3-4 defense, Lotulelei has the potential to be a similar player to Haloti Ngata. Possessing explosive quickness, great size (6'2", 311 pounds) and brute strength, he can play both 5-technique defensive end and nose tackle, and he will be a three-down difference-maker.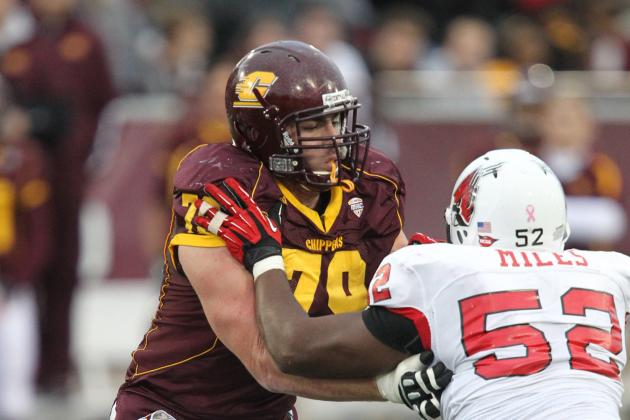 Tim Fitzgerald/CMU Athletics
The Detroit Lions drafted one offensive tackle in the first round of last year's draft in Riley Reiff, but they now need two new starters at the position following left tackle Jeff Backus' retirement and the free-agent departure of right tackle Gosder Cherilus.
The Lions could shore up that problem quickly by selecting Central Michigan's Eric Fisher with the fifth overall pick.
An experienced left tackle with great length, footwork and strength, Fisher could be the pass-protection upgrade the Lions need to keep quarterback Matt Stafford healthy. It would also allow them to keep Reiff at right tackle or guard, as he may be more capable of excelling at either of those positions and could shore up another area on the offensive line.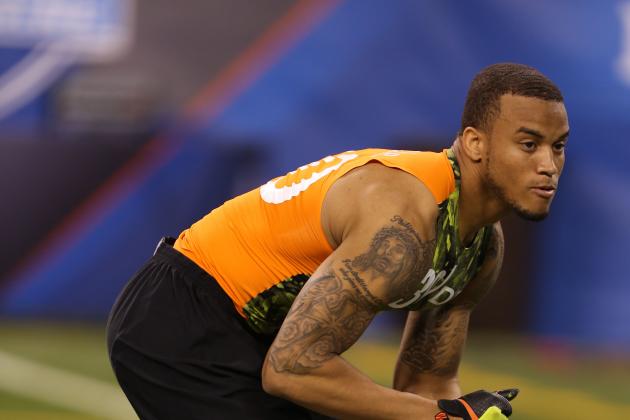 Brian Spurlock-USA TODAY Sports

The Cleveland Browns are a prime candidate to trade down in the first round of the 2013 NFL draft, given that they have no second-round pick, and if Joeckel and Fisher are off the board, they could see definite interest in their pick from teams coveting Oklahoma's Lane Johnson.
If they stay put at the No. 6 overall pick, however, the best choice would be Alabama cornerback Dee Milliner. The Browns need to find a starter opposite Joe Haden, and Milliner has the talent to fill that role immediately and give the Browns one of the NFL's best cornerback tandems.
Haden and strong safety T.J. Ward are two of the NFL's best at their positions, but to make their secondary one of the best in the league, they must shore up the other two areas. Adding a long, athletic and physical playmaking cornerback like Milliner would be a great start in Round 1.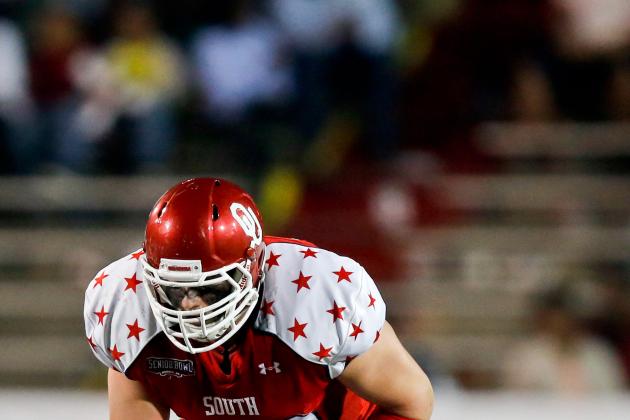 Derick E. Hingle-USA TODAY Sports

The Arizona Cardinals have a serious need to build up their offensive line in the draft, so if they have a shot at drafting one of the three premier offensive tackle prospects in the class, they should not pass that up.
In this scenario, Oklahoma's Lane Johnson would be a great choice for the Cardinals.
Johnson's game is not as polished as Joeckel's or Fisher's, but with a truly rare combination of length, athleticism and strength, he has the potential to develop into an elite NFL offensive tackle. Current Cardinals offensive tackles Levi Brown and Bobby Massie are both better suited to play on the right side of the offensive line, but adding Johnson would give the Cardinals a very capable pass-protector on the left side of the line.
In terms of both obtaining value and filling a need, Johnson would be the best choice for the Cardinals with the No. 7 overall pick.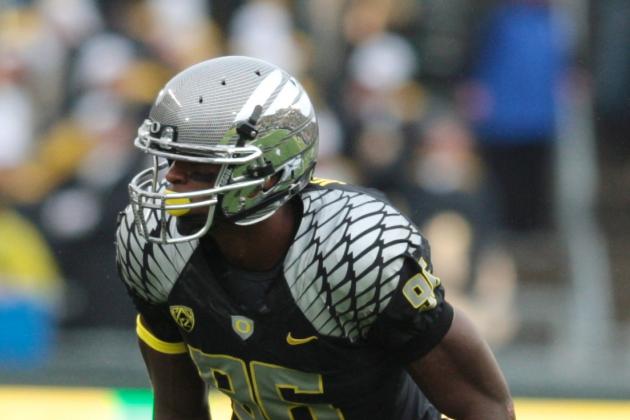 Scott Olmos-USA TODAY Sports

The Buffalo Bills could certainly be in the market for a first-round quarterback, but that could change if Oregon outside linebacker Dion Jordan is still available at the No. 8 overall pick.
Jordan is one of the draft class' hottest prospects, as he is rumored to be a possibility at both the No. 1 and No. 2 overall picks. His length, athleticism and versatility make him a good fit to play in the Bills' new hybrid, "ameoba" defensive scheme.
Although certainly a boom-or-bust prospect, it seems increasingly more likely that Jordan will be among the top selections in the 2013 NFL draft. If Jordan is still available when the Bills pick, expect the team— which brought Jordan in for an official visit earlier this month, according to its website—to strongly consider drafting him.
The New York Jets are in need of a premier pass-rusher at the outside linebacker position. LSU's Barkevious Mingo is one of the most athletic and explosive pass-rushing prospects in the 2013 NFL draft, and he is a good fit to make the transition to playing outside linebacker in a 3-4 defense.
The New York Jets reportedly wanted Bruce Irvin in last year's draft, according to The Sports Xchange's Len Pasquarelli, but he went one pick earlier to the Seattle Seahawks. The Jets could get a similar but better version of Irvin by drafting Mingo.
Like Irvin, Mingo is undersized and weak as a point-of-attack run defender, but he is a truly gifted athlete with pass-rushing skill. He also has the speed to make plays all over the field in space and the potential to drop back capably into coverage.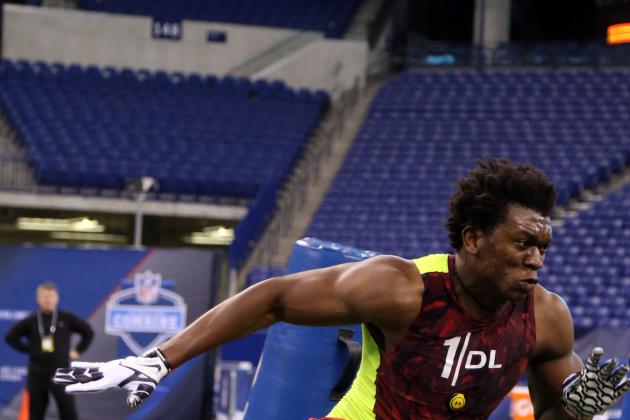 Brian Spurlock-USA TODAY Sports

The Tennessee Titans have added players at positions of need this offseason at guard, safety, linebacker and running back, but one area that they have not addressed is at defensive end. While they have a decent pair of starting defensive ends in Derrick Morgan and Kamerion Wimbley, they lack a big-impact player at the position.
BYU's Ezekiel Ansah has been a massive riser in the draft process. Although he has a very raw game and is lacking technique due to his very limited football experience, his size, athletic potential and flashes of brilliance have many projecting the boom-or-bust prospect as a top-10 draft choice.
The Titans could be exactly the team to take a shot on Ansah, as they do not have any desperate pressing needs and could very well be looking for an impact pass-rusher with their pick.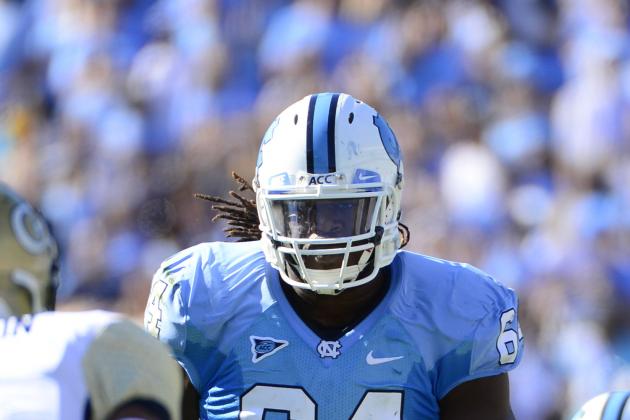 USA TODAY Sports

Even if they miss out on the top three offensive tackles, drafting the best available offensive lineman would be a smart decision for the San Diego Chargers in Round 1. Guards are not typically valued as top-15 draft picks, but North Carolina's Jonathan Cooper has the talent to be an exception to that rule.
Cooper is a terrific all-around guard prospect who has rare athleticism and foot skills for the position, but he is very well-rounded with a good power game as well. Alabama's Chance Warmack is also a tremendous guard prospect who could be considered here, but Cooper gets the edge in my book due to his movement skills.
The Chargers could really use upgrades at guard, where they lost starting right guard Louis Vasquez to the Denver Broncos and left guard Tyronne Green remains unsigned. They could get an immediate upgrade and All-Pro potential in Cooper.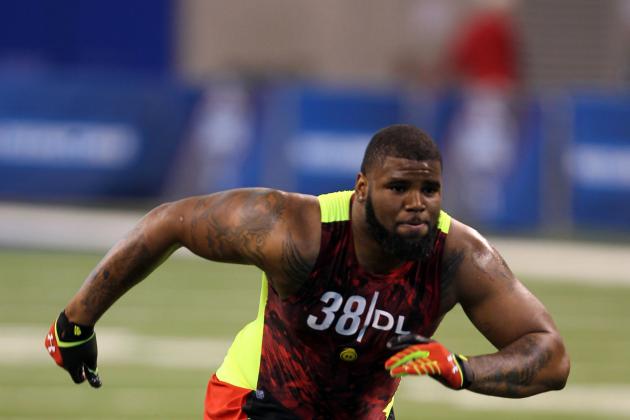 Brian Spurlock-USA TODAY Sports

One of the top-three offensive tackles or Dee Milliner would be the optimal selection for the Miami Dolphins, but if they stay put and none of those players fall, things could get very interesting at the No. 12 overall pick.
Trading down is an option, but with five picks in the first three rounds at their disposal, the Dolphins could instead draft for value and focus on their greater needs in the second and third round.
If the Dolphins employ that strategy, a very possible selection is Missouri defensive tackle Sheldon Richardson, one of the best players available in this scenario.
Richardson would be an explosive interior pass-rusher at defensive tackle, and although the Dolphins already have a great starting duo in Randy Starks and Paul Soliai, both will be unrestricted free agents following the 2013 season.
The Dolphins had an official visit with Richardson, according to Ben Volin of the Palm Beach Post.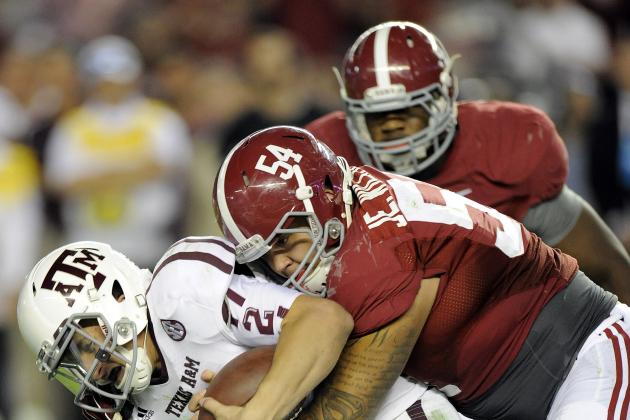 John David Mercer-USA TODAY Sports

The Tampa Bay Buccaneers already have one terrific defensive tackle in Gerald McCoy, but they still need a nose tackle to line up next to him in their four-man front that can fill gaps in run defense and occupy blockers. Among the top defensive tackles still available, Alabama's Jesse Williams is the best fit to play that role.
Williams is a massive, 323-pound, physical run-stopper, but he also has very good quickness and athleticism for his size. With his strength against the run and his ability to penetrate the line, Williams can be a three-down player at the nose tackle spot.
Williams has not gotten as much attention as some of the draft class' other top defensive tackles, but he deserves it. He would be well worth the No. 13 overall pick for the Bucs.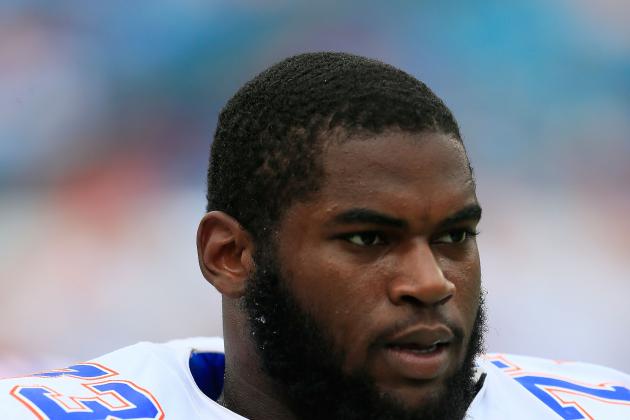 Sam Greenwood/Getty Images

The run on defensive tackles should continue with the Carolina Panthers, who have a massive need at the position. There is still great value on the board at this point in Florida's Sharrif Floyd, a very athletic defensive tackle who can be the three-down presence and playmaker that the Panthers need on their interior defensive line.
Floyd is an explosive penetrator who can shoot through gaps and make plays in the backfield as both an interior pass-rusher and run-stopper. He is also strong and powerful, and he holds up well at the point of attack. He has the upside to be a real difference-maker for an NFL defense.
In terms of both value and need, Floyd makes great sense for the Panthers at No. 14 overall.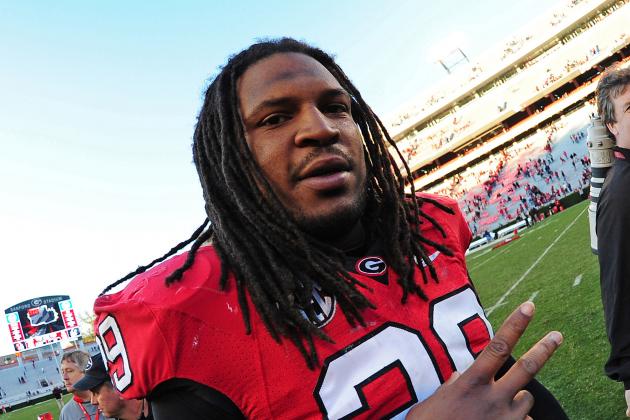 Scott Cunningham/Getty Images

The New Orleans Saints need to rebuild their defensive front seven as they convert to a 3-4 defensive scheme, and one area where they need to improve their personnel is at outside linebacker. Georgia's Jarvis Jones is one of the top players available, and he would be a great addition at the position.
Jones' stock has slipped in recent months, largely due to a poor pro day performance and concerns with his spinal stenosis. That said, he is a natural 3-4 outside linebacker who is skilled both as a rusher coming off the edge and at setting the edge against the run. He has been medically cleared by most NFL teams, as he did not have to submit to a medical re-check (h/t Pro Football Talk).
At the end of the top 15, the Saints would be getting very sound value on a player who can make an immediate impact on their defense.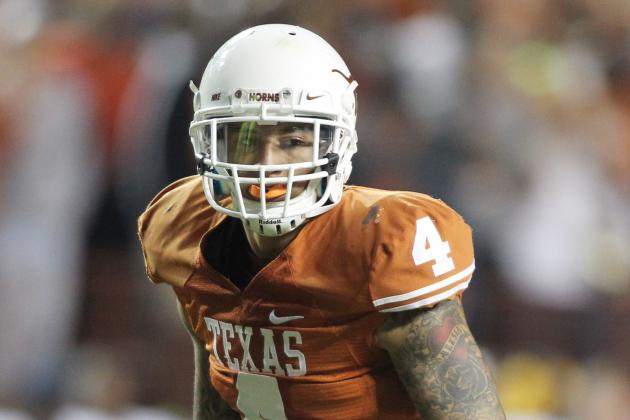 Tim Heitman-USA TODAY Sports

The St. Louis Rams do not have a starting-caliber safety on their roster, so it is imperative that they address the position early in the draft class. That could make Texas' Kenny Vaccaro a tough player for them to pass up if he is still available at the No. 16 overall pick.
An athletic, hard-hitting defensive back who can play either safety spot and also slot cornerback, Vaccaro's versatility and playmaking ability makes him a great fit for the Rams secondary. He needs to become a more sure tackler, but he is a playmaker who has good ball skills that can also come up and strike opponents both in run support and against receivers coming over the middle.
Even after matching an offer sheet (h/t ESPN) to bring back Emmanuel Sanders, the Pittsburgh Steelers should still be in the market for a receiver who can replace Mike Wallace as a deep-threat playmaker. The best choice for that role would be Tennessee's Cordarrelle Patterson.
Patterson has great size (6'2", 216 pounds) and speed (4.42 40-yard dash at the NFL Scouting Combine), and he can be a big playmaker downfield and on the outside. His best skill, however, is his ability to extend plays in the open field by using his dynamic quickness and speed to make defenders miss and run away from them.
Patterson can be a big playmaker for the Steelers' passing offense, and he is also a skilled returner. With the top defensive linemen and pass-rushers off the board at this point, Patterson makes the most sense among available prospects at the No. 17 overall pick.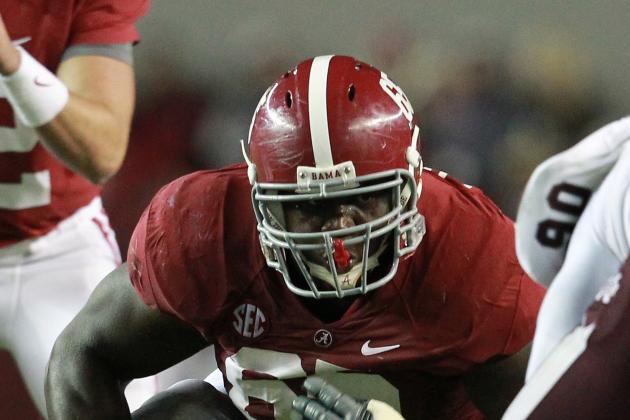 Marvin Gentry-USA TODAY Sports

The Dallas Cowboys need to upgrade the right side of their offensive line, especially at the right guard position. The Cowboys would be smart to take advantage of Alabama's Chance Warmack, one of the draft's best overall prospects.
Warmack is a terrific guard prospect who could be an immediate upgrade and standout on the Cowboys offensive line. He is a powerful, road-grading run blocker who is technically sound and also has good feet for a guard. He is one of the best all-around players in the draft and would address one of the Cowboys' positions of greatest need.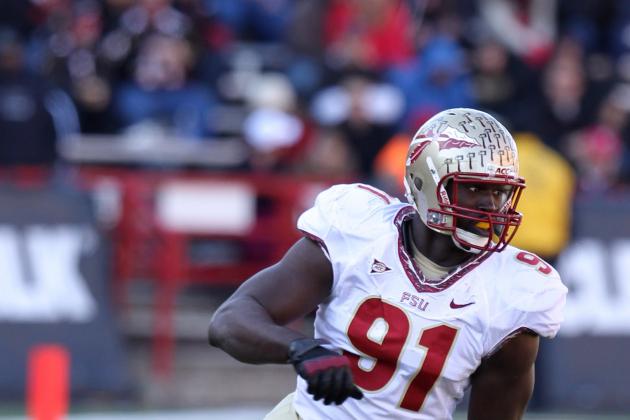 Mitch Stringer-USA TODAY Sports

Osi Umenyiora is no longer with the New York Giants, and Justin Tuck is entering the last year of his contract. The time is now for the Giants to revitalize their pass rush by adding young talent and another potential impact player to line up opposite Jason Pierre-Paul.
Cornellius "Tank" Carradine is a very talented defensive end who is both an explosive pass-rusher and a solid run-stopper. He could potentially form an elite pass-rushing combination with Pierre-Paul.
Carradine is coming off of a torn ACL, but even if he has to start the season on the Physically Unable to Perform list, the Giants can afford to bring him along slowly as a rookie, but groom him to take over for Tuck as a starter in 2014. For a team who puts a heavy emphasis on getting after the quarterback, Carradine makes a lot of sense in Round 1.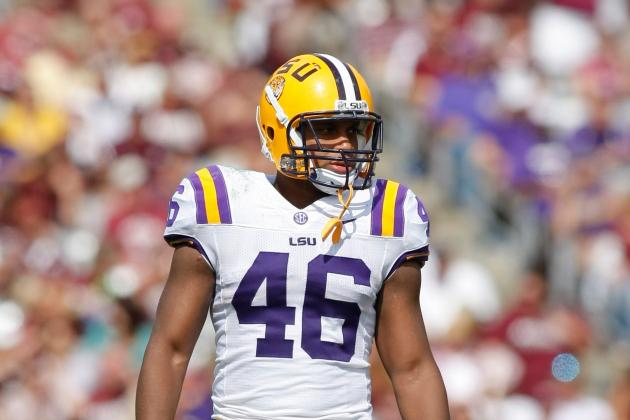 Brett Davis-USA TODAY Sports

The Chicago Bears signed D.J. Williams to a one-year contract this offseason, but they should be in the market for a long-term replacement at middle linebacker for Brian Urlacher, who was not brought back.
That player could be LSU's Kevin Minter, the best all-around middle linebacker in the draft.
Minter is a terrific run-stopper who is very good at getting into the backfield and making stops, and he is an instinctive player who is consistently around the football. He is a sound tackler, and he is decent at dropping back into coverage. He can be the leader that the Bears need for their linebacker corps going forward.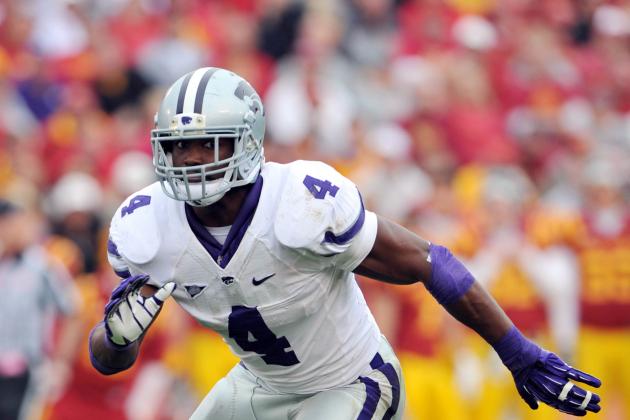 Peter G. Aiken-USA TODAY Sports

The Cincinnati Bengals have two returning starters who can play middle linebacker in Vontaze Burfict and Rey Maualuga, but the Bengals could still be looking to add talent at the position early in the draft. If they are going to do so, Kansas State's Arthur Brown would be a great choice.
Brown has the versatility to play all three linebacker spots in a 4-3 defense, which makes him a good fit alongside Burfict and Maualuga, two players who can also rotate between the middle and outside linebacker spots. Adding Brown—a very good athlete who attacks the run and is also effective in coverage—could bring more young talent and a difference-maker to the middle of the Bengals defense.
Charles LeClaire-USA TODAY Sports

West Virginia's Tavon Austin is a strong possibility for the St. Louis Rams' selection at the No. 16 overall pick, so he would really be a great choice if the Rams can get him at No. 22 overall.
The Rams could use another playmaker on their offense, and there is no offensive player in the draft class who is more dynamic than Austin. He makes up for his small stature (5'8", 174 pounds) with explosive speed and open-field quickness. He is a truly dangerous weapon in the open field, and he is a threat to extend any play into a big play.
Austin would a perfect fit to replace Danny Amendola, who left for the New England Patriots, in the slot, and he can also contribute as a returner and a runner out of the backfield.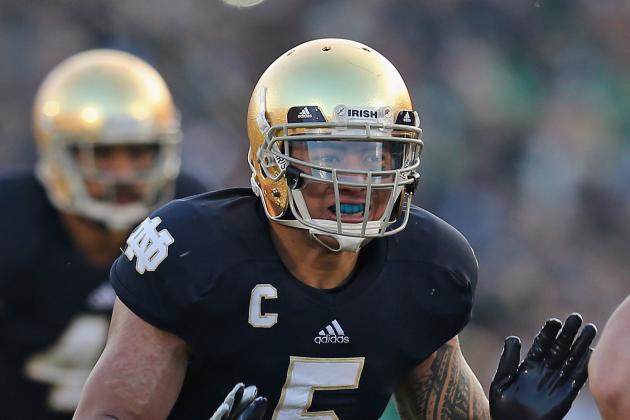 Jonathan Daniel/Getty Images

The Minnesota Vikings are in need of a middle linebacker, and they appear to have interest in Notre Dame's Manti Te'o.
Sports Illustrated's Peter King reported in a series of tweets Sunday that Vikings general manager Rick Spielman dined with Te'o before his pro day. With one of the Vikings' two first-round picks, drafting Te'o would make sense.
Te'o, an instinctive run-stopping middle linebacker, could be the presence that the Vikings need from a linebacker in the middle of their defense, and he presents good value late in Round 1. He is among the best players available on the board, and he would fill one of the team's greatest needs.
Even with the signing of Ricky Jean-Francois this offseason, the Indianapolis Colts should be in the market for another 5-technique defensive end. A great choice would be UCLA's Datone Jones, who can bring a spark to the Colts defensive front with his explosive quickness and pass-rushing ability.
Jones has rare athleticism for a 6'4", 283-pound defensive end, which makes him a potential late first-round pick, even though he didn't always play like a first-rounder at UCLA. He can bring pressure into the backfield from both the inside and outside and is also a solid run-stopper.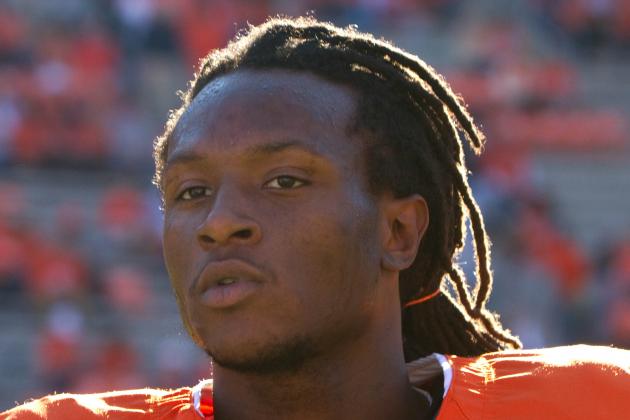 Joshua S. Kelly-USA TODAY Sports

Even with the signing of Greg Jennings, it is likely that the Minnesota Vikings will draft a wide receiver early to start opposite him. Specifically, the Vikings need more size and outside receiving ability at the position, which makes Clemson's DeAndre Hopkins the best fit among available wideouts.
A big, physical receiver who runs sharp routes, Hopkins has great hands and does a good job of going up and after the football. In fact, he may be the most well-rounded wide receiver in the draft class.
The Vikings need reliability and playmaking ability for their passing offense, and they could get both at a good value by selecting Hopkins with their second first-round draft pick.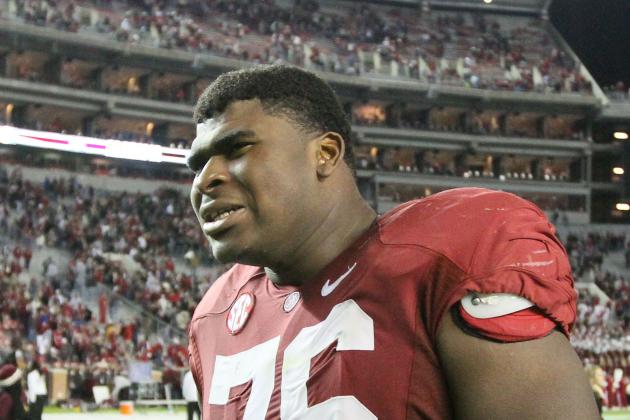 Marvin Gentry-USA TODAY Sports

PROJECTED TRADE: The Green Bay Packers trade the No. 26 overall selection to the Miami Dolphins for the No. 42, No. 77 and No. 146 overall selections.
With five picks in the first three rounds, the Miami Dolphins can afford to move up at some point to secure a player they covet. If they do not do this to get one of the top three offensive tackles within the top 10 picks of the draft, they could very well end up doing it late in the first round to select Alabama's D.J. Fluker.
With no clear-cut choices on the board for the Green Bay Packers, trading down may be a smart investment for them.
As for the Dolphins, they need an offensive tackle to start opposite Jonathan Martin following Jake Long's departure, and they are interested in Fluker, according to TFY Draft Insider's Tony Pauline.
Projecting Fluker at left tackle would be a stretch, but if the Dolphins plan to move Martin to the left side, Fluker would be a great addition to take over on the right side. With the Houston Texans a threat to take Fluker off the board with the No. 27 overall pick, moving up to secure him would make sense at this point in Round 1.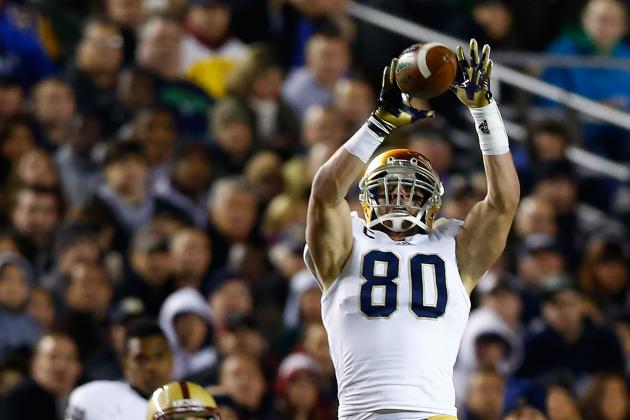 Jared Wickerham/Getty Images

Outside of Andre Johnson, the Houston Texans have a shortage of weapons in their passing offense. The Texans could add one of the draft class' best offensive playmakers at a great value in this scenario by drafting Notre Dame tight end Tyler Eifert.
With great size, athleticism and the ability to leap up and make challenging catches, Eifert has the potential to be a top-flight NFL receiving tight end. He is a big downfield receiving weapon, and although he is not a great blocker, he has the size to develop into a solid in-line blocker with developed strength and proper coaching.
A wide receiver may fill a greater need for the Texans, but in terms of adding a second go-to receiving weapon who can make big plays for Matt Schaub, Eifert would be the best choice of anyone available at this point.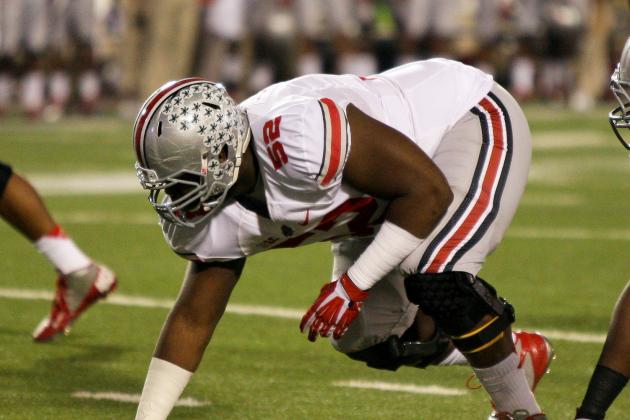 Pat Lovell-USA TODAY Sports

The Denver Broncos need to improve their interior run defense, and the best way they can do that is to add a true run-stopping presence at defensive tackle. Ohio State's Johnathan Hankins presents great value late in Round 1, and he could be exactly what the Broncos need.
Hankins is a big, strong defensive tackle who can be a three-down player at nose tackle, as he is both powerful and quick. He can occupy blockers and fill gaps up the middle, but he also has the quickness to shoot gaps into the backfield and make plays in the backfield as a run-stopper. He can also bring pressure as an interior pass-rusher.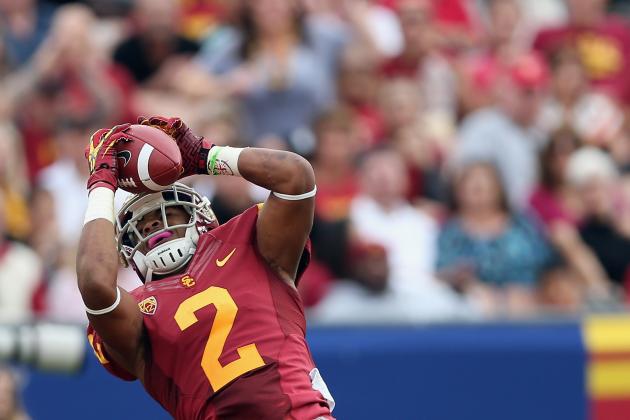 Jeff Gross/Getty Images

After missing out on restricted free agent wide receiver Emmanuel Sanders, the Patriots have a major need for playmakers at the position. This would be a fortunate scenario for them, as USC's Robert Woods would be a very good fit and presents good value late in Round 1.
The Patriots offense is predicated on intermediate passing, an area in which Woods thrives due to his crisp route-running, consistent hands and good open-field quickness. Woods can line up both outside and in the slot, and he is a physical receiver who can make tough catches downfield and in traffic.
The Atlanta Falcons are very thin at the cornerback position following the loss of unrestricted free agent Brent Grimes. A very good first-round choice for them would be Washington's Desmond Trufant, who has the potential to develop into the No. 1 cornerback and playmaker that they need to add to their secondary.
Trufant is a quickly rising prospect with good size and athleticism for the position. He is skilled in both man and zone coverage, and he is an instinctive player who is good at making plays on the ball. He has the skill set to come in and immediately contribute as a starter opposite Asante Samuel.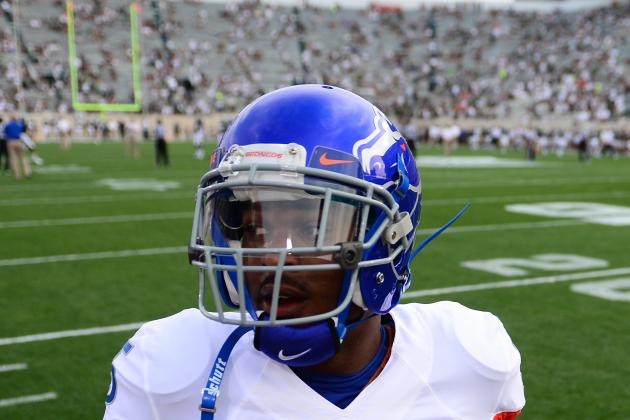 Andrew Weber-USA TODAY Sports

The San Francisco 49ers added one very talented cover cornerback this offseason in Nnamdi Asomugha, but they should be in the market for another younger cornerback with one of their many early draft picks. A great choice late in Round 1 would be Boise State's Jamar Taylor.
Taylor is a physical cornerback who excels in press coverage, and he is also a very good athlete with strong ball skills. He would be a very good fit and an upgrade that could contribute immediately in the 49ers secondary.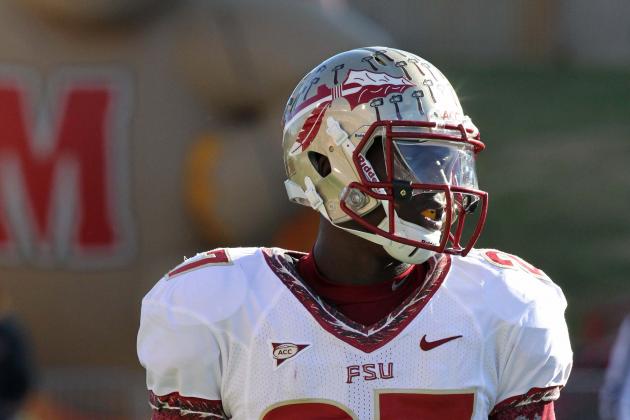 Mitch Stringer-USA TODAY Sports

PROJECTED TRADE: The Baltimore Ravens trade the No. 32 and No. 94 overall selections to the Tampa Bay Buccaneers for the No. 43, No. 73 and No. 126 overall selections.
The Baltimore Ravens are consistently proponents of draft value, and with no clear-cut selections on the board, it would not be a surprise to see them trade down into Round 2 for better value and for additional draft assets.
Meanwhile, the Tampa Bay Buccaneers could have multiple reasons to move up to the No. 32 overall pick and put their extra fourth-round pick (No. 126 overall) to work. In this scenario, both reasons come from Florida State.
Given the late first-round run on cornerbacks, moving up to this pick in order to draft Xavier Rhodes—a very likely choice for the Jacksonville Jaguars to start Round 2—would make a lot of sense if he is still available.
Another possibility would be to take advantage of the quarterbacks sliding down the draft board and select E.J. Manuel, a high-upside selection who could be drafted as an heir apparent to Josh Freeman, who becomes an unrestricted free agent following the 2013 season.
In this mock draft, though, the nod goes to Rhodes. A big, physical and athletic cornerback who excels in press coverage, some have suspected that the Buccaneers could draft him at No. 13 overall, but he would be a good choice to address their cornerback need at the end of Round 1.
Dan Hope is an NFL draft featured columnist for Bleacher Report.