WWE Fandango Craze: The World Does the Fandango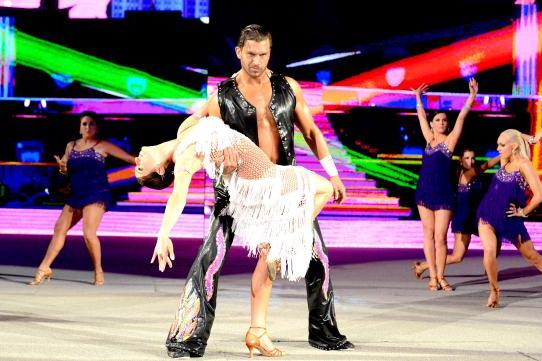 From WWE.com
They said Fandango's gimmick had a ceiling. That he could only go so far as a dancer. That he was midcard material. They still might be right, but for now, Fandango is near the top of the music charts and on top of the wrestling world.
A newly minted Internet sensation who took on the entire Everton soccer club with a handful of tweets. Fandango's organic popularity is being cultivated by the very company that has been accused of detesting this type of unplanned phenomena.
His theme music peaked just outside the top 10 on UK charts as the world continued to dance to the beat of his drum.
As far as that ceiling goes? It may need some repair work.
Those who most successfully captivated the Fandango craze will have done so in a mass setting, with authentic enthusiasm and spontaneity creating a viral environment.
Begin Slideshow

»
In an attempt to further manufacture the Fandango craze, the WWE YouTube page shot a video of various individuals whistling Fandango's theme music.
It's not as much of a craze when performed one at a time. And the elevator setting is far too serene to contain what has become a revolution.
The only thing better than a bunch of loud, predominately male wrestling fans from New Jersey performing the Fandango are a collection of beautiful cheerleading prospects doing the same thing.
The enthusiasm is there, but it appears the ladies have been debriefed as to what is going on and who Fandango actually is.
The Houston Texans performed the dance as the Fandango took more of a mainstream feel. Wrestling may forever be the bastard child of entertainment, but at least it has some hot friends.
WWE fans in attendance at the Izod Center had already done enough to be considered one of the greatest all-time crowds. But they went the extra mile when the WWE baited them into one more performance.
After playing Fandango's theme music following Raw on April 8, fans responded with one last dance before Raw crowds settle back into the family-friendly environment more prone to put viewers to sleep.
Led by John Cena, a Boston SmackDown crowd wasted no time doing its part to advance Fandango-mania.
Fandango personally addressed the crowd, heeling on the Boston fans before getting laid out by babyfaces Daniel Bryan, Kane and Cena himself. The Boston crowd didn't seem to take too well to this until Bryan forced them into a "yes" chant.
The Izod Center in New Jersey was such a hot crowd, it made this list twice. Fandango came out to a lukewarm reception before preparing to take on Kofi Kingston, but he was quickly embraced.
The heel-friendly crowd cheered Fandango in the form of singing his theme music, a chant that couldn't be any more creative if it was subject to a rewrite.
It was unexpected, spontaneous and original. And the more popular "ChaChaLaLa" becomes, the more credit the post-WrestleMania Jersey crowd deserves.