Detroit Lions: My Pre-Draft's Night's Dream (Humor?)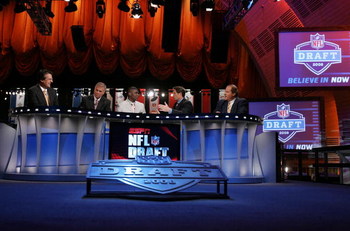 Hello folks and welcome to the 2009 NFL draft. I'm Chris Berman; alongside me is Mel Kiper.
The talk of draft week has been about the Detroit Lions and their GM Sherman L. McClesky. Any thoughts, Mel (Kiper).
Kiper: Expect a lot of moves from Sherman. He has the first pick and a bunch of future picks; he's going to "wheel and deal" in a younger squad for new coach Jim Schwartz.
Berman: Do you think he's going with a QB with the first pick?
Kiper: I don't think so. Look, he obtained Daunte Culpepper midway during last season; he's going to give Culpepper a chance to prove himself.
Berman: What about a wide receiver?
Kiper: I hate to say it, but you can see the Lions drafting another wideout, except this time we won't see it in the first round. I think the Lions had learned their lesson from that.
Berman: Mel, what do you think is Sherman's overall goal in this draft?
Kiper: When Sherman hired Jim Schwartz as head coach, he'd hired a defensive-minded person. Therefore, his goal is to establish the defense first.
However, don't be surprised if he starts off on offense first, particularly at the offensive line.
Berman: Well with that being said, we'll take it down to the floor and to NFL commissioner Roger Goodell.
Goodell: Good afternoon ladies and gentlemen and welcome to the 2009 NFL draft. The first pick of the draft belongs to the Detroit Lions; they are now on the clock.
A Trade and the First Pick (No. 4)
Goodell: There's has been a trade. The Detroit Lions had traded the first overall pick to the Seattle Seahawks for their No. 4 pick and their third round pick, No. 68.
Berman: Mel, what happened there?
Kiper: It seems to me like Sherman has either made up his mind at quarterback or is going on defense. So it's down to one of three men; QB Mark Sanchez or either defensive ends Brian Orakpo or Aaron Maybin.
Don't worry about LB Aaron Curry, because he won't be there.
(Later)
Goodell: With the fourth pick of the NFL draft, the Detroit Lions select...
Mark Sanchez, Quarterback, USC.
Berman: So the went with a QB afterall; just not the one we thought.
Kiper: No, Instead of going with the rocket arm in Stafford, he decided to go with a proven winner in Mark Sanchez. At 6'2", 227lbs, he'll be able to look over his line and complete passes.
He has decent scrambling ability and a pretty good arm, which is all you need when you're scrambling and throwing to Calvin Johnson, who by the way is a USC alumni himself.
I can see those two finding chemistry early.
The Second Pick (No. 20)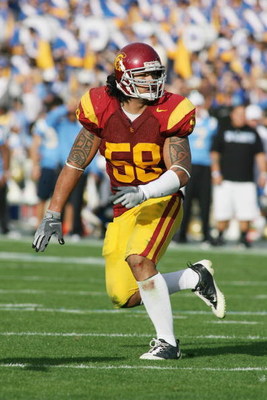 Goodell: With their second pick, No. 20 overall, the Detroit Lions select...
Rey Maualuga, Linebacker, USC.
Berman: So it's back-to-back Trojans for the Lions. Mel, Do I sense a change of field commanders?
Kiper: Absolutely. It appears that Sherman is taking the same stance with the field commanders as President Obama had taken with the automotive CEOs; it's time for a change in leadership on defense and Rey is their new leader.
At 6'1" and 249lbs, Maualuga has the size and speed to cover anyone coming out of the backfield. A hard hitting, run stopper, he was the defensive MVP of the 2008 Rose Bowl. He has the intensity reminiscent of Chris Speilman.
Defensive coordinator Gunter Cunningham is not planning on playing "bend, but don't break" defense; therefore, this pick definitely makes sense.
The Third Pick (No. 33)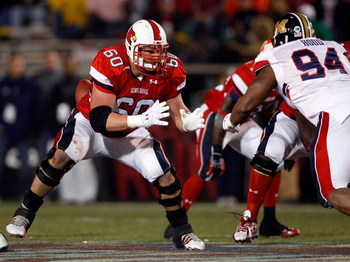 Goodell: With the 33rd pick, the Detroit Lions select...
Eric Wood, Offensive Guard, Louisville.
Berman: A surprise when considering that Eben Britton is still on the board.
Kiper: Not really, when considering how smart Eric Wood is at his position. At 6'4", 310 he has size and the athleticism to start right away at either the guard or center position.
Offensive Coordinator Scott Linehan wants a smarter offensive line. What a better way to start off than to have a lineman capable of playing both guard and center. Good choice.
The Fourth Pick (No. 65)
Goodell: With the 65th pick, the Detroit Lions select...
Keenan Lewis, Cornerback, Oregon State.
Berman: I take it that Sherman has some issues with the corners?
Kiper: Yes and it's called height. The Lions have 10 CBs on their roster; only one, Anthony Henry, is over six feet. Nearly half of them are a little over 5'10" and most of them weigh less than 190.
I'm not saying that they are bad defenders because of their size, but when you're up against the 6'4" +210lb Randy Mosses of the league, the game plan becomes simple; the receiver runs with the corner and safety, then the QB lobs the ball up there.
This 6'1" 208lb speedster posted the third fastest official time at the combine. Expect him to jump to 215 and become a more physical type of corner against those tall receivers. He's going to have a very good sparring partner to work with in Calvin Johnson. Good pick.
Fantasy Fifth Pick (No. 68)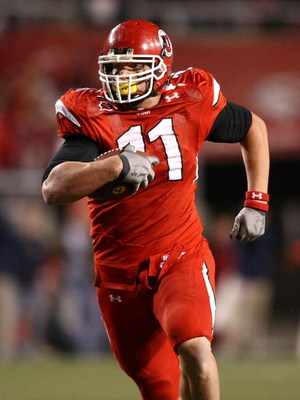 Goodell: With the 68th pick, acquired from the Seattle Seahawks, the Detroit Lions select...
Paul Kruger, LB/DE, UTAH
Berman: Once again, Sherman is staying on defense and to the west of the Mississippi, with Kruger.
Kiper: Yes. With his speed at 263lbs, he has many options.
He could play right now as a defensive end, bulk up a little and become a defensive tackle, or slim down and and become a faster outside linebacker.
Another very smart defensive player in the Lions lineup. I like what Sherman is doing in picking very versatile players.
The Sixth Pick (No. 82)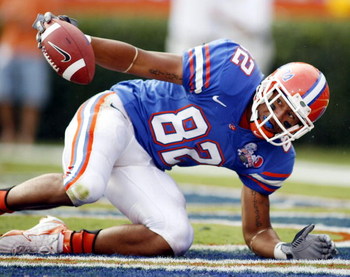 Goodell: With the 82th pick, the Detroit Lions select...
Louis Murphy, Wide Receiver, Florida
Berman: We knew there was going to be a wide out pick at some point for the Lions. This wasn't a bad pick.
Kiper: At 6'2", 203lbs, Murphy has the size to play in this league. In being a career No. 2 two receiver in Florida, he will make a nice complement to Calvin Johnson on the opposite side of the field.
He has but one issue: His route-running skills are questionable and he has drop some pretty easy passes.
Fortunately for Murphy, he has wide receivers coach Shawn Jefferson working with him. After working wonders for Calvin Johnson last season, expect the second year coach to develop Murphy into a very efficient receiver.
The Seventh Pick (No. 137)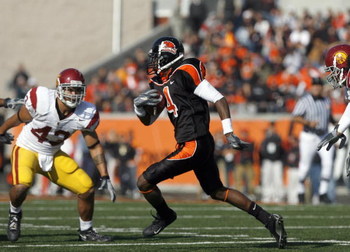 Goodell: With the 137th pick, the Detroit Lions select...
Coye Francies, Cornerback, Oregon State
Berman: Once again, Sherman is literally sizing up his corners.
Kiper: At close to 6'1", Coye Francies will only provide an inch-and-a-half of difference, but as those male enhancement commercials keep hinting, an inch and a half does matter.
He likes making contact with the receivers; add some weight to him and he could become a sleeper in this league.
The Eight Pick (No. 174)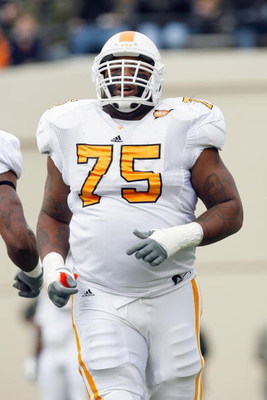 Goodell: with the 174th pick, the Detroit Lions select...
Anthony Parker, Offensive Guard, Tennessee.
Berman: At this point, it appears that Sherman wants the best available for his remaining needs. He wants to protect his QB, therefore he picks Parker.
Kiper: He's not very tall at 6'1" and not very heavy for his position at 295lbs, but he's very athletic; you have no choice, in being athletic, when you trying to block in the SEC.
It's a nice pick for the Lions, who definitely needs help on the O-line.
The Ninth Pick (No. 192)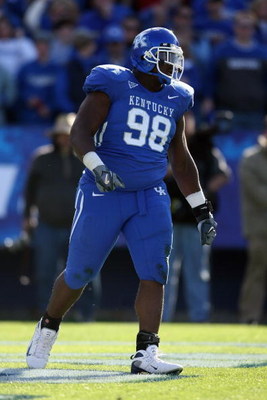 Goodell: With the 192th pick of the draft, the Detroit Lions select...
Myron Pryor, Defensive Tackle, Kentucky.
Berman: So Sherman immediately goes to the other side of the trenches with Pryor.
Kiper: I think Sherman wanted solid competition going on amongst the defensive linemen.
At 6'0", 319lbs, Pryor, with his low center of gravity, can be a handful for the average offensive lineman.
With good defensive coaching, he definitely stands a good chance of winning a spot on a team whose defense had issues stopping the run last season.
The 10th and Final Pick (No. 255)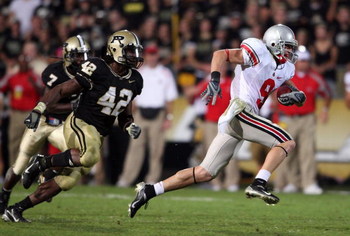 Goodell: with the 255th and final pick, the Detroit Lions select...
Anthony Haygood, linebacker, Purdue
Berman: Well, at least he didn't become "Mr. Irrelevant". Are there any uses for him?
Kiper: Yes there are, but he's going to have to make some decisions about his weight. He's 6'3/4" and weighs 223; he could slim down and attempt to become a defensive back or figure out some way to pick up 25 pounds and still keep his speed.
Outside of that, his best shot at a roster spot lies on special teams. They could use a hard hitter in that department and he fits that mold.
Draft Wrap Up!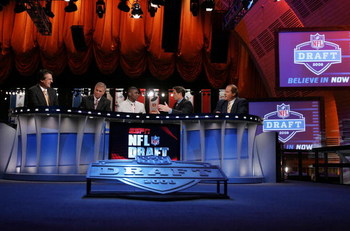 Berman: So the draft ends for Sherman L. McClesky's Detroit Lions. Any final thoughts?
Kiper: Sherman had sent a clear message that he wanted to call out the "field generals".
The QB is traditionally the captain of the offense, he filled that void with Mark Sanchez, assuming that Daunte Culpepper doesn't produce.
He wanted leadership on the offensive line. That leader is usually the center; Eric Wood can play center, so Dominic Raiola, watch your back. If Raiola does hold Wood off, Wood and Parker can compete to improve an offensive line that gave up too many sacks last season.
On defense, once again, a change in leadership. Traditionally, the middle linebacker is the captain. Maualuga fills that gap.
Kruger and Pryor can sit back and provide competition for the defensive line spots and don't be surprised if Keenan Lewis and Coye Francies shocks the world and get lots of playing time at the corners.
The theme of Sherman's draft was clear; he wanted new, young leaders for his new coaching staff.
He definitely has the "capital" to make these moves; because when you own a 0-16 team, you can't really make a bad draft pick and your team upcoming season can't go nowhere but up.
I have a good feeling that his decision to lean more towards the defense will produce immediate results.
I believe a more prepared Daunte Culpepper, with a reinforced offensive line, will give the offense the means to score enough points to win some close games.
I expect that Sherman plans to concentrate on the 2010 and '11 drafts to acquire the remaining players he needs in order to take the Lions to that next level.
In short, the 2009 draft, as far as Sherman was concerned, was a "stimulus" draft, for the Detroit Lions. Get some seats filled and some wins now, prepare for the future later.
Once you see it from that perspective, then you'll understand that it was a pretty good draft. Isn't that right, Shermanshermanshermanshermanshermannnn.....
Wake up!!!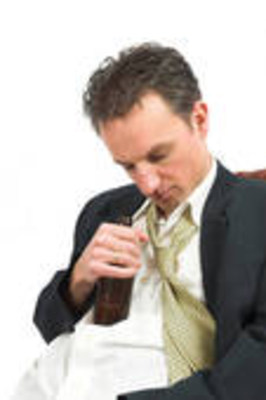 zzzzzzzzzzzzzzzzzz.
uuuuuuuummmm, I draaafted welllllll
zzzzzzzzzzzzzzzzzzzzz
Sherman's mom: ...sherman.... sherman... sherman...
Sherman: Suuuupa Bo!!! ..........
Sherman's mom: SHERMAN!!!
Sherman: zzzzzzzzzzzzzzz...snort!!! .....Uuuuuuhhhh!.... Darn it, it was just a dream!!!! Mom, did I miss the draft?
Sherman's mom: Just the first pick. The Lions picked Stafford.
Sherman: Forget it, mom. I'm going back to sleep. Only In a drunken stupor can a Lions fan dream of a great draft.
Good night!
Keep Reading

Detroit Lions: Like this team?