Doug Collins has officially resigned as the Philadelphia 76ers' head coach.
ABC's Jeff Skversky has the latest:
Sixers owner Josh Harris says Doug Collins will not be back. Collins stays on as advisor twitter.com/JeffSkversky/s…

— Jeff Skversky (@JeffSkversky) April 18, 2013
FOX's Howard Eskin has more details on Collins' upcoming role as 76ers advisor:
Doug collins worked out 5 year deal w #sixers to be consultant to owner josh harris #fox29

— Howard Eskin (@howardeskin) April 18, 2013
Adrian Wojnarowski of Yahoo! Sports originally reported the news last week.
Y! Sources: Doug Collins has informed Philadelphia 76ers ownership that he will not return as coach next season. tinyurl.com/d7rsde9

— Adrian Wojnarowski (@WojYahooNBA) April 15, 2013
The coach's decision should come with a mix of surprise and expectancy.
His team finished the 2012-13 season with a 34-48 record, missing a playoff berth in Eastern Conference by just one spot. After a season of turmoil, however, Collins is wise to call it quits as a coach and stay on as an advisor.
The true surprise in this is the fact that Collins was expected to remain with the team, at least according to his agent. Jason Wolf of USA Today reported that agent John Langel claimed Collins would stay in Philadelphia.
Per Langel, Collins will "continue to be the [Sixers] coach."
No matter what Langel might have said, this is a decision that many saw coming.
Bob Ford of the Philadelphia Inquirer reported Thursday that the 76ers were in fact hoping Collins would step down as head coach.
It appears their wishes have been granted.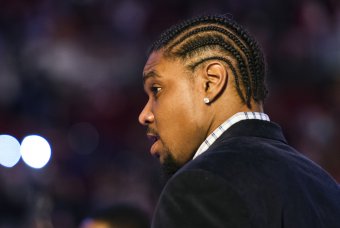 USA TODAY Sports
To be fair to Collins, this season's failure is hardly his burden to carry alone. The Sixers have been ravaged by injuries, most notably those sustained by center Andrew Bynum.
After trading franchise player Andre Iguodala and first-round draft choice Maurice Harkless to acquire Bynum, the big man hasn't played a single game in the 2012-13 season.
Collins, the top pick of the 1973 NBA draft, has accumulated a 109-119 record in three seasons with the team. The Sixers made it to the postseason his first two seasons, including a conference semifinals appearance last postseason.
This will mark the third time in Collins' coaching career he has not made it to a fourth year with a franchise.