The NBA is in the midst of an offensive renaissance.
It's simple math, really: Teams are better than ever at scoring the round ball.
According to Basketball-Reference, 11 NBA teams are on pace to average over 100 points per game (up from three teams last season), 12 teams are averaging over 20 three-point field-goal attempts per game (with eight of the top 10 heading for the playoffs) and about 35 guys will finish the year shooting over 40 percent from three (only 13 guys sniffed the 40-percent club 10 years ago).
Simply put, the game of hoops is being reinvented in real time.
It's an exciting time to be a basketball fan, especially if you root for the New York Knicks.
Madison Square Garden's marquee tenants recently peeled off a 13-game winning streak, riding the hot hands of the mercurial J.R. Smith and otherworldly Carmelo Anthony to the back page of The New York Post. The Knicks have secured the No. 2 seed in the East and look like the best chance to derail Miami's quest for repeat supremacy.
All this winning almost makes you forget that the Knicks were getting owned by the Los Angeles Clippers on the big stage three weeks ago. Almost.
What's the difference between the miserable winter Knicks and this hot fire squad? Can they really keep playing this well in the playoffs? And who the heck is Solomon Jones?
Calm down, Knicks fans; your team is playing its best basketball at the best time. Credit this late-season run to shot selection, floor spacing and Carmelo Anthony in his prime. Whenever an NBA team can turn a Kyrie Irving 31-point night into an Associated Press afterthought, it's okay to start smiling.
For most of the season, the New York Knicks had an identity crisis. The squad began with an 18-5 start, got muddled in the Amare Stoudemire injury mess and limped to that St. Patrick's Day Clippers beatdown.
They talked like title contenders, but with a 20-21 midseason stretch and a tattered lineup, their bark was worse than their bite.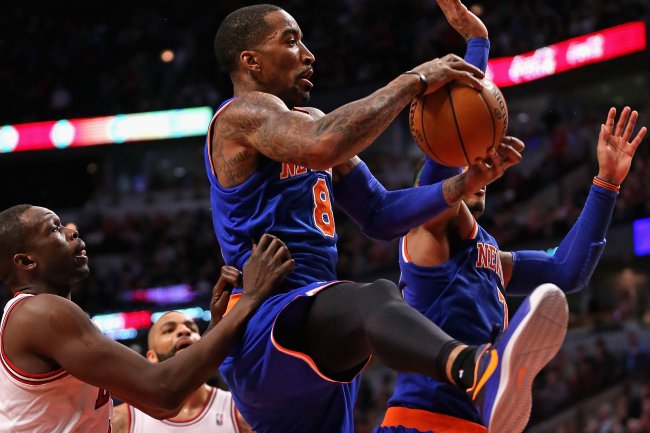 Jonathan Daniel/Getty Images
Since that fateful Clippers game, the Knicks have become offensively efficient and explosive. According to NBA.com, the Knicks have produced 115.9 points per 100 possessions since March 17, a huge jump from their usual 108.7 points per 100 possessions mark and by far the best scoring output in the league.
In addition, the Knicks have controlled the NBA ranking in turnover ratio since the Clipper debacle (13.0 percent), and have led the league in total points scored.
A lot of the Knicks' success during this run can be attributed to the transformed J.R. Smith.
The North New Jersey product is dropping buckets—his 23.5 points per game mark since the run began is 10 points higher than his career average (13.2)—and getting to the free-throw line, with his 6.6 attempts per game during this stretch, serving as a career-high free-throw rate.
J.R.'s aggressive rim attack, coupled with Carmelo Anthony's 32.5 points per game scoring binge, have given Knick shooters clean space and open looks. Since March 17, the Knicks are shooting almost 50 percent, and over 40 percent from the three-point line.
In the Knick of time, this New York team is playing spectacular offensive basketball. That, along with a respectable defensive ranking (15th in NBA), leaves no doubt: We'll be seeing this team in May.