South Carolina Football: Post-Spring Game Two-Deep Depth Chart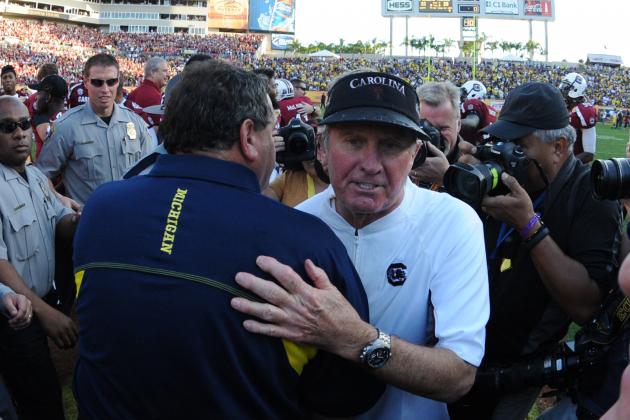 Al Messerschmidt/Getty Images
Head coach Steve Spurrier has a great squad to work with this year as South Carolina will fight for a shot at the BCS National Championship.
South Carolina split into Garnet and Black uniforms in this year's spring game held on Saturday at Williams-Brice Stadium. Star defensive end and preseason Heisman candidate Jadeveon Clowney sat out (except for a trick play touchdown), though the spring game provided a lot of insight for determining the post-spring game depth chart.
The game offered the opportunity for younger players to gain valuable repetitions as well as a chance to work their way up the depth chart.
Other players squared off in heated position battles and some led to easy decisions for movement up and down the depth chart.
The spring game is now in the books and the Gamecocks have a clearer view of what the depth chart may look like this fall.
Here is a look at the South Carolina Gamecocks' two-deep depth chart after the Garnet and Black spring game.
Begin Slideshow

»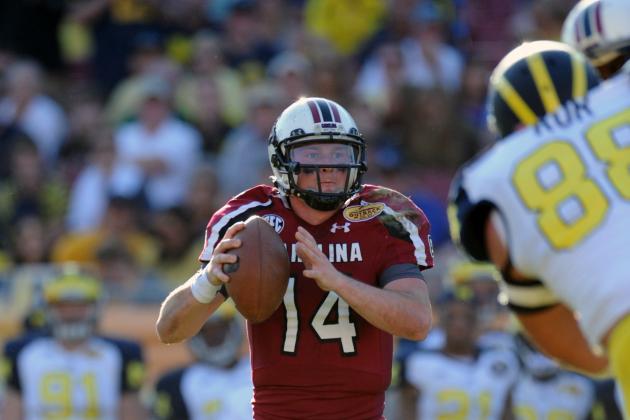 Al Messerschmidt/Getty Images

Starter: Connor Shaw
Backup: Dylan Thompson
Senior quarterback Connor Shaw is still out after undergoing foot surgery, but as of right now he is still the starter.
Shaw had a great campaign in 2012 and offers the Gamecocks a speed style of play that can utilize the zone-read running attack and shotgun sets.
Redshirt junior Dylan Thompson is having a strong spring so far and is more suitable for captaining a power, pro-style offense that works out of under-center quarterback sets.
Thompson has a powerful arm and his accuracy has looked very good this spring.
Both quarterbacks can handle the pressures of the game and make the correct reads. They also have extreme confidence and are proven winners at the position.
Shaw gets the nod as the starter and Thompson is the best backup quarterback in the country, which also leads to the talk of Spurrier platooning his quarterbacks.
Only time will tell what Spurrier's final decision will be, but Shaw is this team's starter for now.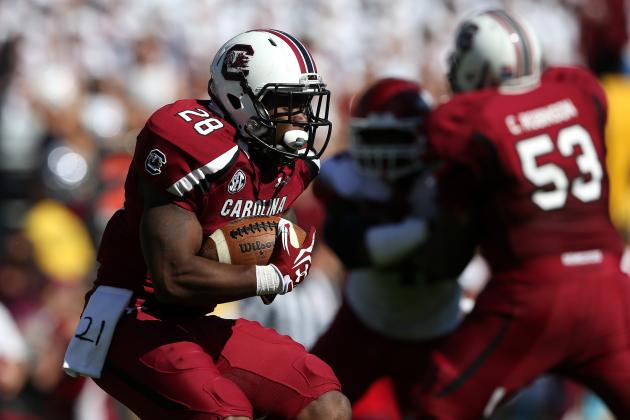 Streeter Lecka/Getty Images

Starter: Mike Davis
Backup: Brandon Wilds
Fullback: Connor McLaurin
Entering the spring, running back was a wide open competition. Now, one man sits atop the depth chart.
Sophomore Mike Davis stood out in the spring game with his combination of power and speed to make plays on the ground and earn the No. 1 running back spot. He bounced off of tackles, ran with confidence and provided a balanced approach to the running game as he can make plays inside and outside.
Redshirt sophomore Brandon Wilds still had a good spring game, but was overshadowed by Davis' performance.
Wilds is the power back who will still earn a fair share of carries in the fall. Although, he definitely lost some ground on Davis after the spring game.
The Gamecocks may not have expected to have a premier running back step up this early in the offseason, yet Davis' emergence is huge for this team.
Along with the integration of the power running game comes the use of a fullback. McLaurin is more than capable of making lead blocks and will be utilized in this offense.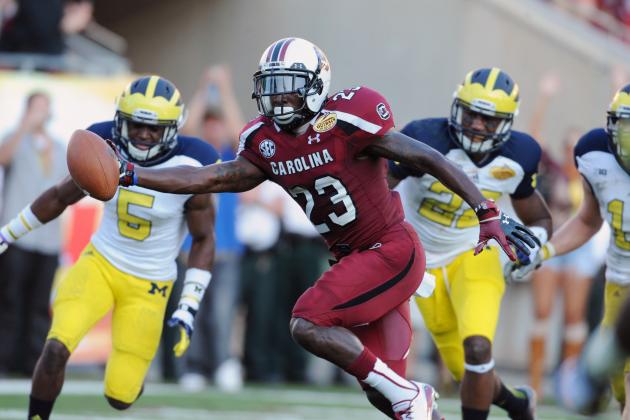 Al Messerschmidt/Getty Images

Starter: Shaq Roland
Backup: Shamier Jeffery
Starter: Bruce Ellington
Backup: K.J. Brent
Starter: Damiere Byrd
Backup: Jody Fuller
Starter: Nick Jones
Backup: Kwinton Smith
With the loss of Ace Sanders, the Gamecocks entered the spring with questions at the wide receiver position.
After the spring game, the position battles now seem a bit more clear.
Shaq Roland stepped up his game and really put his talents on display. He could be the team's No. 1 target in the fall.
While this group of receivers is fairly young and inexperienced, it is not short of depth and talent.
Bruce Ellington, Damiere Byrd and Nick Jones are all strong options at wide receiver and will definitely grab a large amount of playing time. Ellington could be due for a huge season of production.
K.J. Brent is one of the taller receivers and provides excellent depth at the position. He could also make some moves to jump a player to gain some more game time.
Shamier Jeffery is having a good spring and was in a battle with Roland, though Roland separated himself from Jeffery during the spring game. He will still work his way into the rotation this fall.
This season and the future are bright for South Carolina and its core of wide receivers.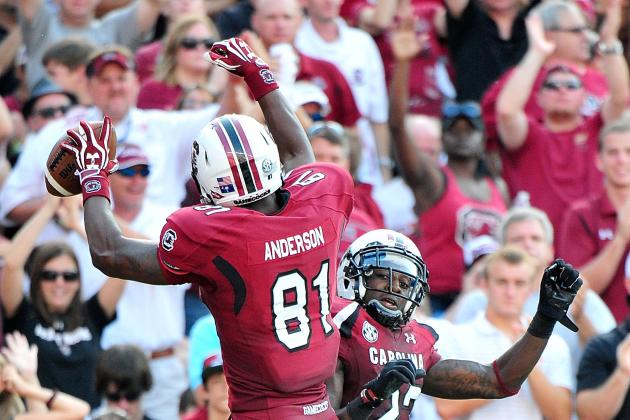 Grant Halverson/Getty Images

Starter: Rory "Busta" Anderson
Starter: Jerrell Adams
Backup: Drew Owens
Tight end is one of the strongest positions for the Gamecocks this season.
With two extremely big, athletic tight ends, South Carolina has extra blockers who will also be key receiving targets in the offense.
It is very difficult to pick one to start over the other and the team intends to use two tight end sets regularly in the offense, so both get starting nods.
Anderson looked great on seam routes, while Adams was the big playmaker in the spring game with his touchdown catches.
Don't forget about Owens, who fits the South Carolina breed of tight ends, too.
The Gamecocks tight ends will wreak havoc on opposing defenses this season with their size, speed and athleticism.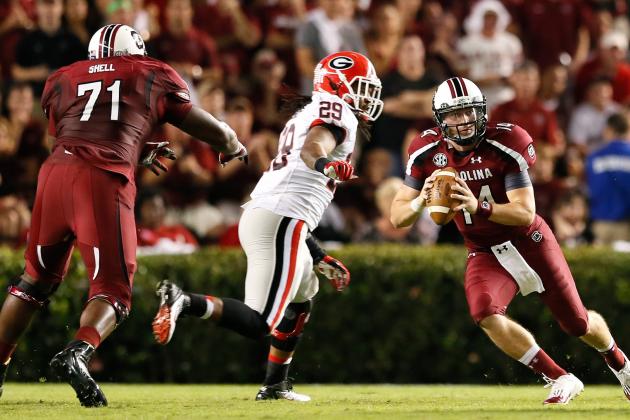 Kevin C. Cox/Getty Images

Left Tackle: Corey Robinson
Backup: Mike Matulis
Left Guard: A.J. Cann
Backup: Brock Stadnik
Center: Cody Waldrop
Backup: Clayton Stadnik
Right Guard: Ronald Patrick
Backup: Will Sport
Right Tackle: Brandon Shell
Backup: Cody Gibson
There is not a whole lot of movement on the offensive line after the spring game.
South Carolina has a solid group of linemen who are strong blockers in both the passing and running game.
Shell anchors the line after finishing 2012 as a member of the freshman All-American team.
Robinson, Cann, Waldrop and Patrick will round out a good offensive line that needs to hold its protection for the passing attack and running game.
Sport has versatility to fill in as a center or right guard as needed.
Offensive line coach Shawn Elliott has done a great job as the commander of the offensive line and that progress will continue this season. Elliott is doing some great work so far this spring and it showed in the spring game as the running game was working and the quarterbacks had time to make plays.
The Gamecocks are lucky to have Elliott back this season and a good offensive line for him to work with.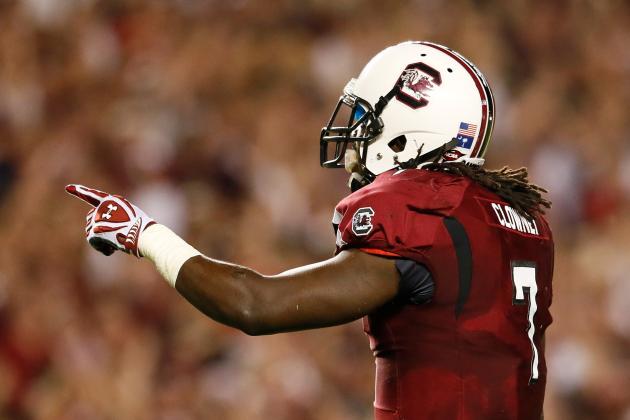 Kevin C. Cox/Getty Images

Defensive End: Jadeveon Clowney
Backup: Mason Harris
Defensive Tackle: J.T. Surratt
Defensive Tackle: Kelcy Quarles
Backup: Gerald Dixon Jr.
Defensive End: Chaz Sutton
Backup: Gerald Dixon
With Clowney on the defensive line, this pass rush is going to be dominant in 2013.
There is not a whole lot of movement on the line as the Gamecocks return players.
Surratt and Quarles will anchor the interior of the defensive line as bigger players who are key for stopping the run. Dixon Jr. provides a lot of size and a strong backup at the tackle position.
Sutton will take his stance on the opposite side of Clowney and Dixon will be backing him up there.
Clowney will play all the time, but it is good to know that Harris can come in as a speed rush player and get to the quarterback. Harris had a good showing in the spring game which has him jumping Darius English on the depth chart, though English will also find some action in 2013.
Clowney is the main force on the Gamecocks defensive line, but he has a strong group of players around him who looked good in the spring game.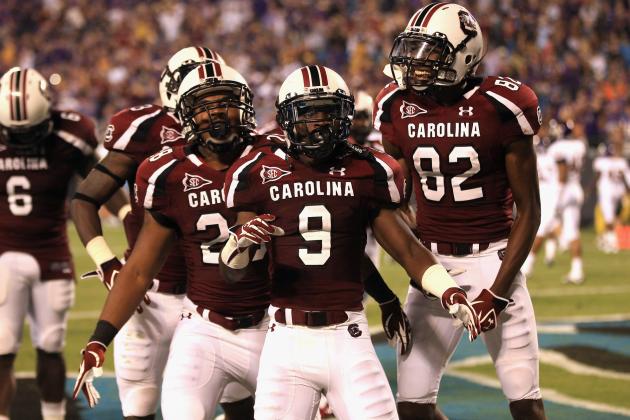 Streeter Lecka/Getty Images

"Mike" Linebacker: Kaiwan Lewis
Backup: T.J. Holloman
"Will" Linebacker: Cedrick Cooper
Backup: Kelvin Rainey
"Spur" Linebacker: Sharrod Golightly
Backup: Jordan Diggs
Linebacker has been one of the positions that is a totally open field for who will start at each position.
After the spring game, there is a lot more clarity at the three linebacker positions.
While Holloman is a special football mind, Lewis is still the front runner to land the Mike linebacker starting nod. Both will garner a lot of playing time, especially if Cooper is unable to perform at the start of the season.
Cooper should start at Will linebacker despite recovering from an injury. Rainey is quickly working his way up the depth chart after switching to linebacker from tight end at the start of the spring season.
Rainey's spring game performance was very solid as he displayed his athleticism for the position. He jumps Marcquis Roberts for now, but those two still remain in a tight battle for who will backup Cooper.
The Spur linebacker position was the most open competition entering the spring, but Golightly's play sets him up to be named the starter.
Golightly is smaller than Diggs, but has good coverage instincts.
Linebacker was thought to be a position of concern, but the spring game and practice season have tightened up the Gamecocks' squad of linebackers.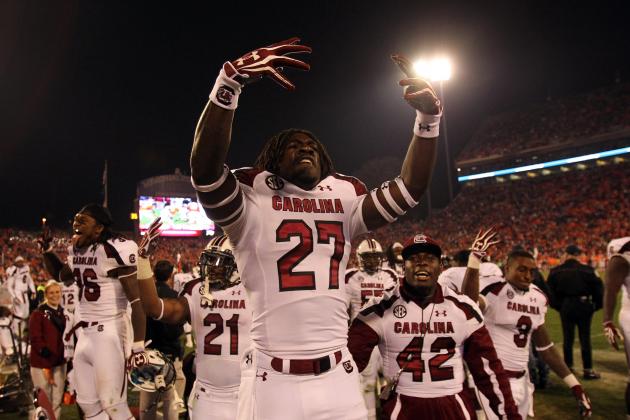 Streeter Lecka/Getty Images

Cornerback: Victor Hampton
Backup: Ahmad Christian
Cornerback: Jimmy Legree
Backup: Ronnie Martin
Free Safety: Kadetrix Marcus
Backup: T.J. Gurley
Strong Safety: Brison Williams

Backup: Chris Moody
South Carolina is faced with the tough task of replacing D.J. Swearinger at free safety, but may have found its best fit after the spring game.
Kadetrix Marcus is a passionate, dedicated player to the game who is trying to follow in Swearinger's shoes as a team leader and performer on the field. Gurley is still recovering from an injury and is the best fit to back up Marcus. Keep an eye out for Chaz Elder who had a great spring game and could leapfrog Gurley at the start of the year due to Gurley being out with a knee injury for a long period of time.
Victor Hampton is the coverage stud of this group who has the potential to really stand out this year.
Legree will play on the opposite side and has the skills to hold his own as the No. 2 cornerback on the team.
Christian and Martin will need to be ready to step up and come into the game as backups or in nickel and dime packages.
No real movement occurred at strong safety after the spring game. Williams ranks ahead of Moody at the position and rounds out a group of defensive backs who will need to play big throughout 2013 if the Gamecocks want to keep the national championship hopes alive.
South Carolina's secondary looked a bit shaky in the spring game, but they will be in good form for the season because the talent is there.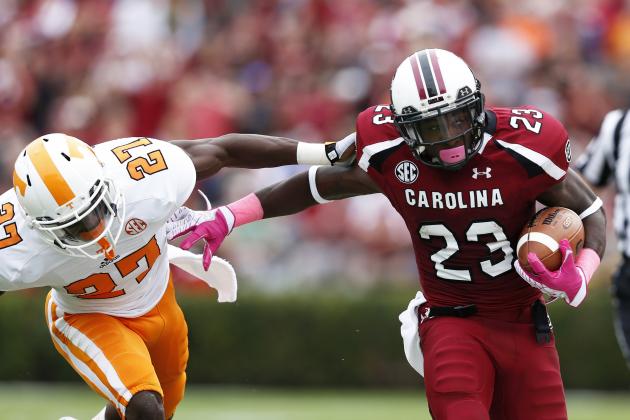 Joe Robbins/Getty Images

Kicker: Landon Ard
Backup: Nick St. Germain
Punter: Tyler Hull
Kick Returners: Bruce Ellington and Damiere Byrd
Punt Returner: Bruce Ellington
Landon Ard is going to take the duties of place kicker and the kickoff man. St. Germain is a capable backup who sank two of his three field goals in the spring game.
Tyler Hull will be the punter for the season even though Patrick Fish took three punt attempts in the spring game.
The return game is difficult to predict since the returns were uncontested, non-contact plays.
Ellington is the most consistent returner, but Byrd provides a level of speed that few can match in the ranks of college football.