5 Reasons Why Carolina Needs to Draft a Wide Receiver in Round 1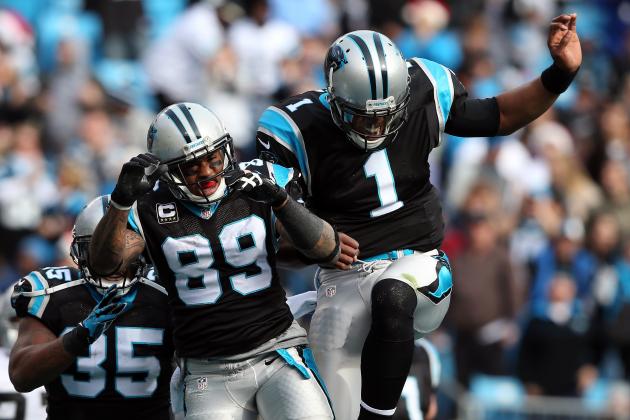 Streeter Lecka/Getty Images
Cam Newton (1) has found success with Steve Smith (89) but another WR can elevate the Carolina offense.
The Carolina Panthers have been meeting with many draft prospects during the offseason and evaluating combine numbers, pro days and game tape.
The majority of this year's prospects whom the Panthers have interviewed or worked out privately have been those who play a position at which Carolina needs to improve this upcoming season.
While defensive tackle has been a much analyzed position in terms of first-round selections, the Panthers would be wise to consider taking a wide receiver with the 14th overall pick. The consensus among many fans suggests that Carolina needs to find someone who can make the passing game a lot more effective.
There are plenty of reasons why the Panthers should take a certain player or draft at a particular position. Here are five reasons why Carolina needs to draft a wide receiver in the first round.
Begin Slideshow

»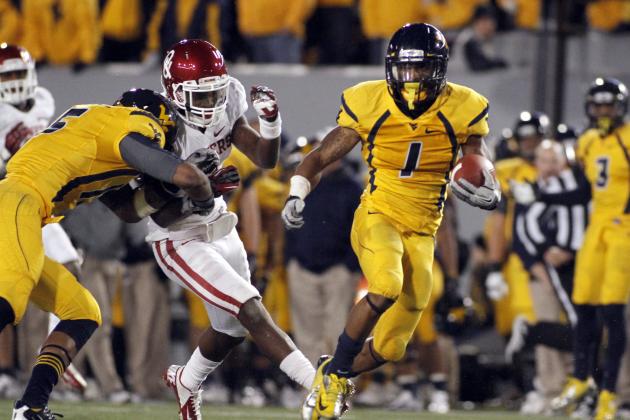 Justin K. Aller/Getty Images

The benefit of drafting in the middle of the first round is there are plenty of prospects in which to choose from that can help the team. With teams before them in the draft process looking at and selecting talent at other positions, the Panthers should be able to nab a top wide receiver prospect at No. 14 overall.
Many experts feel that Tennessee wide out Cordarrelle Patterson is that guy, but arguments have been made in support of taking West Virginia receiver Tavon Austin or Clemson product DeAndre Hopkins.
Truth be told, any of these guys would be a great addition to the Carolina roster.
Carolina needs a playmaker to take away double-teams from Steve Smith, and each projected first-round receiver has attributes to make that happen. Austin could add the top-end speed to take the top of defenses, and aggressive Hopkins has the physical tools to make catches in traffic.
According to a recent poll from the aforementioned article in the introduction, 24.6 percent of fans would like to see Austin drafted by the Panthers.
While this number is second to defensive tackle Star Lotulelei (29 percent), the overall tally has fans nearly split between wide receiver and defensive tackle, with the defensive line position edging the receiver spot (37.1 percent to 36.6 percent).*
*Note: Poll numbers as of April 14th, 2013.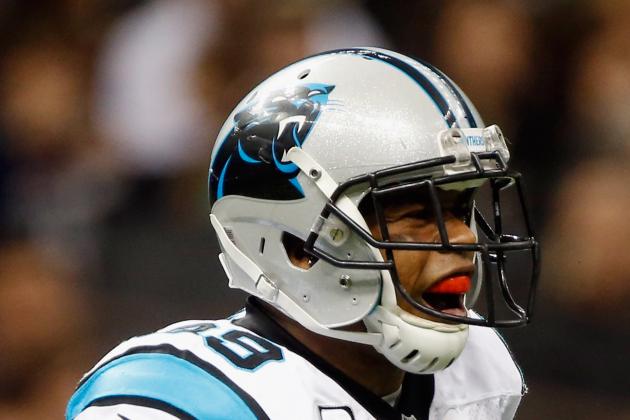 Chris Graythen/Getty Images

Steve Smith is an icon in Carolina, and while he may fall short of Canton when his career is over, he will forever be endeared to Panther fans.
While Smith is still producing on the field, his time as an NFL receiver is gradually coming to an end. The Panthers would not only benefit Smith by drafting a wide receiver, but they would address a need that will present itself sooner rather than later.
The Panthers have loaded up on wide receivers during the offseason by acquiring Ted Ginn, Jr. and Domenik Hixon. Even with those additions—and with holdovers Brandon LaFell, David Gettis and Joe Adams–no one on the current roster appears ready assume the mantle of number one wide receiver.
But adding one of the top receiving prospects to an already stacked depth chart changes everything.
If the Panthers strike gold in drafting a receiver in the first round, they would then have the chance to utilize two productive receivers on the same field for the few seasons that Smith has left. This scenario also allows this year's receiver prospect to transition to the number one wideout role when Smith does step down.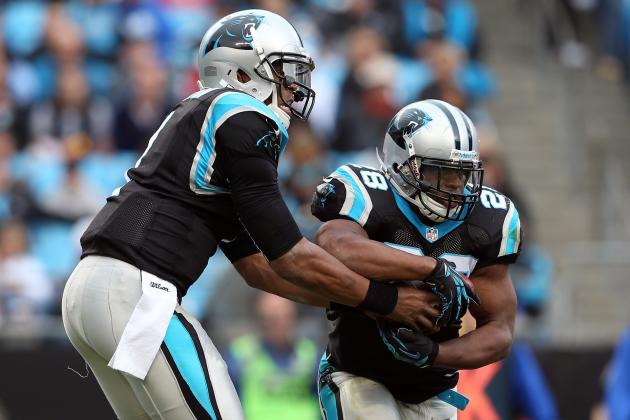 Streeter Lecka/Getty Images

While the Carolina running game is not a complete disaster, it still is ridiculous that so much money is tied into three players who play one position.
Adding to the frustration is the fact that both DeAngelo Williams and Jonathan Stewart haven't been playing at a high level over the past two seasons.
Two sub-1,000-yard seasons and durability issues could force the Panthers front office to consider taking the heat off of the running game and turn the offensive philosophy into a pass-first offense.
The current offensive roster supports such a transition as Smith highlights a group of adequate receivers while Greg Olsen is a solid pass-catching tight end. Throw in one of this year's top receiving prospects and the whole dynamic of the Carolina offense could rival the pass-heavy offenses of New Orleans and Atlanta.
Carolina general manager Dave Gettleman has stated he would like to see quarterback Cam Newton be more of a pocket passer. Having another weapon who can make plays will help him ease into this role. It's better to have him making plays with his arm versus running with the ball and risking injury.
As for the tandem of Williams and Stewart, there is certainty that they will run the ball effectively in 2013. Plus, there is still a possibility that the Panthers could trade one of them, and if that happens, Carolina may have to rely on the passing game more than ever.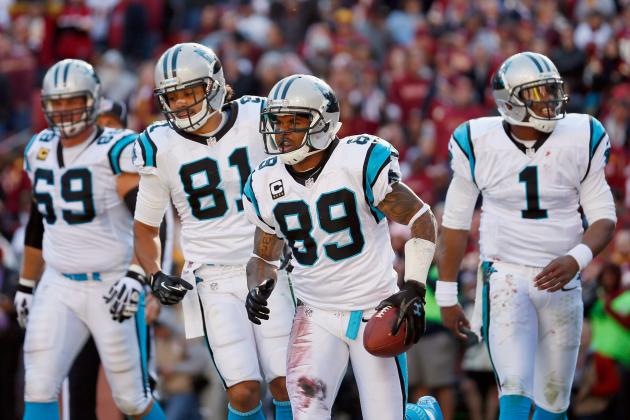 Rob Carr/Getty Images

When the day comes that Steve Smith hangs it up, Cam Newton will need to find another playmaker he can rely on, a guy he can find in critical moments when the the game is on the line.
Joe Montana and Steve Young had Jerry Rice. Troy Aikman had Michael Irvin. Tom Brady had Wes Welker. All of these guys spent the majority of their careers together and together they won championships.
Drafting a wide receiver is the first step to winning and building a contender.
Smith won't be around much longer, and Newton is still young enough to start and cultivate a new relationship with a receiver—especially if the Panthers draft a standout talent this year. Newton can develop a rapport with this new teammate, and Smith will have the chance to mentor his heir apparent.
With any luck, all three can find success and perhaps a championship before Smith decides to call it a career.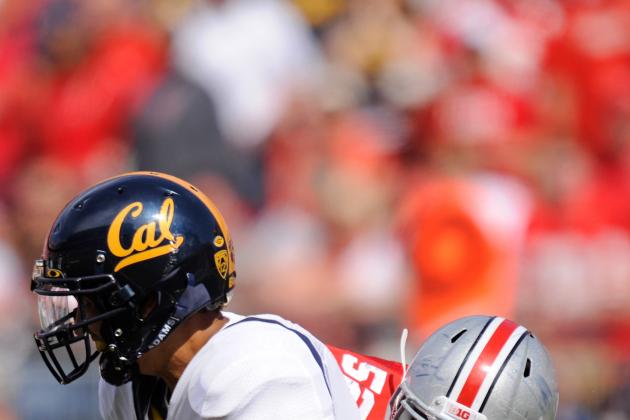 Jamie Sabau/Getty Images

There are many defensive tackles in this year's class who will be assets to any team who drafts them.
Whether they slip into the second round or go there as projected, a few such prospects can certainly help shore up the interior of the Carolina defensive line.
If Carolina were to draft a wide receiver in the first round, they should have some appealing options at defensive tackle in the second. Two players who immediately standout are Johnathan Hankins of Ohio State and Purdue's Kawann Short.
Both are quality defensive tackles who can help improve the rush defense and enhance the pass rush from the middle. Either one would automatically make the Carolina defensive line a legitimate threat to opposing offenses.
Another prospect the Panthers could set their sights on is Georgia's Johnathan Jenkins. At one point he was a first-round projection but has been slipping of late. Carolina has found some success with Georgia defensive players before, as they already boast two UGA alumni on their starting defense (Charles Johnson and Thomas Davis).
If the Panthers do indeed go with a wide receiver in the first round, the chances are they will look to draft a defensive tackle in Round 2. Either Hankins or Short would be an asset and could make an immediate impact to the defensive side of the ball.