Todd McShay 2013 NFL Mock Draft: Analysis for Each Pick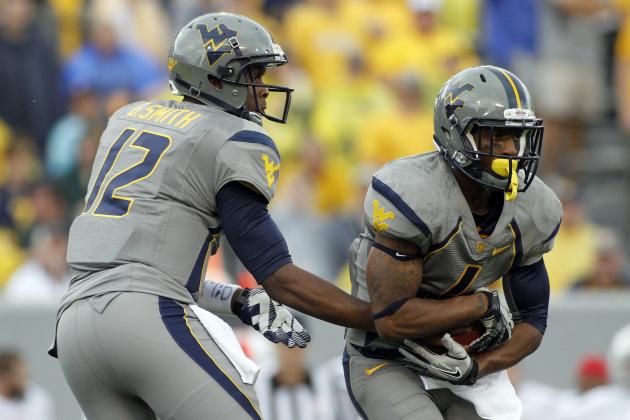 Justin K. Aller/Getty Images

With the 2013 NFL draft less than two weeks away, the speculation continues to heat up. In many cases, many of the notable draft analysts give their predictions with mock drafts, which offers even more insight to what teams around the league are thinking.
One of those analysts is ESPN's Todd McShay, who recently updated his mock draft (subscription to ESPN Insider is necessary).
While his reasoning for these picks certainly makes sense, I have a bit of a different view on how some of these picks could potentially go down. Each of McShay's first-round picks will be discussed first, and I will follow up each pick with either my agreement of his selections or my suggestions as to which direction each team with a first-round pick should go in.
Here is my analysis of McShay's recent mock draft.
Begin Slideshow

»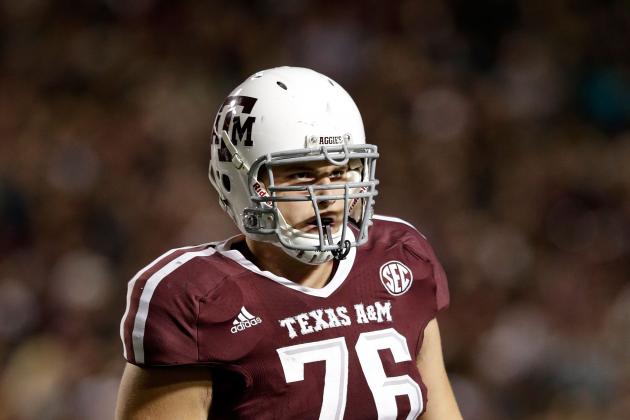 Scott Halleran/Getty Images

I am in full agreement with McShay on this selection. In a draft where there is no quarterback prospect that resembles the prospects from last year, Joeckel is the safest pick and can immediately upgrade the offensive line from day one.
Regardless of whether Brandon Albert stays at left tackle or moves to right, the Chiefs select a lineman who can anchor this unit for years to come.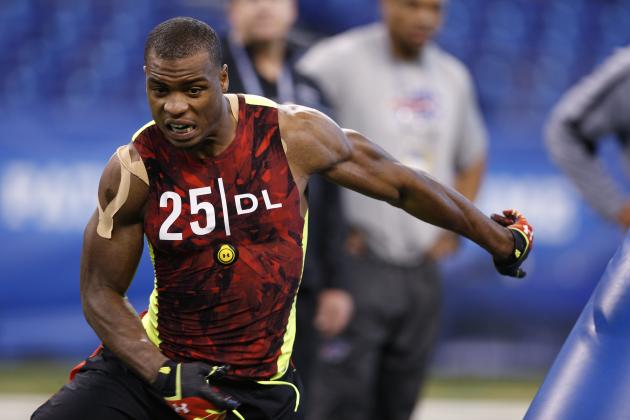 Joe Robbins/Getty Images

Once again, I agree with McShay with this selection. While the Jaguars can go in many directions, which includes Geno Smith or Eric Fisher, new head coach Gus Bradley realizes how big of a concern the pass rush has become the last few years for Jacksonville.
Jordan's athleticism at outside linebacker makes the pick worthwhile for Jacksonville, which has built a steady front office and coaching staff as the team moves forward.
Although the Oakland Raiders have massive upgrades across the defensive line, I don't believe they will select Ezekiel Ansah as McShay projects.
Typically, this would be a classic Raiders first-round selection. Ansah displays fantastic athleticism and has proven that on many occasions on tape and during the combine.
However, he also has the potential to be another miss for this franchise. His athleticism hasn't always led to success every single game, which should be a concern for teams.
Instead, the Raiders would be better off with Star Lotulelei. He is the most consistent defensive line prospect in this draft and has the potential to anchor the pass rush for years to come. With Lotulelei being medically cleared, the Raiders could find a very good addition with this selection.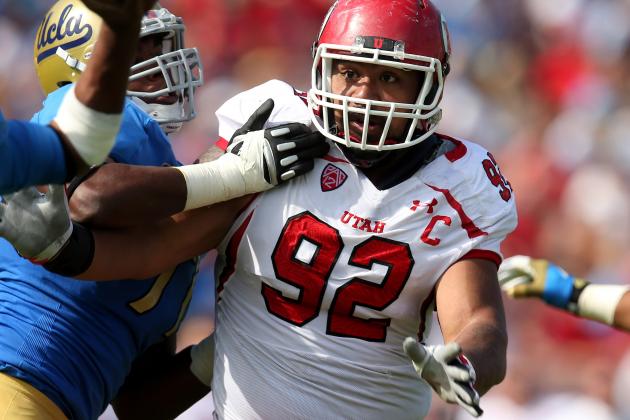 Stephen Dunn/Getty Images

If Lotulelei is available with the fourth overall pick, I agree that the Eagles would make a good decision selecting him.
As I mentioned previously, he is the most consistent defensive line prospect in the draft and would fit very well alongside Fletcher Cox as the Eagles shift to a 3-4.
However, if he is indeed off the board, Chip Kelly should use this opportunity to improve the offensive line and select Eric Fisher.
Fisher is one of the safer picks in the draft, as his athleticism makes him a surefire contributor for a team such as Philadelphia that greatly needs another offensive tackle.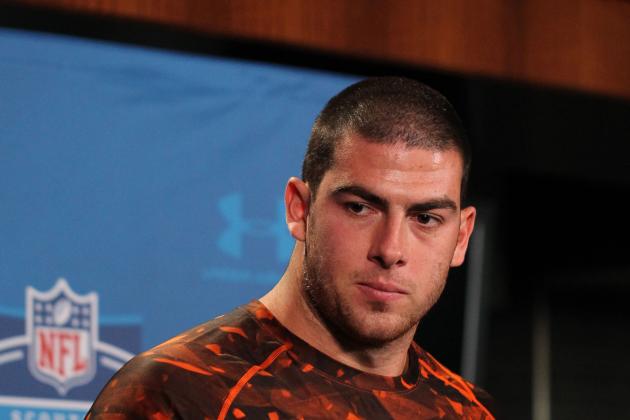 Brian Spurlock-USA TODAY Sports

If Eric Fisher is available with the fifth overall pick for the Lions, I agree with McShay's assessment.
The Lions offensive line was barely adequate to begin with. The loss of Gerald Cherilus and with Riley Reiff likely moving to offensive guard, this would be the perfect way to significantly improve his pass protection.
However, if he is no longer available at the No. 5 pick, the Lions will take a very hard look at Ziggy Ansah. His explosiveness as a pass-rusher would be a very good addition to a defensive line that is thin outside of Ndamukong Suh.
Jim Schwartz has plenty of experience coaching up defensive linemen going back to his days with the Titans. The potential is too much to pass up.
Jeff Zelevansky/Getty Images

Could the Cleveland Browns spend a first-round pick on a quarterback for the second straight year? While it could happen, I'm not sold on the new front office pulling the trigger with the sixth overall pick.
Smith is likely to become a first-round pick, but his inconsistencies worry me. He excelled early on in his senior season against a few of the weaker defenses in college football. His production decreased from his initial successful start, despite playing against Big 12 defenses.
Also, there's no guarantee that he will transition to a normal pro style offense after playing in the spread offense at West Virginia and having Tavon Austin and Stedman Bailey alongside him.
If this were indeed to happen, I envision it would occur due to the Browns trading down in the draft, possibly in an exchange with the Miami Dolphins. At 12th overall, with the majority of their top players off the list, Smith could very well fall there.
However, if they stay with the sixth overall pick, they will add another talented defensive back to their secondary with the addition of Dee Milliner. Joe Banner is a big fan of cornerbacks, and his tenure with the Eagles proved that notion.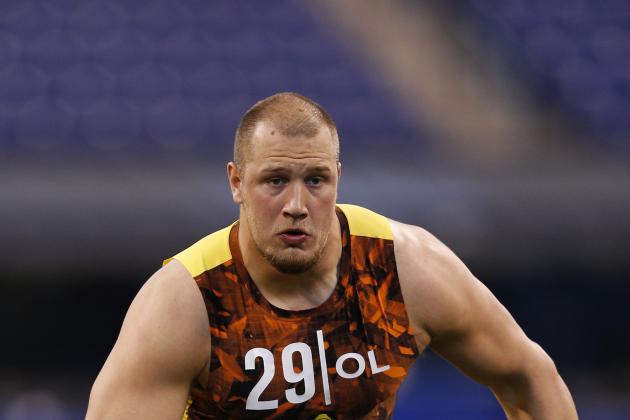 Joe Robbins/Getty Images

I am in agreement with McShay on the Cardinals selection. Barring a team such as the Miami Dolphins trading up to select Lane Johnson, he will land in the NFC West.
With Carson Palmer added to the roster, the offensive line is the main priority after its major struggles last season.
While Johnson isn't in the same elite class of Joeckel and Fisher, he will be an immediate upgrade over the current talent at left tackle on the Cardinals roster.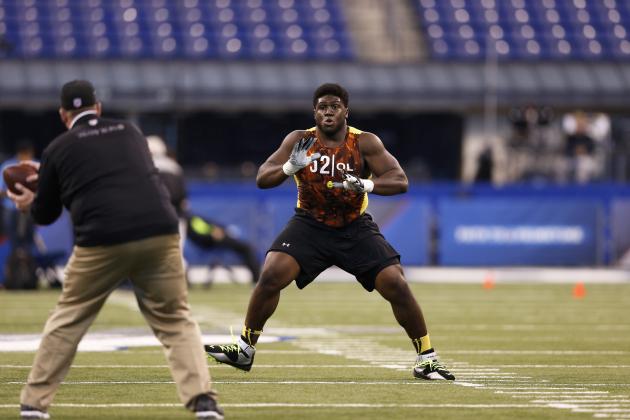 Joe Robbins/Getty Images

While I agree with McShay that the Bills will select Chance Warmack, I continue to be intrigued whether or not Doug Marrone will pull the trigger on Ryan Nassib.
After covering Marrone last year while at Syracuse, I am under the impression that Marrone won't reach with Nassib due to the connection. While trading back into the first round to take him is possible, Marrone isn't going to shy away from using his talented backfield in CJ Spiller and Fred Jackson.
With the departure of Andy Levitre, Warmack will manage to fill the void right away and continue to maul defenders when running the football.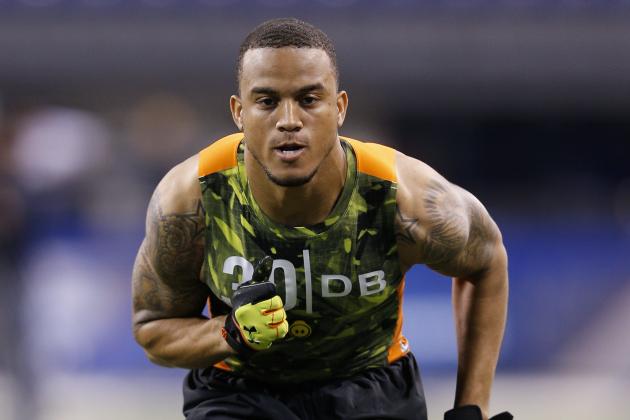 Joe Robbins/Getty Images

This pick can change dramatically based on whether the Jets keep Darelle Revis. I am under the notion that regardless of what happens, the Jets will focus on upgrading one of the worst pass-rushing units in the NFL.
Barkevius Mingo continues to be an interesting fit for many teams, but the Jets could benefit from his pass-rushing abilities on the outside while Muhammad Wilkerson and Quinton Coples continue to develop on the inside.
Ultimately, Rex Ryan's defense needs to have a quality pass rush to become effective. Mingo can be another addition toward that young defensive front.
McShay and I are in agreement again on a selection. The Tennessee Titans have a variety of holes on the defense, but the defensive line has been a weak unit since the departure of Albert Haynesworth and Kyle Vanden Bosch a few years ago.
Shariff Floyd's potential alone makes him a top-10 selection, as his athleticism for a defensive tackle cannot be ignored.
As McShay mentions in his mock draft, Floyd can open up opportunities for Derrick Morgan and Kamerion Wimbley to reach their full potential and elevate their game to improve the pass rush.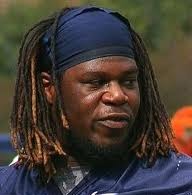 McShay and I are both in agreement due to the struggles that the Chargers have faced alongside the offensive line.
The departure of Louis Vasquez to Denver only diminishes the overall talent on an already thin depth chart. Jonathan Cooper is the best option remaining for San Diego and has the skill set to potentially become the best all-around offensive guard in the draft.
Fortunately for Philip Rivers, his protection will get a bit better after this move.
The Miami Dolphins may very well move out of the 12th overall selection. They could move up to select either Eric Fisher or Lane Johnson in the draft. If they can't complete a deal, they could very well move down in the draft and gain extra picks.
If they stay at pick No. 12, I agree that there will be an upgrade to the secondary. There is plenty of inexperience at both cornerback and safety. However, the Dolphins did sign Brett Grimes at a friendly price, and he could easily fill the void of Sean Smith.
I believe the Dolphins can pull the trigger on Kenny Vaccaro, the best overall safety in the draft.
With a draft that has a lot of value with defensive backs in this year's class, Vaccaro could fill the void at one position and leave the Dolphins to use the rest of the draft to find a few talented cornerbacks.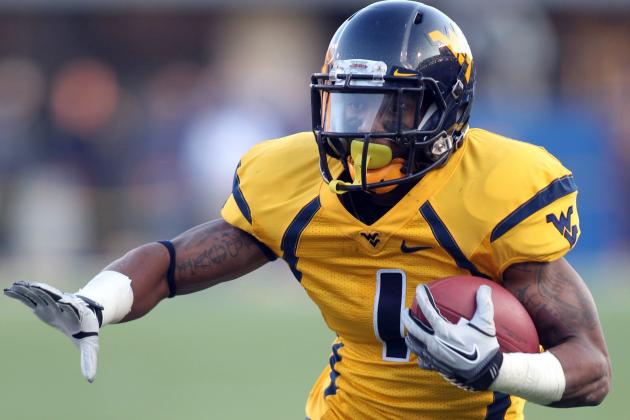 Charles LeClaire-USA TODAY Sports

The Buccaneers could very well lose this selection if they acquire Darelle Revis. If they stay put, they could select Tavon Austin like McShay suggests. There hasn't been another legitimate receiver outside of Vincent Jackson that can produce consistently.
Austin would add a dynamic offensive figure to an offense that is hoping to see improvement from its own quarterback. By adding a guy such as Austin, that could very well change.
However, this all depends on whether Rhodes is still available at cornerback for Tampa Bay.
If he is available as I predict, the Buccaneers will need to address the 32nd-ranked passing defense and add a young, physical cornerback.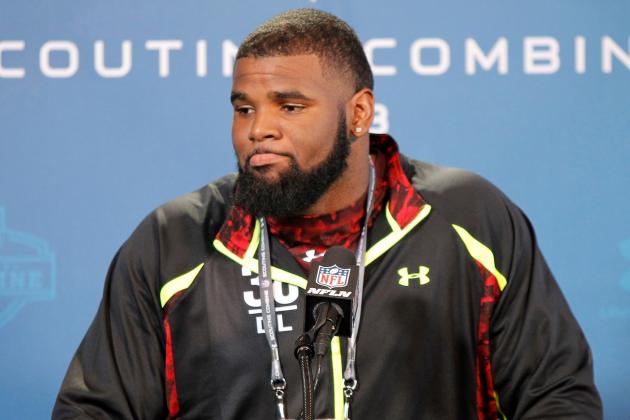 USA TODAY Sports

The Carolina Panthers should heavily consider improving one of the worst defenses in the league with this selection. The defensive line could use serious work, which makes sense if they select defensive tackle Sheldon Richardson.
They could also consider Vaccaro if he manages to still be available with the 14th pick.
However, I am convinced that the Panthers will take an extremely hard look at Tavon Austin if still on the board when he gets to them. Not only is Steve Smith aging, but with a new offensive coordinator in place, the focus can shift toward improving Cam Newton as a passer.
By adding the most dynamic prospect in the draft, that mission could be accomplished.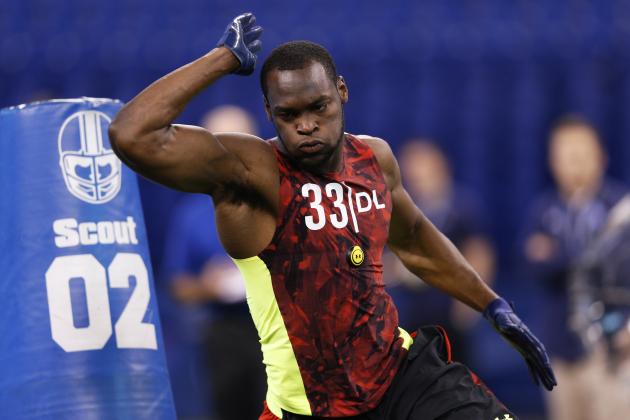 Joe Robbins/Getty Images

The New Orleans Saints need to prioritize defense, as their lack of quality play against opposing offenses hurt their chances of a postseason birth.
If Mingo is available at this pick, I like the move due to the improvement in pass rush. Will Smith continues to age and could very well be moved after next year due to salary cap purposes.
Based on my projections, Sheldon Richardson is also a very valuable option if available at pick No. 15. Nonetheless, McShay and I agree that upgrading the defensive line is a priority.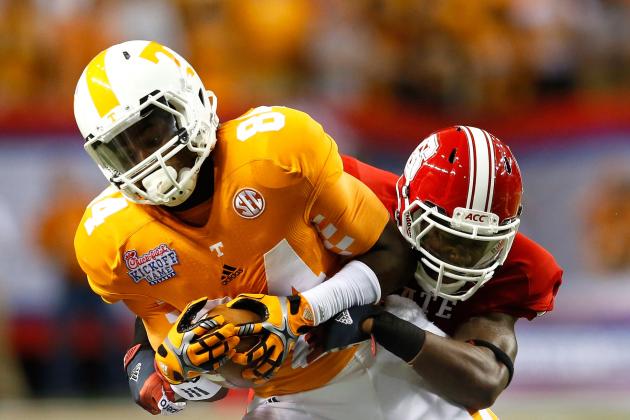 Kevin C. Cox/Getty Images

I have been supporting this move for quite awhile. While the Rams have young receivers already on the roster, McShay and I realize the lack of explosiveness in their offense.
Cordarrelle Patterson may need more room to grow to become a polished receiver, but the potential is too much to pass up. His elite speed can't be taught, and his size makes him a legitimate option at No. 16 if he manages to last that long.
Sam Bradford would smile once again as the team continues to improve the talent around him.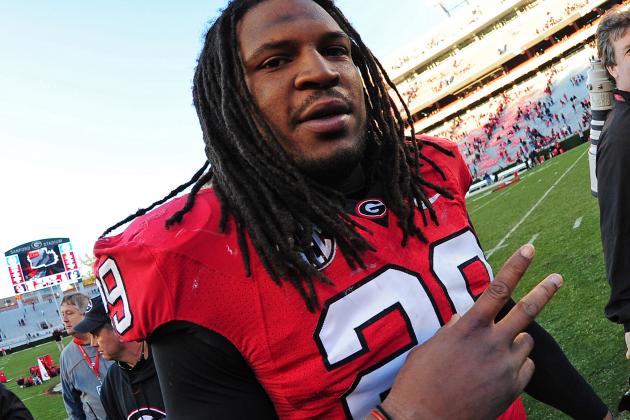 Scott Cunningham/Getty Images

As McShay notes in his mock draft, Jarvis Jones is a perfect fit for the Pittsburgh Steelers. Despite the concerns (and for good reason) about his spinal stenosis, Jones dominated as a pass-rusher against top tier talent in the SEC.
At times, there are questions about his consistency. However, his performance against Alabama last season is one of the many reasons why he poses good value in the middle of the first round.
The Steelers have suffered mightily due to their struggles in recent drafts. Jones could be a step toward young and quality talent to the veteran defense.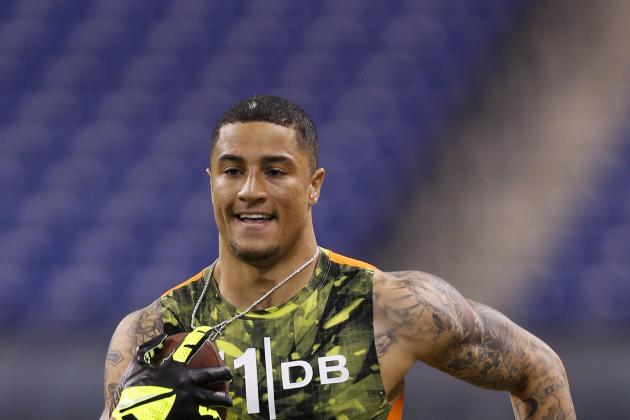 Joe Robbins/Getty Images

If Kenny Vaccaro manages to be available with the 18th pick, I have no problems with the Cowboys adding another dynamic talent to their secondary. He's effective as a pass defender and has shown glimpses of defending the running game well.
Although, I would be surprised if he lasted this far in the draft, as quality safeties are coveted more than ever by teams in today's NFL.
If that's the case, then the Cowboys are in a tough position. The lack of quality offensive linemen in the first round prevents Jerry Jones from making a move at tackle or guard.
McShay suggests that they could go with Bjoern Werner, and I wouldn't disagree with that notion. Youth is needed to improve the pass rush, and Anthony Spencer's tenure with Dallas won't last much longer.
The offensive line is in need of an upgrade for the New York Giants, but the question is whether D.J. Fluker will be the best available option for them.
While Fluker can play a solid left tackle, he is nowhere near a viable option at left tackle if he's needed due to injuries.
Thus, the Giants could be better off selecting Menelik Watson, an athletic and versatile tackle who flourished while at Florida St.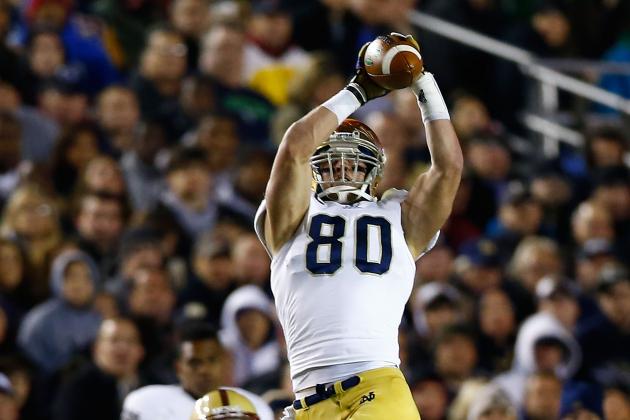 Jared Wickerham/Getty Images

The Chicago Bears could very well see Eifert fall to the 20th overall pick and find a tremendous value pick as the upgrades to the offense continue.
Although both McShay and I do have offensive linemen on the board, the priority should be adding the best tight end in this year's class to a unit that hasn't replaced the production since Greg Olsen departed.
Chicago could very well upgrade a depleted line backing core with Alec Ogletree, but the question remains if a new coaching staff will be willing to take on a potential prospect with character concerns.
General manager Phil Emery would make another such front office decision by improving the offense around Jay Cutler.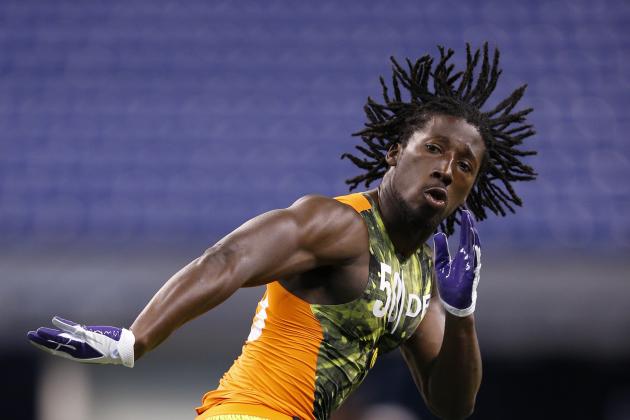 Joe Robbins/Getty Images

McShay believes the Bengals could select Desmond Trufant for the sake of adding more quality depth to a position that could easily get thin.
However, if either Fluker or Watson are on the board, I believe Cincinnati will focus on adding a right tackle with its first-round pick.
The market for Andre Smith has been low, and the Bengals may be content with letting him move on to another team. Thus, the cheaper option comes through the draft.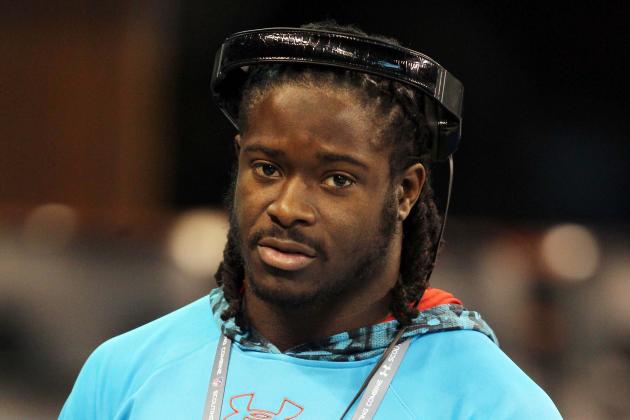 Brian Spurlock-USA TODAY Sports

With the departure of Steven Jackson, and the questions surrounding Isaiah Pead as a workhorse back, it's logical to think that Eddy Lacy could become the next member of the Rams.
However, head coach Jeff Fisher has proven that first-round running backs aren't necessary to succeed in his system. Besides, running back isn't a major need where it's worth selecting one in the first round.
In fact, the Rams may not be able to address a specific need with this pick. Safety can use a major upgrade, but Vaccaro will very well be off the board.
Instead, I believe St. Louis will pick the best talent available, which could leave it with inside line backer Alec Ogletree. The Rams have met with Ogletree and have clearly done their homework on him.
Fisher has handled troubled players quite well in the past. If Ogletree is the highest guy on their big board, he can add more elite talent to his young defense.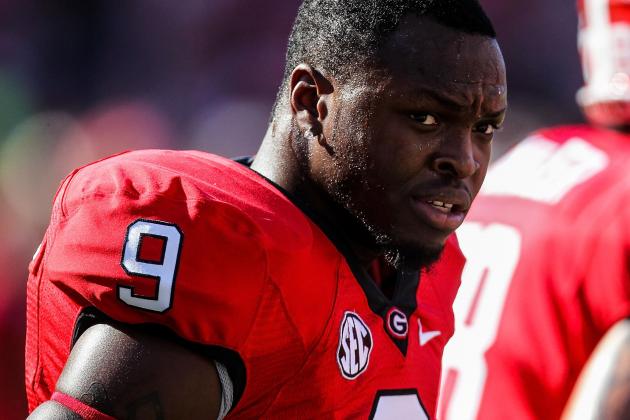 Daniel Shirey-USA TODAY Sports

There's a very good chance that Alec Ogletree is available late in the first round due to his character concerns. However, if Ogletree is available as McShay projects, his addition would be beneficial to a Vikings defense in need of an upgrade at inside linebacker.
Though, if a team manages to select him earlier, I think the Vikings pull the trigger on wide receiver Keenen Allen. While they did sign Greg Jennings, they lost an explosive threat in Percy Harvin on the outside.
Allen has quietly fallen under the radar and could be good value late in the first round.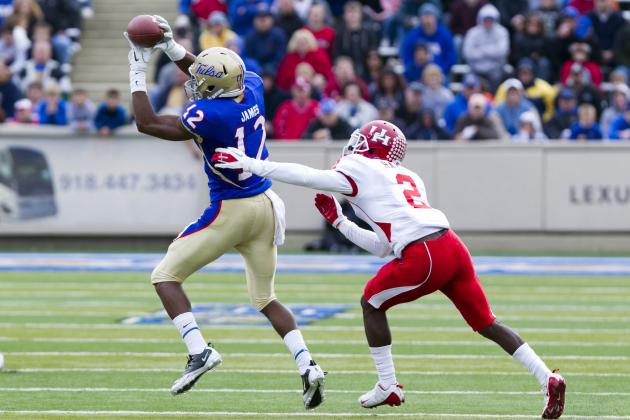 Richard Rowe-USA TODAY Sports

The Indianapolis Colts made the big jump to the postseason last year due to the smart drafting of general manager Ryan Grigson. With the aggressive approach in free agency, the Colts did make the attempt to add some veteran players on both sides of the football.
With a late first-round pick, I agree with McShay's notion that they should select a cornerback. Desmond Trufant could be available at pick No. 24, which would be impressive value for him.
However, D.J Hayden is an impressive cornerback out of Houston who will flourish under Chuck Pagano in Indianapolis.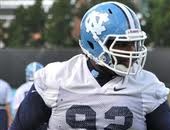 Todd McShay has the Vikings selecting a defensive tackle in Sylvester Williams to upgrade an offensive line that has quickly aged over the last few seasons.
However, I envision the Vikings addressing the cornerback situation, especially since they lost Antoine Winfield from a unit that is very weak.
Trufant could still be an option if available, along with D.J Hayden and Jamar Taylor, who are also viable options.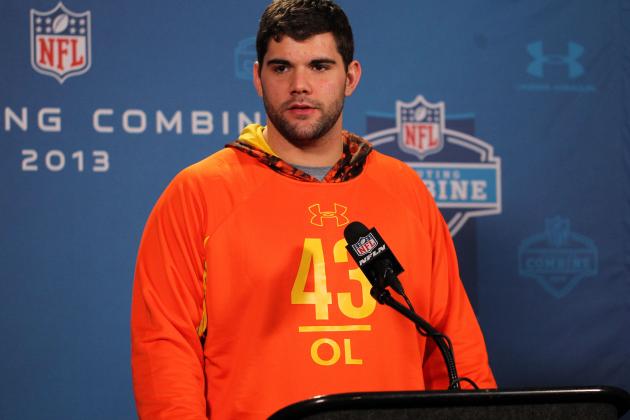 Brian Spurlock-USA TODAY Sports

McShay and I envision a perfect fit here for the Packers. Justin Pugh was a stellar left tackle at Syracuse, and proved his worth to the team in his senior season when he anchored the offensive line.
The Packers can benefit from Pugh as he makes the transition from offensive tackle to guard, as his experience playing in a pro-style scheme in college makes him more attractive to a team in need of serious upgrades in the pass-protection department.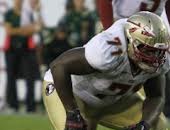 Even if Watson is available for the Houston Texans, I don't envision that they will address the offensive line this early.
Last season, one of the bigger question marks was the overall talent at wide receiver. After Andre Johnson, there are limits to what Kevin Walter and Devier Posey can do on a football field.
A perfect fit for the Texans is DeAndre Hopkins out of Clemson. He's an explosive talent whose speed could greatly complement Johnson's game and he could become a threat down the field for Matt Schaub.
If Werner is available late in the first round, which could very well happen, then the Broncos should consider drafting a top-20 talent and upgrade the pass rush.
However, despite the controversy with the hoax, Manti Te'o is still viewed as a late first-round talent and meets the need as his speed makes him a viable option. While he's not a linebacker you can build your team around, he can make the positive impact on a veteran defense that has a creative defensive coordinator in Jack Del Rio.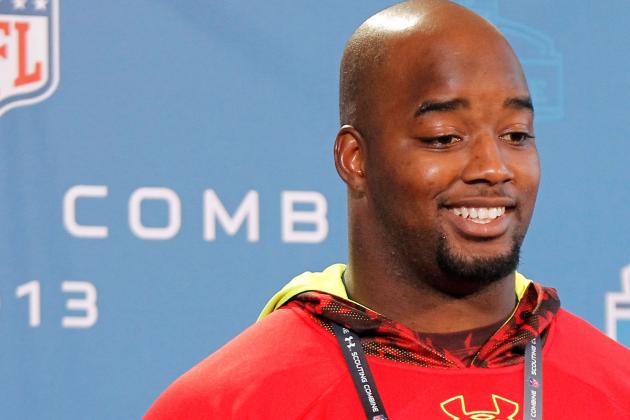 USA TODAY Sports

I am in agreement with McShay when it comes to the notion that the Patriots will select a defensive end for the second straight season. Datone Jones provided consistency at UCLA and can be a viable option in the rotation for the Patriots beginning in his rookie season.
New England could also go with Tank Carradine, the defensive end out of Florida St. The Patriots have shown an interest in him by working him out, and over the long haul he could have more of a lasting impact on Bill Belichick's defense.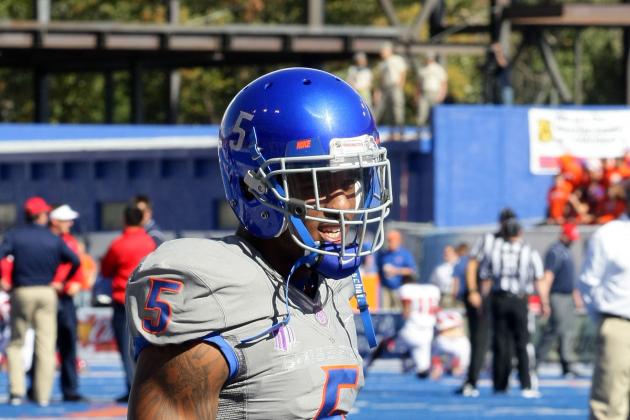 Brian Losness-USA TODAY Sports

The selection of Jamar Taylor is a no-brainer for the Falcons. They parted ways with Dunta Robinson and decided to not take a chance on offering Brett Grimes a lucrative contract.
Taylor is a bit undersized for his position, but displays great hands and would receive great coaching from a defense that is led by defensive coordinator Mike Nolan.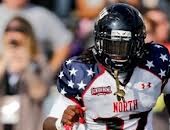 The San Francisco 49ers continued to elevate their championship-caliber roster through trades and free agency. Now, the turn focuses toward the draft, where the team can upgrade the secondary even more by adding a safety.
John Cyprien may be coming from a small school in Florida International, but he continues to be coveted by teams late in the first round. His physical presence will be a major addition to this 49ers defense, and he can elevate himself into becoming one of the better safeties in the league by improving his ability in coverage.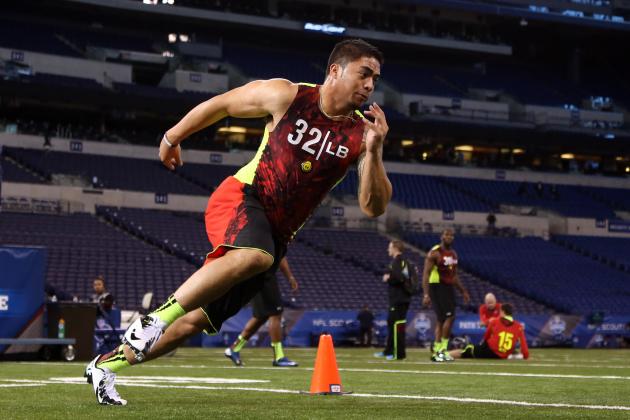 Brian Spurlock-USA TODAY Sports

The defending Super Bowl champions decided it was best to overhaul the defense and get younger at multiple positions across the board. With the departure of Dannell Ellerbe and Ray Lewis, the consensus by many draft analysts is that Manti Te'o will be the selection if available with the last pick in the first round.
Even if Te'o manages to last this far, I don't envision the Ravens selecting Te'o with their first selection in the draft. Despite signing Michael Huff, the safety position is a bigger need for the Ravens. Fortunately, they could be in luck as Matt Elam out of Florida fits the style of football that this organization has built over the past decade.