Mid-April Grades for Every Detroit Tigers Position Player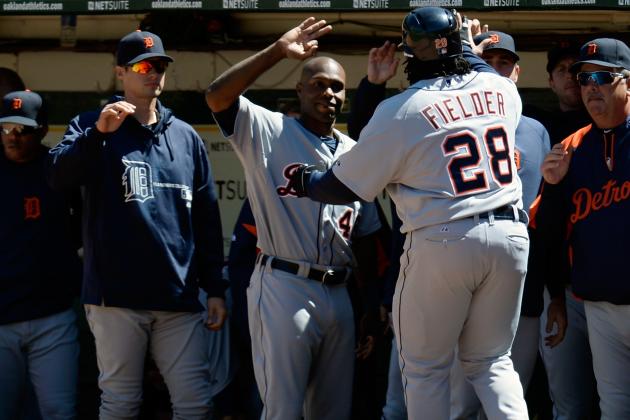 Thearon W. Henderson/Getty Images

The Detroit Tigers started the 2013 season with high expectations to capture their first World Series title since 1984.
Even though the Tigers have a 7-5 record, fans shouldn't fret since the season is still young and the lineup has been producing runs.
Any lineup that has the reigning AL MVP and Triple Crown winner should win their fair share of games, but so far this Tigers lineup looks even more dangerous than it did last season.
Let's take a look at the grades of every Tigers position player through mid-April.
Begin Slideshow

»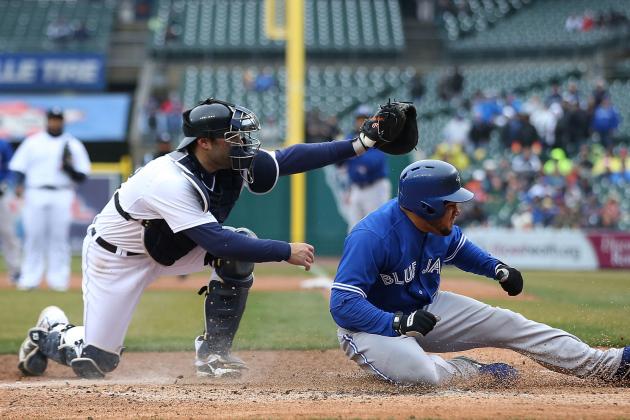 Leon Halip/Getty Images

Catcher Alex Avila had a down year at the plate in 2012 and has struggled early on this season as well.
Avila is only batting .195 with two home runs and two runs batted in. He also leads the team with 11 strikeouts.
Avila may never hit as well as he did in 2011—he was an All-Star and hit .295—but expect him to at least raise his average up to around his career average of .259.
The key to remember with Avila is that his strength lies in how he handles the pitching staff, and he is quite strong at calling games and handling his fielding chances. Avila has been a Gold Glove finalist for two straight years and expect him to win one eventually.

So far, Avila has a 1.000 fielding percentage and a range factor per game of 10.11, which is above the league average of 7.94.
Avila has only thrown out one baserunner out of 11 so far, which seems to be the only area for concern when it comes to his defense.
If it wasn't for Avila's catching, he would get probably get a D-.
However, behind the plate he is vital to the Detroit Tigers' success.

Grade: C-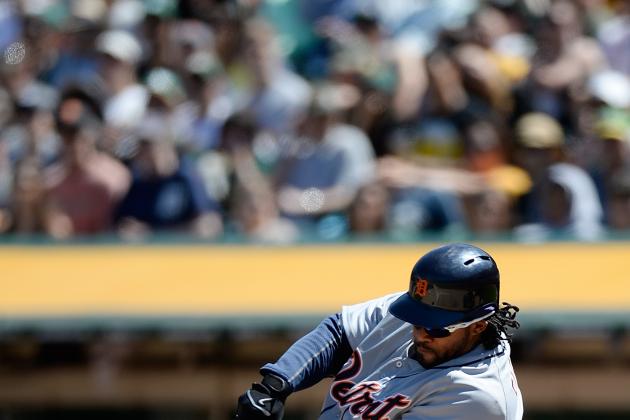 Thearon W. Henderson/Getty Images

First baseman Prince Fielder has gotten off to a terrific start so far in 2013.
Fielder, who has protected two of the previous MVPs—Miguel Cabrera last year and Ryan Braun in 2011—looks like a strong contender to win his first MVP if he continues to play the way he currently is.
Fielder is leading the league in batting average at .429 in 42 at bats.
He also is leading the Detroit Tigers in home runs (four) and runs batted in (19) and looks a lot more comfortable at the plate than he did last season.
Lastly, Fielder has been flawless defensively with no errors at first base.

Grade: A+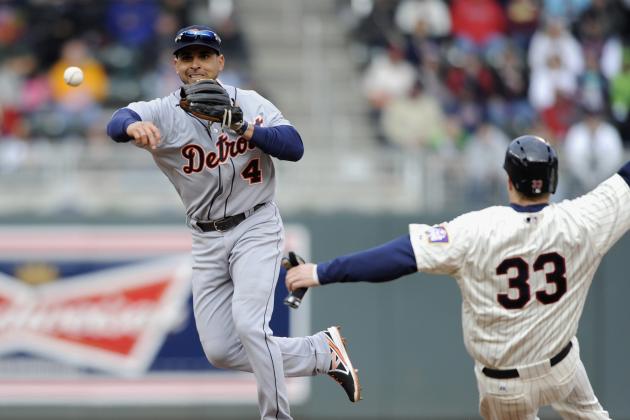 Hannah Foslien/Getty Images

Second baseman Omar Infante, who is scheduled to be a free agent after the season, has gotten off to a great start at the plate. Infante is hitting .333 and with five runs scored.
Infante, who the Detroit Tigers traded for last July, has solidified the position for the Tigers. He won't hit a ton of home runs, but he'll put the ball in play and won't strike out a lot.
Defensively, Infante doesn't have the best range at second base, but he's handled all of his changes so far.
Don't expect Infante to continue hitting the way he has started out over the course of the season, but he could hit over .300 and score around 70-75 runs.

Grade: A-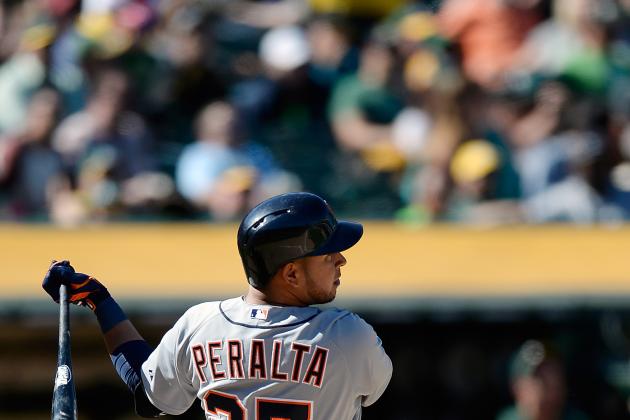 Thearon W. Henderson/Getty Images

Shortstop Jhonny Peralta is one of those players that is tough to accurately judge.
Peralta, who struggled at the plate in 2012, is currently batting .319—but he is second on the team with 10 strikeouts.
Peralta has very little range at shortstop, but has very sure hands. That is why his fielding percentage of 1.000 doesn't tell the whole story.
The Detroit Tigers are very aware of Peralta's strengths and weaknesses and must be happy that he is currently batting over .300.
While the Tigers want Peralta to have better range, the Tigers won't complain too much this season until they can find a long-term answer at shortstop that excels defensively.
Peralta won't be able to control his range, but he has shown that he can swing the bat better.

Grade: B-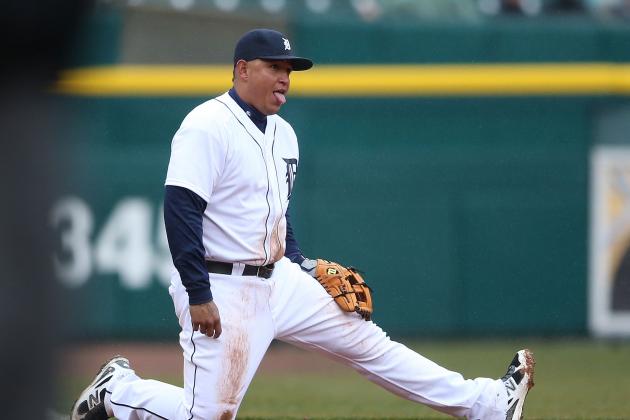 Leon Halip/Getty Images

Third baseman Miguel Cabrera is one of those once-in-a-lifetime hitters that excel in all aspects of hitting.
He is the rare type of hitter who can change games with one at bat. This is one of the many reasons why the Detroit Tigers are lucky to be able to pencil Cabrera into the lineup daily.
Cabrera, who won the Triple Crown and AL MVP in 2012, looks to have picked up where he left off.

Cabrera is currently hitting .320 in 2013 with one home run and 13 runs batted in. He started out the season with at least one RBI in four straight games.
Even more impressive than Cabrera's 13 RBI, four of them have come with him having two strikes in the count.
While Cabrera won't win any Gold Gloves at third base, he is more than adequate, which his bat more than makes up for.

Grade: A-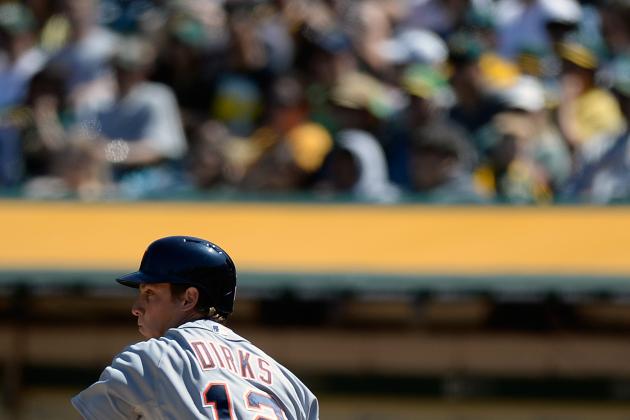 Thearon W. Henderson/Getty Images

The perception among many fans is that left fielder Andy Dirks is only keeping the seat warm for highly-touted prospect Nick Castellanos.
If Dirks wants to keep his position, he'll need to help the Detroit Tigers more than he has in 2013.
Dirks is currently batting .194 with four RBI and one stolen base. Dirks could be one of the few threats the Tigers have on the basepaths, but he needs to reach base more to help.
Dirks' current slugging percentage of .194 just won't cut it.

Grade: D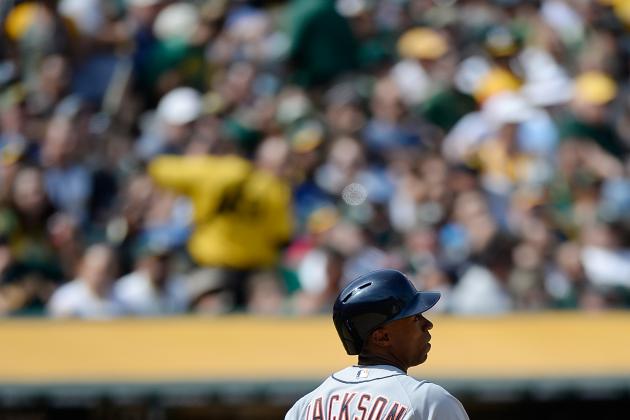 Thearon W. Henderson/Getty Images

Austin Jackson is one of the up-and-coming stars in center field. Jackson can help the Detroit Tigers out in stolen bases, as well as leading off.
Jackson has focused on cutting down on his strikeouts and in 2013, he's succeeded so far.
He only has five strikeouts and has gotten on base very frequently.
Besides currently hitting .386, Jackson's on-base percentage is .435. He has also been flawless defensively.
While Jackson is one of the few threats on the basepaths, he only has one stolen base this season.

Grade: B+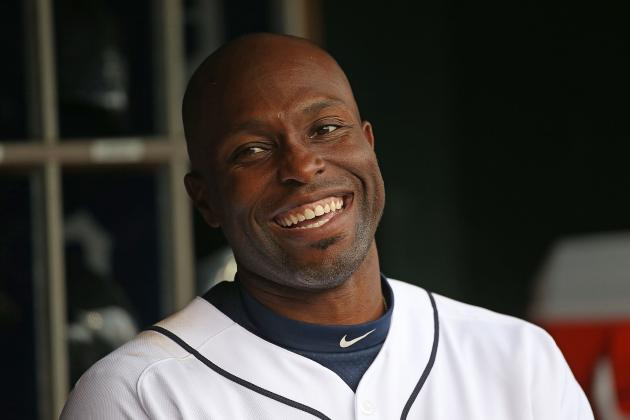 Leon Halip/Getty Images

Torii Hunter came to the Detroit Tigers as a free agent this offseason, but it seems like he has been a member of the team for longer.
Hunter has produced for the Tigers so far by hitting .407 and being strong defensively.
Hunter is 37 years old, but he looks like a player 10 years younger.
It is safe to say that the Tigers are very happy with Hunter so far and he is helping the team both offensively and defensively.

Grade: A-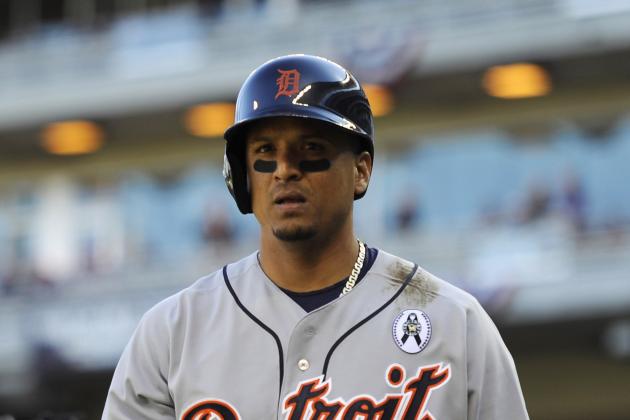 Hannah Foslien/Getty Images

Designated hitter Victor Martinez, who missed all of 2012 with a serious knee injury, was missed by the Tigers.
Martinez is a professional hitter, who protects Prince Fielder in the batting lineup. This is why Martinez's stats are tough to grade, since you can't accurately measure how much his presence changes pitchers' approach to Fielder at the plate.
That being said, Martinez is only batting .146, but still is trying to get his swing back.
Martinez should recover and get back to the success he had at the plate before his knee injury.

However, Prince Fielder is currently leading the league in hitting, so Martinez needs some credit for forcing pitchers to face Fielder.

Grade: C+

*All statistics are as of April 14
**All statistics are from baseball-reference.com, mlb.com and espn.com