Masters Leaderboard 2013: Grading Performance of Top Stars at Augusta
Andrew Redington/Getty Images
Adam Scott celebrates the moment he's been dreaming of: winning a Masters championship.
While the scores are annually a little lower in the Masters than the other three majors, that doesn't necessarily mean the test is any easier.
And when tests are given, report cards are sure to follow.
This year's Masters followed the tradition of thrilling finishes and the fact that Adam Scott won his first major and became the first-ever Australian to win the Masters.
He gets an A, of course.
Here's a list of the rest of the game's best and the grades they earned.
Begin Slideshow

»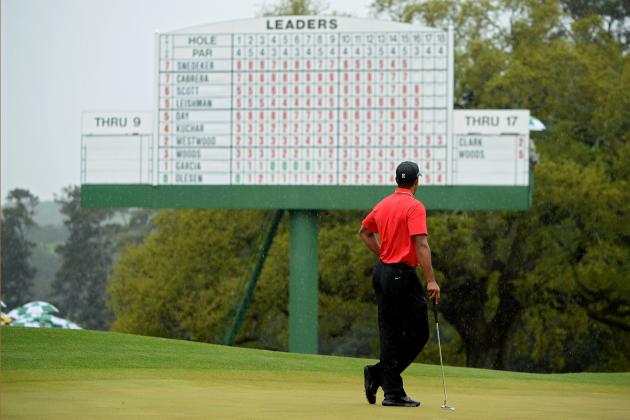 Harry How/Getty Images
Tiger Woods stares at the scoreboard and wonders about what might have been.
It's been 10 rounds since Tiger Woods posted a round in the 60s at Augusta National Golf Club.
That's not the way the guy who already has four green jackets amassed that collection.
For Woods, this Masters will always be remembered for the illegal drop, the two-stroke penalty and the non-disqualification.
But regardless of that, it will be remembered as a continuation of a streak that has seen him not win a Masters since 2005 and not win a major since 2008.
All facets of his game were just a shade off and because of that he was never able to get a run going.
The chase to reach Jack Nicklaus' 18 majors stays on hold.
Grade: C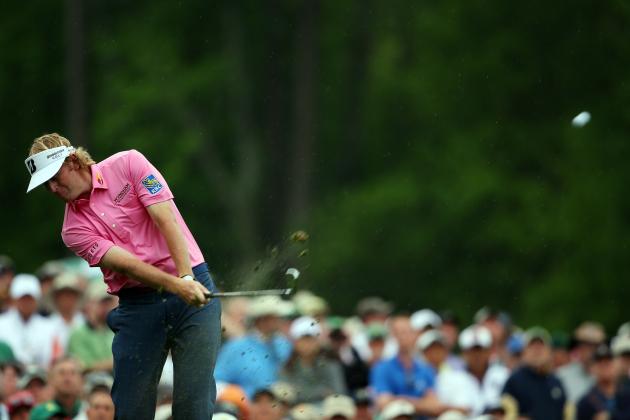 Mike Ehrmann/Getty Images
Brandt Snedeker hit all the shots most of the week.
Brandt Snedeker improved each day at the 2013 Masters, going from two-under to four-under to seven-under as the final round began.
And while he made mistakes – like hitting his second shot on No. 13 in the creek in front of the green – he held up very well under the pressure.
He only made 10 bogeys all week and just one double bogey.
Two of those bogeys came at a terrible time, the 10th and 11th holes Sunday and those put him behind the eight-ball.
The 10th was tough because it was little more than three-footer.
Bottom line, he didn't make enough putts to win.
Grade: B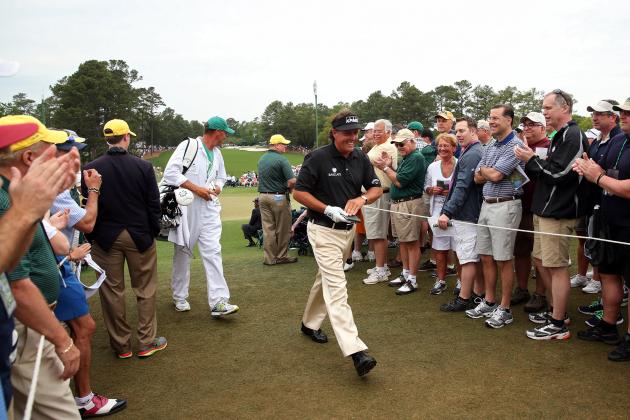 Andrew Redington/Getty Images
The best Phil Mickelson's trademark smile could produce was a final-round 73.
Mickelson was never in his 21st Masters.
He birdied four of five holes on the back nine in the first round to get to a 71.
But from that point on, he made 14 bogeys and three double bogeys.
In the last three rounds, he shot 40-40-39 on the back nine.
This Masters will go down as one of his worst.
He finished in a tie for 54th after rounds of 71-76-77-73.
Grade: D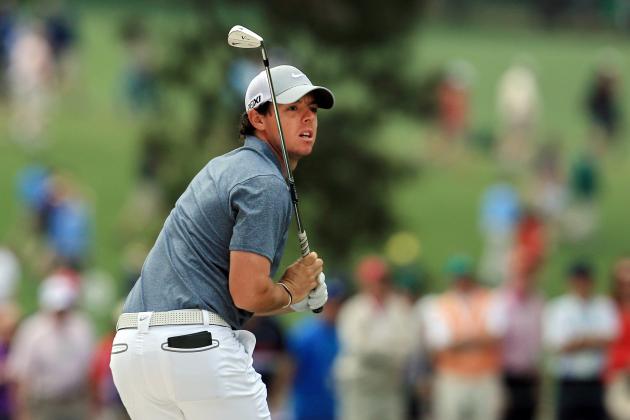 David Cannon/Getty Images
Rory McIlroy just couldn't make the right things happen this week.
Based on the early part of his 2013 season, Masters expectations were not very high for the 23-year-old McIlroy, who entered the season as the No. 1 player in the world.
But then after playing poorly in the Shell Houston Open, he opted to add an event, the Valero Texas Open.
He finished in good fashion and suddenly hopes were high again.
A nice start (72-20) fed those hopes, but a third-round 79 torpedoed what looked like might be a top 20 finish.
He did much better Sunday, shooting a 69 that included birdied three of the four par fives and had just one bogey.
Grade: C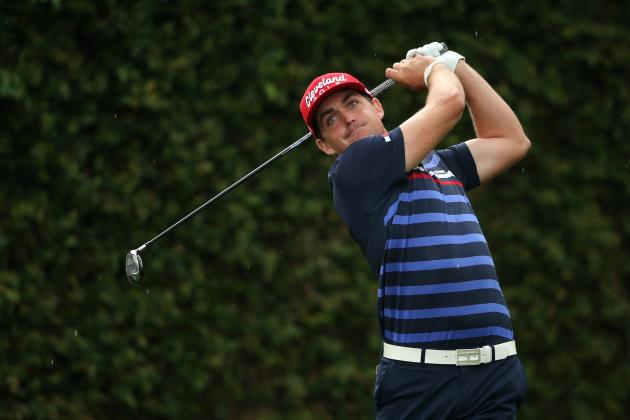 Andrew Redington/Getty Images
Masters week was definitely an off one for Keegan Bradley.
This was to be Keegan Bradley's year to step up and become a player in a major championship, but maybe that will happen in one of the three remaining majors this year.
He made 15 bogeys and two double bogeys.
He ballooned to an 82 in the third round, thanks to being four over on the par threes and six over on the par fours.
Give him credit though for coming back.
He put together a nice comeback Sunday, shooting 69, a mere 13 shots better than Saturday.
Grade: D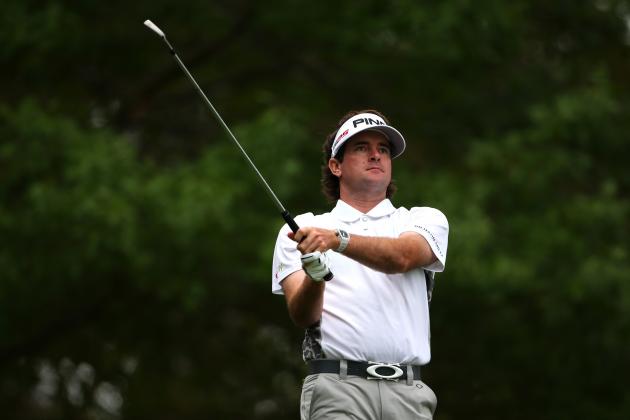 Mike Ehrmann/Getty Images
Bubba Watson's reign as Masters champion did not end well.
The defending champion did not offer much of a defense of his title.
Of the many things that didn't work this week for Bubba Watson, perhaps the most costly was his putting.
Watson said he counted six three-putts and two more that were on the fringe, giving him, in his mind, eight three-putts in the first two rounds.
Grade: C-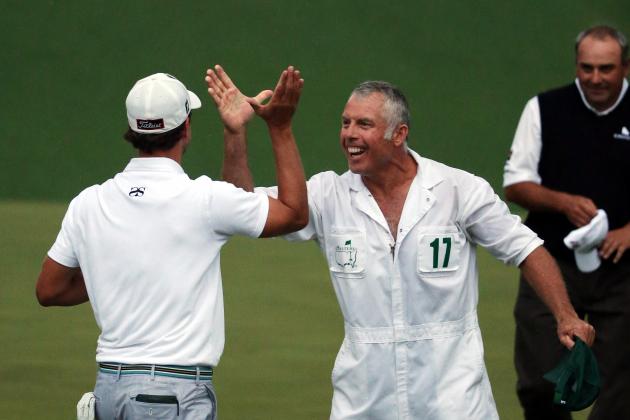 Andrew Redington/Getty Images
Adam Scott celebrates with caddie Stevie Williams.
Let there be no more wondering about how deeply scarred Adam Scott is from letting the 2012 Open Championship get away.
Despite a putter – yes, the long putter – that kept him from being several more strokes under par, he made the biggest putt of his life in the 2013 Masters.
His 25-footer on 18 that put him into a playoff with Angel Cabrera will go down in Masters history as one of the best ever. And the Masters-winner on the second playoff hole won't be far behind in historic value.
It's amazing he even got to a playoff, considering the number of makeable birdie putts Scott missed, especially in the final round.
He had never birdied the final hole on Sunday before.
Believe it or not, he didn't birdie a single par three all week.
Grade: A+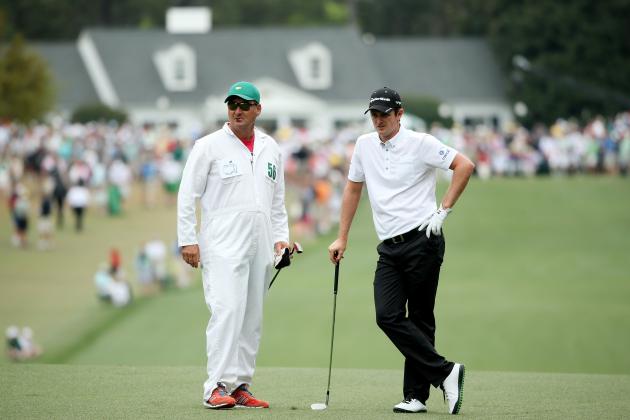 Andrew Redington/Getty Images
Justin Rose had to be unhappy with how he couldn't get anything going at Augusta National.
The No. 3-ranked player in the world didn't record a round in the 60s and finished in a tie for 25th.
That finish would make the 2013 Masters a disappointment for the Englishman, who had posted top 20s in last three starts.
Rose played steadily throughout the week, but couldn't get anything going over the weekend and was five-over par in the final 36 holes.
Not enough birdies and Rose remains one of those very good players without a major title
Grade: C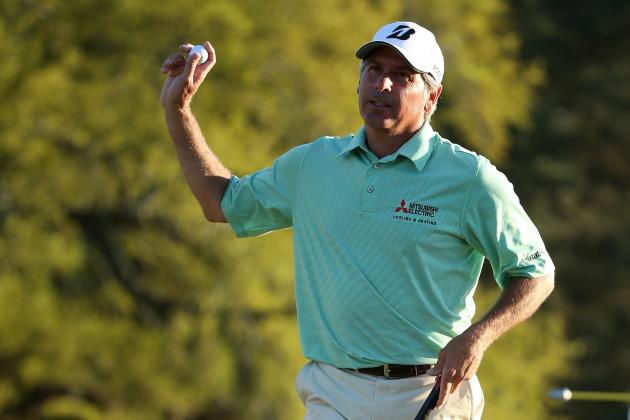 Andrew Redington/Getty Images
Fred Couples hung in for almost three rounds, but couldn't finish.
In his three Masters since turning 50, Fred Couples has finished in the top 15.
Remarkable as that is, each of those finishes was a disappointment.
He had posted a good score in one of the first two rounds but couldn't keep it together for four rounds.
Last year it was a 75 in the third round, this year it was a 77 in Round 3.
His putting let him down on Saturday in the third round, but a double bogey on the seventh and a triple bogey at 17 really sunk him.
The good news?
He finished with a birdie on 18 in the final round.
Grade: C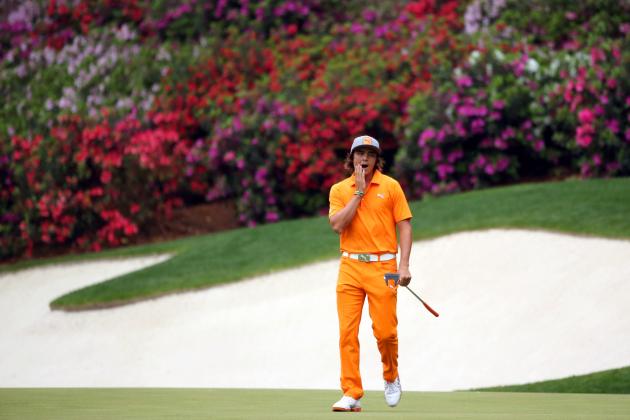 Andrew Redington/Getty Images
Rickie Fowler obviously still needs more seasoning before he can be a contender at the Masters.
He's looked at as one of the great hopes for American golf, having burst on to the PGA Tour with a great deal of hype.
A lot of that hype has gone unfulfilled and will probably remain that way until he wins or at least seriously contends in a major.
In Augusta this week, he played two rounds six-under par and two rounds 10-over par.
He shot 78 on Sunday and it came apart for him with a double bogey at the short par third and then four consecutive bogeys.
Four double bogeys doomed Fowler this week.
Grade: D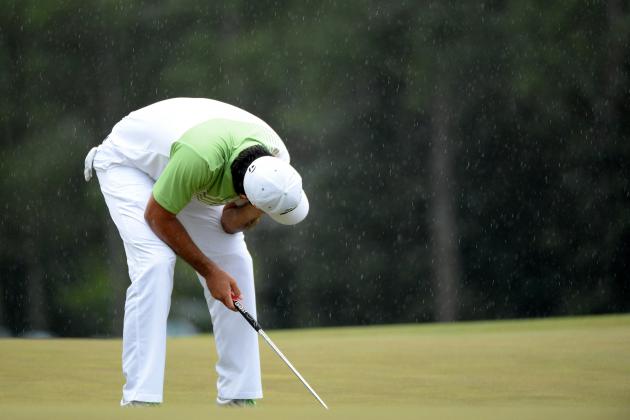 Harry How/Getty Images
It was a day of heartwrenching disappointment for Jason Day.
Jason Day finished second in the Masters in 2011 and had to withdraw with an ankle injury last year.
He obviously has quickly learned how to play the course and sure looks like his game fits very nicely on those rolling hills and among those Georgia pines.
Had he won he'd have been the youngest Masters winner since Woods did it in 2001 at age 25.
Day played the way you'd expect a serious contender to play throughout the week, shooting rounds of 70-68-73, the third of those rounds scarred a bit by bogeys on 17 and 18.
But he came back Sunday and used a great short game to stay in the hunt.
He made a great bunker shot from behind the green on 13 to set up a birdie.
Unfortunately, he bogeyed the 16th and 17th to slip too far behind Cabrera and Scott.
Grade: B+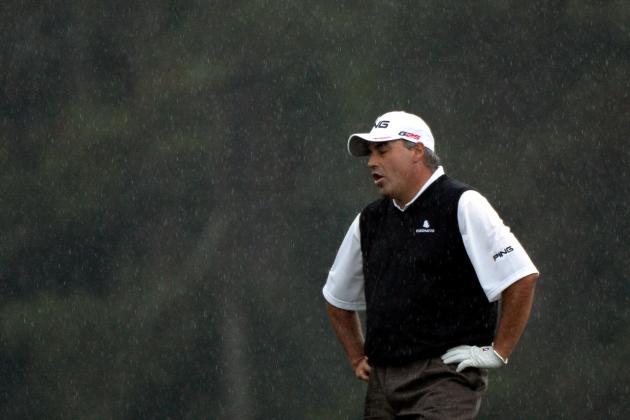 Harry How/Getty Images
Angel Cabrera just missed winning his second green jacket on Sunday.
Angel Cabrera is a very difficult golfer to understand.
He won the 2007 U.S. Open at very difficult Oakmont Country Club and virtually disappeared from the golf landscape.
He re-appears at the Masters in 2009 and, guess what?
He defeats Chad Campbell and Kenny Perry in a playoff.
Off he goes again to wherever he goes and hasn't really been heard from much since.
He's ranked 269th in the world. He tied for 16th in the Shell Houston Open a couple weeks ago.
But he had a very good week at Augusta.
Cabrera posted four rounds under par under difficult conditions and birdied 16 and 18 on Sunday afternoon to force a playoff.
His approach on the final hole stopped within a few feet of the hole.
Grade: A