Christine Michael: Video Highlights for Former Texas A&M RB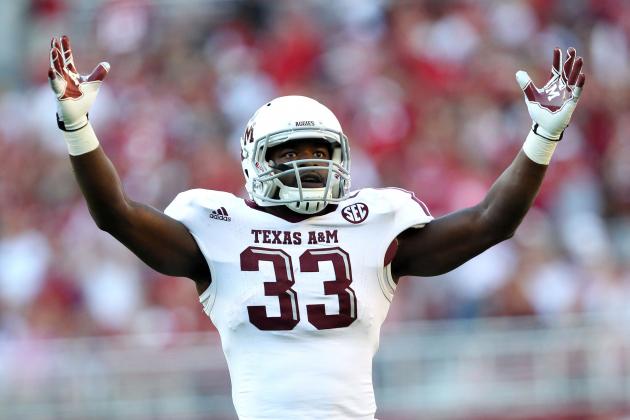 Mike Zarrilli/Getty Images

The NFL draft is well underway and teams are pouring over their notes and taking deeper looks at game film. One position that requires an extensive review is the running back position, which can be a boom or a bust for a team.
Christine Michael enjoyed a decent collegiate career at Texas A&M, and while he showed a knack for finding the end zone (finding pay dirt at least 10 times twice in four years), he never rushed for more than 1,000 yards in a season.
Coming off of an ACL injury last season didn't help much, as he rushed for only 417 yards on 88 carries. He did score 12 times, so that made up for his lack of rushing production.
Michael enters the draft rated as a top-10 running back, but he brings a lot of risk, given his durability. He impressed at the combine but missed two team interviews because he overslept. While it may have been an isolated incident, such a thing could be detrimental to any prospect's draft stock.
Is Michael worth the chance? Can he be productive at the pro level?
Here are a few highlights of his college career. Watch and decide if he would benefit a running back-needy team in this month's draft.
Begin Slideshow

»
Christine Michael doesn't have that home run speed that establishes some of the NFL's elite backs, but he has enough to negotiate around blocks and find open holes when they are presented. Auburn learned this the hard way as he ran around some key blocks and was able to find the end zone untouched.
While it was a short touchdown run, it should serve as an example of what he is capable of doing when given the right protection and everyone carries out their assignments flawlessly.
Skipping ahead to the :35 mark, and it shows that he can help himself when it comes to scoring opportunities.
What is even more impressive is a similar run against Missouri. However, he precedes his score with a great stiff arm before crossing the goal line. He may not have blazing speed, but he does have decent strength that will serve him well as a pro.
As noted earlier, Christine Michael does possess decent strength. The last 20 seconds of the video show him barreling his way through defenders and scoring. There is nothing cheap about these touchdown runs, as he literally bulldozed his way over a couple of defenders.
He is also able to get low to the ground. He maintains great balance to duck below defenses while on the run and pick up additional yardage or escape a tackle in order to get back upright and resume an all-out sprint.
With these tools, he could be seen as a great short-yardage or goal-line back, but he could play on a more full-time basis.
Any team that likes to employ a shotgun formation on the majority of their plays may be able to find a home for Michael. He was able to do it in college, and if he stays healthy and on his game, he should be able to repeat that success in the NFL.
In this game against Arkansas, the Aggies are in a split backfield with Michael sitting behind the quarterback. The ball is snapped directly to Michael, who takes off with while his quarterback fakes out the Razorbacks defense.
While the defense didn't completely bite, Michael is able to get ridiculously low to avoid being tackled at the line of scrimmage and is off to the races. He goes the rest of the way untouched for the score. The play contained a bit of trickery, but Michael's execution allowed it to work beautifully.
Another shotgun formation, another SEC foe and another touchdown. While the play is similar to the previous clip, the shotgun formation was different, as it featured trips right and the play was a handoff as opposed to a direct snap.
It doesn't faze Michael, who takes the ball and shows the Tigers defense what he can do on any given play.
After receiving the handoff, Michael is able to use good balance and footwork to stay upright and avoid being tripped up at the line of scrimmage. Once he finds his balance, he finds daylight and eventually the end zone.
While Michael may not have breakout speed or be the type of running back who is taken high in the draft, he is able to mix it up on the field. Along with his ability to find the open holes, he is able to change direction for the big play.
This was evident against Mississippi State, as he starts off the tackle and cuts back inside while avoiding the Bulldogs linebackers. He manages to get by unscathed and untouched, adding another touchdown to the scoreboard.
Christine Michael may not be receiving the same kind of press that Eddie Lacy or Montee Ball have been getting, but he can still be an asset to a team whether they will employ a running back by committee setup or use him in a situational role.