Adam Scott is your new Masters champion, winning a playoff over Angel Cabrera in the 77th Masters to become the first-ever Australian-born player to capture the green jacket.
Scott shot a three-under 69 on Sunday, finished with a nine-under score for the tournament, and added a birdie on No. 10 in the second playoff hole to cap an epic finish between two golfers who refused to say die all week at Augusta.
After what was one of the most action-packed Masters in the 77-year history of the tournament, who wouldn't have expected it to come down to a playoff?
We had just that at Augusta on Sunday afternoon, as a nice day turned into a rainy finish between 2009 Masters champion Cabrera and Scott—a golfer carrying the weight of a nation on his shoulders with Australia's first-ever green jacket in sight.
The pair played to a tie on the first hole at the 18 before hitting near-identical approach shots on the second hole of the playoff on the 10th hole. The 43-year-old Cabrera hit his putt to the high side and left it just inches away from a birdie, leaving Scott the chance to win it outright with a birdie putt.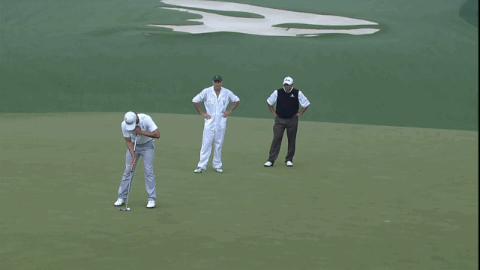 And that's exactly what he did. In one of the most epic finals in Masters history, Scott will take home the green jacket (his first major tournament win) and do something that countryman Greg Norman never could at Augusta.
It looked like Scott was going to win the green jacket outright, coming back from a rough day on the green to make the only putt that mattered—a deep one on No. 18 that gave him a nine-under finish and a one-shot lead over Cabrera.
The Argentinian drew on his past Masters championship experience for one of the greatest and most clutch shots in the history of the game. When it was his turn to approach the green, he landed the ball within two feet of the hole to send us to the second Masters playoff in as many years.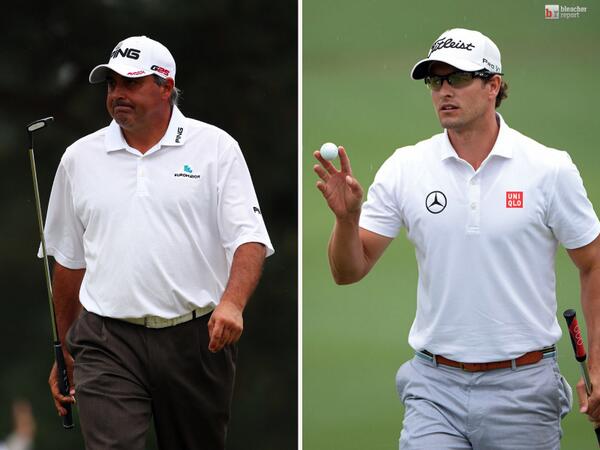 After being neck-and-neck on 18 (again), the two moved to 10, where Cabrera hit an iron off the tee as far as Scott did with a driver. It didn't matter on the green, though, and the Argentinian couldn't make one final putt to complete another major championship win that no one had him in contention for.
Australians Jason Day and Marc Leishman, who both struggled to make the big shot in the final round, and Tiger Woods, who shot four straight rounds in the 70s, round out the final Top 5 at the 2013 Masters.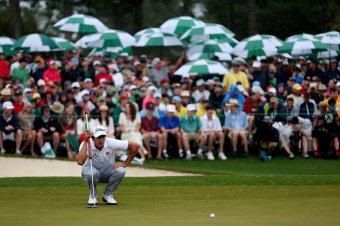 Andrew Redington/Getty Images
Scott managed to rise above an unusual amount of circuitry surrounding this year's tournament, including controversial stroke penalties to two of the most publicized players (Woods and 14-year-old Tianlang Guan), the elder statesman Fred Couples hanging around the top of the leaderboard, and three Aussies trying to finish the job that Greg Norman never could.
Eight golfers were within four strokes of each other as the final round of play commenced Sunday—exactly the kind of atmosphere that makes Augusta great for the sport, for the fans and for viewers at home.
In the end, Scott managed to emerge from the thrilling two-man, two-hole playoff, edging Cabrera and setting Australia loose from an over three-quarter-century drought and capping what had been a Masters unlike any other.
Twitter Reaction
After Scott's putt went in on No. 18, it looked like we had a new champion outright. B/R's Twitter account captured what was assumed to be the championship photo from the 18th green:
Adam Scott birdies 18 to take the lead at the #Masters! twitter.com/BleacherReport…

— Bleacher Report (@BleacherReport) April 14, 2013
When the shot went in, Happy Gilmore (parody account) was certainly one of those who could identify with the huge shot:
Adam Scott learned how to putt. Uh oh................

— Happy Gilmore (@_Happy_Gilmore) April 14, 2013
Cabrera had something to say about that, though:
And then Angel Cabrera does this! Wow.#Masters twitter.com/BleacherReport…

— Bleacher Report (@BleacherReport) April 14, 2013
Jason Sobel of the Golf Channel chronicled Cabrera's approach to the historic Holly perfectly:
It's difficult for a guy with two majors to hit the shot of his life, but Angel Cabrera just did it right there.

— Jason Sobel (@JasonSobelGC) April 14, 2013
Clearly captivated by all the action, Green Bay Packers quarterback Aaron Rodgers also had an apt response for all the happenings:
Wow. I love golf.

— Aaron Rodgers (@AaronRodgers12) April 14, 2013
John Morgan of MMAJunkie echoed those sentiments:
I don't care if its a "sport" or a "game." I love me some golf, and a playoff at the Masters is a great way to enjoy my Sunday afternoon.

— John Morgan (@MMAjunkieJohn) April 14, 2013
As things heated up in the playoff, NFL Network's Rich Eisen made sure to relate it to a more personal scale:
This reminds me of the closest to the pin chip-off I have with my friends. But, you know, on a much bigger stage. OK, then.

— Rich Eisen (@richeisen) April 14, 2013
Sports Illustrated's Peter King also chimed in:
They just don't feel pressure.

— Peter King (@SI_PeterKing) April 14, 2013
As the final putt came down into the cup, Trey Wingo of ESPN hit us with this gem:
Not that they ever NEED a reason, but I'm pretty sure Australia will going HARD for a while. #firstgreenjacketever

— trey wingo (@wingoz) April 14, 2013
Mike Garafolo of USA Today was speechless:
That was - in a word - ridonkulous. #Masters

— Mike Garafolo (@MikeGarafolo) April 14, 2013
NBC's The Office star Brian Baumgartner, otherwise known as Kevin Malone, summed up a great day at Augusta with this tweet:
Unbelievable. Great day for golf. Superb putt. Incredible approach by Cabrera with pressure on.

— Brian Baumgartner (@BBBaumgartner) April 14, 2013
*For a complete look at the final leaderboard at the 2013 Masters, check out PGATour.com.