8 Takeaways from Sunday's Frantic NBA Action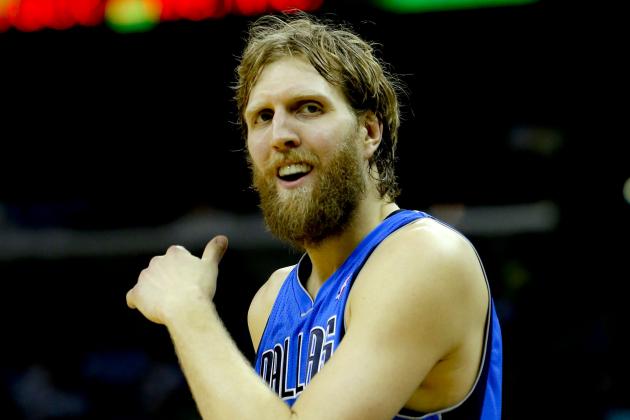 Derick Hingle-USA TODAY Sports

Even though only one playoff spot remains available, Sunday's frantic NBA action made it seem as though every postseason berth was still up for grabs.
LeBron James and the Miami Heat settled the score with the ultra-physical Chicago Bulls, James Harden propelled the Houston Rockets into the sixth seed out West, and the New York Knicks won a game against the Indiana Pacers that could pay massive dividends over the season's final week.
Plus, Dirk Nowitzki and the Dallas Mavericks each enjoyed historical milestones—although only one of them involved a hurried postgame shave.
Oh, and Steve Blake improbably led the Los Angeles Lakers to their first win of the post-Kobe Bryant era, beating the San Antonio Spurs and putting the Lakers on the brink of completing a stunning resurrection.
Buckle up, because it was anything but a lazy Sunday in the NBA.
Begin Slideshow

»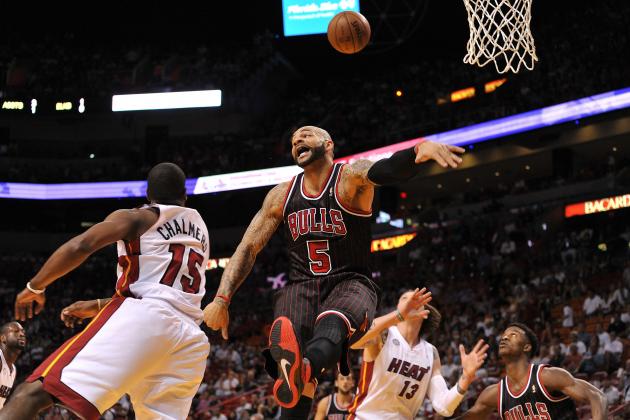 Steve Mitchell-USA TODAY Sports

The Chicago Bulls have overachieved this season, positioning themselves into the No. 6 seed out East despite the year-long absence of their best player and recent injuries to two-thirds of their frontcourt rotation.
They've been relatively successful without Derrick Rose, Joakim Noah and Taj Gibson because of their defensive grit and physical style. The Bulls' motto this season has been something along the lines of "If you can't beat 'em, beat 'em into submission."
But based on the way the Heat ran away from the hack-happy Bulls Sunday, it's clear that Chicago can't rely exclusively on its bullying skills. Carlos Boozer and Co. piled up more personal fouls (30) than field goals (29) in an effort to slow down the healthier, more athletic Heat.
That strategy worked...for a while.
After a taking a brief lead in the early stages of the third quarter, though, Chicago essentially stopped scoring. That drought featured a 4-of-20 shooting line during the fourth quarter that allowed the Heat to pull away down the stretch and win the game, 105-93.
LeBron James and the Heat had to have been glad to exact a little revenge against the squad that ended their 27-game run last month. And it was probably all the sweeter because Miami handled the Bulls despite another brutally physical contest.
Chicago's rough-and-tumble game has taken it a long way, but the Heat showed that the Bulls will need more than physicality to make a playoff run. A little more shooting would help, but good health and the return of Derrick Rose wouldn't hurt either.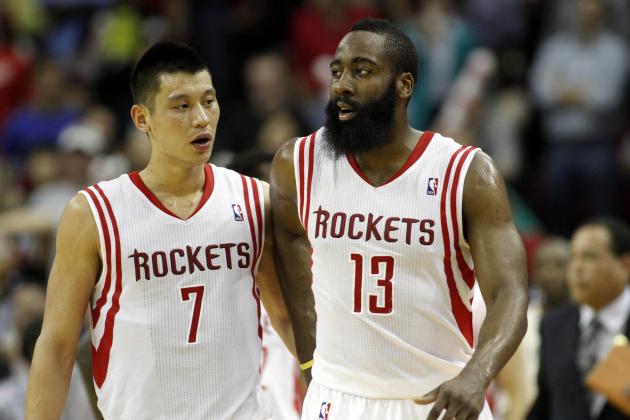 Brett Davis-USA TODAY Sports

James Harden pumped in 29 points on 11-of-16 shooting and 32 minutes in the Houston Rockets' easy 121-100 win over the Sacramento Kings. He buried a few 25-footers, got to the rim at will, and found his teammates whenever he drew defensive attention.
In short, Harden's in prime form as the Rockets (now owners of the No. 6 seed by virtue of a tie-breaker over the Golden State Warriors) prepare for postseason play.
Jeremy Lin, on the other hand, remains the same occasionally solid, curiously flawed player he's been all season.
A look over the point guard's stat line wouldn't reveal his persistent mistakes, but he continued his inexplicable habit of picking up his dribble without a clear idea of what he planned to do with the ball. That's a mistake most high school players know to avoid, but Lin has had the same problem throughout his brief NBA career.
Whenever he does this, Houston's offense stalls and the possession turns into a scrambled mess. If the Rockets simply get out of these situations without a turnover, it's considered something of a victory.
Lin got away with it against the disorganized, disinterested Kings, but postseason defenses are going to punish him (and the Rockets) if he keeps this up.
Lin brings a few good things to the table, but he's got to break this habit.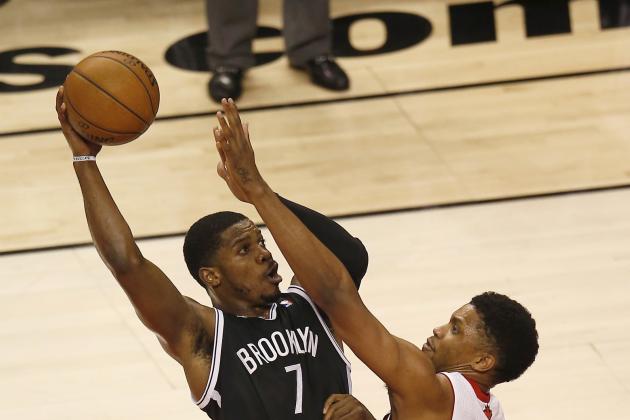 Tom Szczerbowski-USA TODAY Sports

The Brooklyn Nets and Joe Johnson are stuck with one another for the foreseeable future, thanks to the comically inflated deal that will pay him nearly $70 million over the next three seasons.
Johnson has averaged just 16.3 points and 42.2 percent from the field this season (his worst since 2002-03) and has done little to justify the long-term commitment Brooklyn made with him. But the financials are a problem for the future.
The Nets' biggest issue at the moment is that they're heading into the postseason without knowing whether they can count on Johnson to be a competent scorer alongside Deron Williams.
Johnson shot just 4-of-16 from the field and 2-of-9 from long range in the Nets' 93-87 loss to the lottery-bound Toronto Raptors, and his final two attempts from deep caught nothing but air. Suffice it to say, he didn't quite put on a $70 million performance.
An abysmal March that saw Johnson average just 13.3 points on 32 percent shooting from beyond the arc appeared to have given way to a better April. But Johnson has been anything but consistent lately, peppering in decent performances with awful ones.
Unpredictability is hardly what the Nets need from their shooting guard, especially with the postseason looming. If Johnson can't get himself right in a hurry, Brooklyn could be in for a short playoff stay.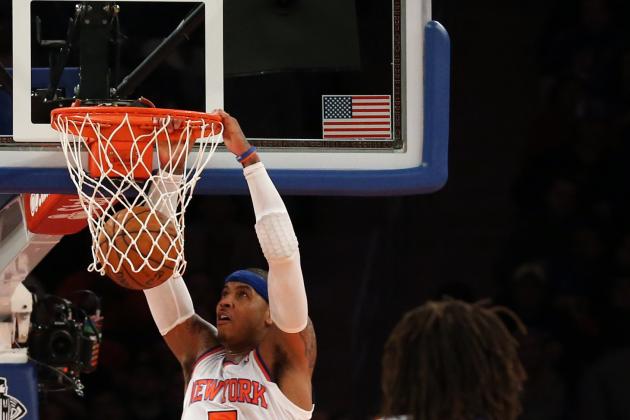 Anthony Gruppuso-USA TODAY Sport

The New York Knicks secured the No. 2 seed in the Eastern Conference by handily dispatching the Indiana Pacers, 90-80, but Carmelo Anthony suffered a shoulder contusion in the process.
Or, as Walt Frazier would say, "The Knicks clinched while Melo flinched."
Sorry, couldn't resist.
Head coach Mike Woodson claimed all was fine with Anthony.
"His shoulder is fine," Woodson said, via the New York Post. "I would have brought him back but decided to pull him and ride the guys who got the lead for us.''
Anyway, because they sewed up the second spot in the East, the Knicks will have the luxury of resting their banged-up players over the season's final two games. That means Anthony can ice his bruised shoulder (but hopefully not his hot hand), Tyson Chandler doesn't have to rush back from his bulging disc, and Kenyon Martin can take his time with his sprained ankle.
Few teams have suffered through as many significant injuries this season as the Knicks have—although the Chicago Bulls would probably like to weigh in on that statement—so a little rest could go a long way for New York's playoff hopes.
If healthy, the Knicks pose as serious of a threat to the Heat as anyone in the East. They'll now get a well-earned break to rest up.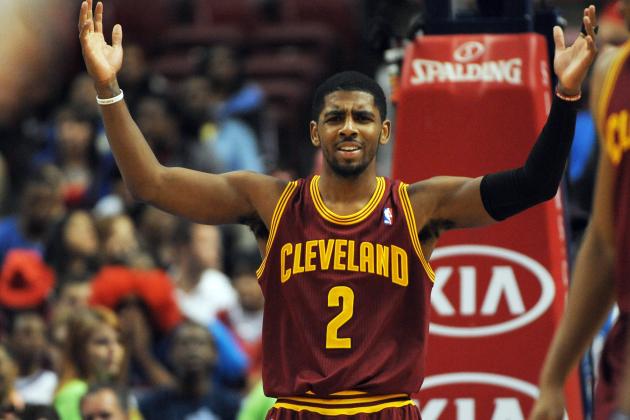 Eric Hartline-USA TODAY Sports

The Cleveland Cavaliers are going nowhere, and Kyrie Irving just doesn't look right.
The star point guard finished with a career-low four points on 1-of-6 shooting and turned the ball over four times in 19 minutes in the Cavs' 91-77 loss to the Philadelphia 76ers.
It's hard to peg the cause of Irving's poor play this month, but whether he's sending a message to the organization that he won't play for coach Byron Scott or is genuinely worn down by the knee and shoulder injuries he sustained this year, the next move should be obvious for the Cavs:
It's time to sit Irving down.
There are only two games left in the season, and Cleveland has no reason to risk its future by leaving Irving on the court. Plus, it's pretty clear that he's not interested in putting forth his best effort.
The Cavs are broken right now. They lack talent, have a coach who has apparently worn out his welcome, and don't seem to possess much of a plan.
Resting Irving is the only logical move at this point, and it might be the first one the franchise has made since drafting Irving No. 1 overall two years ago.
In Ty Lawson's first game back after missing five straight with a bum heel, the Denver Nuggets lost Kenneth Faried to a sprained left ankle. That hardly seems fair, as it was just a few days ago that Denver saw starting forward Danilo Gallinari hit the deck with a torn ACL.
Fortunately, Faried's injury is nowhere near as serious:
FARIED UPDATE: #Nuggets F @kennethfaried35 has a left ankle sprain, will not return. X-rays negative. Day-to-day.

— Denver Nuggets (@denvernuggets) April 14, 2013
Most of the time, injuries like the ones the Nuggets have seen since the All-Star break come down to chance, but that sort of logical explanation hardly seems to account for the bad timing—and even worse luck—George Karl's club has had of late.
And that's why it has become blatantly obvious that someone, somewhere has a Denver Nuggets voodoo doll. Without pointing any fingers, the Rockets are currently slated to face off with Denver in the first round of the postseason, so any investigation should probably start in the top drawer of the desk in Kevin McHale's office.
The Nuggets boast one of the deepest teams in the league, as the performances of Anthony Randolph (18 points and six rebounds in 20 minutes) and Evan Fournier (24 points, four rebounds and four assists) in Denver's 118-109 win over Portland can attest. Thanks to its seemingly endless supply of quality players, Denver was able to notch its franchise-record 55th win against the Blazers.
Still, it wouldn't hurt for every Nugget to start carrying around a rabbit's foot. I'm not clear on the principles of voodoo, but that seems pretty reasonable.
Dirk Nowitzki and the Dallas Mavericks achieved an incredible milestone in their 107-89 defeat of the New Orleans Hornets.
For the first time in more than five months, the Mavs record now features as many wins as losses. That's right, folks—at 40-40, Dallas players finally got to shave their infamous .500 beards.
And Nowitzki didn't even wait until hitting the showers to grab a razor.
For the sake of decency, it's unequivocally great that the Mavs have finally shed the beards. A few of those things may very well have been housing entire families of birds.
For a while there, it certainly didn't look like the Mavericks had a chance of getting their record back to even. They were 13-23 on Jan. 9, and with Nowitzki sidelined for a good chunk of the season, it would have been understandable if Dallas had simply coasted to a lottery finish.
But the Mavs rallied, and the beards are now gone.
Oh, and Nowitzki also became just the 17th player in NBA history to amass more than 25,000 points. That's great, but I thought I'd lead with the bigger news.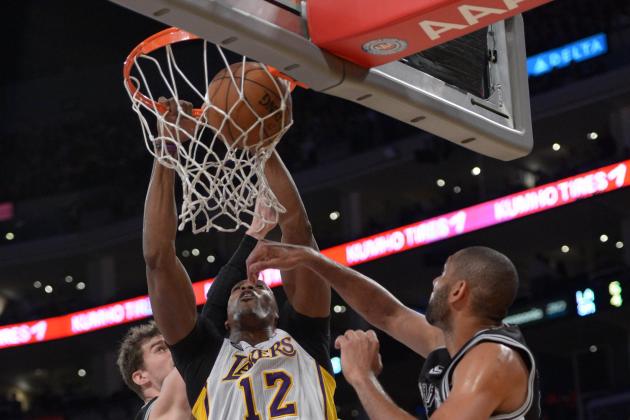 USA TODAY Sports

Without Kobe Bryant, the Los Angeles Lakers somehow managed to knock off the San Antonio Spurs, 91-86, at home, trimming their magic number to one.
Steve Blake played the first half of his life, shooting 8-of-9 and scoring 20 points. He finished with 23 and was instrumental in harassing Tony Parker into a 1-of-10 shooting night.
Dwight Howard registered 26 points and 17 rebounds as the team's offensive focal point, and Pau Gasol made up for an atrocious 3-of-17 shooting performance with 16 boards and three blocks. L.A.'s two big men were expected to step up, but Blake's out-of-nowhere performance stands as one of the most stunning (and clutch) of the entire season.
Now, the Lakers need only win their last game against the Houston Rockets on Wednesday to secure the final playoff spot in the West.
In addition, if the Utah Jazz lose either of their final two games, the Lakers' current one-and-a-half game lead will hold up.
So there it is: After all of the bumps in the road, hasty firings, devastating injuries and heated infighting, L.A. is on the cusp of sneaking into the postseason.
The win over the Spurs was messy, but that's how everything else has been for the Lakers this year. With one more victory, L.A. will enter the playoffs with a clean slate.
From there, who knows what could happen?