Pittsburgh Penguins: Breaking Down First-Round Playoff Scenarios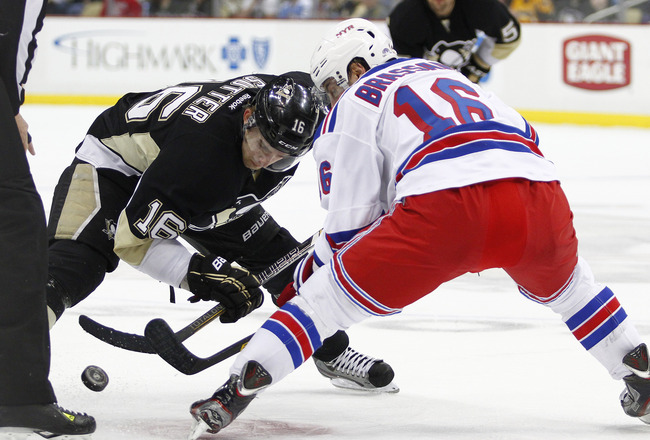 Justin K. Aller/Getty Images
The Pittsburgh Penguins are sitting pretty at the top of the Eastern Conference, even without superstar captain Sidney Crosby. Barring a surprising turn of events, the Penguins will secure either the top seed or the second spot in the coming weeks.
That cuts down the pool of possible playoff opponents considerably.
Let's preview some of the likely adversaries for the Penguins in the first round.
New York Rangers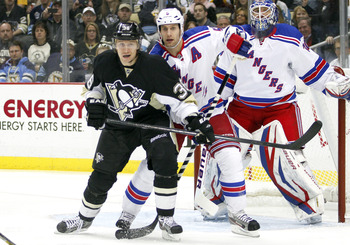 Justin K. Aller/Getty Images
This is a tough first-round matchup for the Penguins. Every hockey fan has heard it countless times, but a hot goalie equalizes every playing field. If Rangers netminder Henrik Lundqvist hits his stride, watch out. The perennial Vezina Trophy candidate is lights-out when he's on top of his game.
Couple that with the Blueshirts' dogged determination to block almost every enemy shot, and New York can be very difficult opponent to score on.
New York might not have the firepower that Pittsburgh boasts, but between Brad Richards, Ryan Callahan and Rick Nash, the Rangers have some dangerous weapons of their own. I'm not sure that their game plan will be to get into a shooting match with the Penguins, but if the Rangers can slow down Pittsburgh's attack, they have the horses to sneak a decisive goal home.
New York Islanders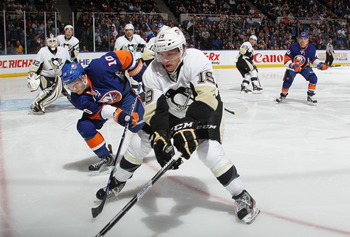 Bruce Bennett/Getty Images
The other half of the New York contingent poses a different challenge for Pittsburgh. The Islanders have a host of skilled forwards with soft hands. John Tavares is as good a playmaker as anyone not named Crosby, and he has talented players such as Michael Grabner, Kyle Okposo and Matt Moulson to finish off his feeds.
The Penguins have handled the Islanders so far this season, but the playoffs are a different animal. Especially if the Penguins don't get healthy in time for the first round, this series could be much tighter than Pittsburgh fans might think.
I don't think there are many teams that could hang with the Penguins in a track meet, but the Isles are one of the teams that has a chance.
Ottawa Senators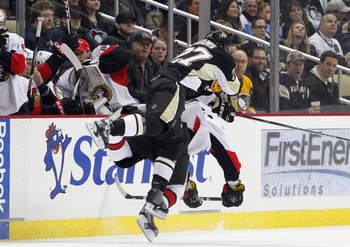 Justin K. Aller/Getty Images
The Senators have been hit hard by injuries this season, with Jason Spezza, Milan Michalek, Erik Karlsson and Marc Methot all missing significant time. They've responded by creating a turtle-like shell around goalie Craig Anderson, similarly to the way Pittsburgh played when they lost both Evgeni Malkin and Crosby a few years back. It's worked out well so far, with the Sens solidly in the playoff field.
In other words, the Senators are fully engaged in the brand of hockey that helps teams be successful in the playoffs. Just like the Rangers, the Senators can be nigh-impossible to score upon when they are clicking. They're definitely not a team for the Penguins to take lightly.
Keep Reading

Pittsburgh Penguins: Like this team?