Boston Red Sox: Stock Up, Stock Down for Team's Top 10 Prospects for Week 2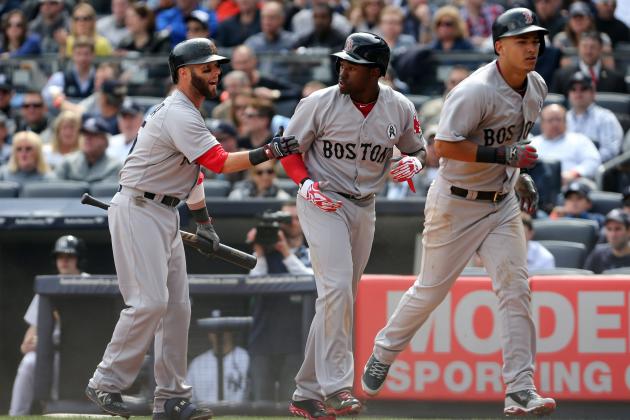 Anthony Gruppuso-USA TODAY Sport
The Red Sox hope to keep adding young players like Bradley on to the major league roster as needed.
Winning seven of their first 11 games, the Boston Red Sox have gotten off to a much quicker start to this season than they did last year, when they were 4-7 out of the gate.
Young players such as Jackie Bradley Jr., Jose Iglesias and Junichi Tazawa have played roles in the early success.
Despite a major league roster with a payroll of over $140 million, the team's farm system is well stocked with a variety of prospects being counted on to develop into major leaguers and be a big part of the future.
The minor league season has just gotten underway and the youngsters are already showing signs of what may be to come.
Click through for a stock update on Boston's top 10 prospects in Week 2 of the 2013 season.
The following players are the top-10 ranked prospects according to Baseball America.
The Red Sox's No. 2 prospect, outfielder Jackie Bradley Jr., is on Boston's roster. Left-handed pitcher Drake Britton, who is ranked as the team's No. 11 prospect according to the Prospect Handbook has been reviewed in his place.
Begin Slideshow

»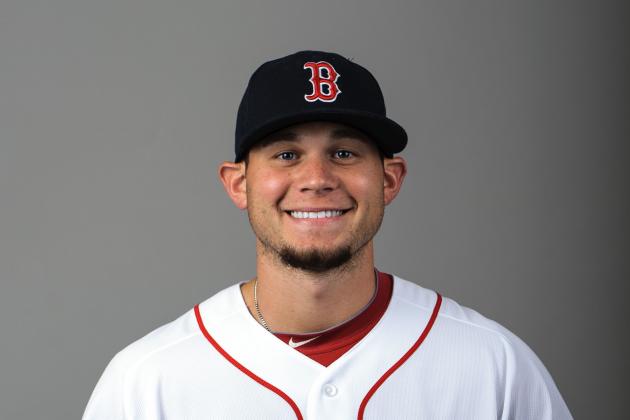 USA TODAY Sports
Britton has talent, but he also has a lot of problems off the field.
Stats: 1 GS, 6 IP, 4 H, 1 R, 1 ER, 0 BB, 4 K
Stock: up
Britton was dominant for Double-A Portland in a start against the Reading Phillies this week, but it was news off the field that sent his stock soaring.
Facing multiple misdemeanor charges from a DUI during spring training, his original hearing for April 12 was rescheduled and will now not happen until later in the season, or even after the season, according to WEEI's Rob Bradford.
Britton, who pleaded not guilty, is facing over a year in jail and monetary fines.
Boston's decision to allow the 23-year-old southpaw to pitch while the case is being adjudicated has been criticized by some, including ESPN Boston's Gordon Edes.
Like it or not, having his court proceedings pushed back will allow him to concentrate on pitching and remove the case from the spotlight, making last week a major win for Britton.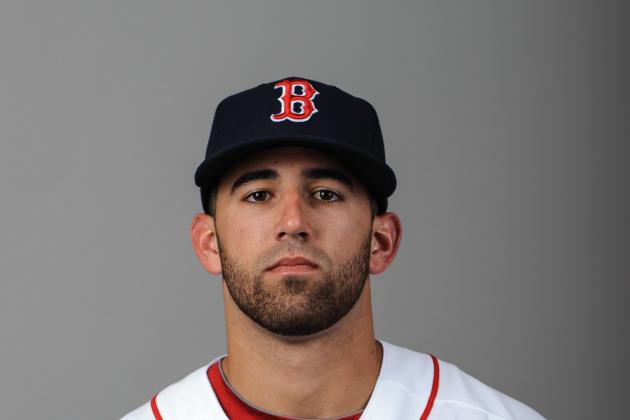 USA TODAY Sports
Marrero is one of Boston's trio of young shortstop prospects.
Week 2 Stats: 5 G, .250 BA, 0 HR, 1 RBI, 1 SB, 5 2B
Stock: up
Last year's first-round pick has gotten off to an impressive start for the Class-A advanced Salem Red Sox, seemingly doing a little bit of everything.
After banging out 19 extra-base hits last season, Marrero is already displaying a similar propensity in 2013. He had three doubles in last Monday's game against Potomac and will really improve his stock if he can show he has a consistent impact bat.
Unfortunately, no matter how well Marrero plays, barring an injury, it's unlikely he will be called up to a higher level this year. With Xander Bogaerts at Portland and Jose Iglesias at Pawtucket, the Red Sox already have two highly ranked prospects holding down the shortstop position at the top two levels of their farm system.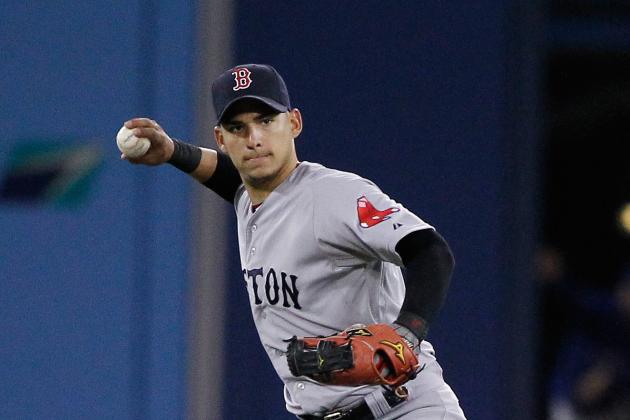 John E. Sokolowski-USA TODAY Spo
Things are starting to look up for Iglesias.
Week 2 Stats: 3 G, .182 BA, 1 HR, 3 RBI, 0 SB, 4 R
Stock: up
Although Iglesias was demoted to Triple-A Pawtucket last week after the Red Sox activated shortstop Stephen Drew from the disabled list, the Cuban prospects stock may have never been higher.
He filled in admirably for Drew, hitting .450 in six major league games while playing stellar defense.
The professional manner in which he accepted his demotion was also of note, as he told ESPN Boston's Joe McDonald: "When I get another opportunity, I will be better that time."
There has never been any question about the quality of Iglesias' defense, but his suspect bat had caused his prospect stock to slip. Although it is a small sample size, starting off his 2013 minor league season with a home run against Rochester is an excellent sign that he may be turning the corner.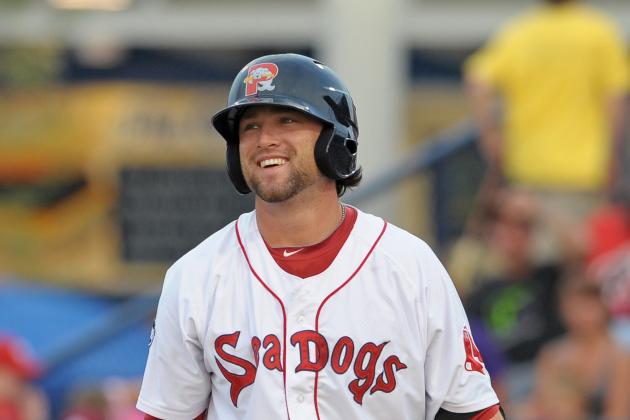 Eric Hartline-USA TODAY Sports
Brentz is trying to get back on track after a rough offseason.
Week 2 Stats: 5 G, .200 BA, 1 HR, 4 RBI, 3 K, 2 R
Stock: even
The 24-year-old right-handed Bryce Brentz hit his first home run of the season, but continues to have contact issues at the plate.
He hit 17 home runs last season between Double-A Portland and Triple-A Pawtucket, but struck out a combined 136 times.
Although he is hitting .282 after his first nine games of this season, he has already struck out 10 times in 39 at-bats with Pawtucket, and cutting down on that frequency may ultimately help him reach the major league level.
Accidentally shooting himself while cleaning a gun during the offseason caused him to miss much of spring training, so getting off to a hot start will be important for Brentz. So far, he has neither impressed or really disappointed.
Week 2 Stats: 5 G, .500 BA, 0 HR, 2 RBI, 2 SB, 3 2B, 1 3B
Stock: up
Coming off an impressive 2012 season with Single-A Greenville, the soon-to-be 22-year-old Garin Cecchini is looking to replicate his success this year at high Single-A Salem.
He hit .305 with four home runs, 62 RBI, 38 doubles and 51 stolen bases last year.
Despite being 6'2" and 200 pounds, he continues to rack up stolen bases. If some of his doubles start turning into home runs, his prospect stock could truly take off.
As it stands, the left-handed hitter is Boston's top-ranked third base prospect and is already living up to his status as a 2010 fourth-round draft choice. If he can build off his success from last year, there's no telling what his ceiling could be.
Week 2 Stats: 5 G, .313 BA, 0 HR, 3 RBI, 0 SB, 3 R
Stock: even
It is a very small sample size, but the switch-hitting Swihart has gotten off to an uneven start this season with high Single-A Salem.
A 2011 first-round draft choice, MLB.com's Jonathan Mayo wrote that Swihart's bat was considered ahead of his defense, but he impressed many in the Boston organization during last fall's instructional league with his all-around play.
Last season was his first full year as a professional player. He played in 92 games for Single-A Greenville, hitting .262 with seven home runs and 62 RBI, while throwing out 31 percent of base stealers.
He has played just seven games this year and hit an unimpressive .217. The good news is that he has nailed three of five runners attempting to steal on him.
While he is off to a so-so start, there is plenty of time for him to get in rhythm and prove that his instructional league showing was no fluke.
Week 2 Stats: 1 GS, 5 IP, 6 H, 2 R, 2 ER, 1 BB, 5 K
Stock: even
Expectations for Owens have been high this year ever since WEEI's Alex Speier reported that that the southpaw struck out 13-of-15 hitters he faced in an intrasquad game during spring training.
SoxProspects.com's scouting report on Owens when he was a 2011 first-round draft choice indicated his fastball sat in the low-90s. Speier wrote Owens is now touching 95 mph for the first time in his career. At just 20 years of age, he may be raising his ceiling, which was already that of a mid-rotation starter according to SoxProspects.com.
He struck out 130 batters in 102.1 innings last season, his first year in pro ball. However, he also had a 4.87 ERA and a 1.45 WHIP.
Through two starts this year with high Single-A Salem, he has just a 1.80 ERA. If he can show his increasing velocity is no fluke, he could take a major leap forward in 2013.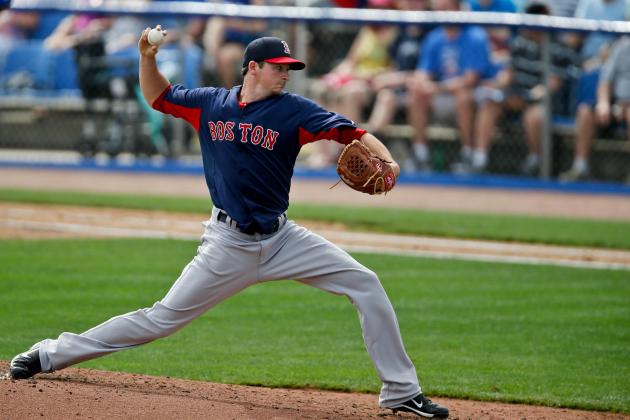 Derick Hingle-USA TODAY Sports
Webster was a standout during spring training this year.
Week 2 Stats: April 10 start against Lehigh Valley postponed due to rain
Stock: even
After pitching five shutout innings in his first-ever Triple-A start last week, Webster's next start was eagerly anticipated. Unfortunately, it was postponed due to rain, but not until he had already thrown two shutout innings.
He was not chosen to fill in while John Lackey is on the disabled list, which seems to suggest Boston wants him to get more experience with Pawtucket.
The only concerning part about Webster's first start was the three walks he issued. The 4.2 walks per nine innings he allowed last year was his highest since his first professional season in 2008, so his control should be monitored moving forward.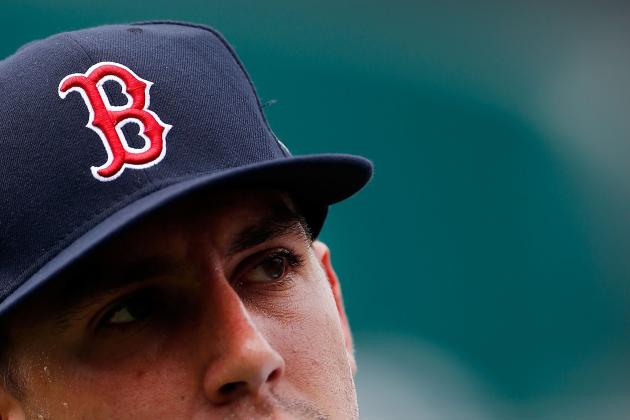 Jamie Squire/Getty Images
Barnes has gotten off to a very slow start in 2013.
Stats: 2 GS, 3.1 IP, 8 H, 7 R, 7 ER, 3 BB, 4 K
Stock: down
Barnes' first start of 2013 for Double-A Portland was over just after it began. Despite striking out the side in the first inning against the Reading Phillies, he also allowed three base runners and two runs and was pulled from the game.
The Portland Press Herald's Glenn Jordan reported that the 22-year-old right-hander was removed from the game, not because of the results, but because the team was alarmed by the 33 pitches needed in the first inning. Portland manager Kevin Boles explained, "This time of year, we're going to err on the side of caution."
Barnes' second start was even worse, as he gave up five runs in 2.1 innings against New Britain.
He had a 2.86 ERA and permitted only 2.18 walks per nine innings last year, so his first two games may be aberrations. However, he is playing at Double-A for the first time, and Boston should be alarmed by his early results. They should monitor him and make sure he is ready to play at that level.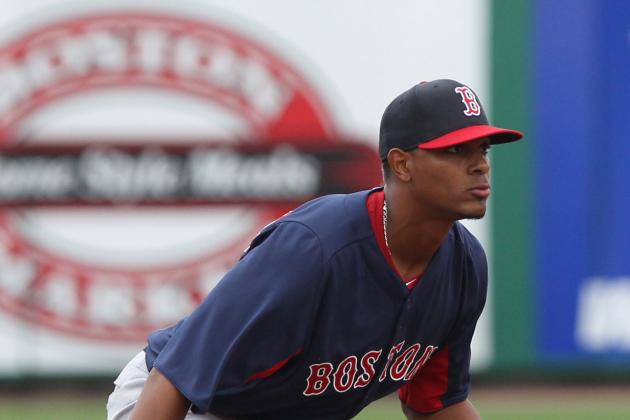 Kim Klement-USA TODAY Sports
Many fans got to see Bogaerts, Boston's top-ranked prospect, on a national stage this winter with the WBC.
2013 Stats: 5 G, .174 BA, 0 HR, 1 RBI, 1 SB, 5 K
Stock: down
In addition to being able to play with the big league club during spring training, the 20-year-old Bogaerts also gained valuable experience playing for Team Netherlands during the World Baseball Classic this year.
He hit .326 in 23 games with Portland at the end of last year, so he isn't new to the Double-A level. Unfortunately, he is playing like he is.
He has yet to record an extra-base hit in his first eight games, after banging out 60 in 2012.
The most alarming part of his start to this season is his 11 strikeouts in 37 at-bats, which is well ahead of his career rate of a whiff every 4.58 at-bats
It is still early but thus far Bogaerts isn't playing up to his status as Boston's top-ranked prospect.
Statistics via Baseball-Reference