Benson Henderson vs. Gilbert Melendez Head-to-Toe Breakdown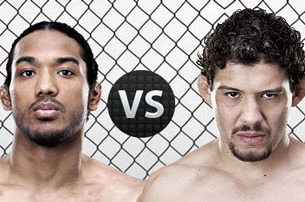 gamblerspalace.com
Currently looking for his third straight title defense in the UFC lightweight division, pound-for-pound great Benson Henderson is set to welcome former Strikeforce champion Gilbert Melendez to the Octagon this Saturday night on FOX.
It's Henderson's second championship appearance on live television and arguably his toughest test to date. He'll have to be on top of his game to out-pace, out-hustle and out-duel the always formidable boxing of "El Nino."
For Melendez, this is his first shot to show the world that he belongs in the big show, fighting in the big fights. He'll finally get a shot to translate his elite skills from Strikeforce to the UFC.
Warranting an early setback from either Henderson or Melendez, this five-round battle should be epic. Here's how the initial head-to-toe breakdown pans out.
Enjoy.
Begin Slideshow

»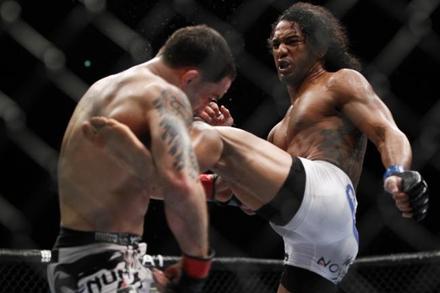 Esther Lin/AOL
As one of the biggest lightweights in the world, Benson Henderson often excels by imposing his natural strength and speed.
Over the past two years, "Smooth" has displayed one of the more well-rounded standup games in the sport, utilizing excellent Muay Thai, rangy boxing, unorthodox kicks and iron-clad confidence.
While Gilbert Melendez sports one of the best punching arsenals in the division, that doesn't necessarily mean he's going to be able to deflect and supersede Henderson's versatility.
When it ultimately comes down to it, the UFC lightweight champ can attack from any angle at any point during a fight.
ADVANTAGE: HENDERSON
latino.foxnews.com
With training partners like Nick and Nate Diaz, Gilbert Melendez better command respect on his feet.
Throughout his career, "El Nino" has crafted the art of punching, better known as boxing. He's been able to batter opponents strictly by throwing crisps jabs, devastating body punches and pushing the pace when others would fall back.
Melendez doesn't possess the overall knockout ability of a Melvin Guillard or Gray Maynard, but he's grown comfortable picking his foe apart by implementing the always classic Diaz approach of punches in bunches.
By doing so, Melendez has showcased an elite aptitude to successfully use his precision and patience to win fights on his feet.
SLIGHT ADVANTAGE: MELENDEZ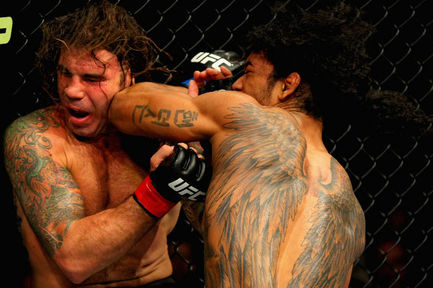 torontosun.com
For years, Benson Henderson has flourished in the clinch. He has proudly utilized world-class Muay Thai and devastating physicality to truly make his inside game count.
As a larger-than-life lightweight, Henderson ultimately has the upper hand over other divisional contenders when it comes to natural ability.
With powerful knees, razor-sharp elbows, strong transitions and strategic takedown defense, Henderson serves as one of the more punishing clinch practitioners in the sport.
Gilbert Melendez better realize his greatest threat and circle away when the champ gets too close.
SLIGHT ADVANTAGE: HENDERSON
telegraph.co.uk
Benson Henderson isn't the best wrestler in the world, but he's very consistent at making every move count.
When Henderson wants to keep a fight standing, it usually happens. On the rare occasion that he's getting battered on his feet, chances are he's going to power the fight to the ground.
Against an above-average at best wrestler in Gilbert Melendez, Henderson should be able to dictate the environment of their fight.
It may be tougher to take Melendez down than it was to muscle Nate Diaz around, but "Smooth" is physically and athletically inclined to do so.
ADVANTAGE: HENDERSON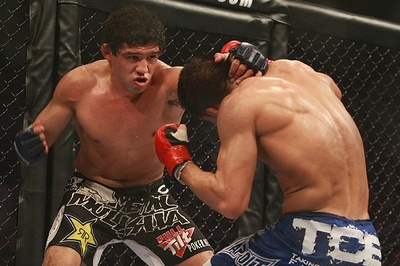 mmafight.com
Despite the high level of expertise that Benson Henderson has displayed over each of his six UFC bouts, he simply hasn't been able to finish fights.
That may come as a surprise, considering he stopped half of his WEC showdowns by submission, but the fact of the matter is that Henderson has become a victor-by-decision type of champion.
That's all well and good, but opposite a hard-throwing, in-your-face striker like Gilbert Melendez, the UFC lightweight champion may encounter more trouble than he thinks.
Melendez has gone 10 straight rounds without an early stoppage, but 11 career wins by knockout or TKO suggests he's due for a finish.
With that said, if the fight happens to go to the ground, Henderson has all the finishing ability in the world. But considering these two are set to let the leather fly, the challenger has the upper hand.
SLIGHT ADVANTAGE: MELENDEZ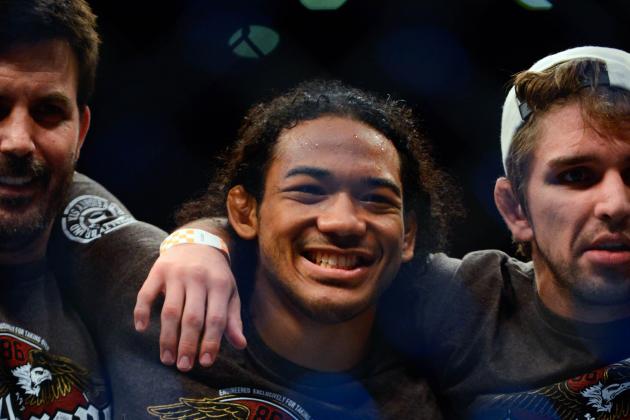 Ron Chenoy-USA TODAY Sports

Considering Benson Henderson has won three straight title fights and Gilbert Melendez hasn't lost since 2008, one lightweight is going to witness their own perfection fade away on Saturday night.
As far as Henderson is concerned, Melendez represents his biggest challenge to date. He'll have to find his range early, stay away from explosive exchanges and utilize devastating cagework.
As far as Melendez is concerned, fighting Henderson means he'll finally be making his long-awaited arrival to the UFC. He'll get to prove his worth within one of the deepest divisions in the world by dismantling a puzzling champion with precise boxing and a fast-paced offensive attack.
But since there always has to be a winner and a loser, one of these elite lightweights will taste defeat this weekend in San Jose, CA.
It may seem safe to pick Henderson considering his dominance over the past two years, but he's also the right pick when you look at his matchup with Melendez.
Melendez is a more compact and more experienced striker than Nate Diaz, but Henderson dismantled Diaz with such ease that it seems natural he'd defeat the UFC newcomer.
It will be a tough battle, in which Melendez should punch his way to at least two victorious rounds, but "Smooth" will retain his title and future hopes of being the best fighter on the planet.
VERDICT: HENDERSON VIA SPLIT-DECISION
For more UFC/UFC on FOX news and coverage, Follow @DHiergesell