Tom Wort: Video Highlights for Former Oklahoma Linebacker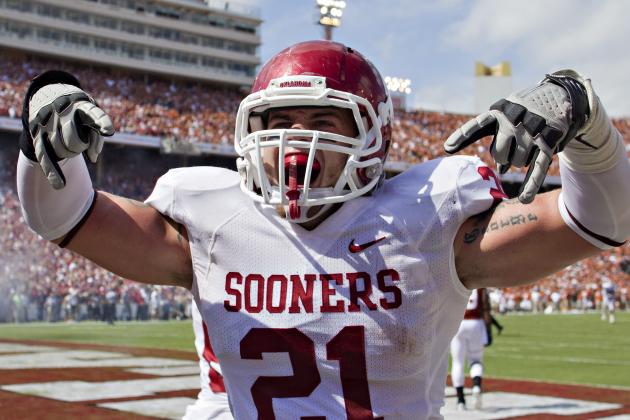 Wesley Hitt/Getty Images

Oklahoma Sooners linebacker Tom Wort declared for the 2013 NFL draft following a subpar junior season in Norman.
The 6'0", 235-pound linebacker battled injuries and had his worst statistical performance of his three-year playing career in 2012. That could partially be attributed to the Sooners' switch at defensive coordinator.
Mike Stoops took over DC duties last season after Brent Venables departed for Clemson. Wort was a good fit for the old system run by Venables due to its aggressive and attacking nature.
If he hopes to make an NFL roster, it will likely have to happen after going undrafted and receiving an invite to training this summer. He could potentially be an excellent special teams player for a franchise looking for a high-motor player that can move well up, down and across the field.
CBS Sports' Rob Rang compares Wort to Jacksonville Jaguars' ILB Greg Jones.
"Like the former Michigan State standout, Wort is a highly celebrated collegiate player whose lack of ideal size and arm length could keep him from enjoying the same success in the NFL," Rang said.
Here's a brief collection of some of Wort's biggest highlights after three seasons of playing time at Oklahoma.
Begin Slideshow

»
The Kansas Jayhawks were trailing 10-0 in the first quarter of this eventual blowout when Tom Wort saw QB Dayne Crist attempting to elude pressure and scramble to the outside.
Wort reacted quickly and turned up the field with impressing straight-line closing speed on the flurried QB. He anticipated and took a good angle to where the QB was moving to in order to cut him off and make the play.
The resulting fumble was a result of poor anticipation by Crist, but Wort's hit probably didn't hurt, either.
The read option is a tough play to defend. With that said, Tom Wort absolutely blows up this 2nd-and-long attempt by the Notre Dame Fighting Irish.
Wort keys in on RB Cierre Wood on the snap, sees the exchange between QB Everett Golson and the back, and then closes with great speed and a proper angle to the ball.
His play recognition and quick read and reaction helped him avoid the left tackle, who attempted to move to the next level and seal him off.
The Florida State Seminoles attempted a play-action pass in a key 3rd-and-short situation. Unfortunately for the Noles, Oklahoma LB Tom Wort stayed home, read the play and then closed quickly to stop the tight end just short of the sticks.
Wort, again, demonstrated excellent fundamentals by staying home, reading the play and then closing quickly to make an excellent stop.
This interception of Florida State QB E.J. Manuel is a true testament to the awareness and athleticism of former Oklahoma Sooners LB Tom Wort.
Wort was engaged by Florida State TE Beau Reliford, the eventual target of Manuel, before the TE disengaged and looked for the dump pass from his QB.
The LB wasn't fooled and almost baited Manuel into making the throw. As soon as the ball was released, Wort made his move by going up high to get the tip and interception.
At 6'0" he will be at a disadvantage in the NFL, but his athletic ability demonstrated here somewhat makes up for what he lacks in height.
The Oklahoma Sooners defense wasn't fooled on this Texas Longhorns jet sweep attempt. Despite the team reading the play, several Sooners missed as track-star WR Marquise Goodwin attempted to bounce the play to the outside.
Then, Tom Wort came in from the middle of the field to chase down the speedy receiver.
Wort displayed good pursuit and closing speed to prevent Goodwin from finding any type of window to get up the field.
Texas was trailing in the fourth quarter and in an obvious passing situation in this clip (trailing by 11 points with six minutes to play). On this play, Oklahoma dialed up a twist up the middle with its two linebackers.
Tom Wort came up the middle after his teammate had already absorbed the offensive lineman. That gave him a clear path to the QB, with only the running back to beat. And beat him, he did.
Running backs, for the most part, will give a better effort than the Texas RB on this play. Still, it's encouraging to see he can shed those blocks and deliver in situations he is supposed to.
This 3rd-and-short red-zone stop by former Oklahoma LB Tom Wort is part of the reason why people are so excited about his future with the program.
Texas A&M attempted a read-option play in a short-yardage situation. Unfortunately for the Aggies, Wort was ready for it. Not only did the instinctive backer read the play, he reacted quickly and delivered a picture-perfect tackle that stopped QB Ryan Tannehill in his place.
Wort's big play prevented the score to get any more out of hand before the half by forcing a Texas A&M field goal.