Each SEC Football Team's Ace Recruiter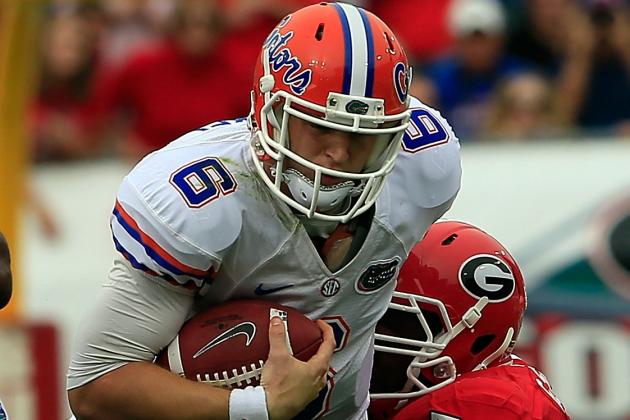 Sam Greenwood/Getty Images

Recruiting is a very intense and competitive part of college football. The coaching staff has to go out across the country and go head-to-head with other coaching staffs to win over the best high school football players. Some of the biggest dramas in college football stem from what goes down on the recruiting trail.
Well, as intense as common recruiting is, it's probably twice as intense in the mighty SEC. In this league, you can be Paul Brown or Bill Belichick, but if you're not recruiting at a high rate to get talent on your roster, you're not going to make any noise. That's why it's imperative for each program in this league to have several dominant recruiters on its staff.
Today, we're going to run down every SEC team and look at just who their "ace" or top recruiter is on their coaching staff. Some programs are fortunate enough to have more than one, while others have a single guy they use to bring in the elite talent.
Here's each SEC squad's ace recruiter...
Begin Slideshow

»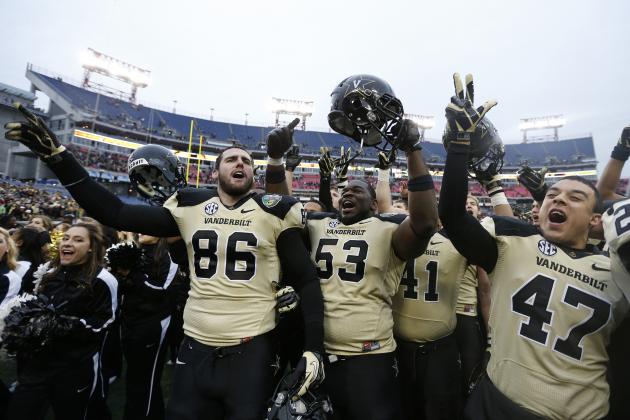 Joe Robbins/Getty Images

Gattis coaches the wide receivers for the Commodores and does a great job running his room. But in actuality, the room James Franklin needs him to run even more is the recruiting room.
Gattis coordinates Franklin's recruiting attack each year and has helped Vandy bring in two straight top-25 classes. You best believe Gattis played a key role in luring Jordan Cunningham to Nashville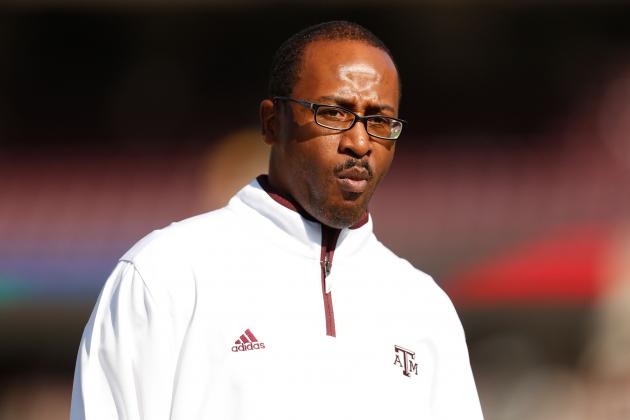 Thomas Campbell-USA TODAY Sports

These two assistants are the obvious pick for Kevin Sumlin—they combined to pull in for more than half of the Aggies' 2013 recruiting class.
Beaty is the WR coach, while McKinney has been promoted to coordinate Sumlin's offense. It was McKinney who was in charge of luring Ricky Seals-Jones to College Station. Beaty also put in work on RSJ.
Anytime an elite recruit is on the Aggies' radar, it's going to be at least one of these two guys that Sumlin charges with bringing in the prospect.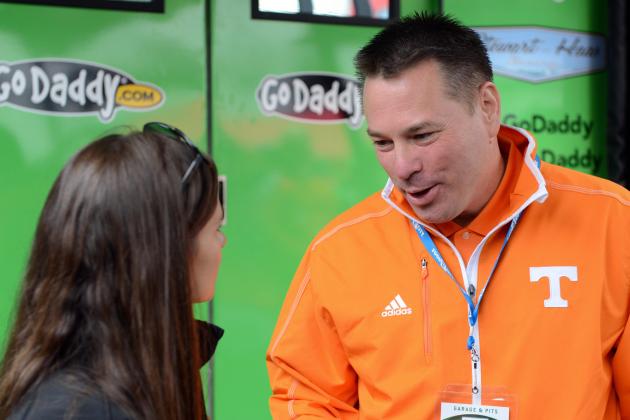 Randy Sartin-USA TODAY Sports

Azzanni comes from Wisconsin and will coordinate recruiting in Knoxville. He has SEC ties due to spending a year at Florida.
Thigpen was one of Gene Chizik's top recruiters at Auburn, and his hiring by Jones has to be considered a shrewd recruiting move. Martinez has spent time at Georgia, Oklahoma and Auburn, so he knows where to go for good talent.
Butch Jones is going to look at these three guys as his trusted recruiting cabinet.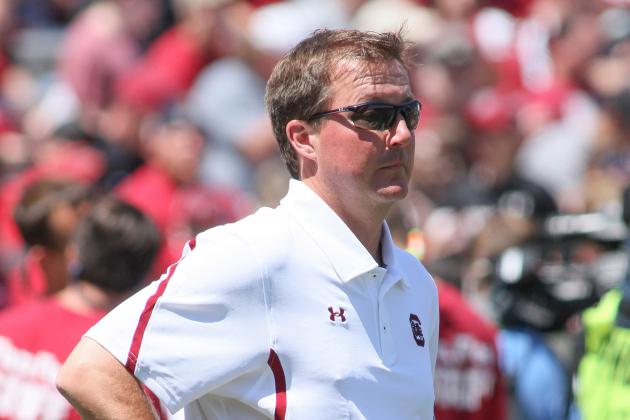 Jeremy Brevard-USA TODAY Sports

Mangus, along with Steve Spurrier Jr., has to be Steve Spurrier's most trusted assistant coach. See, Spurrier is an offensive guru and more of a QB coach at heart.
The fact that he put Mangus in charge of the Gamecocks' QB room is a sign of how highly the Ol' Ball Coach regards him. Mangus has repaid Spurrier by being a great QB coach as well as a great recruiter.
Last year alone, Connor Mitch, David Williams and Kelsey Griffin were three of the top players South Carolina signed. It's not coincidental they were recruited by Mangus.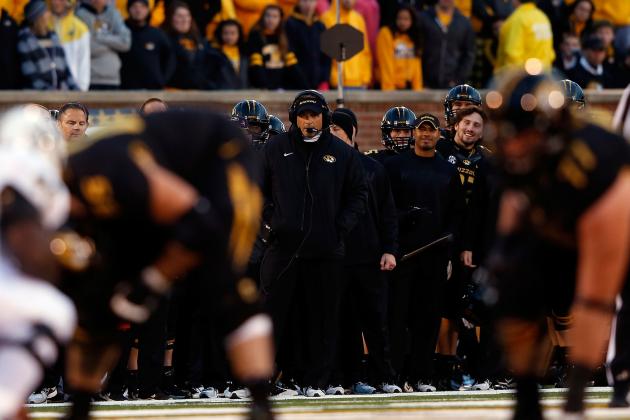 Jamie Squire/Getty Images

Gary Pinkel's ace recruiter is his CB coach, Cornell Ford. The Toledo grad has been at Mizzou for 13 years and is a devoted Tiger.
In 2013, Ford was responsible for six commitments, none bigger than Josh Augusta. Pinkel wanted Augusta badly, so he asked Ford to put the press on the big DT. All Ford did was deliver Augusta's signed NLI on national signing day.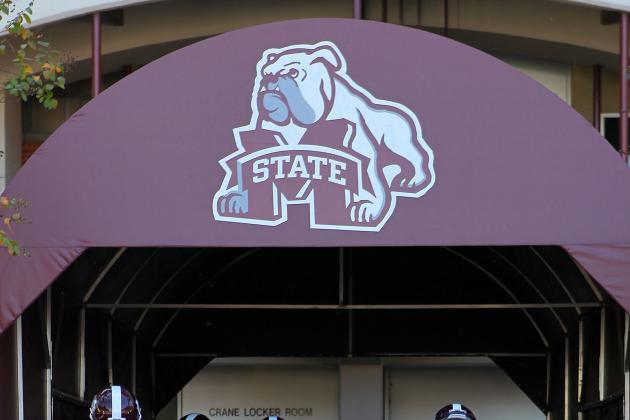 Spruce Derden-USA TODAY Sports

Gonzales is from the Urban Meyer coaching tree, so you know what that means: He's a great recruiter.
Gonzales was one of Meyer's ace recruiters during those glory recruiting years at Florida in the mid-2000s. Gonzales has a ton of connections in the South and around the country.
Dan Mullen has hired him as MSU's WR coach, but Mullen will also be looking for Gonzales to work his magic on the recruiting trail. This hire was a clear counter move to Ole Miss' banner 2013 recruiting run.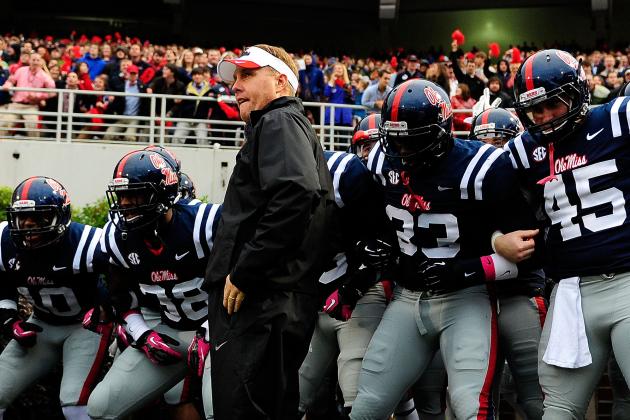 Stacy Revere/Getty Images

It appears Hugh Freeze breaks his recruiting board in half, with the separation coming by offense and defense. Kiffin runs the defensive board and Harris is in charge of offensive prospect recruiting.
Any quarrels with this method have been put to bed with the kind of class the Rebels signed last year. Kiffin delivered them Robert Nkemdiche and, more impressively, Tunsil.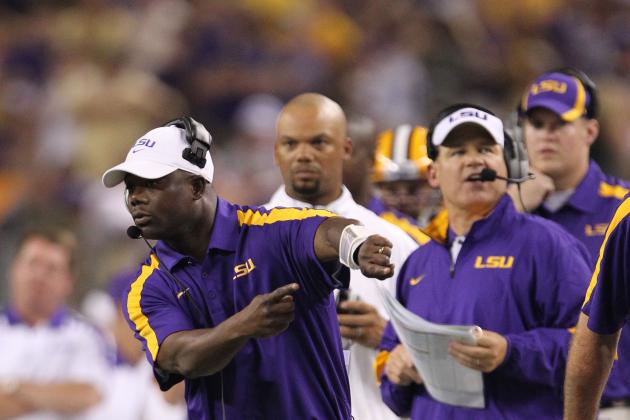 Matthew Emmons-USA TODAY Sports

John Chavis, LSU's defensive coordinator, also could be considered for this role. However, I'm going with Wilson, who is one of the top recruiters in the country.
I routinely talk about how LSU has a very strong fence around the state of Louisiana. Well, Wilson is one of the reasons for that. He has a lot of hotbeds around the state on lockdown, with New Orleans being the most notable.
He may coach the RBs for Les Miles, but Wilson's value as a recruiter is where he really makes his hay.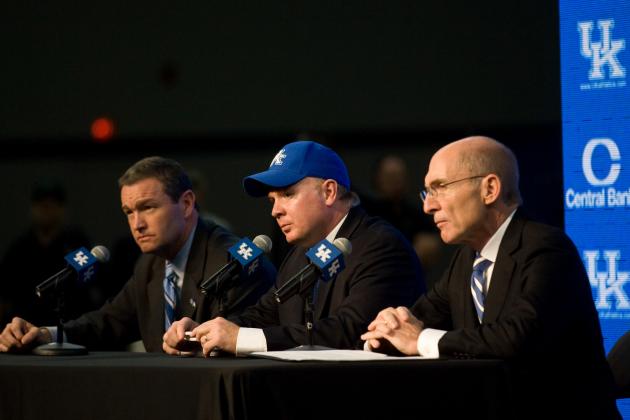 Mark Zerof-USA Today Sports

Eliot is the defensive coordinator for Mark Stoops. He followed the new UK coach from Florida State. Eliot will be calling the defense while also doing all he can for Stoops on the trail.
Marrow coaches tight ends and is considered one of the better recruiters on staff. Stoops is looking to change the way the Wildcats recruit, and I'd imagine that it's going to be these two he leans on the most to get things going.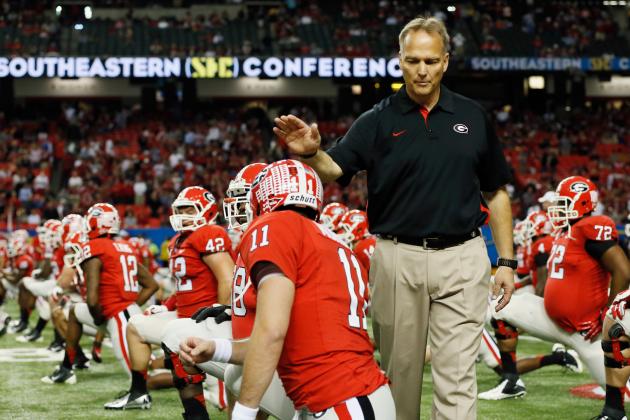 Kevin C. Cox/Getty Images

Mark Richt's ace recruiter is his TE coach, John Lilly. He's been at UGA for six years and always seems to be on the top recruiter lists at the end of each cycle.
UGA usually sends Lilly after its big-time targets, and more times than not, Lilly brings in a slew of signed NLIs on the first Wednesday of each February.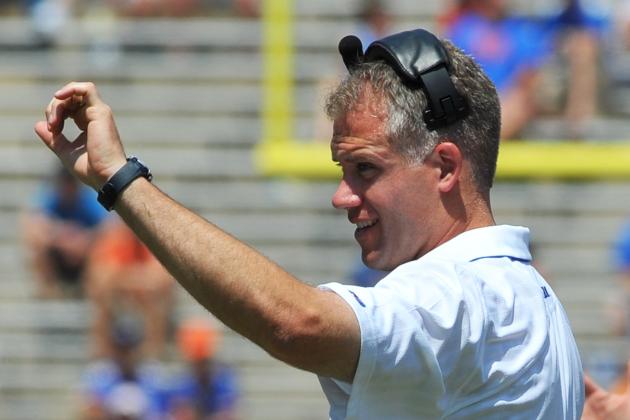 Al Messerschmidt/Getty Images

Florida could have had Joker Phillips, Brian White or Travaris Robinson on here, but I'll just go with Durkin. The Gators' new defensive chief is Will Muschamp's right-hand man on the coaching staff and ace recruiter.
Durkin is one of the elite recruiters in the game today and has an energetic and passionate personality. He is relentless, hard-working and fiery, which seems to work well with recruits.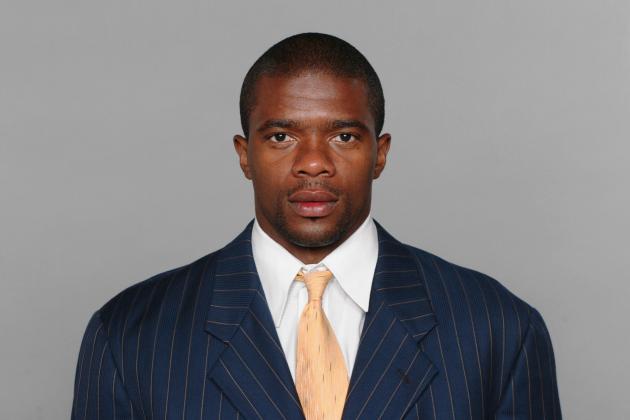 NFL Photos/Getty Images /Getty Images

Craig is going to help coordinate Gus Malzahn's offense this year, as Auburn has basically an entirely new coaching staff.
Malzahn also hired Craig to be his ace recruiter. Jimbo Fisher likely cringed when he saw Craig leave Florida State.
Craig has made a name for himself as a recruiter prospects can relate to. He helped FSU make a ton of in-roads into Alabama, and now that he's at Auburn, that magic is expected to have a War Eagle theme to it.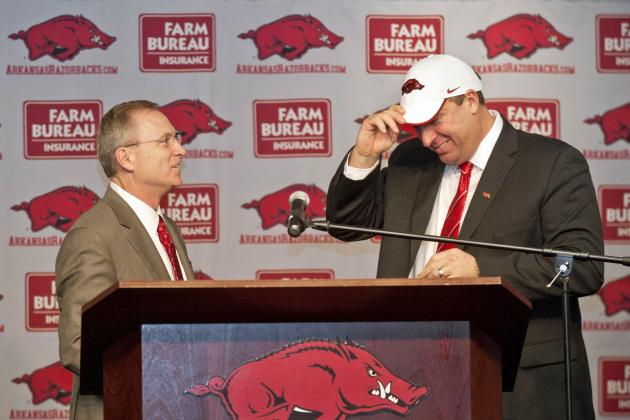 Beth Hall-USA TODAY Sports

Partridge comes down to Fayetteville from Madison, as he followed Bret Bielema to Arkansas. He'll coach the DL unit and be in charge of making the Hogs a more physical squad in the trenches.
Partridge will also be in charge of lurking all over Florida for recruits. Last year, he helped get stud Sunshine State RB prospect Alex Collins to sign with Arkansas. Partridge will looking to make more of a push into Florida in 2014 with the Hogs' flag.
Bret Bielema knows how much talent is in Florida, so he has his top recruiter monitoring the state.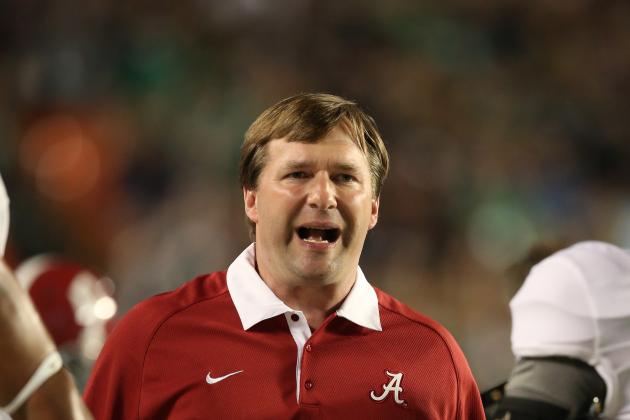 Matthew Emmons-USA TODAY Sports

Nick Saban is still the dominant figure in Alabama recruiting from his head coaching position, but Smart and Cristobal are his top two lieutenants who have on-field coaching duties.
Saban has hired people like Kevin Steele to off-field recruiting roles, too. Cristobal is one of the most tireless recruiters in the country, and the former FIU head coach should be dynamite when coupled with the resources in the Crimson Tide program.
Smart's days in Tuscaloosa are numbered, not because he's a bad coach and recruiter, but because he's an awesome coach and recruiter. He's going to be a head coach very soon, but until then, he'll continue to be Saban's defensive chief and ace recruiter.
Edwin Weathersby is the College Football Recruiting Analyst for Bleacher Report. He has worked in scouting/player personnel departments for three professional football teams, including the New York Giants and Cleveland Browns.