Chicago Bulls vs. Miami Heat: Postgame Grades and Analysis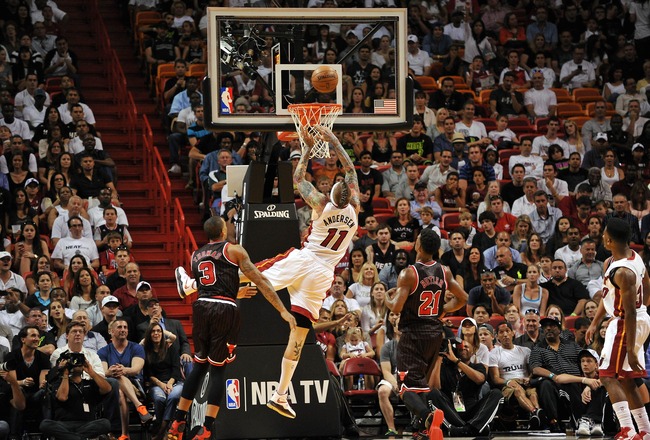 Steve Mitchell-USA TODAY Sports
In a clash between Eastern Conference rivals, the Miami Heat took down the Chicago Bulls by a score of 105-93. The Heat's stars were out in full force, as LeBron James, Dwyane Wade and Chris Bosh all played starter's minutes.
So how did it all go down?
Miami was phenomenal defensively, holding the Bulls to 35.4 percent shooting from the floor. That includes a third quarter in which Chicago failed to make a single two-point field goal, shooting 32.1 percent from the field in that frame.
Chicago, which played without Joakim Noah and Derrick Rose, struggled to keep Miami out of the paint. LeBron James put on yet another quality performance, while Chris Bosh and Dwyane Wade dominated when it mattered most.
So how did it happen?
Point Guards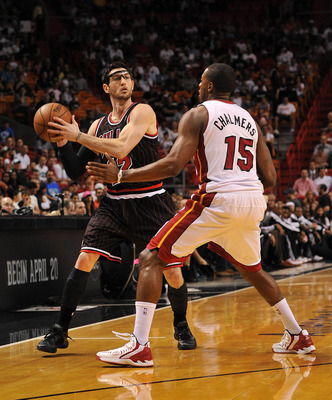 Steve Mitchell-USA TODAY Sports
Mario Chalmers, Miami Heat: B
With a tough assignment against Kirk Hinrich and Nate Robinson of the Chicago Bulls, Mario Chalmers brought the offense. From his three-point shooting to his ability to enter the lane and distribute, Chalmers was as good as he can be with limited touches.
Chalmers tallied 15 points, five assists, three rebounds and a steal in 32 minutes.
Chalmers' greatest contributions came in the second half, as he recognized Kirk Hinrich's weakened confidence upon missing two key free throws. Chalmers turned up the defensive pressure and held Hinrich without a field goal the rest of the way.
Just an all-around high-quality performance by the former Kansas star.
Kirk Hinrich, Chicago Bulls: C-
Kirk Hinrich was up to his usual tactics, draining three-point field goals and playing agitating defense. Hinrich even made the hockey assist on more than one occasion.
Unfortunately, Hinrich also missed two key free throws, including one after an and-1 three-ball that would've tied the game.
This is an unfortunate black mark on Hinrich's game, as he did play well. The fact of the matter is, Hinrich's missed free throws created momentum for the Heat and the Bulls never managed to recover.
That's called coming up short in the clutch.
Shooting Guards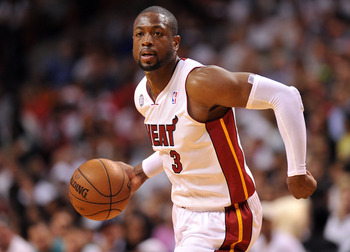 Steve Mitchell-USA TODAY Sports
Dwyane Wade, Miami Heat: A+
Dwyane Wade was absolutely phenomenal, overcoming unfavorable foul calls with supremely efficient play. For the game, he finished with 22 points, four rebounds, four assists, two steals and two blocks on 7-of-12 shooting from the field.
That trumps his free-throw struggles any day of the week.
Wade had trouble with Jimmy Butler at times, but clamped down in the second half. Wade blitzed the ball-handler, regardless of who they were, and forced Chicago to win by way of the three-ball. That defensive pressure caused the Bulls' putrid offensive output.
On offense, Wade worked his way into the paint well and converted at a high rate around the basket. One of his few misses came on a superb transition play by Luol Deng, although Deng could have been called for a foul.
Overall, Wade was superb.
Marco Belinelli, Chicago Bulls: D+
Just to put this out there, Marco Belinelli threw down a dunk with LeBron James attempting a chase-down block. That highlight just so happened to be the lone moment of note for Belinelli.
He went beyond the word "struggle."
Belinelli was 2-of-9 from the floor and 1-of-5 from beyond the arc. Belinelli also played poorly on defense, losing his footing against Dwyane Wade and allowing Flash to enter the paint.
This was a very disappointing outing from Belinelli on a day in which Chicago needed a quality offensive output.
Small Forwards
Steve Mitchell-USA TODAY Sports
Mike Miller, Miami Heat: A-
Mike Miller has received extended run in recent games, and tonight was no different. Miller played 29 minutes for the Miami Heat and was tasked with slowing down the fast-rising Jimmy Butler.
Miller responded in magnificent fashion.
He has never been thought of as a quality defender, and that was on full display against Chicago. He consistently bail-out fouled Butler and saved himself from being exposed by sending the opposition to the line.
Overall, Miller tallied 11 points, six rebounds, four assists and two steals on 4-of-6 shooting from the field and 3-for-4 from beyond the arc. Phenomenal.
Jimmy Butler, Chicago Bulls: B
Jimmy Butler is turning into one of the most promising shooting guards in the NBA. A major reason for this development is his unquestioned effort on both sides of the ball.
He put that on display in the third quarter, saving a ball from going out of bounds on defense and converting an and-1 three-point field goal on the other in the span of a minute.
Unfortunately, that was just about all that Butler contributed on the offensive end of the floor. He made 8-of-9 from the free throw line, but also hit just 2-of-7 from the field.
That's one field goal made outside of the and-1.
Power Forwards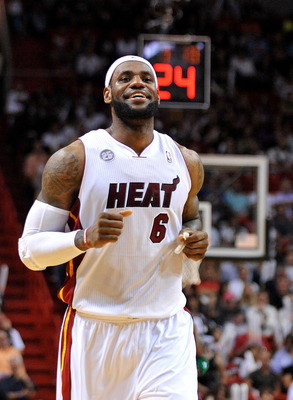 Steve Mitchell-USA TODAY Sports
LeBron James, Miami Heat: A+
At this point, we might as well leave LeBron James' game grade blank. We all know it's going to be an A+ and there isn't even a rational debate to stake a claim toward something else.
The only real complaint is that LeBron missed three alley-oops.
As has been the case lately, LeBron wasn't quite as aggressive offensively as we're used to seeing. Even so, he shot an obscene percentage from the field and barreled his way into the paint on a consistent basis.
With and without the foul calls going his way, James was as effective as one could ask of him.
James made his first six shots, getting into the paint with little resistance due to the absence of Joakim Noah. This had some feeling that we'd witness yet another perfect game from LBJ.
James proceeded to miss six of his next seven shots, but still managed to lead the Heat to a win with 24 points, seven rebounds and six assists.
Luol Deng, Chicago Bulls: B+
Luol Deng did a very good job against LeBron James, forcing him to miss six of his final seven field goals. Unfortunately, he also allowed LeBron to make his first six and thus create insurmountable momentum.
Deng did all he could, but it just wasn't enough today.
The former Duke Blue Devil finished with 19 points, three assists, two rebounds and a steal on 8-of-18 shooting from the floor. Deng also made 2-of-6 from beyond the arc and failed to provide Chicago with the two-point scoring that proved necessary.
That includes two relatively open jump shots that Deng failed to convert—a black mark on an otherwise solid day.
Centers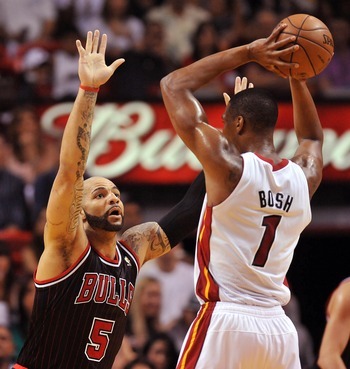 Steve Mitchell-USA TODAY Sports
Chris Bosh, Miami Heat: A+
Chris Bosh was exactly what the doctor ordered for the Miami Heat to win this game. He contributed in literally every area and proved to be the interior presence on the defensive end for Miami.
For the game, Bosh tallied 12 points, nine rebounds, two assists, four blocks and a steal on 6-of-8 shooting.
Bosh's presence was key during the third quarter, as Chicago failed to make a single two-point field goal. Although the Bulls were stroking it from distance, Bosh's defensive pressure was phenomenal.
During the first half, he was even better on offense. Bosh saw almost everything he put up hit the bottom of the net. He stepped out for mid-range looks and worked well out of the post for the Heat.
The credit will go where it always does, but Bosh was the player who led Miami to this win.
Carlos Boozer, Chicago Bulls: A+
Carlos Boozer was active and productive, making plays on the ball defensively and always seeming to be around the rim on either end. This led to countless tip shots and a quality punch between he and Nate Robinson.
With 16 points, 20 rebounds, three assists and two steals, Boozer did all he could to secure this win.
The knock on Boozer in this game is that his mid-range game was ineffective, as he converted just 5-of-14 from the field. This proved to be a disappointing truth, as the Bulls failed to muster offense from inside the three-point line.
They failed to make a two-point field goal during the entire the third quarter.
However, Boozer still dominated the glass and pulled down 20 rebounds. That includes six on the offensive glass, thus giving Chicago a chance to win this game.
The Bulls simply felt the absence of Joakim Noah and Derrick Rose.
Sixth Man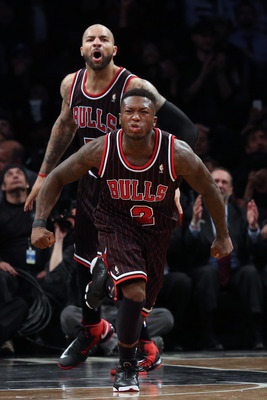 Anthony Gruppuso-USA TODAY Sport
Ray Allen, Miami Heat: F
Believe it or not, Ray Allen's shining moment came on the defensive end of the floor. With Marco Belinelli taking an entry pass as he hit the lane, Allen came up from behind and swatted his layup off the glass.
That was the only moment from Allen's day that was worth mentioning.
Allen shot just 1-of-6 from the field and committed four turnovers. That was the true story of his outing, as Allen consistently lost position against Jimmy Butler and Nate Robinson, thus enabling Chicago to execute on offense.
This was nothing short of ugly from the NBA's all-time-leading three-point shooter.
Nate Robinson, Chicago Bulls: A-
During the second quarter, Nate Robinson was the best player on the floor. Whether he was scoring at will or making the hockey assist, Robinson was the heart of a 23-10 run which made this one 56-54 entering halftime.
With Robinson off of the floor in the third quarter, the Bulls fell back down 10.
That was the story of Robinson's day, as the Bulls struggled to score from inside the three-point line when he was off of the floor. While his shooting percentages may disappoint, the final five shots came with Chicago falling into isolation basketball.
Robinson finished with 14 points, four rebounds and two assists on 5-of-16 shooting—numbers that don't tell how dominant he was in the second quarter.
Reserves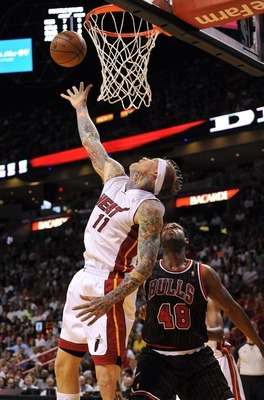 Steve Mitchell-USA TODAY Sports
Miami Heat: B-
If this grade were only for Chris Andersen, it would probably be an A. Birdman exploded for 15 points, seven rebounds, an assist and a block in 15 minutes.
Unfortunately, the rest of the bench failed to get the memo that they were supposed to show up. Outside of Andersen, the Heat's second unit shot 7-of-20 from the field. Fortunately, Andersen's contributions were mirrored by the starters.
Andersen shined while the rest faltered.
Chicago Bulls: B-
The Chicago Bulls were without Joakim Noah, Derrick Rose, Taj Gibson and Richard Hamilton. They missed those players, as their reserves were thrust into starting roles.
Fortunately, Daequan Cook responded with 10 points and five rebounds in 27 minutes.
Cook was hot from three-point range, converting two from distance and also working his way into the paint against his former team. Unfortunately, that was virtually all that Chicago's second unit received outside of Nate Robinson's scoring.
It was a quality outing, but not good enough.
Keep Reading