Kiko Alonso: Video Highlights for Former Oregon ILB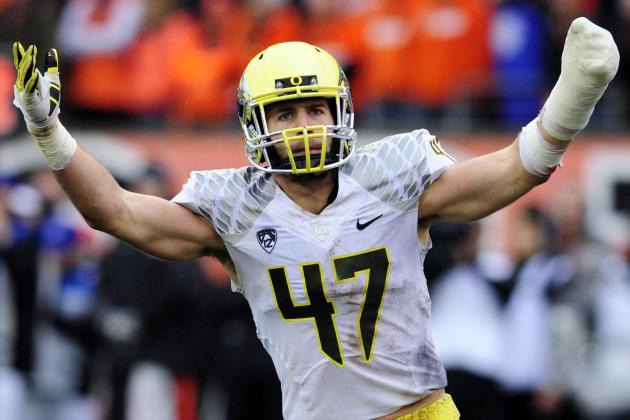 Steve Dykes/Getty Images

Kiko Alonso had a strong senior year with the Oregon Ducks and impressed a lot of NFL scouts as he gets ready to join the NFL and take his game to the next level.
Alonso racked up 74 tackles, four interceptions and one sack this past season with the Ducks.
Alonso has experience lining up as a defensive lineman, but he best fits in the NFL as an inside linebacker and can be the most successful in that position.
In this slideshow, you can check out some of Alonso's highlights with some analysis to each highlight shown.
Begin Slideshow

»
Alonso does a nice job staying on his toes during this play. The scary part is his work after the interception.
In a rare scene, Alonso uses his speed and has all the blockers he needs to break away for six points. Unfortunately, the defense allows the quarterback to slip through the tide and take down Alonso.
Here, Alonso does a good job of staying with the intended target and keeping an eye on the ball at the same time.
Alonso stepped in front of the intended pass-catcher and came up with a huge play to bring Oregon's offense back onto the field.
NFL teams love interceptions like that, which require some athleticism and skill from an inside linebacker.
As an inside linebacker in the NFL, teams love it when a player can break through the offensive line unexpectedly and disrupt a running play by taking down the ball-carrier in the backfield.
That is exactly what you see until the 12-second mark of the video. Alonso does not even allow that play to last for more than two seconds. It was a simple snap, handoff-and-take-down type of scene.
If Alonso makes more plays like that professionally, he'll be earning a big contract and All-Pro honors.
Up until the eight-second mark on the video, Alonso does something similar to the last play. He gets through the offensive line with ease and quickly goes to work on the quarterback.
Alonso steps up and disturbs the opposing quarterback's vision. The pressure is fully applied and Alonso has the quarterback where he wants him. With the help of his teammates, Alonso manages to take down the quarterback, giving the defense a big play.
Up until the eight-second mark in this video, Alonso does a nice job of staying with his man all the way through the play and making a quick stop.
Right before the pass is thrown, Alonso uses his closing speed to charge after the intended target. As soon as the pass is complete, Alonso takes down the player right away and prevents any yards being gained after the catch.
This is another play defensive coordinators want: to not allow big yards after catches are made.