Projecting Boston Celtics' Playoff Rotation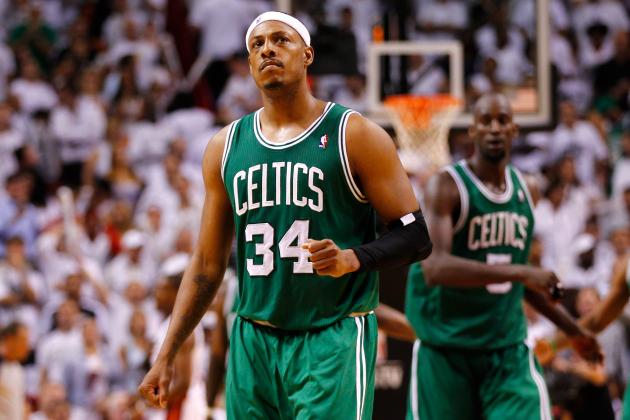 Mike Ehrmann/Getty Images

Well folks, it's official. The seventh-seeded Boston Celtics will head to New York to begin their first-round playoff series against the Atlantic Division champion Knicks.
After a 2012-13 campaign where everything that could possibly have gone wrong did, the Celtics have emerged battered but not broken as they head into the truly meaningful games of the NBA season.
Kevin Garnett and Paul Pierce are as healthy as they are going to be at this point in their careers, while Jeff Green and Brandon Bass are both looking more and more like the players Danny Ainge thought they were when they both received lucrative contracts in the 2012 offseason.
Jason Terry and Courtney Lee are both struggling in place of the injured Rajon Rondo, but the team has found some surprising contributors in Jordan Crawford and Shavlik Randolph off the bench.
This Celtics' roster is far from perfect, but it's the roster they are going to have heading into the playoffs. With that in mind, let's take a look at the expected minutes and roles for the Celtics' top-10 rotation players.
Note: The hypothetical 11th man here is Terrence Williams, but I just cannot see him receiving consistent minutes in a seven-game series.
Begin Slideshow

»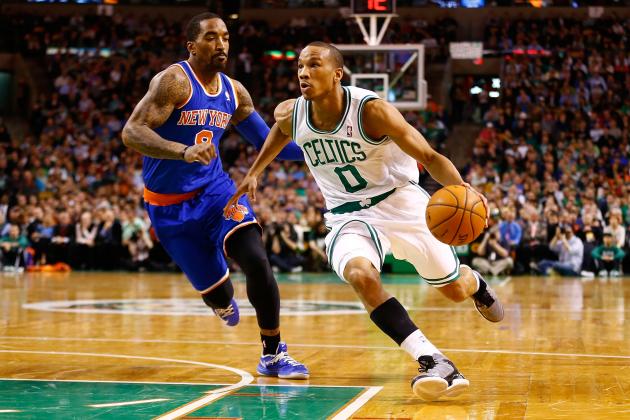 Jared Wickerham/Getty Images

Expected Minutes: 28-32 per game
Role: Lock-down perimeter defense and good decisions
Avery Bradley has not quite exploded like some expected with him assuming the starting point guard role in place of Rondo, but he continues to play his trademark stifling outside defense, and that is exactly what Boston needs from him.
Since returning from double shoulder surgery in the offseason, Bradley has made 49 starts and is averaging 9.2 points, 2.2 rebounds, 2.1 assists and 1.3 steals in 28.8 minutes per game.
While his shooting splits of 40.2 percent from the floor and 31.2 percent from three-point range are disappointing, he remains a better perimeter scoring option than Rondo and is also capable of slashing without the basketball to create an easy shot.
However, his offensive impact is not nearly as important as his defensive play. Bradley is capable of playing brutal, full-court defense and will be charged with the task of guarding the likes of J.R. Smith, Raymond Felton and Iman Shumpert.
The Celtics hope Bradley can pour in around 10 points and shoot a better percentage than he has all season long. But that is a distant second to having him be a disruptive force pestering opposing point guards up the floor.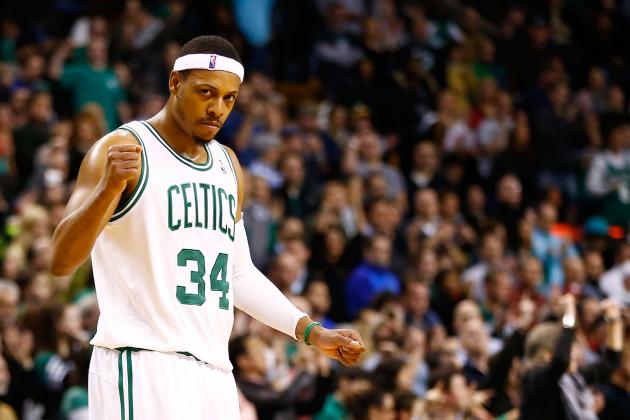 Jared Wickerham/Getty Images

Expected Minutes: 32-36 per game
Role: Captain the offense as a scorer and facilitator
With Rondo out, Pierce stepped up and emerged as the team's best playmaker, striking an impressive balance between looking to score and setting up his teammates. Boston doesn't have one true point guard on its roster, so the team is going to need more of the same from The Truth in the playoffs.
Despite not being selected for the All-Star Game, Pierce is averaging 18.7 points, 6.4 rebounds and 4.9 assists per game in 2012-13. He started the season shooting poorly, but has upped his percentages to 48 percent overall and 42.4 percent from three-point range since the All-Star break.
Pierce has also been moved to the 2-guard spot to make room for the surging Jeff Green in the starting lineup. Logging most of his time at shooting guard will save Pierce from having to guard more physical players, but it will also expose his lack of quickness on the defensive end. Pierce must be able to use his post game playing against smaller guards while also keeping them in front of him defensively.
The main issue Pierce needs to watch for in the postseason is his high turnover rate; he's averaging 3.3 turnovers since the All-Star break, and you simply cannot give the ball away in a slower-paced playoff game.
The Rondo-less Celtics have depended heavily on Pierce's offensive wizardry, and don't expect that to change once playoff basketball tips off.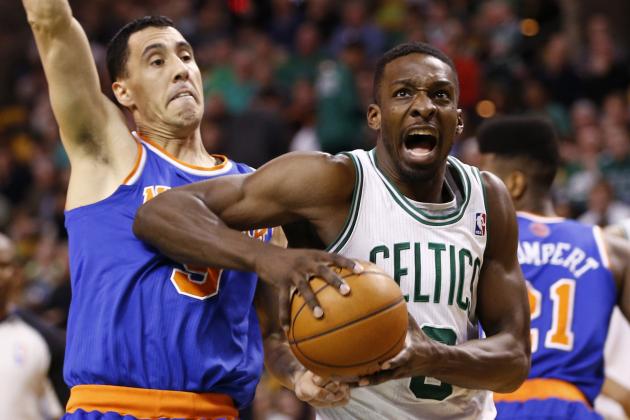 USA TODAY Sports

Expected Minutes: 30-34 per game
Role: Stay aggressive on both ends of the court
In an unbelievably bleak season for Celtics basketball, Jeff Green's triumphant return from heart surgery has easily been the feel-good story of the year. It took Green a little while to find his place, but he has, and his play has been so impressive that Doc Rivers has moved the Georgetown standout into the starting lineup.
In 16 games in the starting five, Green is averaging 20.8 points, 5.9 rebounds and 3 assists on 52.2 percent shooting from the field and 51 percent from three-point range. He's also chipping in a block and a steal while showing his versatility defensively.
Obviously that shooting is not going to be sustained in the playoffs, but if he can hover around the 50 percent mark overall and 40 percent from three, he will create serious matchup problems with his size, quickness and length.
Green has become a more aggressive player all-around in 2013, settling for fewer jump shots, attacking the basket with abandon and generally being more tenacious and physical defensively.
He is also the only player the Celtics have capable of guarding Carmelo Anthony for an entire game without completely wearing down on the offensive end.
Pierce and Garnett may have been here before, but it's safe to say that Green is the true X-factor for the C's.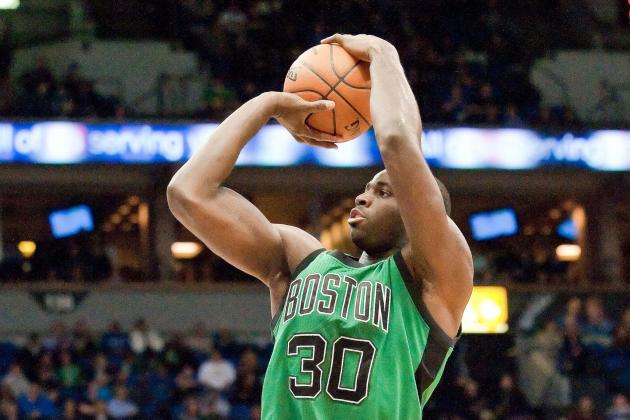 Greg Smith-USA TODAY Sports

Expected Minutes: 26-30 per game
Role: Attack the glass and look for his shots
After a rough start to the season, Brandon Bass has been coming on strong when it matters most. In a Rondo-less offense, Bass' outside shooting is less important. But the team needs him to assert himself on the glass and be a more consistent scoring presence.
This is a size-starved Celtics team which starts two fairly subpar rebounders in Green and Bass in the frontcourt. Though going big will help this problem somewhat, the Celtics need Bass to average more than the 5.3 rebounds he has been snagging in 2012-13.
Some of Bass' shots have gone to Green, but because of his ability to connect from midrange and post up as well, the Celtics cannot afford to have Bass be a non-factor offensively.
For the season, he is averaging a mere 8.7 points on 48.7 percent shooting from the floor. He is picking his spots well, but will need to look for his shot more in the playoffs, particularly if Boston is playing against a banged-up New York frontcourt.
Defensively, no one is expecting stalwart work out of Bass, but he must be physical and use his strength and ability to carve out a position to offset his lack of height at 6'8".
Bass may be the least important Celtics starter heading into the playoffs, but by no means will he be unimportant. This team is simply too beleaguered to have anyone rest on their laurels.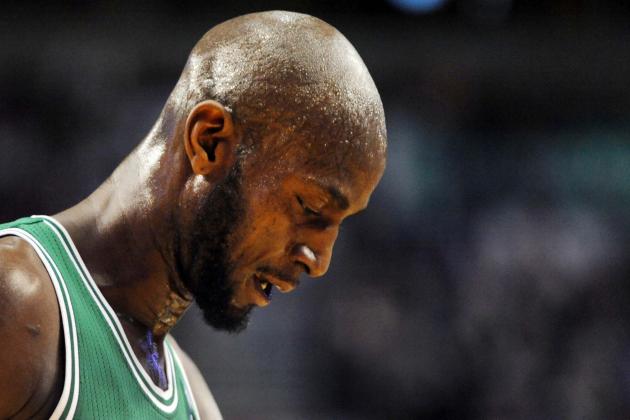 Steve Dykes-USA TODAY Sports

Expected Minutes: 30-34 per game
Role: Quarterback the defense and be the emotional leader
Kevin Garnett has battled a cumbersome ankle injury in the latter weeks of the 2012-13 season, but he has also gotten plenty of rest, missing 12 of Boston's last 17 game. This means he should be as healthy as he has been in years.
Garnett's averages of 14.8 points, 7.8 rebounds and 2.3 assists per game are important, but his role as the team's emotional leader and defensive anchor is more important than him hitting a few more jumpers than usual.
The Celtics' defense is just not the same without the 36-year-old manning the middle. Garnett is not a dominant shot-blocker anymore, but he is an elite low-post defender who is also capable of jumping out and guarding on the perimeter for stretches of time.
Perhaps more importantly, Garnett keeps all of his teammates in place defensively and is the team's most vocal communicator. When Garnett is on the floor, you know the other four Celtics are going to give their best defensive effort.
Offensively, the Celtics don't need anything stellar out of Garnett. As long as he can get his jumper to fall and use his (relatively) fresh legs to run the floor, that should be enough.
To put it simply, the Celtics don't need Minnesota KG; they need a healthy Boston KG.
Joe Camporeale-USA TODAY Sports

Expected Minutes: 22-28 per game
Role: Find a way to be aggressive, playoff-Jason Terry
Jason Terry's first season with the Boston Celtics was pretty disappointing by all accounts, as the former Sixth Man of the Year averaged just 10.1 points, 2 rebounds and 2.5 assists per game on 43.4 percent shooting from the field and 37.2 percent from three.
Though he had a few good games, Terry largely couldn't get his shot to drop and had trouble in the C's defensive schemes. However, Terry has always been known as a player who steps up in the playoffs, and for Boston to be successful, he needs to do just that.
In 87 playoff games with the Dallas Mavericks, Terry has averaged 16.9 points, 2.7 boards and 3.5 assists on 44.8 percent shooting overall and 39.4 percent from beyond the arc.
While he is not going to score like that, the Celts do need him to have that attacking mentality consistently, whether he is playing the point or shooting guard position.
Terry has relied very heavily on his outside shot in 2012-13, but he is still capable of facilitating and getting to the rim off the dribble, two things he must do in spurts when he is the featured player offensively.
No one expects much from Terry defensively, but for Boston to have success, Terry needs to channel the JET of old and not just launch contested three-pointers all game.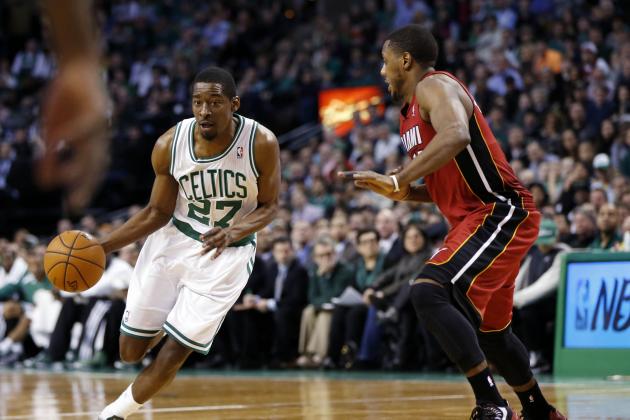 Greg M. Cooper-USA TODAY Sports

Expected Minutes: 18-22 per game
Role: Bursts of bench scoring with some degree of efficiency
It's tough to predict just how many minutes Jordan Crawford is going to receive in the playoffs, given that his shot selection can be downright egregious at times and he has no prior postseason experience. However, for a Boston team that struggles to score, Crawford certainly has some value.
Since joining the Celtics at the trade deadline, Crawford is posting 8.8 points, 2.6 rebounds and 2.4 assists per game while shooting 41.4 percent from the floor and 31.9 percent from three-point range.
Though not a stellar athlete or elite shooter, Crawford can attack off the dribble and heat up in an instant, making him a valuable member of this offense which has difficulty scoring at times. If he can consistently pick his spots and not force the issue too much, he should be able to find a consistent spot in Doc Rivers' playoff rotation.
Courtney Lee is a significantly better perimeter defender, but he has had a horrendous year offensively and is not capable of creating shots the way that Crawford is.
Crawford has the pure talent to potentially swing a game or two if he can make his outside shots, but he can also shoot his team out of a game, and Rivers must be careful with the freedom he gives to Crawford offensively.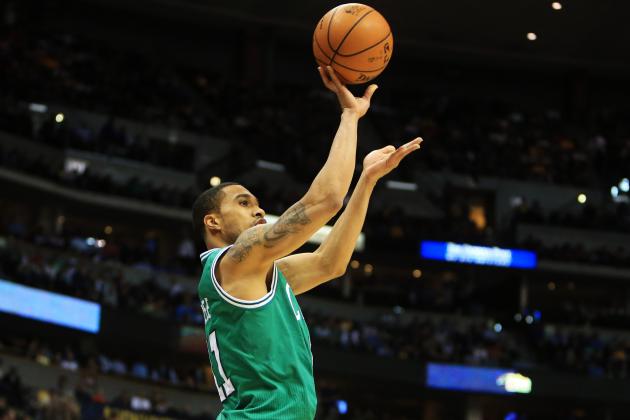 Chris Humphreys-USA TODAY Sports

Expected Minutes: 20-24 per game
Role: Three-and-D guy who can handle
Since Jeff Green is starting now, I expect Boston to try to play small with Courtney Lee at the 3 a little bit, but it would be a stretch to call the 6'5" Lee a small forward.
Instead, I expect him to shuffle primarily between the two wing positions pretty consistently, depending on what lineup the Celts are using around him.
Lee's season has been extremely turbulent. He's averaging just 7.8 points, 2.4 rebounds and 1.8 assists per game and has struggled at times with Boston's defensive schemes.
However, he is shooting well from the floor at 46.7 percent overall and 37.1 percent from three-point range. In extended minutes, he managed to put together 18-point and 20-point performances against the Miami Heat and Orlando Magic, respectively.
In the playoffs, Lee is going to be relied on to space the floor on offense, do a little bit of ball handling when Pierce and Bradley are out and play the tough defense that he made his name on.
No one is expecting 20-point games out of Lee, but he needs to be better than he was in the regular season for the C's to make any kind of playoff noise.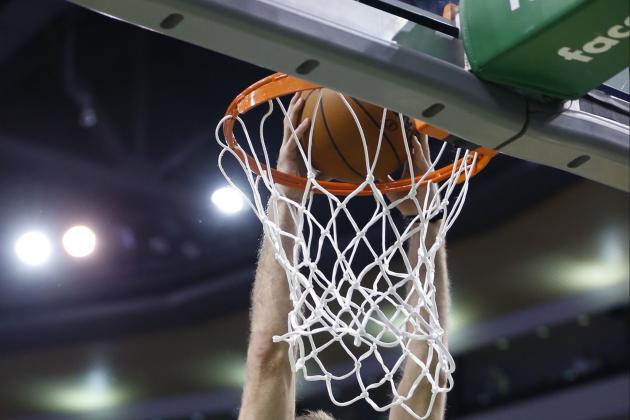 Greg M. Cooper-USA TODAY Sports

Expected Minutes: 10-14 per game
Role: Rebounding, effort and hustle
In the wake of Jared Sullinger's back injury, the Celtics needed to add a serviceable big man. They did just that when they signed Duke product Shavlik Randolph, who had previously been playing in China.
Randolph has been a pleasant surprise for the C's, notching 4.1 points and 4.4 rebounds per game on 59.1 percent shooting from the floor. He is playing well around the rim and actually proving that he can control the glass if given some consistent minutes.
Offensively, Randolph won't provide much more than the occasional tip-in or open dunk, but he is long and knows how to carve out position in the post. Since joining the team in March he has actually been one of their better rebounders, including a 13-board performance against the Atlanta Hawks.
Boston is not expecting much out of Randolph, but as long as he is rebounding the ball, Rivers should be able to steal a few minutes of valuable rest for Garnett and Bass.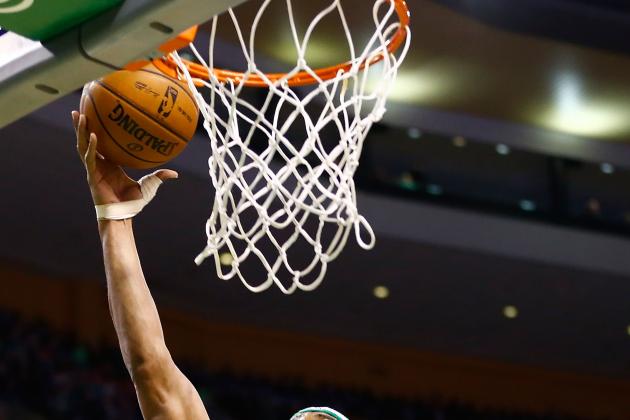 Jared Wickerham/Getty Images

Expected Minutes: 8-12 per game
Role: Effort and hustle, exactly the same as Randolph
I don't anticipate Chris Wilcox playing much for Boston in the playoffs, but with the Celtics' need for big men since Jared Sullinger went down, I do think he'll at least be in the rotation.
In his second year in Boston, Wilcox is averaging 4.3 points and 3 rebounds on 71.7 percent shooting from the floor. He can't create offense or post up consistently, but Wilcox can finish at the rim and is a decent pick-and-roll threat.
What Wilcox brings to the court is energy and effort, two things Boston needs in these playoffs. He is willing to dive for a loose ball, draw charges and foul hard to prevent an easy layup.
The Celtics will also need all the help they can get on the glass, and at 6'10" Wilcox has the ability to make his presence felt on the glass.
He is not going to be a major factor, but the Celts are going to need more than one big man off the bench, and that second frontcourt piece will undoubtedly be Wilcox.