WWE: Chris Jericho's Top 3 Most Helpful Losses in WWE Since Returning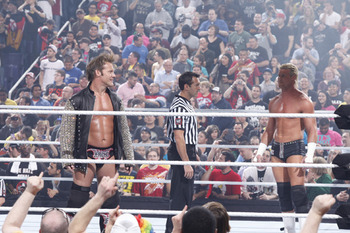 Fans React to Chris Jericho's Royal Rumble 2013 Return (photo courtesy of WWE.com)
WWE Superstar and potential future Hall of Fame inductee Chris Jericho has proven himself to be a true team player in his latest WWE run.
Although Jericho is a proven commodity outside of WWE in music and television, his ability in the ring is what is most valuable.
Upon returning to WWE, Jericho has helped to advance the careers of others by losing to them. When a younger superstar is able to defeat Chris Jericho, it is something special because of Jericho's storied past in pro wrestling.
The worth of Chris Jericho is that even in losing matches his popularity remains.
Even after an absence of five months, the WWE Universe embraced Jericho in his return at the Royal Rumble. According to Alex Gianni of WWE.com, "When The Ayatollah of Rock 'n' Rolla 'broke the walls down' in Phoenix, the WWE Universe in attendance went absolutely wild."
With audiences accepting Jericho no matter the wins or the losses, it is no wonder that his true value to the current WWE roster is to help younger superstars.
Jericho's connection to WWE's Attitude era also gives him a veteran credibility that is reiterated on WWE broadcasts. This occurs when Jericho is described as "the first undisputed champion" beating "Stone Cold" Steve Austin and The Rock in the same night.
Honorable mentions not included in the main list are: losing to Wade Barrett in a triple-threat match with The Miz involved on the March 18, 2013 edition of Monday Night Raw; teaming with Ryback and Sheamus in a loss to The Shield on the February 18, 2013 edition of Monday Night Raw; and losing to Dolph Ziggler on the first Friday Night SmackDown episode after WrestleMania 29.
These honorable mentions are listed in no particular order and represent more minor matches in terms of notoriety than the ones in the following list.
#3: Chris Jericho vs. CM Punk from the February 4, 2013 Monday Night Raw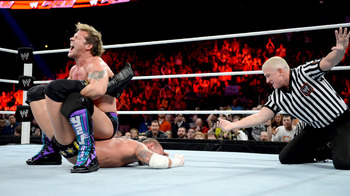 Chris Jericho Putting CM Punk in the Walls of Jericho Submission on Raw (photo courtesy of WWE.com)
At number 3, the match between CM Punk and Chris Jericho on the February 4, 2013 edition of Monday Night Raw proved Jericho's worth to WWE in his ability to still have excellent matches.
Not long after Jericho's recent WWE return, he had a WrestleMania 28 and Extreme Rules 2012 rematch with CM Punk. Punk, having come off a Royal Rumble loss of his WWE Championship to The Rock needed a win to look strong.
In beating Jericho on Raw, Punk was able to rebound from his loss to The Rock. Jericho once again proved his worth as a veteran willing to put over talent in a meaningful way. WWE.com even described this rematch on Raw as an "instant classic."
Reeling from the loss to The Rock at Royal Rumble, Punk was able to pick up a much needed win in defeating Jericho. By being defeated again by CM Punk, Jericho helped to firmly establish Punk as one of the top WWE Superstars.
Jericho's ability to have fantastic matches helps him to retain his popularity even in losses.
#2: Elimination Chamber Match 2013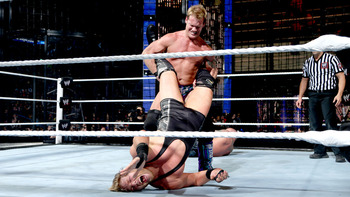 Chris Jericho Puts Jack Swagger in the Walls of Jericho Submission at Elimination Chamber 2013 (photo courtesy of WWE.com)
Jericho's entry in the most recent Elimination Chamber match comes in at 2. The history that Jericho has in this match played a crucial role in making it more intriguing than it already was.
Qualifying for the match by defeating Team Hell No's Daniel Bryan, Jericho added not only name recognition to the Elimination Chamber match but a sense of history.
Chris Jericho not only appeared in the first Elimination Chamber match at Survivor Series 2002, but up to Elimination Chamber 2012, he had the most eliminations in the match with 10.
Eliminated from this year's Elimination Chamber match by Randy Orton, Jericho helped to add another layer of intrigue to the match. His veteran status helped to give this year's Elimination Chamber match an added sense of wonder as to who would win.
This loss enabled Jericho to once again help younger members of the WWE roster on a pay-per-view in a highly publicized match.
Jericho has continued to build a reputation as a helpful veteran to younger talent.
#1: Chris Jericho vs. Fandango from WrestleMania 29
Chris Jericho Strikes Fandango on the Mat at WrestleMania 29 (photo courtesy of WWE.com)
Ranking at number 1, Chris Jericho's loss to Fandango at WrestleMania 29 is his most helpful loss for WWE since returning.
In working with Fandango at WrestleMania, Jericho took on the challenge of making WWE's newest rookie into a bonafide WWE Superstar.
It seems like Jericho was specifically picked to work with Fandango in order to give Fandango a winning debut against an established veteran.
According to Jake Grate of WWE.com, Fandango's victory "was truly impressive, as the enigmatic, fleet-footed Superstar bested six-time World Champion Chris Jericho." Chris Jericho's loss to Fandango helped to give credibility to Fandango as an in-ring competitor.
Many fans were upset by Jericho's loss at WrestleMania 29. Instead of agreeing with fans who were angry with the loss, Jericho tweeted:
Don't forget kids…it's only rock n roll. No need to get so anggrry!#WrestleMania twitter.com/IAmJericho/sta…
— Chris Jericho (@IAmJericho) April 8, 2013
Chris Jericho's role in WWE is to help put over younger talent. Hopefully, WWE will not take advantage of this too often and make Jericho's losses mean something to those who defeat him in the future.
Read more from Sean McCallon on the Double Axe Handle Blog.
Keep Reading