First things first: For those referring to the Cat Zingano win over Miesha Tate as an upset, go back and check the odds. Tate was actually the underdog heading into Saturday night's finale of the 17th season of The Ultimate Fighter. Sorry, I had to get that off my chest, as it's been gnawing at the back of my mind since Zingano earned her shot at UFC women's bantamweight champion Ronda Rousey with a TKO win over Tate.
Let us reflect on some of the goings on from Saturday's fight card:
How many warnings before a point?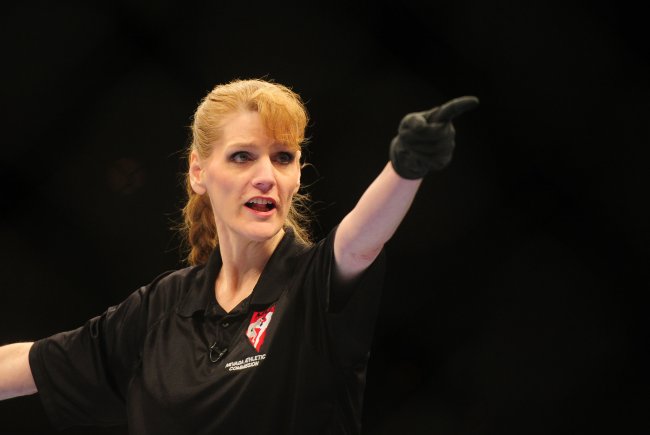 Mark J. Rebilas-USA TODAY Sports
Kim Winslow gets a rap as one of the worst referees in mixed martial arts. She did little to change that opinion on Saturday. She threw out multiple warnings for holding the fence in the Maximo Blanco versus Sam Sicilla fight—double-digit warnings—but never deducted a point.
When the final score was read, Blanco was given the unanimous decision, but had Winslow done more than warn for holding the fence, this one would have been a draw—and judging by the number of warnings, it should have been.
If there's no teeth behind the warnings, no threat of real punishment, why waste the time even mentioning them? It was a sad display, and if Winslow ever wants to shake the image of worst ref in the sport, she needs to do better in every aspect, especially in the little ones.
Clint Hester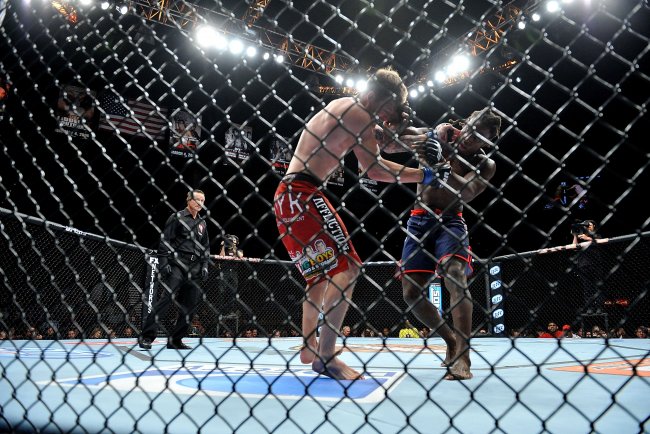 Gary A. Vasquez-USA TODAY Sports
Hester was a boxer who decided to give this whole MMA thing a go. He handled himself well in his bout against Bristol Marunde, but he's still a very raw prospect. He showed some power in knocking down Marunde late in the first, but he didn't put himself in position to finish, instead allowing Marunde to grab a leg and secure the takedown and regain his wits.
The end in this fight was a thing of beauty, a perfectly placed standing elbow that put Marunde down and out without the need for a follow-up strike.
Development
Thinking about Hester, the question of development comes to mind. The UFC has never really been the place for a young fighter to develop. The expectation is that the fighters competing in the UFC are the best of the best, which brings up the question: What do they do with a guy like Clint Hester?
Does the UFC keep him and other fighters like him in the bigs and adopt a sink-or-swim attitude or does it allow them to develop, warts and all, on the preliminary cards and risk their outspoken fans complaining about a watered-down level of competition?
It's a tough question to ponder. An organization like Strikeforce would sure come in handy for these guys.
How many punches are enough?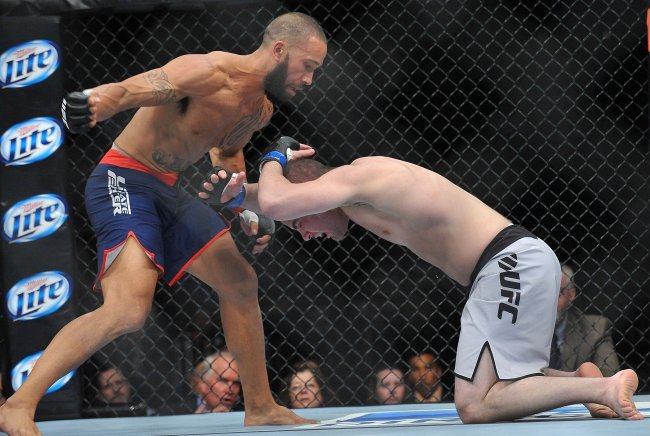 Gary A. Vasquez-USA TODAY Sports
During the Dylan Andrews versus Jimmy Quinlan bout, Andrews dropped Quinlan with a right and then proceeded to tee off with (by my count) 17 strikes to the head to the down-and-obviously-not-defending-himself Quinlan.
I understand things move pretty fast in the Octagon, but Quinlan was turtled up and not going to come back to defend himself. While this assault was going on, the referee, Chris Tognoni, strolled around the periphery like he was admiring a work of art on a lazy Sunday at the local museum.
The first job of the referee is to protect the fighters, Tognoni failed Quinlan in a big way.
Samman avoids disaster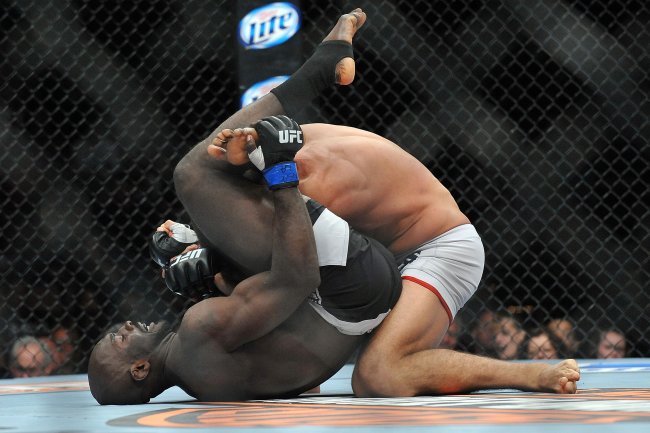 Gary A. Vasquez-USA TODAY Sports
Josh Samman was a pretty big favorite in his fight with Kevin Casey, so it must have been a pretty big surprise for Samman when he found himself locked up in a triangle seconds into the bout. Things went from bad to "oh s**t" when Casey added an armbar to the mix. It looked like Samman was going to be forced to tap, but he kept his cool and forced Casey to release the hold(s) with a legal spike. Legal, since Casey had the option to release the hold to avoid the spike.
Samman showed something by not tapping—whether it was pride or the ability to overcome adversity is of little importance—and he persevered and pulled out the victory.
Jon Jones and Chael Sonnen
Look, I understand that Chael Sonnen doesn't exactly "deserve" to face Jon Jones for the UFC light heavyweight title, but he is going to do so. Jones has to accept that fact, soak it in and maybe try and do at least some promotion for the upcoming UFC 159 pay-per-view.
When the UFC trotted the two coaches out to speak about last night's card as well as the upcoming pay-per-view, Jones offered a brief, "The work is already done" and that was about it, while Sonnen, like it or not, "Sonnen'd" his way through his portion of the interview.
Jones then just walked away, leaving Sonnen standing by himself next to Jon Anik.
Through the entire time Jones and Sonnen were onscreen together, Jones refused to acknowledge the presence of his opponent. It was awkward and you have to imagine the UFC brass was hoping for a little more personality from its champion.
A lot of fans think the fight is a farce, Jones didn't do much to change their opinion.
Travis Browne
Gary A. Vasquez-USA TODAY Sports
Travis Browne had a setback in his last bout, injuring his leg and then proceeding to get TKO'd by Antonio Silva. He got back on track in a big way on Saturday night when he earned "Knockout of the Night" honors with some short and pretty damn vicious elbows to the had of Gabriel Gonzaga up against the cage.
Don't be surprised to see Browne slip into the top 10 of the UFC rankings when they are released following this fight card.
Refereeing in Browne fight
Some of Browne's elbows clearly hit the back of the head as the limp Gonzaga slid down the legs of Browne on his way to the mat, which begs the question: How many times on a fight card can one referee be out of position and unaware that severe damage is taking place right in front of his eyes? Much like the Quinlan versus Andrews fight, referee Chris Tognoni was out of position and a bit late in ending this one.
A bit less time spent rolling his sleeves to show his "guns" and a little more time spent protecting the fighters may be a good thing for Tognoni to consider.
Cat Zingano vs. Miesha Tate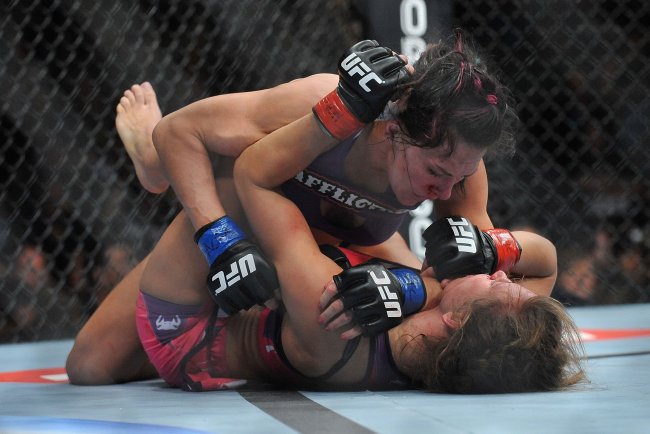 Gary A. Vasquez-USA TODAY Sports
There was some rumbling that the knees from Cat Zingano that badly hurt Miesha Tate were illegal (they weren't) and that the stoppage was early (it wasn't). The timing of the knees was almost picture-perfect, and for all the abuse that is heaped on Kim Winslow, she stopped the fight at the right time.
In the post-fight presser, Tate voiced her displeasure with the stoppage, but what would you expect from a fighter like Tate? Of course she's going to say the fight was stopped early and that she could have carried on. After all, this is the woman that risked permanent injury rather than tap to a Ronda Rousey armbar.
Even if Tate could have continued, she shouldn't have, and that's one of the referee's jobs—prevent the fighter from taking unneeded abuse. Winslow did that in this case and stopped the fight at the right time. If Tate watches the fight again and still feels the fight was stopped early, she's entering Tito Ortiz territory in placing the blame where it doesn't belong.
TUF 18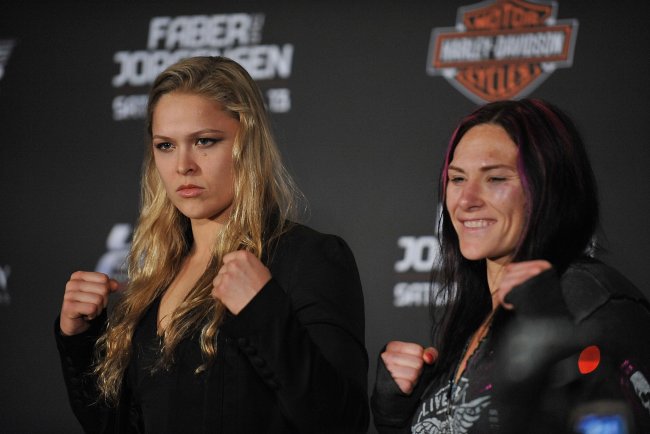 Gary A. Vasquez-USA TODAY Sports
Am I the only one who's happy that the coaches will be Ronda Rousey and Cat Zingano? TUF needs more focus on the fighters and less on the drama between the coaches. That storyline has been played out, it's boring and honestly, we've been down the Tate and Rousey road before. It's time for a change.
Uriah Hall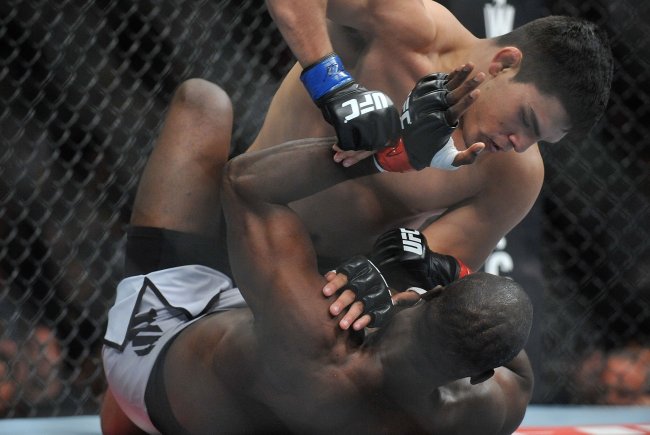 Gary A. Vasquez-USA TODAY Sports
Another hype train derailed. During the filming of TUF 17, Uriah Hall heard that he was good enough to battle UFC middleweight champion Anderson Silva. He also heard that he was the most fearsome fighter in the history of the show. Judging by the way Hall fought on Saturday, at some point he began to believe his own press. He fought like he had already been told he was a lock for superstar status, without, you know, actually winning a fight that mattered.
Hall fought cocky, not confident. He fought like a young kid who had watched far too many Anderson Silva videos, holding his hands down around his sides and waving his opponent in while he stood with his back to the cage.
Kelvin Gastelum took advantage of that and took the fight to Hall, showing him no respect and earning the win he deserved.
Hopefully, Hall will learn a little something from the loss. If not, he'll be a UFC footnote, a fighter who's referred to as "remember that dude that wrecked a bunch of people on TUF? Yeah, what happened to him?"
Another title fight for Faber?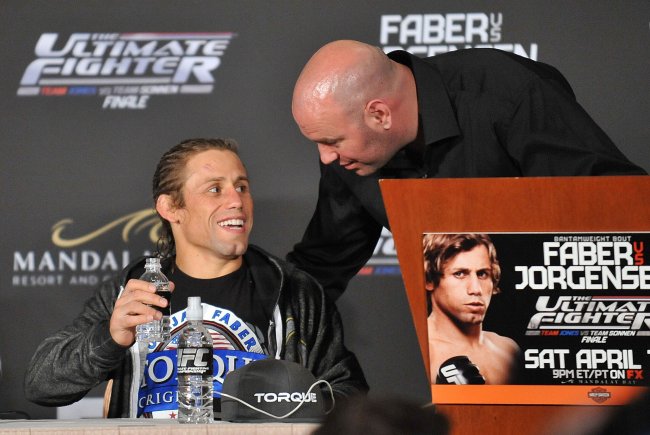 Gary A. Vasquez-USA TODAY Sports
The UFC has a dilemma when it comes to Urijah Faber. He's ranked behind only interim bantamweight champion Renan Barao in the UFC's rankings, and he's run through pretty much everyone put in front of him—anyone who hasn't held a title, that is.
Faber's not a can crusher by any means, as he has beaten some tough opponents, but as far as king crusher, that he is not, as he's gone 0-5 in his last five title fights. At some point, the promotion has to say, this guy's good, but enough is enough.
My take: The only way Faber gets another title shot is if Dominick Cruz remains champion and requests that fight.
Jones vs. Sonnen II
I was glad to see that the UFC scrapped the "We Will Rock You" promo for UFC 159, but the new clip left me scratching my head. Jon Jones is the champ, right? Then why is the entire audio of the clip nothing but Sonnen talking?
Does Jones have absolutely zero interest in selling UFC 159?