Buffalo Bills 2013 Mock Draft: Best, Realistic and Don't-Faint Scenarios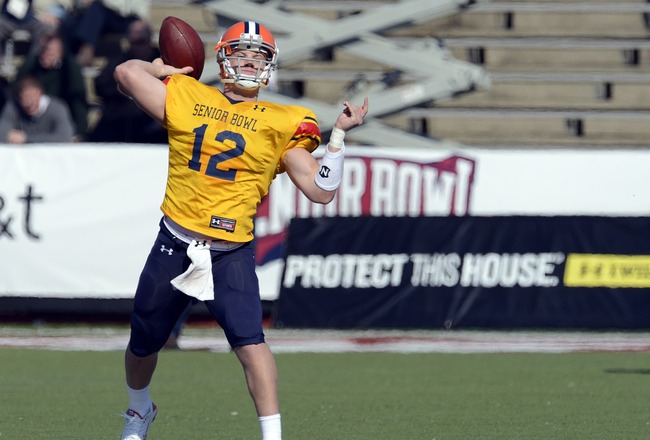 Will Ryan Nassib be the Bills pick at No. 8?
USA TODAY Sports
Buffalo Bills fans are anxiously awaiting to learn the results from the 2013 NFL draft. The start of the draft is now just a mere two days away.
This specific article—the best-case, "most realistic"-case and worst-case-scenario for every round of the draft—is one of my personal favorite articles of the year. This will be the fourth time I have conducted this exercise, and one year I hope to actually nail a couple of picks. I know—try, try again. One year I swear I will get some right.
The Bills have been rather sly about how they have popped up on the radar with certain free agents, starting with Manny Lawson, Alan Branch, Fred Davis and Kevin Kolb. Then out of the blue, ESPN's Adam Schefter announced on Twitter that the Bills have linebacker Karlos Dansby coming in to visit Buffalo. If the Bills sign Dansby that clearly will impact what they do in the draft.
So with all of these recent developments, it is probably for the best that we waited until a couple of days before the draft to put this presentation together. If we did it a month ago, as was the case for the last three times, it would have been for naught.
If you are checking this out for the first time, you might be wondering how this mock draft works with the different scenarios...
The best-case scenario is the pick that I think would be the most ideal selection for Buffalo if everything fell just right. Seldom will the pick work out this way, but again, this is what I would like to see happen for Buffalo.
But in life, how often does everything fall just right, especially for the Bills? So that is why we also have the realistic-case scenario, which is how I envision things will probably unfold, taking the best fit for Buffalo when they are on the clock, basing the pick on a combination of best player available and need.
With this edition, I opted to eliminate the worst-case scenario, and have substituted that with the new "don't faint" scenario. That could range from a sleeper pick to an out-of-left-field pick that makes sense the more you think about it.
This mock draft is based on Buddy Nix's aversion to trading during the draft. He doesn't enjoy moving up or moving down. Wherever the Bills are scheduled to draft, staying put is his preference. So we will conduct the mock on the six picks the Bills own, which are No. 8, 41, 71, 105, 143 and 177 overall. If Nix does swing a trade, then this mock would become moot, so take all this with a grain of salt.
Some Resources to Share with Our Readers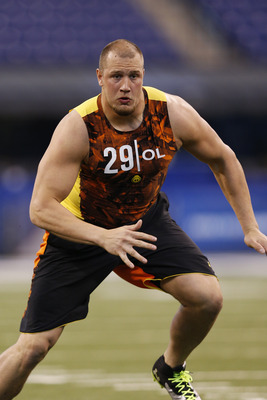 Will Lane Johnson fall to the No. 8 pick?
Joe Robbins/Getty Images
Due to the nature of players moving up or down draft boards, trades, a run on a specific position and different grades on players, we acknowledge that a pick is capable of going a round earlier or later than projected in this mock draft. Clearly we do not own or operate a crystal ball, so the picks are made by assessing the team needs and mixing in the opinions of NFL draft analysts.
To assist us in this endeavor, here are some resources you can link up to that will provide you with more in-depth information.
Mike Mayock, draft analyst at NFL Network, created his top-100 prospect list for the 2013 draft during this past week. After countless hours of film study, his rankings are something he arrives at very carefully and thoroughly. I respect Mayock's opinion, so that is why he is featured here.
Next up, NFL Network's Daniel Jeremiah, gives us his top 50 players, which is how a scout would need to slot players based on their overall grades. This is another proper resource to check out.
We also have Matt Miller, Bleacher Report's lead NFL writer, who came up with his own big board of the top 100 prospects for the 2013 NFL draft.
Then we have the scouting profiles for every player that attended the NFL Scouting Combine, thanks to this link for NFL.com. In many cases you will find a video link for the player in question, to go along with a detailed scouting profile.
One other feature we will offer in this year's edition is to add some other notable mock drafters' picks for Buffalo as we go through the "best-case scenario" options for every round. The mock drafts I selected offer Bills fans some food for thought. Here are the mocks we included:
Draftek.com, which is a computer-generated mock draft that will continuously update draft picks during the actual NFL draft. They have a complete seven-round mock, which is Version 23, compiled Tuesday. Draftek.com also came out with their own unique (updated version for 2013) trade value chart. For those of you who want to see what each draft pick is worth for potential trades, this is a great tool.
Miller's seven-round mock draft, which he created yesterday. Matt has been very busy, as he just came out with his all-sleeper team—another resource you might enjoy.
WalterFootball.com has its own seven-round mock draft, which was completed Tuesday as well. The link to that is right here. If you wind up unhappy about how the quarterback situation plays out in the draft for the Bills, WalterFootball.com also has generated its QB rankings for the 2014 draft.
OurLads.com came up with its seven-round mock draft on April 16. Find the link to that right here. This is the only one that is somewhat dated. Everything else is hot off the press, meaning that they were created Tuesday.
For some local Buffalo flavor, here is WRG Radio Bills beat reporter Joe Buscaglia's latest mock draft, which only goes up to 106 selections.
OK, safe to say that you are now well prepared and ready to mock and roll.
No. 8 Best Case Scenario: Alabama Guard Chance Warmack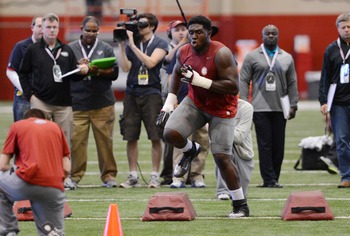 Bills could have an All-Pro guard in Chance Warmack.
Kelly Lambert-USA TODAY Sports
There is no doubt the Buffalo Bills will miss Andy Levitre, who opted to leave for a huge payday with the Tennessee Titans. Levitre was tough, durable and versatile, which is basically all you can ask for from a player. He was outstanding at pass protection, but only average in run blocking.
Buffalo GM Buddy Nix has been saying all along that the Bills aren't interested in drafting a guard. But we all know that Nix is capable of throwing up a smokescreen or two, which is what led to Buffalo landing Cordy Glenn with the No. 41 pick last year.
With the No. 8 pick, it is very likely that at least one, if not two, of these linemen will still be available on the big board: Oklahoma tackle Lane Johnson, Alabama guard Chance Warmack and North Carolina guard Jonathan Cooper. To be perfectly honest, I would be delighted if the Bills selected any of the three.
For the sake of this presentation, I will have to pick one player, so the choice here is Warmack, because I fear that Johnson will already be gone. Either Warmack or Cooper has a solid chance to become an All-Pro level guard, and any time you can land an All-Pro player with your first-round pick, then your draft is off to a very good start.
Warmack goes 6'2" tall and weighs 317 pounds. He would be a devastating run blocker. Think about how many times in the past two or three years the Bills came up short on a third-down and one, or on a fourth-down and one yard to go? Give the ball to Fred Jackson or C.J. Spiller and run it behind Warmack. Then watch the ref signal to move the chains, first down Buffalo !!
Mike Mayock ranks Warmack as the fourth-best player in the draft. Here is a link to Warmack's scouting profile on NFL.com. For what it is worth, they gave him a grade of 95.9, which was the highest score awarded to any lineman, including Eric Fisher and Luke Joeckel. That suggests extremely good value for Nix and the Bills with the No. 8 pick.
Featured Mock Draft Selections for Buffalo with No. 8 overall pick:
Matt Miller: West Virginia WR Tavon Austin
Joe Buscaglia: Syracuse QB Ryan Nassib
Draftek.com: Oklahoma T Lane Johnson
Our Lads: Tennessee WR Cordarrelle Patterson
Walter Football: Syracuse QB Ryan Nassib
No. 8 Most Realistic Case Scenario: Syracuse QB Ryan Nassib
Will Marrone and Nassib continue their relationship in Buffalo?
Otto Greule Jr/Getty Images
Okay Bills fans, this is where the rubber meets the road. Buddy Nix is in a tight spot. He has promised the fan base he would draft a franchise quarterback this year. There really isn't a single quarterback that is worthy of going No. 8 in this draft class. If Nix tries to sit tight and wait to see who is still available at No. 41, most if not all of the Bills top choices to run Coach Marrone's offense could already be gone.
Nix can't afford to gamble that would happen again, where he botched the quarterback scenario one more time. Here are the options available as of today:
Plan A) Find a team that is willing to trade up and give you some additional picks. That way you won't be making such a reach with the No. 8 pick for your quarterback. In addition, the lower you draft him in the first round, the less money he will cost you with each year as his contract rolls along. If the Bills wind up drafting their first-round pick somewhere in the 20's, that is probably as close to ideal as you could ask for.
Plan B) Select a starting player with the combination of best player available at a position of need with the No. 8 pick. Package your No. 41 pick and perhaps your second-round pick from 2014 to move up into the end of the first round (Denver at 28 or Baltimore at 32) and draft your quarterback then. Since you only have six draft picks in 2013, you really can't afford to give up any more picks from this year.
Plan C) It takes two to tango. If Nix is unable to find a willing partner for Plan A or Plan B, then Plan C is to bite the bullet and draft your quarterback with the No. 8 pick. Unfortunately, that is what I am projecting the reality of the situation will be, the Bills will have no choice but to draft Syracuse Ryan Nassib with the No. 8 pick.
The good news is that Nassib already knows how to run the Bills offense. Will he be better at executing it compared to Kevin Kolb or Tarvaris Jackson? We won't know that answer until training camp unfolds. The bad news is that taking Nassib at No. 8 is clearly a stretch. Mike Mayock ranks Nassib as the 50th best prospect in the draft class. That is the very definition of a huge reach.
I realize Bills fans will protest loudly that Nix blew the draft by selecting Nassib at No. 8. But realize that Nix is in an awkward situation, and is trying to make the best of it. He won't be trading away draft picks for this year or next year by taking Nassib at 8. Nassib is gaining supporters on a national level, the most recent being Jon Gruden, who ranks Nassib as the No. 1 quarterback in this draft class.
No. 8 Don't Faint Scenario: West Virginia WR Tavon Austin

Tavon Austin 2012 highlights vs Oklahoma

Was watching the Path to the Draft show on NFL Network last Friday night, when NFL Network draft analyst Daniel Jeremiah came out with his latest mock draft. Jeremiah had West Virginia WR Tavon Austin going to the Bills with the No. 8 overall pick. The more that I thought about this selection, the more that I really liked the idea.
Austin received the highest grade of all wide receivers in this draft by NFL Network (91.4). You can check out his scouting report via this link here. He is best known for his speed (ran the 40 in 4.34 seconds) and his quickness (ran the 20-yard shuttle in just 4.01 seconds).
We all know how dangerous C.J. Spiller is when he gets into the open field. Imagine an offense that has Spiller on one side and Austin on the other side. If you watch the video against Oklahoma, the reality is that Austin is that unique combination of very quick and very fast. His ability to cut on a dime and make people miss is special. That is why even though he is projected to go at somewhere in the middle of the first round, the Bills should seriously consider drafting Austin at No. 8.
In the Oklahoma game, Austin wound up with 344 rushing yards (which was a record for West Virginia) but also had 572 all-purpose yards. When you watch the highlights, you see countess would-be-tacklers that couldn't even lay a finger on Austin.
For the 2012 season, Austin caught 114 passes for 1,289 yards. He averaged 11.3 yards per catch and had 12 touchdowns. He also ran the ball 72 times for 643 yards, which is an incredible average of 8.9 yards per rush. He had three rushing touchdowns on the year. From the line of scrimmage, Austin touched the ball 186 times for 1,932 yards, averaging 10.4 yards per touch. He scored 15 touchdowns.
As a return specialist, Austin scored one touchdown on kick returns and one touchdown on punt returns. He returned 32 kicks for 813 yards, averaging 25.4 yards per kick. He returned 15 punts for 165 yards, averaging 11.0 yards per return.
There aren't that many players in this draft class that are instant offense in this draft class. Austin is the exception, and even though he is only 5'8" tall and 173 pounds, he would allow the Bills offense to reach another dimension. That is why you take him with the No. 8 pick, he will be a difference maker.
No. 41 Best Case Scenario: Syracuse QB Ryan Nassib

Ryan Nassib highlights vs Missouri

Under the best-case scenario, we have the Bills selecting Alabama guard Chance Warmack at No. 8 and now taking Syracuse quarterback Ryan Nassib with the No. 41 pick. Like we said, this is best case, which is the scenario where everything fell just right for Buffalo.
Unfortunately, I just don't see how Nassib will fall to Buffalo at 41. He is just getting too much hype right now, and there are too many quarterback needy teams ahead of the Bills in the second round for him to still be on the big board when the 41st pick rolls around.
One team that could really be a thorn for Buffalo with Nassib at No. 41 is the New York Jets, who are also interested in Nassib. They pick two slots ahead of Buffalo at No. 39. Even though we have stated that Buddy Nix is not a fan of trading away draft picks, he may not have any choice but to move up ahead of the Jets if Nassib is still on the board at No. 38.
Moving up three spots shouldn't be that expensive a move. Arizona owns the pick at 38, so the Bills would need to surrender something like a fifth-round pick, and could probably get a seventh-round pick back in exchange.
Why Nassib? Like we stated with Geno Smith, there is something to like about every quarterback in this class, and something that you can point to as a major weakness. Nassib ran the 40 in 5.06 seconds, so the Bills won't be running the read-option offense for sure.
For Nassib, there is the obvious fit from the perspective that he has already run the offense that Hackett and Marrone want to install in Buffalo. We can't say unequivocally that Nassib would be the 2013 starter, as he would have to win the job in camp. But if he doesn't win it outright as a rookie, he can teach the offense to Kevin Kolb and Tarvaris Jackson.
If you watch his various videos on YouTube, you will see that Nassib usually gets the ball out quickly. He has been known to force some throws and make questionable decisions with the ball. But every quarterback needs to continue developing their skills and decision-making ability, and Nassib is no exception. If the Bills draft him and he doesn't wind up starting in 2013, then he should ready to take over in 2014.
Featured Mock Draft Selections for Buffalo with No. 41 overall pick:
Matt Miller: Syracuse QB Ryan Nassib
Joe Buscaglia: Rice TE Vance McDonald
Draftek.com: Florida St. QB E.J. Manuel
Our Lads: Syracuse QB Ryan Nassib
Walter Football: USC WR Robert Woods
No. 41 Most Realistic Case Scenario: USC Wide Receiver Robert Woods

Robert Woods USC highlights

In our most-realistic case scenario, we will pair Syracuse quarterback Ryan Nassib with USC wide receiver Robert Woods with the pick at No. 41. Somewhat reminiscent of Cincinnati taking Andy Dalton and A.J. Green with their first-two draft picks, only here the positions have been reversed.
Who exactly is the best athlete available that is still on the big board at No. 41? If DE Marcus Hunt from SMU or LB Manti Te'o from Notre Dame was still on the big board, it would be hard to pass them up as well. But Woods is an outstanding prospect, and is very willing to block downfield, which is something that Buffalo expects their wide receivers to do.
With the departure of David Nelson and Donald Jones, wide receiver is clearly a position of need for Buffalo. There will no doubt be at least two, if not as many as four wide receivers that come off the board by the time the Bills are up with the No. 41 pick. If there are only two wide receivers gone, then the Bills would have their pick of the best athlete from this group:
DeAndre Hopkins (Clemson), Keenan Allen (California), Quinton Patton (Louisiana Tech), Terrance Williams (Baylor), Robert Woods (USC), Justin Hunter (Tennessee), Markus Wheaton (Oregon State) and Stedman Bailey (West Virginia). As you can see, there is great depth at wide receiver in this draft class, so the Bills will have a number of options to pick from at No. 41.
The reasons for selecting Woods is that he has great hands, has a solid track record of three years of production at USC, and he is an solid blocker down the field. If you watch the video, you will see all of his skills on display. Solid hands, ability to break tackles and make people miss. It shows one crushing block, but it is something he does well. Woods is ranked No. 45 on Mike Mayock's big board.
Woods caught 250 passes during his career, which were good for 2,933 yards and 32 touchdowns. He averaged 11.7 yards per catch. According to his scouting profile on NFL Network. Woods is 6'1" tall and weighs 190 pounds. He ran the 40 in 4.51 seconds and had a 33.5" vertical jump. Woods excelled as the No. 1 wide receiver at USC and still put up impressive results when Marquise Lee took USC by storm.
No. 41 Don't Faint Scenario: SMU DE Margus Hunt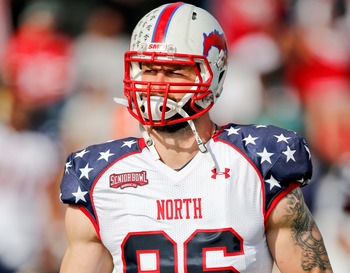 Margus Hunt (the Eastern Block) would be an interesting addition.
Derick E. Hingle-USA TODAY Sports
The Bills have some hidden value with defensive lineman Alex Carrington's ability to block kicks, which he put on display during the 2012 season.
Since we don't know for sure who the Bills drafted at No. 8, or if they succeeded at trading down from that slot, would they entertain drafting SMU defensive end Margus Hunt, if he were still on the big board at No. 41?
For those of you that don't know his story, here is the link for his scouting profile on NFL Network. He is ranked No. 39 overall on Mike Mayock's top-100 prospect list.
Hunt is a huge specimen at 6'8" tall and weighs 277 pounds. He is built like a rock. If you line him up next to Carrington, you will continue to block kicks which might be all the difference you need to win one or two close games a year. Hunt's nickname is the Eastern Block, because he is so good at blocking kicks.
Hunt is still learning the game, as football wasn't his first sport. He is an intriguing prospect due to his size, speed and length. His arms are huge, at 33 and 3/4" long. As per his NFL scouting profile, here are a few statistics to ponder:
His knack for blocking kicks continued, ending his career with 17 total, two short of the NCAA record. He accumulated 31 tackles, 11.5 tackles for loss, eight sacks, and one interception on his way to earning first team All-Conference USA honors
No. 71 Best Case Scenario: West Virginia WR Stedman Bailey
Bailey caught eight passes for 122 yards and 2 TD's in Pinstripe Bowl.
Rich Barnes-USA TODAY Sports
A quick review of our best-case scenario picks has Buffalo taking G Chance Warmack at No. 8 and QB Ryan Nassib at No. 41. Now it is time to address the wide receiver position with the pick at No. 71.
Many Bills fans were expecting the team to address the position before now, but that isn't the way things worked out in this mock. So, what kind of talent has a reasonable chance of still being on the big board with the pick at No. 71? Here is group of names that has a good chance to still be there:
Ryan Swope (Texas A&M), Terrance Williams (Baylor), Marquise Goodwin (Texas), Aaron Dobson (Marshall), Quinton Patton (Louisiana Tech), Markus Wheaton (Oregon State) and Stedman Bailey (West Virginia). That is one of the beauties of this draft class, is that there really is solid depth at wide receiver.
But with the way that the game is being played at the major college level now, would you really expect anything less?
For our purposes, we will select Stedman Bailey, who put up some huge numbers at West Virginia. If you aren't fond of Bailey, feel free to plug in one of the other options we just laid out for you.
For one thing, Doug Marrone already knows Bailey well from studying him on film when Syracuse prepared to play West Virginia. Bailey gave Marrone plenty of action to study on tape. In his final year at West Virginia, Bailey caught 114 passes for 1,622 yards, 25 touchdowns and an average gain of 14.2 yards per reception. That is some serious production.
Bailey is 5'10" tall and weighs 193 pounds. He ran the 40-yard dash at the NFL Scouting Combines in 4.52 seconds. Here is his scouting profile link from NFL.com.
Featured Mock Draft Selections for Buffalo with No. 71 overall pick:
Matt Miller: San Diego State TE Gavin Escobar
Joe Buscaglia: Mississippi State CB Darius Slay
Draftek.com: Baylor WR Terrance Williams
Our Lads: Texas A&M OLB Sean Porter
Walter Football: Rice TE Vance McDonald
No. 71 Most Realistic Case Scenario: U. Conn CB Blidi-Wreh Wilson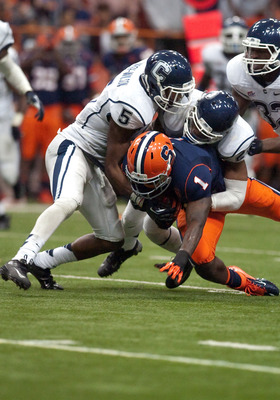 Doug Marrone knows U Conn CB Blidi Wreh-Wilson well.
Mark Konezny-USA TODAY Sports
There will always be a few players that tumble a few spots when the dust has settled on any draft class. For the purposes of our mock draft, we are going to hope that U.Conn CB Blidi Wreh-Wilson is still on the big board when the Bills are on the clock with the No. 71 pick.
Coach Marrone and Coach Hackett went up against Wreh-Wilson when Syracuse played U. Conn, so he knows that this is a quality corner. With the announcement that the Bills were moving Aaron Williams to safety and the release of veteran Terrence McGee, the Bills are suddenly thinner at corner. They did re-sign Leodis McKelvin but to my way of thinking McKelvin still gets beat too often because he seldom knows where and when the football is being thrown.
So when you evaluate the position, you conclude that we could use another talented corner. Enter Wreh-Wilson. Mike Mayock has him rated as the No. 66 player on his big board, which is why there is no guarantee he will still be there for Buffalo at No. 71.
While Buddy Nix used to focus primarily on drafting players from either the SEC or ACC conferences, (12 of the top 13 draft picks from the 2011 and 2012 draft classes came from just those two conferences) I believe that the Bills will start expanding their search for players outside of that narrow focus.
Wreh-Wilson is a big corner at 6'1" tall and weighs 197 pounds. Bigger corners is the current trend in the NFL, so that is why he makes sense for Buffalo. Here is a link to his NFL.com scouting profile.
No. 71 Don't Faint Scenario: South Carolina RB Marcus Lattimore

Marcus Lattimore South Carolina highlights

We didn't discuss it that much during the 2012 season, but if you were paying close attention you picked up on a noticeable drop-off in Fred Jackson's production. Some dropped passes, runs that he would typically break tackles in the past, didn't have the same results last season.
You have to wonder if Jackson's age, tread on his legs and general wear and tear on his body are starting to catch up to him. Jackson is under contract through 2013 and 2014 seasons. With a new regime in town, Coach Marrone will view Jackson with an open mind, but if his game slips any further this year, it could be the end of the line for Jackson in Buffalo, as much as I hate to even think that.
So, would it be prudent for Buffalo to stash a supremely talented and motivated player like South Carolina running back Marcus Lattimore on injured reserve for 2013, and have him ready to back up C.J. Spiller in 2014? If you recall, the Bills did quite well with that strategy with Willis McGahee not that long ago.
Clearly, there is some risk with Lattimore. The Bills doctors would have needed to check him out prior to the draft to see how far he has come along in his rehab from his gruesome knee injury. But if you have been following his progress, you know how motivated he is and how badly he wants to return.
If you knew that you were going to have a talented back like Lattimore close to 100 percent for the 2014 season and beyond, would you be willing to risk a third-round draft choice to have him sit out for the 2013 season while he recovers. That is why he made our "Don't Faint Scenario".
No. 105 Best Case Scenario: Syracuse SS Shamarko Thomas

Shamarko Thomas highlights vs USC

We are now up to day three of the draft, with the pick at 104. So far we have gone strictly offense with our best-case scenario picks, taking a guard (Chance Warmack), a quarterback (Ryan Nassib) and a wide receiver (Stedman Bailey).
Now it is time to pay some attention to the defensive side of the ball. When this went to publication, we don't still know what the outcome is of LB Karlos Dansby's visit to the Bills. If he winds up signing a deal, that would negate the need to draft more linebackers. If Dansby doesn't sign with Buffalo, then we would probably to be looking to add the best athlete/linebacker available on the Bills big board right here.
We will turn our attention for this pick to the safety class. The Bills have placed the franchise tag on Jairus Byrd, but have made no progress to sign him yet towards a long-term deal. In fact, he was the only member of the team that didn't attend the minicamp last week with Coach Marrone. The Bills also have Da'Norris Searcy and are moving Aaron Williams to safety.
Due to the nature of the New England Patriots unique tight end-driven offense, the Bills are wise to be at least four deep in regards to the safety position. There were a total of five safeties that visited Buffalo in pre-draft visits. They were: Kenny Vaccaro (Texas), Phillip Thomas (Fresno State), Cooper Taylor (Richmond), Jonathan Meeks (Clemson) and Malcolm Bronson (McNeese State).
There is one more safety that could have easily been placed in this group, but the Bills didn't bother to bring him in for a pre-draft visit because they already know him so well. That would be Syracuse SS Shamarko Thomas. Thomas is only 5'9" tall but he is stocky at 213 pounds. He is a hitter, and you can check out his scouting review on NFL.com at this link.
Thomas wound up as No. 95 on Mike Mayock's top-100 prospect list, so if he is still available with the pick at No. 104, that would represent decent value for the Bills. You may recall that Thomas lost control when he ran the 40-yard dash at the Indianapolis Scouting Combines, and did the old face-plant at the end of his run. But, despite that he had a great time of 4.38 seconds, which is flying.
As you can see from the various mocks, there is no consensus this deep into the draft. This round is where it starts to become more of a crap shoot.
Featured Mock Draft Selections for Buffalo with No. 105 overall pick:
Matt Miller: Virginia T Oday Aboushi
Joe Buscaglia: Kansas State WR Chris Harper
Draftek.com: Georgia WR Tavarres King
Our Lads: Michigan State TE Dion Sims
Walter Football: LSU CB Tharold Simon
No. 105 Most Realistic Case Scenario: Alabama G/C Barrett Jones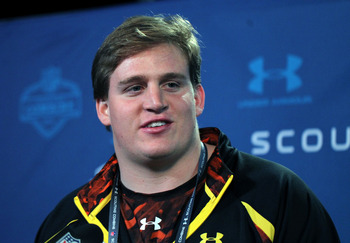 Barrett Jones is a versatile offensive lineman.
Brian Spurlock-USA TODAY Sports
Under the most-realistic case scenario, our mock draft has Buffalo selecting Alabama offensive lineman Barrett Jones with the pick at No. 105. Jones played a key role in Alabama's national championships due to his flexibility and athleticism. During his career at Alabama, Jones wound up playing all five positions along the offensive line.
Knowing that he did played every position, he could take up two roster spots due to the ability to either start or be a backup for multiple starters. The feeling here though is that he is talented enough to start and could take over Levitre's old job. Whether or not he is still there at No. 105 is the big question.
Jones has some nice size, going 6'4" tall and weighs 306 pounds.
Jones is ranked No. 91 on Mike Mayock's top-100 prospect big board, so there is no guarantee that he would still be there for Buffalo at No. 105.
The beauty in drafting Jones is that he is already battle tested against strong SEC opponents and has proved to be durable and effective. Here is a link to his scouting profile at NFL.com.
No. 105 Don't Faint Scenario: LSU CB Tyrann Mathieu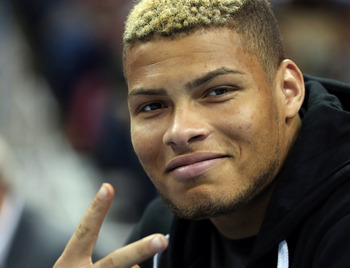 Tyrann Mathieu has cleaned up his act.
Chuck Cook-USA TODAY Sports
Under the "Don't Faint scenario" we wonder what the Bills would do if the Honey Badger himself, LSU corner Tyrann Mathieu was still on the big board. Mathieu has admitted to having problems with drugs while at LSU. He said he lost count after failing at least 10 drug tests. That qualifies as not only having a problem, but probably qualifies as having more than one problem.
But knowing that he was preparing for a potential career in the NFL, Mathieu has got his act together, and passed his drug test at the NFL Scouting Combines. To be honest, we have no clue if Coach Marrone would welcome the challenge of trying to work with the talented Mathieu, or if he would take the approach of kicking him off the team if he screwed up the first time.
But since these "Don't Faint" picks are designed more for food of thought or to get Bills fans thinking about the possibilities, we throw it out there for you to digest and then you can throw it back at us. Or something like that.
No. 143 Best Case Scenario: Alabama LB Nico Johnson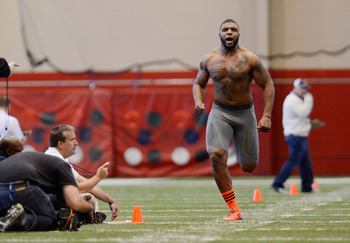 Nico Johnson could be a nice find with the pick at No. 143.
Kelly Lambert-USA TODAY Sports
Moving on to round five of the draft and the No. 143 pick. We are now getting into the part of the draft where every player has holes in their game, it is just that they are different holes. Some will lend themselves to a team better than others. There are also guys that are great material for special teams, or you are looking to add some depth on the team.
Here is what we have so far under our best-case scenario picks: Chance Warmack, Ryan Nassib, Stedman Bailey, and Shamarko Thomas. We can look for a tight end, a linebacker, a pass rusher, a corner or the best player available.
We don't know for sure if he will still be available, but here is a vote for Alabama LB Nico Johnson with that pick. Johnson is a winner, having endured the grind of playing for Nick Saban at Alabama, and playing against better competition.
Johnson is 6'2" tall and weighs 248 pounds. Here is a link to his scouting profile at NFL.com.
Featured Mock Draft Selections for Buffalo with No. 143 overall pick:
Matt Miller: Penn State OLB Gerald Hodges
Draftek.com: Alabama LB Nico Johnson
Our Lads: Florida T Xavier Nixon
Walter Football: LSU DE Lavar Edwards
No. 143 Most Realistic Case Scenario: Florida LB Jon Bostic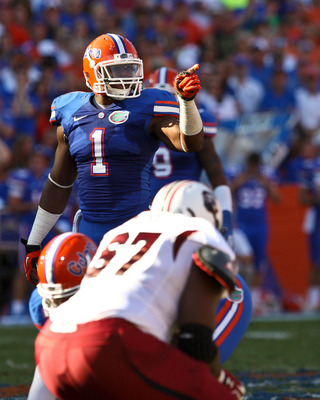 Jon Bostic proved you have to be good to wear jersey No. 1.
Rob Foldy-USA TODAY Sports
We continue our theme of adding a linebacker in the fifth round of the draft, as we have the Bills drafting Florida LB Jon Bostic with the pick at No. 143 in our most-realistic case scenario.
Bostic is 6'1" tall and weighs 245 pounds. His NFL.com scouting profile can be found via this link here.
What you like about Bostic is that he remained in Florida to play his senior season, which is not always the case with some of his teammates. The added experience helps his overall game, confidence and experience as he prepares to enter the NFL.
No. 143 Don't Faint Scenario: Oklahoma QB Landry Jones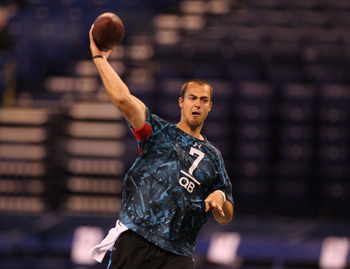 Landry Jones stock has been plummeting leading up to draft.
Brian Spurlock-USA TODAY Sports
Oklahoma quarterback Landry Jones has seen his stock continue to fall in the weeks leading up to the 2013 NFL draft. It seems rather unfair, as Jones suffered from a drop in his supporting cast during his senior year at Oklahoma and he appears to be getting punished unfairly because of it.
Jones set all kinds of passing records during his college career. As a senior, Jones passed for 4,267 yards, completing 66.1 percent of his passes. He averaged 7.69 yards per pass and threw 30 touchdowns compared to just 11 interceptions. His passer rating was 144.6.
For his career, Jones threw for a staggering 16,646 yards, with a total of 123 touchdown passes and only 52 interceptions. He is currently projected to go anywhere from the fourth to the fifth round. In a special ESPN Sports Center show that aired Monday night, ex-Bills GM Bill Polian proclaimed that Jones was his No. 1 quarterback in the 2013 draft class. That has to mean something for Bills fans.
If the Bills invested a fifth-round pick in Jones that could be a smart investment. That would give the Bills four quarterbacks, with Nassib, (assuming the Bills draft him), Kolb, Jackson and Jones battling it out for three spots. It wouldn't surprise me if both rookies made the final roster.
No. 177 Best Case Scenario: UCLA TE Joseph Fauria
Joseph Fauria will be a nightmare to cover in the red zone.
Jayne Kamin-Oncea-USA TODAY Sports
We wrap up the best-case portion of the 2013 draft with the Bills final pick at No. 177. Buffalo takes UCLA tight end Joseph Fauria.
Fauria is a beast at 6'7" tall and weighs 259 pounds. He is a better pass catcher than he is a blocker. He is very effective in the red zone, as he caught 12 touchdown passes for UCLA in 2012.
Besides being 6'7", Fauria also has 33 and 3/4" arms and 10 and 7/8" hands. As you can see from the picture, he can go up and get the ball, and small corners or safeties will have a tough time trying to deny him the ball. Here is a link to his scouting profile at NFL.com.
So, here is our final haul for the 2013 draft under the best-case scenario heading:
Alabama guard Chance Warmack (No. 8), Syracuse quarterback Ryab Nassib (No. 41), West Virginia wide receiver Stedman Bailey (No. 71), Syracuse safety Shamarko Thomas (No. 105), Alabama linebacker Nico Johnson (No. 143) and UCLA tight end Joseph Fauria (No. 177). If the Bills draft class resembles something close to this haul, I personally would be very happy.
Featured Mock Draft Selections for Buffalo with No. 8 overall pick:
Matt Miller: Missouri Western DE David Bass
Draftek.com: Maryland TE Matt Furstenburg
Our Lads: Notre Dame C Braxton Cave
Walter Football: Georgia Tech G Omoregie Uzzi
No. 177 Most Realistic Case Scenario: Arkansas TE Chris Gragg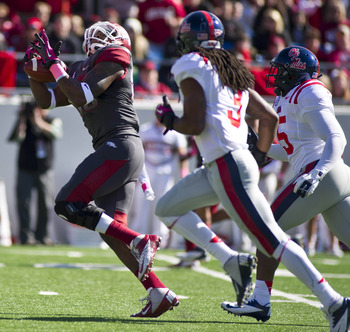 Chris Gragg taking a pass deep down the seam.
USA TODAY Sports
Our final draft pick for most-realistic case scenario is Arkansas tight end Chris Gragg. Gragg is a big kid at 6'3" tall and weighs 244 pounds. He isn't as tall as Joseph Fauria of UCLA, but he is more athletic.
Here is a link to the NFL.com scouting profile on Gragg. As a senior he was teamed with Arkansas quarterback Tyler Wilson, and he caught 41 passes for 518 yards and two touchdowns. His career unfolded rather slowly at Arkansas, which is why he is available for consideration in the sixth round.
So for the 2013 draft under the most-realistic scenario heading, here is our total haul:
Syracuse quarterback Ryan Nassib (No. 8), USC wide receiver Robert Woods (No. 41), U. Conn corner Blidi Wreh-Wilson (No. 71), Alabama guard/center Barrett Jones (No. 105), Florida LB Jon Bostic (No. 143) and Arkansas tight end Chris Gragg (No. 177).
No. 177 Don't Faint Scenario: Cornell Guard J.C. Tretter

J.C. Tretter Highlights from Cornell

For our final selection for this presentation, we will add a college football player from the state of New York. Not a Syracuse player, but a Cornell player. It is Cornell guard/tackle J.C. Tretter. The YouTube video shows some decent footage of Tretter, without any sound, which serves our purposes just fine.
Tretter is 6'4" tall and weighs 307 pounds. Here is his link to his scouting profile at NFL.com.
Okay, Bills fans there you go. Time to retreat back into my own war room.
We have provided you with the research tools and thrown out our best options. What do you think will happen for the Buffalo Bills at the draft?
Thanks for checking out the presentation. Follow me on Twitter: @DanVanWie
Keep Reading

Buffalo Bills: Like this team?