Jesse Williams: 5 Things You Need to Know About the Former Alabama DT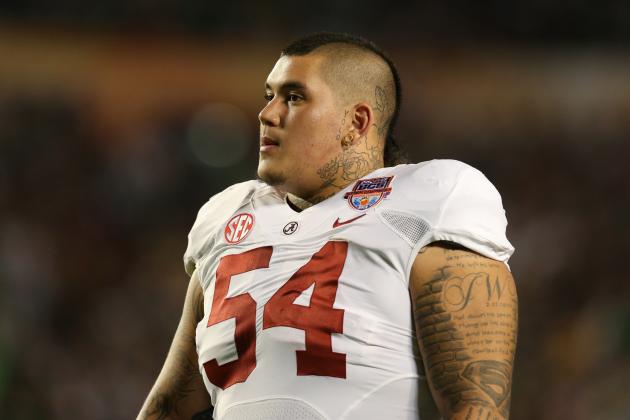 Matthew Emmons-USA TODAY Sports

Former Alabama defensive tackles Jesse Williams is a brute force in the trenches, destined to make an impact at the next level.
The 22-year-old SEC standout has risen atop various mock drafts at his position. He's widely considered to be a top-tier talent capable of manhandling veteran offensive linemen as a rookie in 2013.
Williams played two seasons of D-1 football after transferring from Arizona Western College, where he gained significant notoriety as a powerful anchor on the defensive front.
He's currently projected to be selected early in the second-round of the impending NFL draft, according to NFLDraftScout.com.
The following slideshow details what the common football fan needs to know about Jesse Williams heading into draft day:
Begin Slideshow

»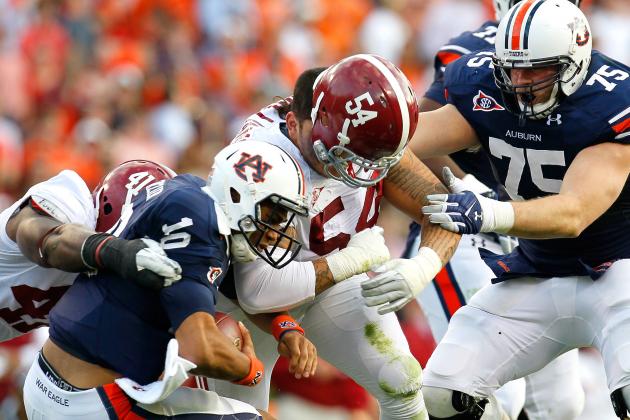 Kevin C. Cox/Getty Images

Full Name: Jesse Williams
Birthday: November 2, 1990
Hometown: Brisbane, Australia
High School: Cavendish Road State
Major: Human Environmental Science
Year: Senior
Williams is a native Australian, born in Brisbane, where he grew up playing rugby. This served as a precursor to what is expected to be an illustrious professional football career.
He attended Cavendish Road State High School, located in Holland Park, before moving to the states in pursuit of a collegiate "gridiron" career.
Williams enrolled at Arizona Western College after failing to meet undergraduate requirements to play at the University of Hawaii. He excelled in his freshman season, quickly becoming one of the most highly touted junior college prospects in the nation.
After a similarly successful sophomore season, in which he appeared in just seven games, Williams transferred to the University of Alabama where he was a participant in two national championship teams.
He was widely considered to be a prominent contributing force on the Crimson Tide rush defense, which ranked as the best in the FBS last season surrendering 79.8 yards per game.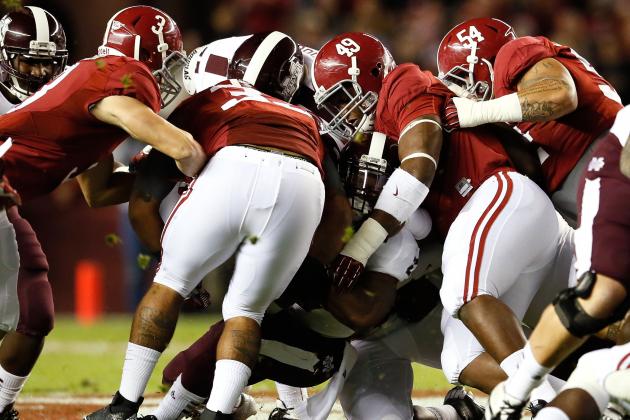 Kevin C. Cox/Getty Images

Williams totaled 46 tackles and forced four fumbles in an eye-opening effort during his freshman season at Arizona Western College.
He recorded 6.5 tackles-for-loss in two seasons at Alabama and tallied just 2.5 sacks, but served as a prominent run-stuffing machine in the trenches.
He started 26 games under head coach Nick Saban and charted 17 solo tackles, seven QB hurries, three deflected passes and one blocked kick.
Williams' numbers don't showcase his ability, but they're not supposed to. He's a space-eater that can occupy multiple opponents and clog the middle of the field, preventing ball carriers room to run.
| | | | | | |
| --- | --- | --- | --- | --- | --- |
| Year | School | GP | Solo | Total | Sk |
| 2009 | AZ Western | 10 | 12 | 46 | 4.0 |
| 2010 | AZ Western | 7 | 8 | 30 | 2.0 |
| 2011 | Alabama | 13 | 10 | 24 | 0.5 |
| 2012 | Alabama | 13 | 7 | 37 | 1.0 |
| Career | | 43 | 37 | 137 | 7.5 |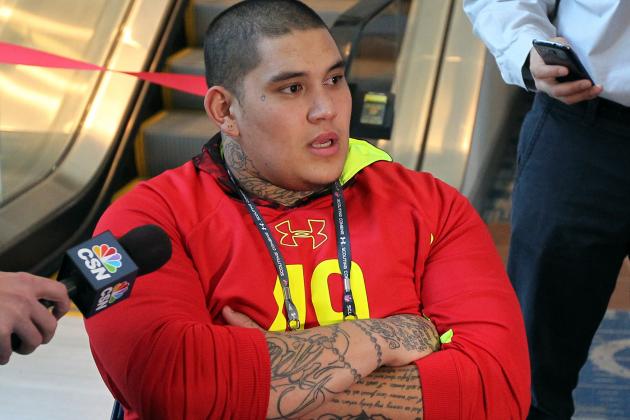 USA TODAY Sports

Measurables
Height: 6'3''
Weight: 323 lbs.
Arm Length: 32''
Hand Size: 9 3/8''
Combine Results
Bench Press: 30 reps
Alabama pro day results
40-yards Dash: 4.92
Short Shuffle: 4.75
Three-cone: 7.79
Williams participated in one event at the annual scouting combine and failed to conquer his goal.
He recorded 30 bench press reps of 225-pounds despite vying for the all-time record of 51, set by former undrafted defensive tackle Justin Ernest in 1999.
Williams partook in various exercises on indoor-field turf during Alabama's Pro Day. He clocked 40 times of 4.92 and 4.94 (according to NFLDraftScout.com), recorded a 4.75-second time in the 20-yard shuttle run and a 7.79-second time in the three-cone drill.
Williams isn't highly touted for speed and agility, but respectively showcased above-average ability for his position in the overall draft process.
*All stats and information courtesy of NFL.com.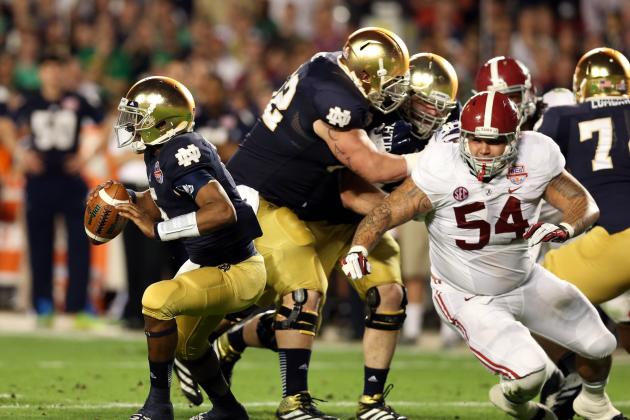 Matthew Emmons-USA TODAY Sports

Williams is nicknamed "The Monstar," a less than stellar calling card, dubbed by former teammates.
His declaration to break the all-time combine record of 51 bench press reps fell significantly short when given the opportunity, totaling an incomparable total of 30.
Williams shares a bizarre similarity with boxing legend Mike Tyson: a facial tattoo.
The Australian-born, former rugby player has the acronym,"YOLO," tattooed on the left side of his face. "I don't really think too highly of people who disagree with tattoos," exclaimed Williams in response. "It's pretty common nowadays." (via USA Today)
Williams transformed into a football player shortly after the age of 15. He's played just four seasons of organized "gridiron" in his life, but is wildly talented. His combination of athleticism and power should effectively translate in the NFL.
Williams sustains unprecedented strength, demonstrated through his apparent ability to bench press 600 pounds.
He's quick to attack his opponent, able to anticipate certain blocking schemes before the snap.
Williams is a competitor, fighting through the whistle in an attempt to exhaust his opponent. He also exemplifies above-average footwork for his position, shedding blocks to penetrate the offensive front, according to Rob Rang of CBSSports.com.
He's constantly active in the trenches, utilizing long arms to create opportunity. His stamina in itself has the ability to wear down the opposition, and he's capable of making tackles in front of the block, leveraging strength to out-play his opponent.
Williams ultimately has solid technique at nose tackle, which compensates for a lack of explosiveness from the point. He's heavily reliant on power to punish opponents, but isn't entirely indestructible.