2013 NBA Rookies Finally Coming into Their Own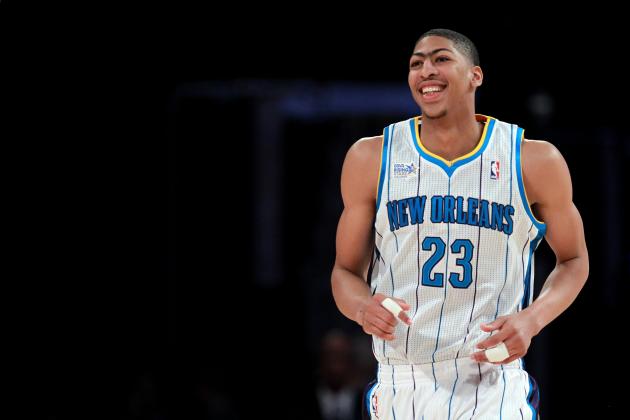 Ronald Martinez/Getty Images
Anthony Davis is beginning to tap into his limitless potential.
As the NBA season winds down, the league's rookies begin to show what they're made of.
Playing a more grueling schedule against stingier competition than they're used to, the NBA's newest players are liable to struggle when they first step on the court. A guy who dominates a bunch of college kids could be in for a rude awakening when he faces grown men.
Like all great talents, the best adapt. They begin to figure out the nuances of the pro game and hit a second wind late in the pro season. While the grizzled vets are tiring out after yet another year, the young guns are ready to play.
Let's start with some rooks who are just starting to produce and work our way up to what look like our youngest stars.
Begin Slideshow

»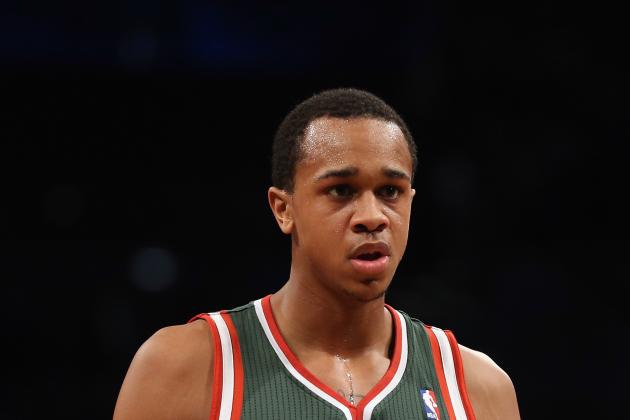 Bruce Bennett/Getty Images

John Henson faced a different development arc than most NBA newcomers do.
After three years at North Carolina, he has very solid court awareness and a nicely developed skill set for a rookie. That said, he's 6'11", 220 pounds. He has nowhere near the agility and dexterity of a Kevin Durant, so playing inside was always going to be an issue with that skinny frame.
Henson spent much of the season backing up stauncher big men like Larry Sanders, but in an April 10 loss to the Orlando Magic, the Milwaukee Bucks finally gave him big minutes.
He had not broken 30 minutes at any point prior, but Henson ran for 41, putting up 17 points and 25 rebounds in the process. That game is the exception rather than the rule so far, but Henson showed that he has that potential. Now he has to develop his body in order to harness it.
Streeter Lecka/Getty Images

When Meyers Leonard first stepped on the floor for the Portland Trail Blazers, he had an NBA-ready body—but he was by no means an NBA center.
Despite Portland's severe depth issues, the Illinois product saw his minutes diminish as the season went along; he was unpolished on offense and a step slow mentally on defense. As fellow rook Damian Lillard ran the point and got all the praise, Leonard languished with limited time.
The Trail Blazers' minutes distribution was not sustainable, and so Leonard saw his workload increase as the team capsized. What he has shown since are lessons learned from a season of battling LaMarcus Aldridge and J.J. Hickson in practice.
Now Leonard is scoring double digits with consistency and maintaining his efficiency with more minutes. He's still a work in progress, but now we can see the progression happening.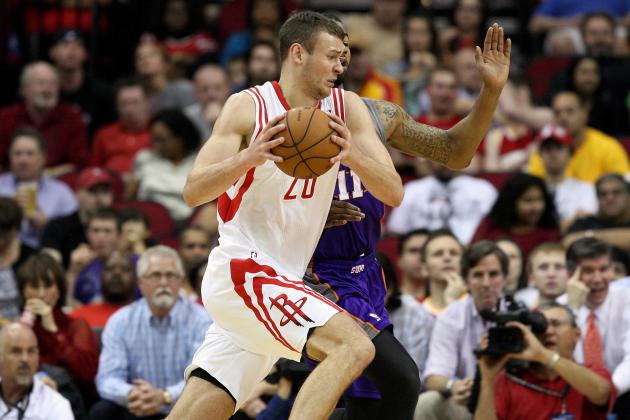 Troy Taormina-USA TODAY Sports

It wasn't really Donatas Motiejunas' fault that he didn't play much early in the season; the Houston Rockets were simply loaded at power forward.
Then Patrick Patterson and Marcus Morris were both shipped out as Thomas Robinson joined the ranks. While a more experienced player than Motiejunas, Robinson lacks his proficiency in the mid-range game, so the Lithuanian big man moved up on the depth chart.
He has not disappointed. Houston has been able to maintain its offensive spacing with Motiejunas knocking down 15-footers and taking defenders off the bounce. He has room to improve as an interior defender, but Omer Asik is there to clean up his mistakes, allowing the rookie to focus on his offensive game.
Motiejunas' play is a testament to Houston's player development. Patterson and Morris leave, and the Rockets move forward just as before with Motiejunas, Robinson and Terrence Jones. Somewhere, Daryl Morey is smiling proudly at his spreadsheets.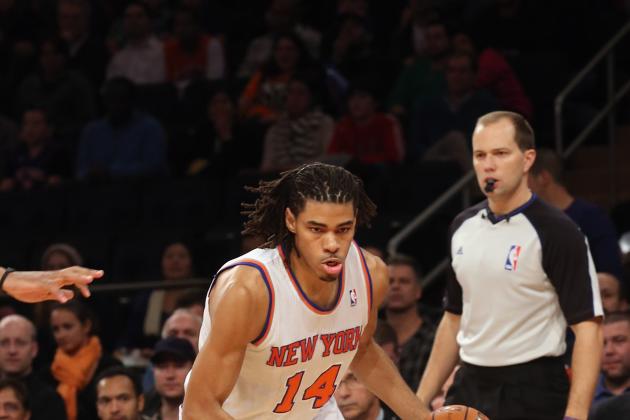 Bruce Bennett/Getty Images

He may be 29, but Chris Copeland is still a rookie figuring out how to adjust to the NBA game.
Early in the season, Copeland began carving out a role on the New York Knicks as an explosive bench scorer. He has since topped 20 points in four games this season, giving the Knicks' second unit a versatile option with his ability to drive and shoot the three.
However, it was difficult to justify giving Cope too many important minutes due to his wholesale ineptitude on defense. That has changed since March, when he showed much better fundamentals when it came to using his size to stay in front of his man and contest shots around the rim.
For a team struggling with interior health, Copeland's new-found defensive competence is a welcome development. The old rook's well-rounded game now fits in wonderfully on this veteran team.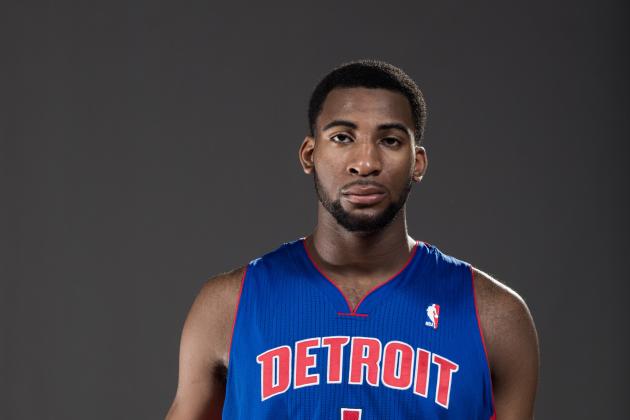 Nick Laham/Getty Images

Andre Drummond was another NBA case study of efficiency versus effectiveness.
He didn't display much of either during his year at UConn, but Drummond began dunking the ball and pulling down boards at dizzying rates. In both December and January, he averaged at least eight points and eight rebounds in just 22 minutes per game.
Upon returning from a shoulder injury, Drummond has gotten closer to starter minutes for the Detroit Pistons. In 34 minutes against the Cleveland Cavaliers, the 19-year-old set a new career high with 29 points while shooting 10-of-11 from the field.
We were already surprised to see Drummond play so efficiently so soon. Now he's showing that those numbers in limited minutes were no flukes.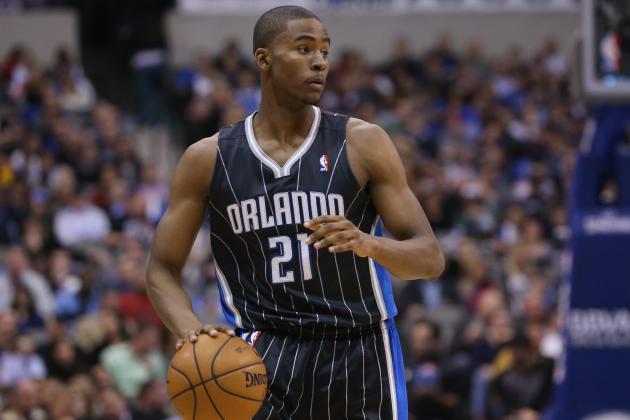 Ronald Martinez/Getty Images

If Doug Collins was "consumed" by following Moe Harkless' progress back in February—per CBS Philly—imagine how he must feel now.
February was the month when Harkless was thrust into the Orlando Magic starting lineup at the age of 19. His minutes jumped from 14.6 per game in January to 34.5, and he supported it with 11.8 points and 6.5 rebounds on 45 percent from the field.
The difference in March was his three-point shooting. Harkless' rate jumped from just under 22 percent from long range in February to about 40, turning the young small forward into an explosive inside-out threat.
His three-point numbers are down in April, but Harkless has displayed flashes of what he could be. With some work in the gym over the summer, that March production could become his new normal.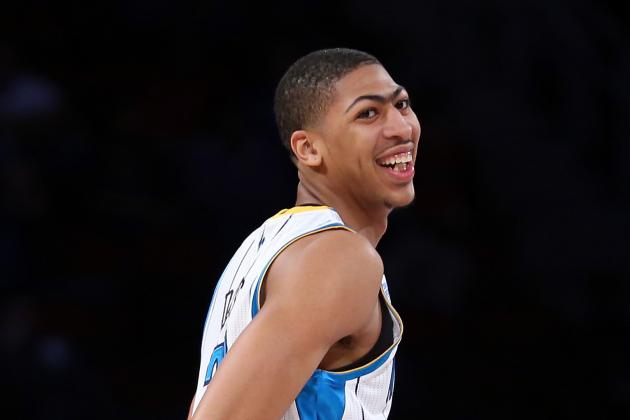 Ronald Martinez/Getty Images

Considering the New Orleans Hornets have also watched Austin Rivers shoot 37 percent from the field this season (and that's an improvement), it's no surprise they've been bringing Anthony Davis along slowly.
The first overall pick in the 2012 NBA draft has displayed his prodigious talent from the start—two games of 20-plus points and 11 rebounds in November did the trick.
Even so, in an effort to keep him healthy and to give time to Robin Lopez and Ryan Anderson, Davis played only about 25 minutes per game in January and February.
Since topping 30 minutes per game again in March, Davis has been a monster. He has scored 16 points per game while hitting over half his shots and nearly averaging a double-double in that time.
This is what we expected all along from the future Pelican great. It's just the nature of the rookie learning curve that it took the Brow this long to finally break out.