Tampa Bay Rays vs. Boston Red Sox: Boston Marathon Day Live Score, Analysis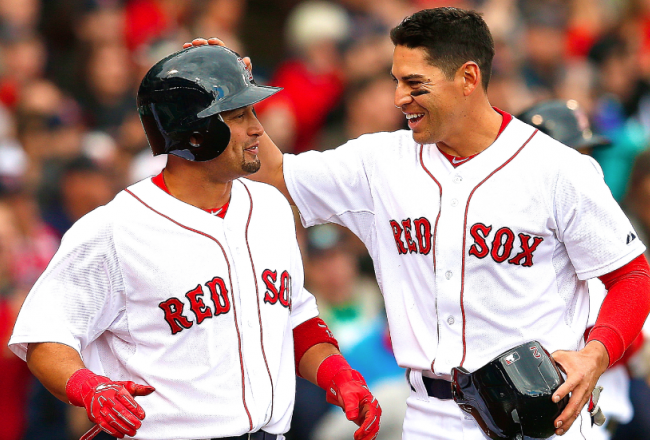 While thousands of runners partook in the Boston Marathon on Monday, the Boston Red Sox took the third game of the series against the Tampa Bay Rays, sweeping their AL East rivals in dramatic fashion.
After Ryan Dempster and Jeremy Hellickson both turned in brilliant performances on the mound, the relievers were the ones that made things interesting. Andrew Bailey came into the game in the ninth inning and with a one-run lead, but was unable to shut the door, allowing Desmond Jennings to score the game-tying run on a Ben Zobrist double.
Then, in the bottom of the ninth, Joel Peralta was forced to wait a few minutes while his catcher, Jose Molina, needed to fix his mask, and Mike Napoli took advantage of it. Napoli smacked a 2-2 splitter off of the Green Monster that allowed Dustin Pedroia to come around to score the game-winning run.
Jarrod Saltalamacchia and Evan Longoria both homered in the Patriot's Day showdown.
Both teams have Tuesday off and will continue play on Wednesday, with Boston heading to face the Cleveland Indians while the Rays travel to Baltimore to take on the Orioles.
Final: Boston 3, Tampa Bay 2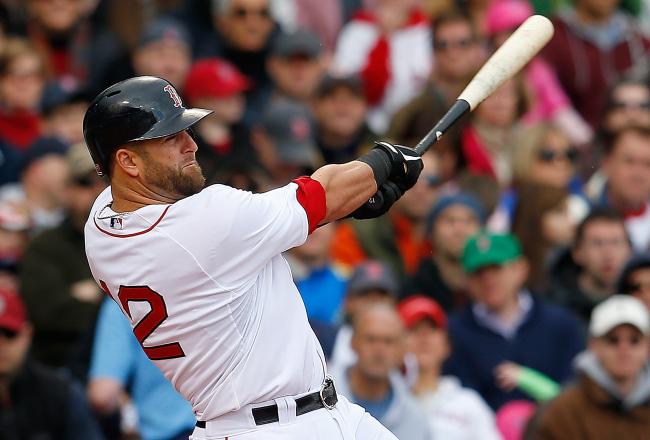 Victorino lines a ball to left field near the Green Monster that Joyce makes an interesting approach toward. It wasn't pretty, but he made the catch for the first out of the frame. It would've easily been a double had Joyce missed it.
Pedroia wins a battle against Peralta to draw a walk. Maddon wasn't happy about the ball-four call, but it hasn't really been called all day. It was high and inside. There's one down and Napoli is coming up.
Peralta seems concerned with Pedroia at first base and it's affecting his control when throwing to Napoli. He throws two strikes, but then has to wait a bit as Molina's mask broke on a foul tip by Napoli. While the Rays try to either find Molina another mask to or try to fix the one that broke, Peralta is throwing within the infield. Molina comes back with a non-hockey mask.
Alright, 2-2 to Napoli.
Napoli knocks the 2-2 pitch off the Green Monster in left field. Pedroia scurries around the bases and comes home to win the game for the Red Sox, 3-2!
Final: Boston 3, Tampa Bay 2
Pitching Change: Joel Peralta replaces Jake McGee
Tampa Bay's setup man, Peralta, has pitched well this season. The Rays will hold off on putting Fernando Rodney in for now.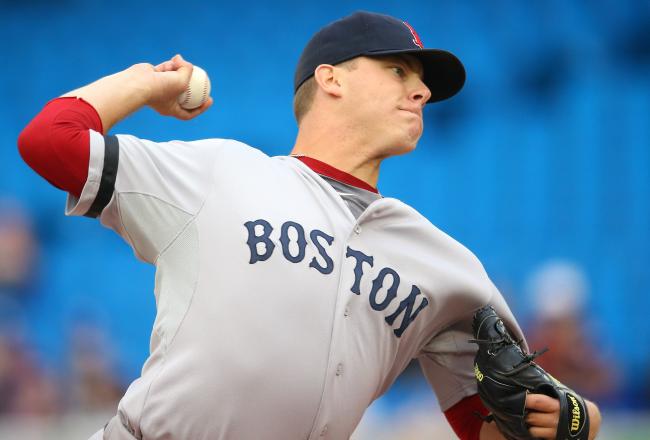 Jennings hits a leadoff single to left field off of a Bailey. He represents the tying run. With Zobrist up, Jennings steals second base with ease and the Rays now have the tying run in scoring position. Another bad throw from Saltalamacchia. The ball skipped away, but Jennings didn't know where it was so he couldn't advance to third.
Zobrist hits a ball to left field that Bradley can't make the diving catch on. Jennings comes around from second base and since the throw went home, Zobrist is on second base. That's the first blown save for Bailey on the season. Tampa Bay has a man on second with no one out and Longoria coming up.
Warming Up: Fernando Rodney (TB)
Longoria goes around on a high 3-2 pitch and Bailey gets his first out of the ninth. Bailey strikes out Joyce on a nasty cutter. There's now two down with Zobrist still on second base, representing the go-ahead run. Roberts flies out to Pedroia to end the inning, but the Rays tie the game.
Bottom 9: Tampa Bay 2, Boston 2
Pitching Change: Andrew Bailey replaces Koji Uehara
Uehara comes out after one inning of work, holding the Rays scoreless in the eighth. Bailey, who has taken over the closer duties since Hanrahan is injured, has pitched well all season long. He'll face the top of the Tampa Bay lineup.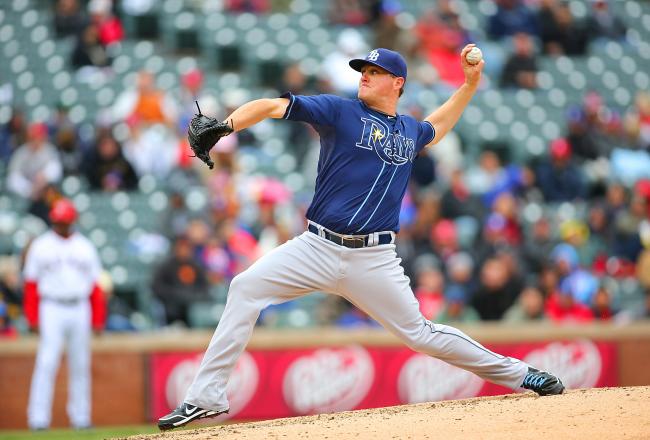 Warming Up: Andrew Bailey (BOS)
Defensive Change: Jose Molina replaces Sam Fuld
Drew with a good at-bat against McGee, working the count full, but McGee strikes him out on a fastball on the outside corner. Gomes, who has been horrible today at the plate, draws a one-out walk.
Warming Up: Joel Peralta (TB)
McGee hasn't looked so good since striking out Drew. Pitching coach Jim Hickey comes out to talk after he falls behind Bradley, 2-1. He battles back, though, and Bradley strikes out on a fastball down the middle for the second out. Ellsbury pops out to Longoria at third for the third out.
Top 9: Boston 2, Tampa Bay 1
Pitching Change: Jake McGee replaces Jeremy Hellickson
Hellickson pitched very well today, but leaves the game with his team trailing 2-1. It's unfortunate that he's ineligible to pick up a W.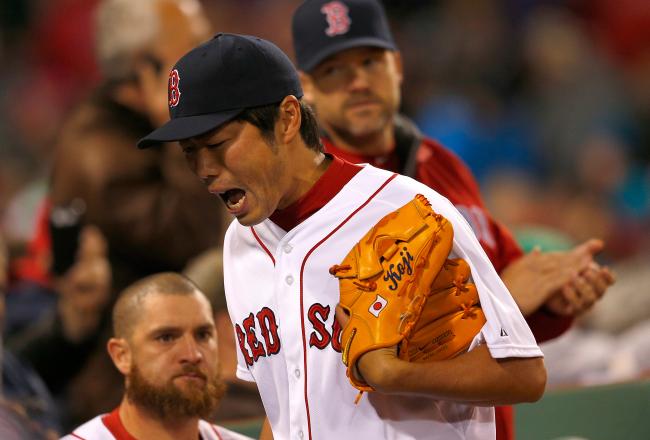 Escobar crushes a fastball to deep center field, but it falls short of the wall and Ellsbury makes the catch.
Pinch Hitter: Sam Fuld replaces Jose Lobaton
Fuld hits a ground ball to Napoli at first, who makes a perfect flip to Uehara at first. Uehara strikes Johnson out to end the top of the eighth. Another good appearance from the right-hander.
Bottom 8: Boston 2, Tampa Bay 1
Pitching Change: Koji Uehara replaces Ryan Dempster
Dempster pitched beautifully today for Boston, tossing seven strong innings while striking out 10.
Dempster & Buchholz are 1st Red Sox starters to go back-to-back with 10+ K since Pedro & Nomo in 2001

— Jeremy Lundblad (@JLundbladESPN) April 15, 2013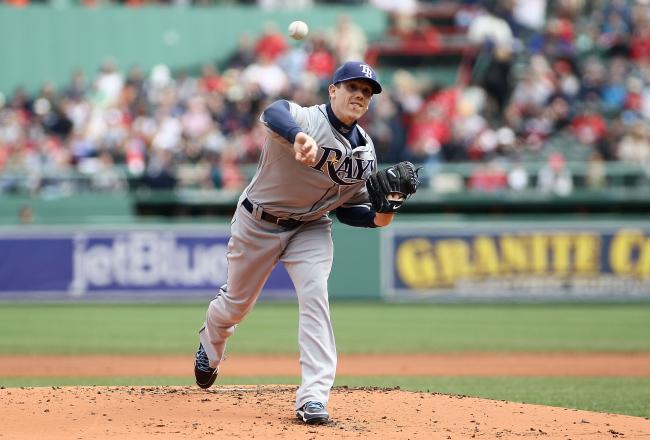 Napoli hits a high fly ball in the middle of the infield, which Roberts catches with ease.
Warming Up: Koji Uehara (BOS)
Saltalamacchia draws a one-out walk from Hellickson, who is approaching 100 pitches. After working the count full, Middlebrooks strikes out and Saltalamacchia gets caught stealing.
Hellickson is probably done now that he's surpassed the 100-pitch mark. A pretty good outing for him.
Top 8: Boston 2, Tampa Bay 1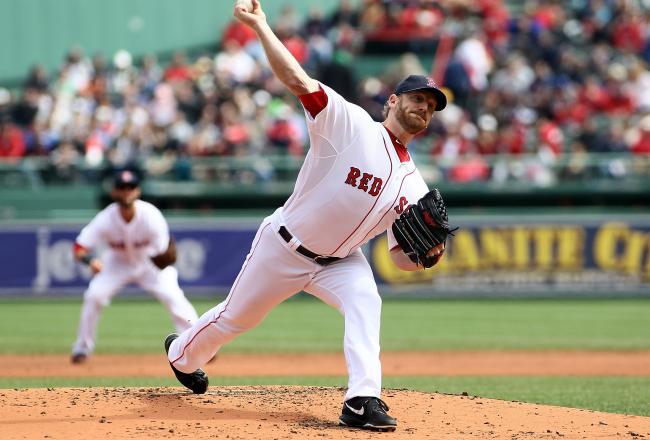 Bad call at first base again as replay showed Loney's foot off the bag on the third out committed by Pedroia. Probably a make-up call for the botched call on the Longoria play.
Warming Up: Junichi Tazawa (BOS)
Joyce strikes out to start the seventh, the ninth K of the day from Dempster. Roberts hits a deep fly ball to right field, but Victorino gets under it and there are two down. Pitch No. 101 from Dempster is strike three called to Loney, his 10th strikeout.
Dempster is likely done after pitching seven innings of great baseball.
Bottom 7: Boston 2, Tampa Bay 1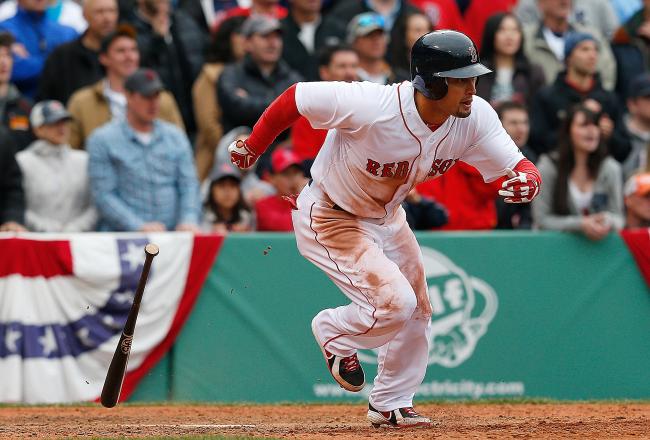 Replay shows that Longoria actually beat the throw from Drew, but the umprire still ruled him out. Tough break for the Rays, who would've tied the game had Longoria been safe.
Ellsbury flies out to Jennings in center for the first out of the bottom of the sixth. Victorino flies out to Zobrist and there are two quick outs. Pedroia hits a grounder to Longoria, who makes a diving stop and then throws a strike to first to nail Pedroia.
Hellickson really needed a quick inning there and he got one. He's thrown 90 pitches through six innings.
Top 7: Boston 2, Tampa Bay 1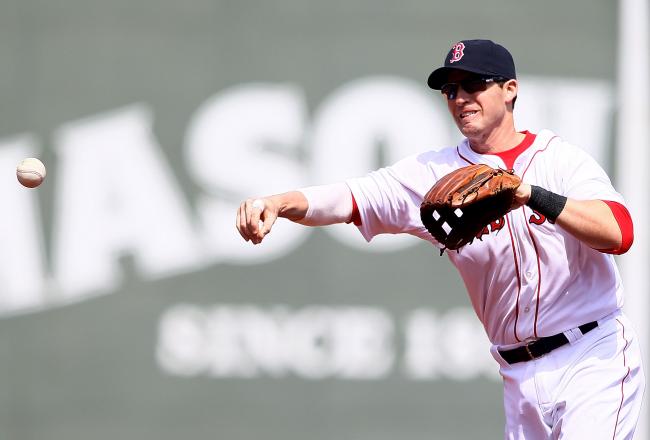 Lobaton swings at the first pitch and Ellsbury makes the play in center for the first out of the sixth inning. Dempster walks Johnson for the first free pass given out by either pitcher today. Jennings strikes out, but Johnson steals second on the full-count pitch. Not a great throw from Saltalamacchia.
On 2-2 pitch to Zobrist, Dempster throws a splitter right into the ground that Saltalamacchia can't handle. Johnson, the potential tying run, moves to third on the wild pitch. Dempster now having some control issues as he walks Zobrist, his second of the inning and second on the afternoon.
Now he gets to face Longoria, who hit a bomb his last time up. Dempster gets ahead of Longoria, but doesn't get some close calls on the inside corner. Longoria hits a grounder up the middle that Drew dives to catch. He gets up a throws a dart to first to just nail Longoria at first. A fantastic play by Drew.
Dempster had his issues this inning and probably only has an inning left before the Red Sox go to the bullpen.
Bottom 6: Boston 2, Tampa Bay 1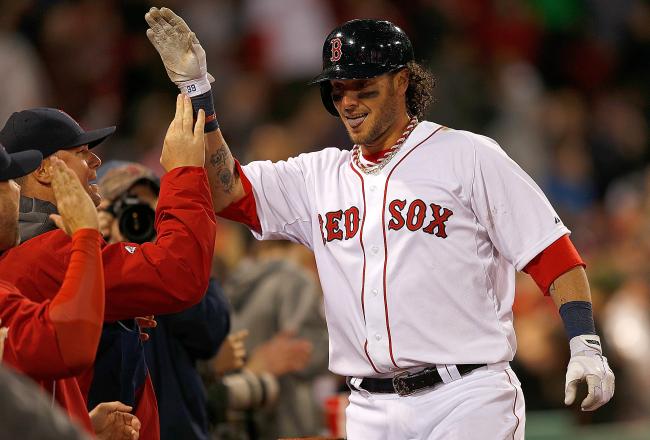 Saltalamacchia connects on a high fastball, driving it into the bullpen in right field for a solo home run. Hellickson left that pitch much too high despite the fact that Saltalamacchia usually swings and misses on similar pitches.
Middlebrooks strikes out on a low changeup and Hellickson gets his seventh strikeout of the game. Drew bangs a double off the wall in left and the Red Sox have a man in scoring position with one down. Nice job by Drew taking the fastball to the opposite field. The ball was just out of the reach of a leaping Joyce.
Hellickson is owning Gomes with the curveball. He swung and missed on three curveballs, striking out for the second time today. Bradley hits a shallow fly ball to center field that Jennings handles for the third out.
Not a great inning from Hellickson, but he's still pitched well overall. He's at 81 pitches through five innings.
Top 6: Boston 2, Tampa Bay 1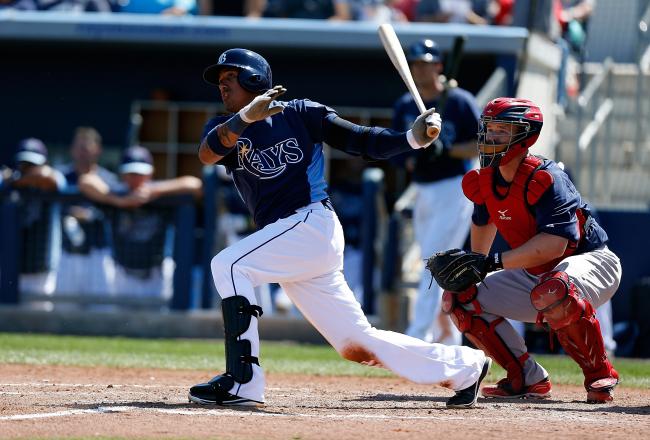 Roberts strikes out for the second time today, the sixth K for Dempster thus far. Loney can't handle an inside slider from Dempster and he strikes out. With that, Dempster now has at least seven strikeouts in each of his first three starts with the Red Sox.
After falling behind 3-0 to Escobar, Dempster fires a borderline strike and then gets him to fly out to Ellsbury in center field.
Desmpter has been just fine since Longoria hit that bomb off of him. He's allowed just a pair of hits today and has seven strikeouts through five innings. He's at 64 pitches.
Bottom 5: Tampa Bay 1, Boston 1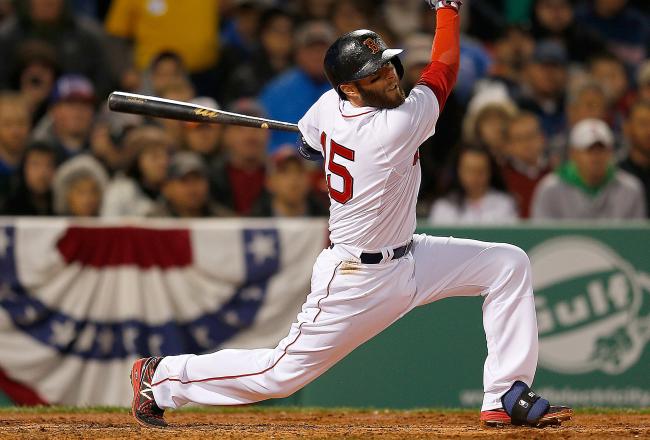 Victorino fouls a couple of pitches off before flying out to Jennings in center. Pedroia grounds out to Roberts at second and there are two down. Napoli strikes out looking and the side is quickly retired.
Hellickson is really in a groove now. His curveball has been very impressive the last couple of innings as he's locating it for strikes, but not where the Red Sox hitters can make solid contact. Many are just watching it go right by them.
Top 5: Tampa Bay 1, Boston 1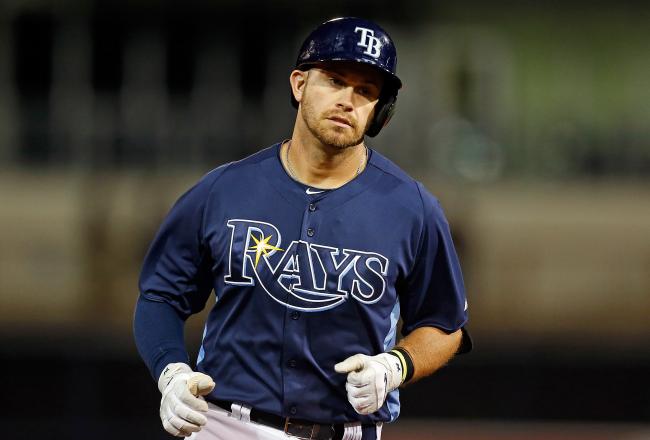 Jennings flies out to Victorino in right field to start the fourth. Zobrist hits a grounder up the middle, but Drew was there to make the play and throw a strike to Napoli at first for the second out.
Longoria smashes a fastball right down the middle over the Green Monster in left and the game is tied, 1-1. The ball got absolutely crushed and was a no-doubter. Joyce flies out to Drew in shallow left and the side is retired.
Dempster gives up the second Rays hit of the morning/afternoon and it's a big one. He's still pitching well, though. He just missed his spot one time and the best hitter in the Tampa Bay lineup made him pay for it. He has 45 pitches through four innings of work.
Bottom 4: Tampa Bay 1, Boston 1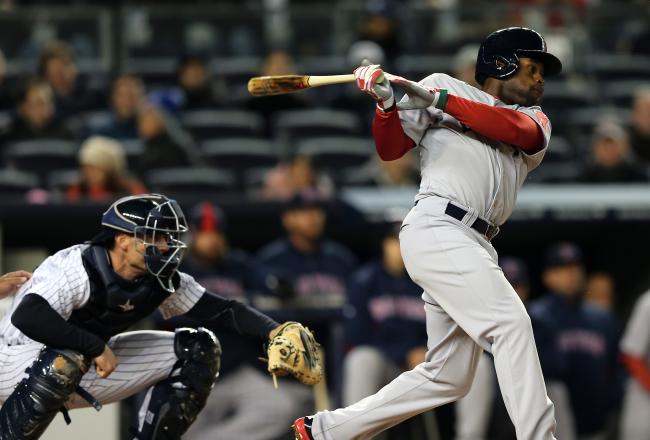 Gomes strikes out on a low curveball and Hellickson continues to look good after allowing the Ellsbury triple in the first inning. Bradley strikes out and there are two quick outs for the right-hander. Hellickson also has five strikeouts now.
Ellsbury flies out to Longoria in foul territory and through three innings, Boston holds a 1-0 lead.
Hellickson has really settled into a groove the last two innings. He hasn't allowed a baserunner since Ellsbury tripled to start the bottom of the first. He's up to 46 pitches.
Top 4: Boston 1, Tampa Bay 0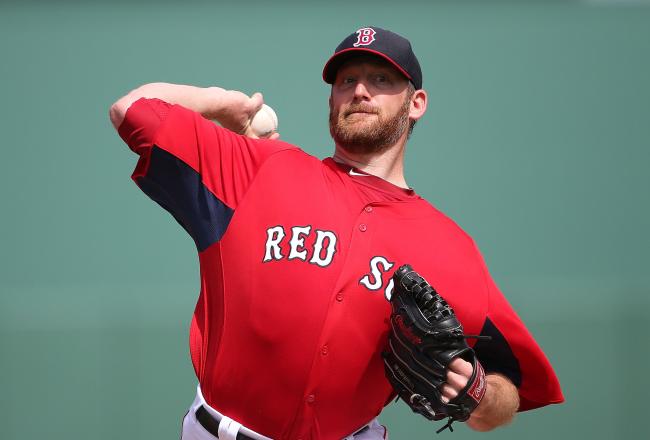 Escobar grounds out to Drew at short and the first out of the third is recorded. Lobaton strikes out on a slider right down the middle and there are two down. That's the fourth K of the day for Dempster.
Johnson strikes out looking at another pitch right down the middle and Dempster has thrown three shutout innings. Dempster finishes the third with 35 total pitches, which again is also the same amount that Hellickson has through two. He's throwing all of his pitches well and for strikes. Tampa Bay has looked dumbfounded with some of them today.
Bottom 3: Boston 1, Tampa Bay 0
Hellickson strikes Saltalamacchia out on a fastball for the first out of the frame. Middlebrooks swings at the first pitch he sees and drives it to right-center field, but Zobrist is there to make the play and record out No. 2. Drew looks at strike three, right down the middle of the plate from Hellickson and the side is retired.
Hellickson looked much better in the second than he did in the first. He was locating his pitches better and got out of the inning after throwing 13 pitches. He has 35 through two.
Top 3: Boston 1, Tampa Bay 0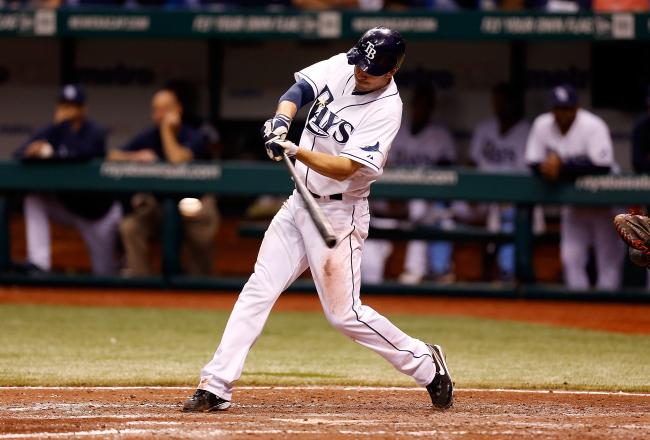 Joyce lays down a great bunt to third base while the Red Sox had the shift on shaded to the right. Drew corrals the bunt bid, but Joyce easily beats the wide throw. Dempster gets Roberts out swinging for his third strikeout of the morning and the first out of the second.
Loney grounds into a tailor-made double play, Pedroia to Drew to Napoli, and the inning is over.
Dempster with another good inning. He's thrown 22 pitches through the first two innings, which is just as many as Hellickson had to throw in the first.
Bottom 2: Boston 1, Tampa Bay 0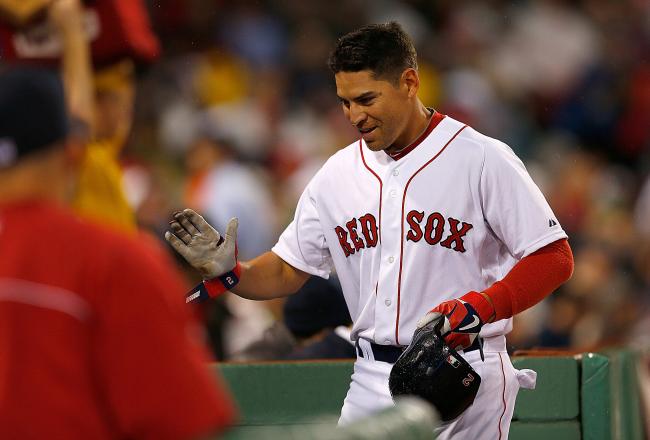 Ellsbury battles off pitch after pitch from Hellickson before connecting on a belt-high fastball that he hits to the wall in center. Jennings doesn't play it well and Ellsbury leads off the inning with a triple. Victorino turns a poor at-bat into a productive one, grounding out to second while Ellsbury comes in to score.
Pedroia grounds out to Longoria at third for the inning's second out. Hellickson strikes Napoli out and the side is retired.
Hellickson threw a decent inning, but the Red Sox made him throw 22 pitches. He was a little all over the place and didn't get a couple of close calls. He only gave up the one run, though.
Top 2: Boston 1, Tampa 0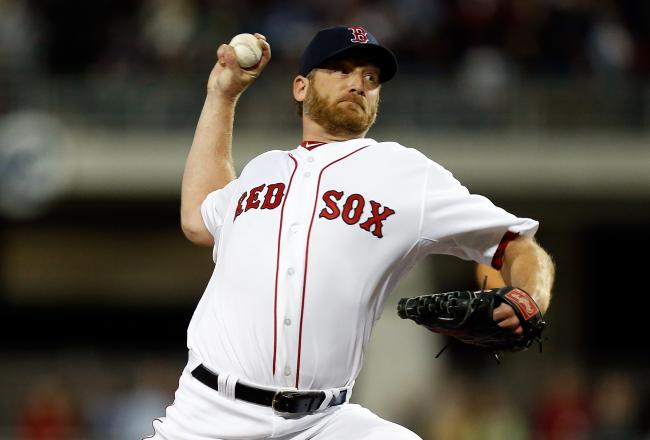 Dempster blows a fastball past Jennings for the game's first out. A nasty slider has Zobrist swinging and missing for Dempster's second strikeout in as many batters. Longoria hits a routine grounder to Middlebrooks at third and the side is retired.
Dempster with a very good start, throwing 12 pitches and nine of them for strikes. He's been striking out a bunch of batters so far this season and with a pair in the first inning, it appears that trend will continue today.
Bottom 1: Tampa Bay 0, Boston 0
Ryan Dempster fires a ball to Desmond Jennings and we're underway from Fenway Park.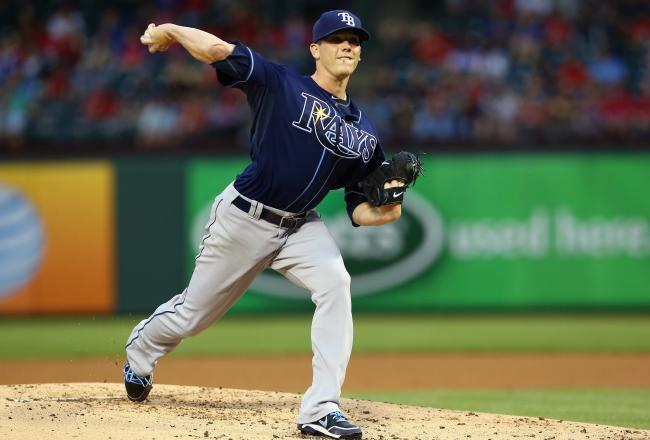 Apparently Jeremy Hellickson will be starting today instead of Roberto Hernandez, who Tampa Bay originally had slated to pitch. Hellickson is 0-1 on the year with 6.35 ERA. He's 3-2 with a 4.47 ERA in his career against Boston and 2-0 with a 4.97 ERA in five games at Fenway Park.
Some matchups to watch with Hellickson on the mound...
vs. Ellsbury (3-for-17, 1 BB, 3 K)
vs. Pedroia (5-for-22, 1 HR, 2 BB, 3 K)
vs. Saltalamacchia (5-for-18, 1 HR, 3 BB, 4 K)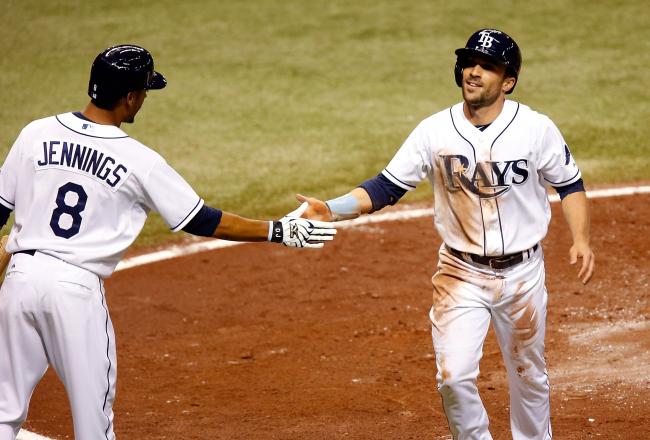 The Rays, on the other hand, could tie a team record today if they fail to hit a home run. As Tampa Bay Times beat writer Marc Topkin points out, the Rays have gone the last six games, 208 at-bats and 905 pitches since their last home run. The current record is seven games without a long ball.
This article is
What is the duplicate article?
Why is this article offensive?
Where is this article plagiarized from?
Why is this article poorly edited?

Boston Red Sox: Like this team?