TUF 17 Finale Results: Questions Heading into UFC on Fox 7 Henderson vs Melendez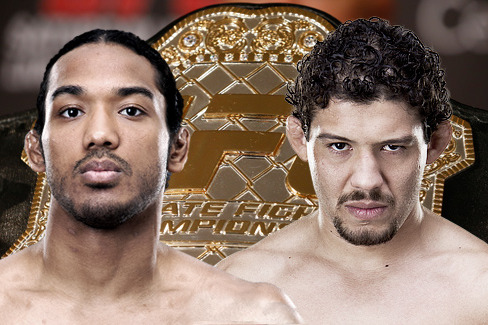 The Ultimate Fighter 17 Finale fight card is a wrap. The full results can be found below:
Urijah Faber defeats Scott Jorgensen via submission at 3:16 of Round Four
Kelvin Gastelum defeats Uriah Hall via split decision (29-28, 28-28, 29-28)
Cat Zingano defeats Miesha Tate via TKO at 2:55 of Round Three
Travis Browne defeats Gabriel Gonzaga via knockout at 1:11 of Round One
Robert McDaniel defeats Gilbert Smith via submission at 2:49 of Round Three
Josh Samman defeats Kevin Casey via TKO at 2:17 of Round Two
Luke Barnatt defeats Collin Hart via unanimous decision (29-28, 29-28, 30-27)
Dylan Andrews defeats Jimmy Quinlan via TKO at 3:22 of Round One
Clint Hester defeats Bristol Marunde via TKO at 3:53 of Round Three
Cole Miller defeats Bart Palaszewski via submission at 4:23 of Round One
Maximo Blanco defeats Sam Sicilia via unanimous decision (29-28 x 3)
Daniel Pineda defeats Justin Lawrence via submission at 1:35 of Round One.
Next week, the UFC will head north to San Jose, Calf. for UFC on Fox 7, a card that will feature a title unification bout as its main event. In the headlining fight, UFC lightweight champion Benson Henderson will meet Strikeforce lightweight champion Gilbert Melendez.
Who will walk away with the title in San Jose is just one of the many questions facing the UFC heading into next week's event.
Begin Slideshow

»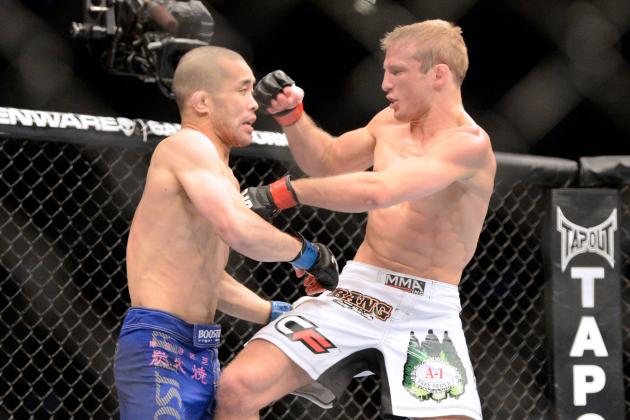 Eric Bolte-USA TODAY Sports

Since losing to John Dodson in the finals of season 14 of The Ultimate Fighter, T.J. Dillashaw has put together a nice little winning streak, earning three straight victories. He's even found his name on some of the UFC ranking ballots as a top-10 fighter in the bantamweight division—not enough to warrant getting his name on the overall rankings, but his work has not gone unnoticed.
Dillashaw's last victory was an impressive, early second-round knockout of Issei Tamura at UFC 158. Yes, UFC 158, the fight card that took place less than one month ago in Montreal.
Dillashaw will face Hugo Viana (7-0) on the UFC on Fox 7 fight card, stepping in on late notice to replace an injured Francisco Rivera.
This is not the first time Dillashaw has taken a UFC fight on short notice. In fact. Dillashaw's bout against Tamura was taken on about the same amount of notice time he took the Fox fight.
It will be interesting to see how the quick turnaround affects Dillashaw's performance in San Jose on April 20.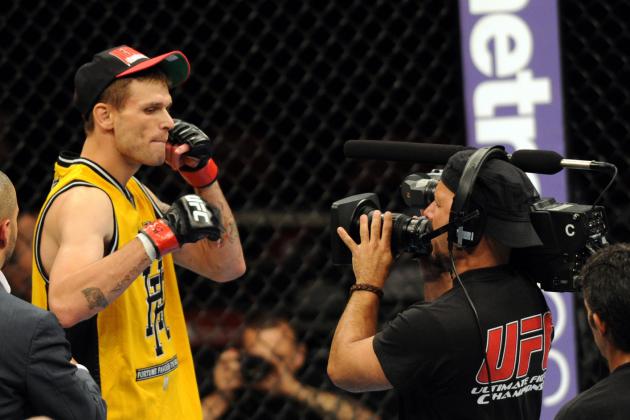 Steve Mitchell-USA TODAY Sports

If you believe in second (or more) chances in life, than Tim Means is a fighter you'll want to know about.
Means, by his own admission was "a pretty crappy person" in the past. To read his tale, that seems like it may be a bit of an understatement. Some less-than-forgiving folks may have chosen much stronger adjectives to describe Means' past, and they have every right to those feelings. After all, checkered doesn't begin to describe the old Means.
Means has seemingly cleaned up his act and is making a name for himself in the UFC, earning victories in each of his two bouts with the promotion. In all, Means is on a 15-1-1 run since returning to the fight game after a prison stint.
Means will meet Jorge Masvidal in San Jose in what will undoubtedly be the biggest fight of his career.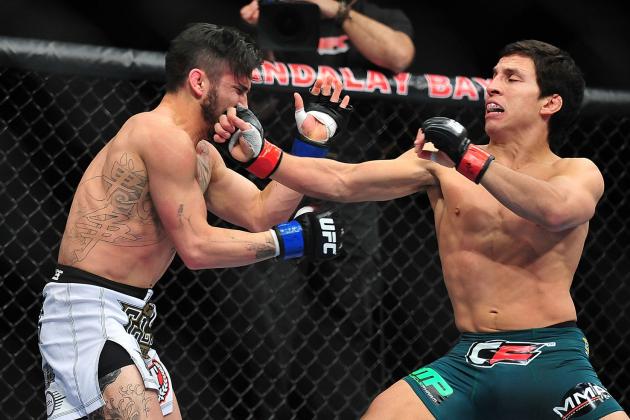 Gary A. Vasquez-USA TODAY Sports

If you want some insight into how unforgiving the world of mixed martial arts is, look no further than Joseph Benavidez.
On September 22, 2012, Benavidez was fighting in the co-main event of UFC 152, facing flyweight champion Demetrious Johnson. Come April 20, he will be fighting on the lower portion of the preliminary card, facing Darren Uyenoyama.
Benavidez lost that bout to Johnson via split decision, but he would bounce back in his next fight, earning a unanimous decision over Ian McCall at UFC 156.
Oddly, the UFC's rankings have Benavidez as the No. 1 flyweight behind Johnson, so the placement of this bout is somewhat puzzling. I'd watch this one as a potential Fight of the Night. You have to think that Benavidez sees the low placement on the card as a bit of an insult for a fighter ranked at the top of the division.
Then again, maybe that was the idea behind the booking? A little nudge, a little insult as motivation...or am I reading way too much into this?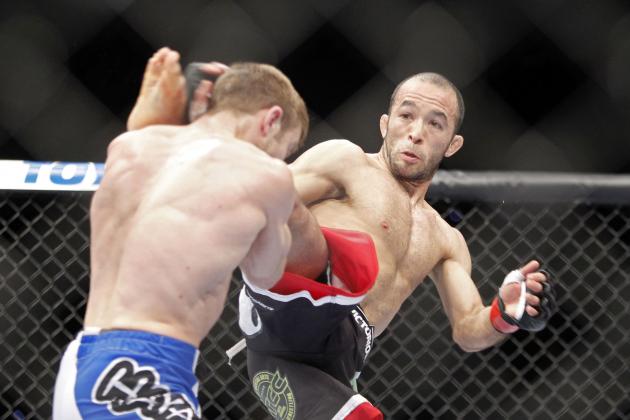 Bruce Kluckhohn-USA TODAY Sports

Darren Uyenoyama has a golden opportunity staring him directly in the face in Seattle. Uyenoyama, the No. 8-ranked fighter in the UFC's flyweight division, will be facing the No. 1-ranked fighter in Joseph Benavidez on the April 20 card. A win in this fight and he will launch himself into consideration for a shot at UFC champion Demetrious Johnson.
No doubt this is the biggest test of Uyenoyama's 8-3 career. Will he make the most of it?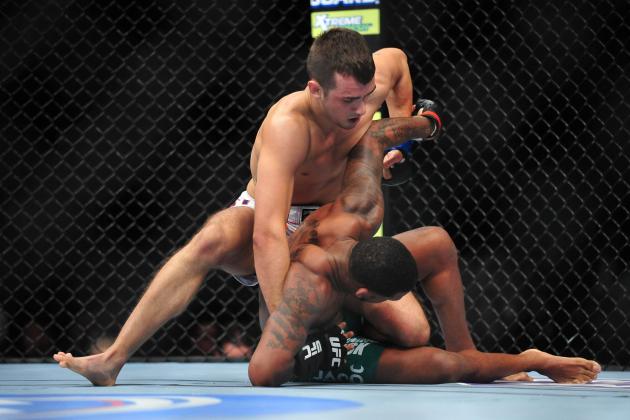 Gary A. Vasquez-USA TODAY Sports

Myles Jury was one fight into his UFC career when he faced Michael Johnson at UFC 155. Johnson was on a three-fight winning streak and looked like he was developing into a force to be reckoned with in the lightweight division.
Fifteen minutes after the fight began, Jury's record stood at 2-0 in the UFC and 11-0 overall, as he earned the unanimous decision win over Johnson. As a result, doubts had developed about the upside of Johnson.
Jury will face Ramsey Nijem at UFC on Fox 7. Nijem is on a three-fight winning streak since losing to Tony Ferguson in the finale of season 13 of The Ultimate Fighter.
Barring the dreaded draw, someone's winning streak is coming to an end on April 20.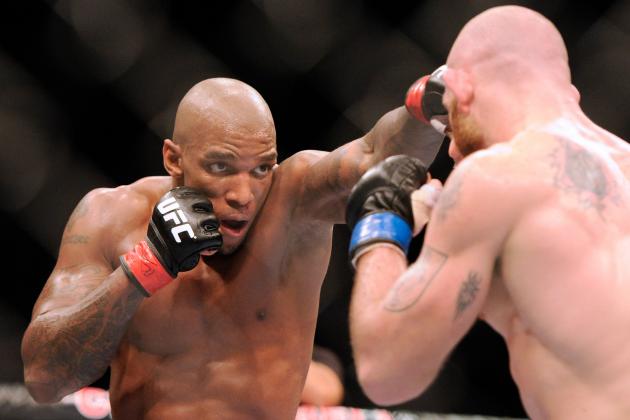 Eric Bolte-USA TODAY Sports

You can be forgiven if you look at Francis Carmont and think "teammate of Georges St-Pierre and Rory MacDonald." After all, Carmont does fight out of the famed Tristar Gym in Montreal and those two welterweights do cast a pretty large shadow, a shadow that Carmont may be moving out of.
Carmont is 4-0 in the UFC (20-7 overall) with two submissions and two decisions to his name. The next test for Carmont will be to get past Lorenz Larkin in San Jose.
I'm not saying that win will move him up to the level of his aforementioned teammates, but it will be another step in the right direction for Carmont.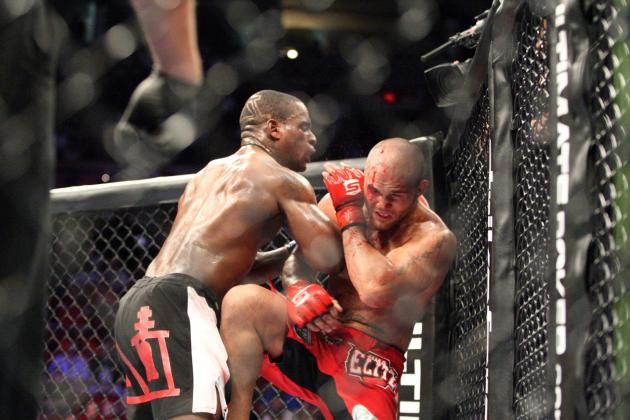 Scott Olmos-USA TODAY Sports

Lorenz Larkin's run with Strikeforce did not end the way he would have liked. After an impressive debut at middleweight, where he defeated Robbie Lawler by unanimous decision, he was in line to face the Strikeforce middleweight champion Luke Rockhold, twice.
Both of those fights were scrapped due to Rockhold injuries. The second cancellation left the Larkin camp wondering if Rockhold bowed out in order to transfer to the UFC as the Strikeforce champion. Rockhold dismissed the comments, referring to a fight with Larkin as "easy money."
The frustration was understandable from Larkin, a fighter that had gone 4-0-1 in his run with Strikeforce.
Larkin will make his UFC debut on the Fox 7 card and he won't be fighting for a title. He won't even be fighting on the main card. Larkin will be debuting on the FX portion of the card against Francis Carmont.
The past may have been unkind to Larkin, but a lot of fans and pundits are high on Carmont as a prospect. A win in San Jose, and it will open doors for Larkin in the UFC's middleweight division.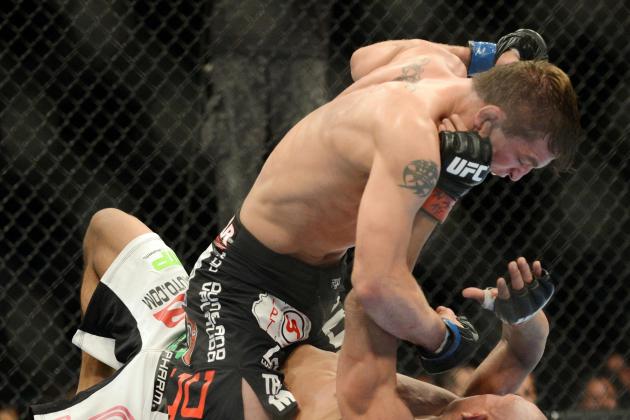 Ron Chenoy-USA TODAY Sports

Darren Elkins was 1-1 in the UFC and coming off a first-round submission loss to Charles Oliveira when he suffered an injury that knocked him out of a scheduled bout against Edson Barboza.
During his lengthy rehab, Elkins made the decision to drop to featherweight, telling MMAFighting at the time, "I've been wanting to make (the drop) for a while. (At my size), 155 isn't much of a cut. I just feel like it's a better weight for me."
A better weight it has been for Elkins. Since making the drop, he has gone 5-0 with four decisions and one TKO. While Elkins may not show up on the UFC's featherweight rankings, he has obviously caught the eye of matchmakers Joe Silva and Sean Shelby, as they have matched him up against No. 1-ranked Chad Mendes in San Jose.
The featherweight division has seen a number of contenders come into the picture as of late, and if Elkins wants to get his name in that mix, he needs a win over Mendes.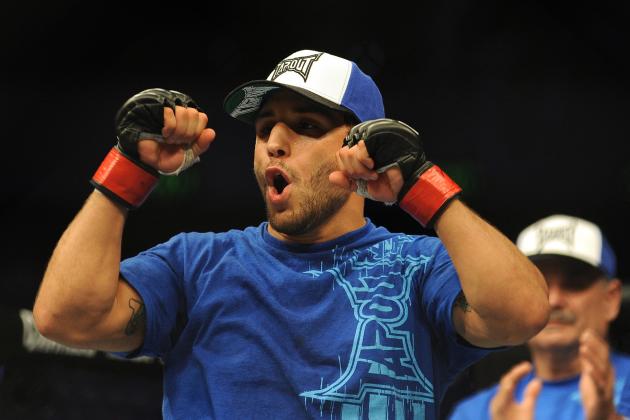 Matt Roberts/Getty Images

Chad Mendes is in a weird spot coming into UFC on Fox 7. Pretty much everyone can agree that he is the No. 1 contender in the UFC's featherweight division, but he's not that far removed from being destroyed in the first round by UFC champion Jose Aldo, and there are a number of high-profile fighters that will get a shot at Aldo before Mendes gets another sniff at the title.
Mendes finds himself facing a fighter in Darren Elkins that is outside the top 10 and on a nice run of five straight wins. Unlike Mendes' last opponent, Yaotzin Meza, Elkins is not being thrown into the cage as a sacrificial lamb.
Elkins will be looking to capitalize on Mendes' standing in the division knowing a win over the No. 1-ranked fighter in the division puts him right in the mix. Mendes is in a must-win situation in Seattle if he hopes to keep his UFC title dreams alive.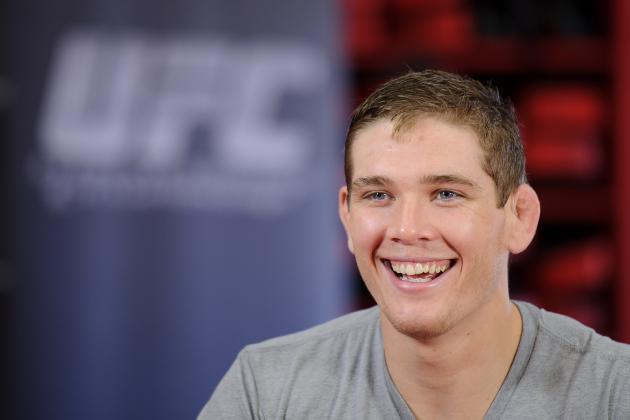 Derek Leung/Getty Images

Glance at Jordan Mein's 27-8 record as a professional MMA fighter and you'd be forgiven for thinking that the welterweight is a long-in-the-tooth veteran playing out the string in the UFC. The reality is that Mein is a mere 23 years old and is looking to make a run to the top of the UFC's welterweight division.
Mein made his UFC promotional debut at UFC 158, announcing his presence by doing something that no one—not Nate Marquardt, not Michael Bisping, not Demian Maia, not Chael Sonnen—had done before: stop Dan Miller before the end of the third round.
Miller may have had six losses going into the bout, but none of them had come from stoppage. Mein changed that with eight seconds left in the first round of the fight, earning a TKO victory.
When Dan Hardy was removed from UFC on Fox 7, the call went out to Mein to step in and face Matt Brown. Mein accepted.
The hype train is out of the station for Mein. If he gets passed Brown, look for that train to pick up a lot of steam.
Kyle Terada-USA TODAY Sports

It's been a few years since Josh Thomson competed in the Octagon, putting together a record of 2-1 back in 2003-04. Thomson will make his return to the UFC on the UFC on Fox 7 card.
Thomson's last bout was a split-decision defeat to Strikeforce lightweight champion Gilbert Melendez. His return to the Octagon will be against highly ranked Nate Diaz.
Thomson is currently unranked in the lightweight division and may be being a bit overlooked in this bout. Thomson gave Melendez a run for his money when they last met and may be the sleeper pick for an upset on the San Jose fight card.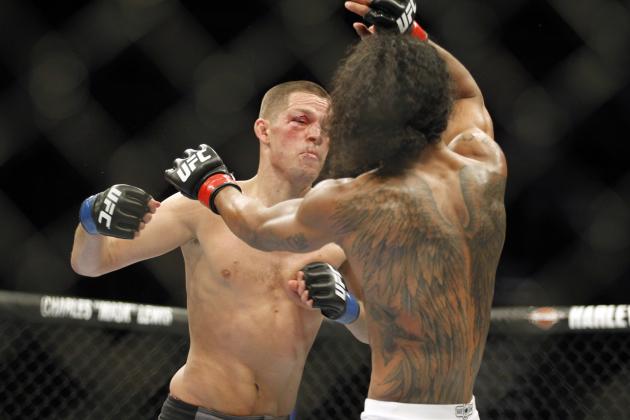 Joe Nicholson-USA TODAY Sports

It was recently announced that Nate Diaz had switched management teams, moving away from Cesar Gracie and joining forces with Mike Kogan. Diaz will continue to utilize Gracie as a trainer.
It's an odd move from Diaz, especially since he and his brother Nick have always been two of the most faithful fighters in mixed martial arts, always at the ready to praise Cesar Gracie Jiu Jitsu for their success inside the Octagon.
The first crack in the Diaz relationship with Gracie seemed to appear when Nick threw the team under the bus following his loss to Georges St-Pierre at UFC 158, saying, "I felt like everyone knew I had it coming (the fight with GSP). Cesar knew I had it coming and as soon as I had it coming, no one came to help me."
With the announcement of a change in management being made so close to the date of Nate's fight against Josh Thomson, one has to wonder if this move is indicative of a larger problem in the camp and if that will affect Nate's performance in San Jose.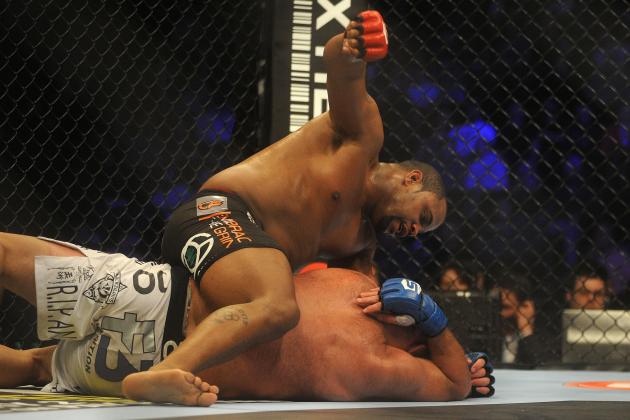 USA TODAY Sports

Daniel Cormier exudes confidence, and why shouldn't he? He's been a success throughout his athletic career. On April 20, he will look to take the next step in that career when he makes his UFC debut against former heavyweight champion Frank Mir.
Cormier has said his plan is to become UFC champion, and the road to that title will run directly through Mir. Cormier is riding an 11-fight winning streak into his bout with Mir, including wins over Antonio Silva and another former UFC champ, Josh Barnett. Another aspect of Cormier's resume is the fact that he trains with current UFC heavyweight champion Cain Velasquez out of AKA.
Velasquez has said he will never fight anyone tougher than Cormier and that he has no doubt that Cormier will be "a champion wherever he goes."
Expectations are very high for Cormier; will he be able to add another impressive note to his athletic resume during his time with the UFC?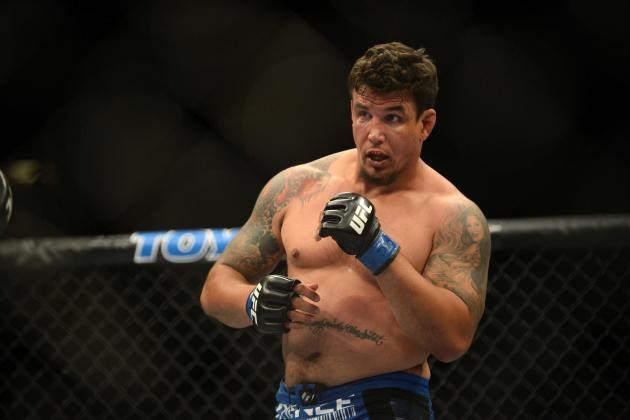 Ron Chenoy-USA TODAY Sports

Most fans and pundits believe that Daniel Cormier is destined to do great things in the UFC. His opponent on the UFC on Fox 7 fight card, Frank Mir, doesn't share those beliefs.
Leading up to the fight, Mir has had a lot to say on the subject of Cormier, but one of the most notable statements was his feeling that maybe Cormier is overconfident: "I think he has kind of a false sense of security [after] fighting against Josh [Barnett]. You know, he feels like, 'Well, Josh caught me and couldn't finish me.' Barnett's a great grappler, but he's not known for smashing people's limbs off. If I catch something, and it's close, I put people in the hospital. How many bones has Barnett broken? How many people has he put in the hospital?"
Mir took things one step further, saying, "If he makes a mistake, then I'll take one of his limbs home."
That's a bold statement from Mir, but it's one that can be backed up by past performances. Will he be able to add another damaged limb to his growing collection when he faces Cormier?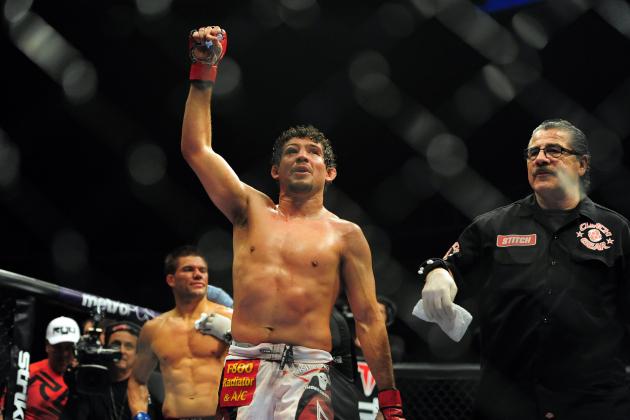 Kyle Terada-USA TODAY Sports

Gilbert Melendez has long been recognized as one of the top lightweights in mixed martial arts. The only problem with that billing is that he has spent his entire 23-fight career (21-2) outside of the UFC. He'll get his chance to prove his doubters wrong when he makes his UFC debut on April 20.
Melendez will be thrown directly into the fire when he steps into the Octagon for the first time, facing UFC champion Benson Henderson, who is riding a six-fight winning streak, including two defenses of the UFC crown.
Speaking of the fight, Melendez said, "A lot of time has been spent trying to prove I'm number one and this is my opportunity and I plan on taking advantage of it."
The fight is a double-edged sword for Melendez: win and he becomes UFC champion, justifying the No. 1 ranking; lose via anything other than a controversial decision, and there's little doubt that he'll find countless detractors that will come out of the woodwork to claim he was always an overrated fighter competing outside the UFC.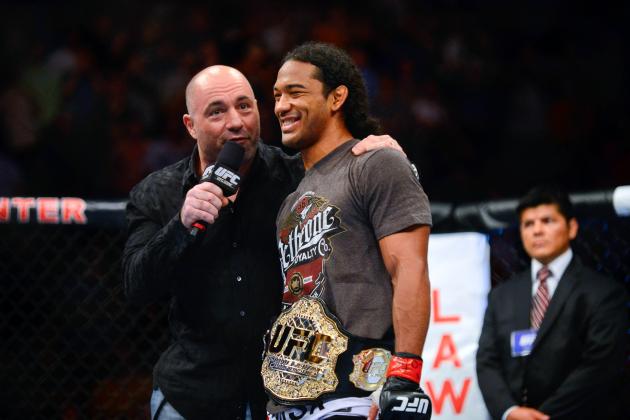 Ron Chenoy-USA TODAY Sports

Benson Henderson is on a roll, racking up six wins since he lost his WEC lightweight title to Anthony Pettis in December 2010.
Henderson captured the UFC lightweight championship by defeating Frankie Edgar in February 2012 and then topped Edgar again in the rematch. He has defended the title one additional time, running over Nate Diaz en route to a unanimous decision in December 2012.
Henderson is supremely confident and has said his long-term goal is to match the record number of title defenses that UFC middleweight champion Anderson Silva holds. Silva currently has 10 consecutive title defenses to his name.
Henderson's next step toward that goal will be a victory over Gilbert Melendez on April 20. Does he have what it takes to defeat the Strikeforce champ, let alone match the record of the man that is widely thought of as the greatest mixed martial artist ever?