Complete Guide to Milwaukee Bucks Postseason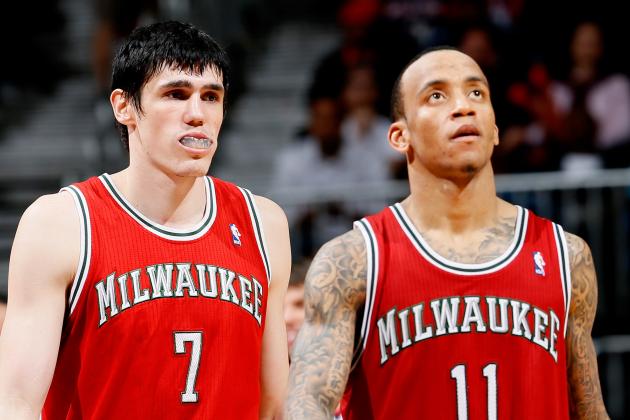 Kevin C. Cox/Getty Images
Milwaukee will be making its first postseason appearance since 2009-10.
Like a desert wanderer desperately in need of water, the Milwaukee Bucks continue to crawl towards their first playoff appearance since the 2009-10 season. With their finish down the stretch, it's hard to imagine them making much noise this postseason.
And with their first-round opponent being the defending champion Miami Heat, the thought of making any noise becomes even more grim.
Nonetheless, the Bucks find themselves in the mix.
And if you're in, you have a chance. Anything can happen in the crazy world of sports.
For the eternal optimist, Milwaukee has an outside chance of pulling off what would be one of the greatest upsets ever.
Furthermore, the postseason can help answer any lingering questions that will need to be addressed in the offseason.
Keeping that in mind, it's worth discussing how the Bucks got to the postseason, along with highlighting some key points of their first-round matchup against the Heat and their playoff outlook in general.
*All stats provided are courtesy of Basketball Reference*
Begin Slideshow

»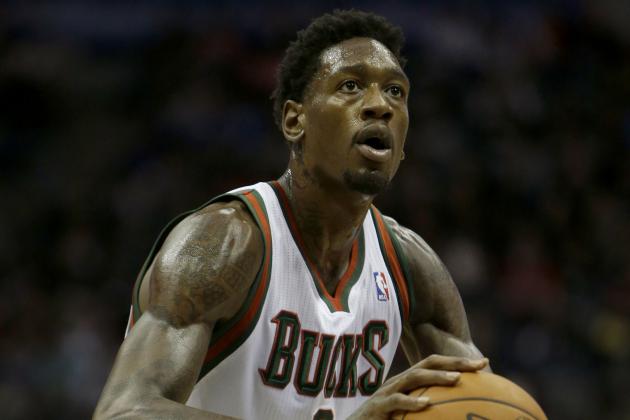 Mike McGinnis/Getty Images
The emergence of Larry Sanders on defense has been a big help.
Coming into the season, expectations for the Bucks were tempered.
Bleacher Report's Zach Buckley predicted the team to finish ninth in the Eastern Conference, and if it weren't for an injury to Andrew Bynum and the overall poor play of the Philadelphia 76ers, he may have been correct.
And while credit certainly has to be given to the Bucks for winning the games that mattered, it's hard to deny the good fortune of which they've been on the receiving end.
Heading into All-Star Weekend, the team had a record of 26-25 and appeared to be headed in the right direction. Since then, however, there's been a major collapse, and they've compiled an 12-19 record.
To say it's been a tale of two halves is an understatement. However, now that they're in, the Bucks can credit their slightly above-average first half for getting them there.
Oddly enough—and even in the midst of a coaching change—it was defense that allowed them to end the first half with a winning record.
Prior to the All-Star break, the Bucks allowed opponents to score 98.5 points per game. While not spectacular defense by any means, it's far better than the 103.5 they've allowed since.
Interestingly enough, the backcourt duo of Monta Ellis and Brandon Jennings produced almost identical numbers—when combined—before and after the season's midway point.
Over the first 51 games, they combined to score 36.9 points, 7.1 rebounds and 11.6 assists per game. In the 29 games they've both played since, their output is 37.6 points, 6.8 rebounds and 14.7 assists per game.
Adding in the fact that the likes of Ersan Ilyasova and Larry Sanders are producing much better from a numbers standpoint since All-Star Weekend, and that team scoring is up, defense—as odd as it might sound for this team—was key in making the postseason.
It was a strange journey, but just being in the playoffs again has to feel good.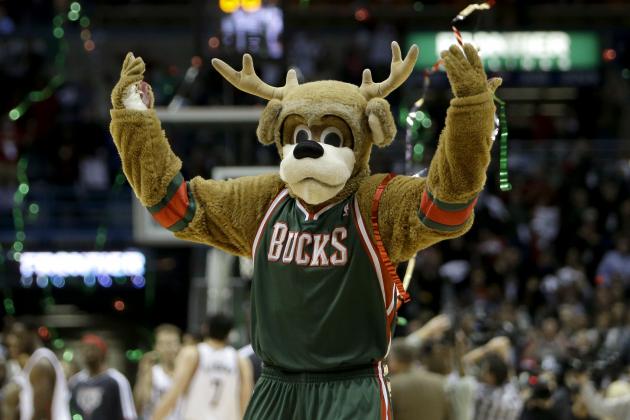 Mike McGinnis/Getty Images
Will Bango have much to cheer about this postseason?
Considering how the Bucks have played down the stretch, and with a final record of 38-44, it's hard to have high postseason expectations.
Not to mention they're going toe-to-toe with the defending champions, who appear to be a much stronger team than they were one year ago.
Despite the poor record, returning to the postseason is something that can influence the future success of a team. Simply being one of the eight teams from the Eastern Conference competing for a title is step in the right direction.
For the Bucks, that's especially true, as they have not made the playoffs in three years.
To be perfectly honest and realistic, it's highly unlikely that the Bucks will play in another series this postseason other than their first-round matchup.
And with the way they've been playing, it's hard to predict how they'll compete.
Logic says that the series will go one of two ways, though.
Either the Bucks will come out fighting and give the Heat everything they have, or they'll go down easily in four games. For a team that plays with such inconsistency, it's a toss-up.
With a win on their schedule this season against Miami, don't be too surprised if Milwaukee takes one game at the very least.
According to Gery Woelfel of The Journal Times, Ellis will opt out of his contract in the offseason, making him a free agent.
In 2012, Jennings told ESPN that he had already begun doing his "homework" on big-market teams for when his rookie contract expired.
With both players seeking a big payday this summer, they'll want to play well.
If they do—and if they get help—the Bucks could make it a series and give the Heat more trouble than they'd like to see in the first round.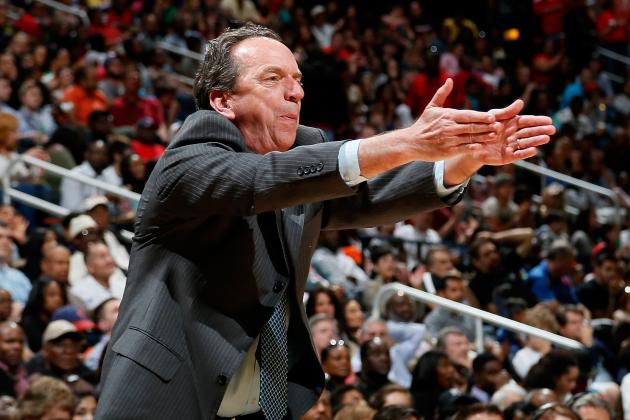 Kevin C. Cox/Getty Images
In order to stop Miami, Jim Boylan will need a great game plan and a little luck.
With official dates and times yet to be released, all that's known at this point is that Game's 1 and 2 will be at the American Airlines Arena in Miami, with Game's 3 and 4 coming back to the Bradley Center in Milwaukee.
Plenty of people assume that's as many games as the Heat will need to beat the Bucks, and they might be correct.
Milwaukee didn't do itself any favors by limping into the postseason and looking like a team that was ready to accept a first-round sweep.
But the Bucks are just one of 12 teams that were able to beat Miami during the regular season.
While that might not mean much to anyone outside of their locker room, it certainly has to be a positive influence for the Bucks.
They know they're capable of beating the Heat. As focused as Miami is though, it's going to be very tough to do.
Expect the Heat to come out strong at home, winning Game's 1 and 2 in convincing fashion.
It could get interesting when things come back to Milwaukee, though.
The Bucks are a much better team when playing at the Bradley Center and with this being the first playoff appearance in three seasons, it's guaranteed to be full of energy and excitement.
If they are to win a game in the series, it will be Game 3.
Assuming the Heat take the first two, they might come out a little bit relaxed and if the Bucks are hungry, they can take advantage of that and parlay it into a victory.
Ultimately, though, Miami will return to the friendly confines of American Airlines Arena and finish off the Bucks in five.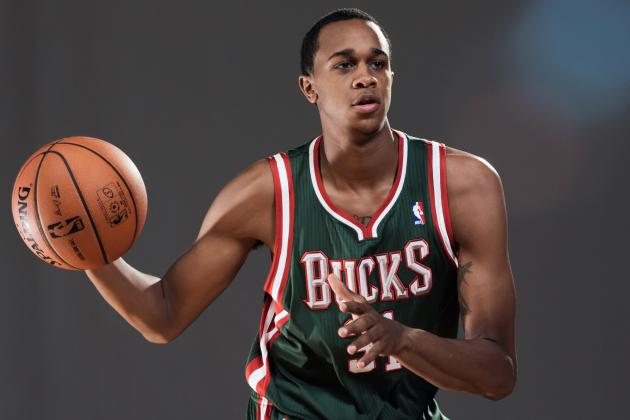 Nick Laham/Getty Images
John Henson's play could prove useful against the Heat.
Unless Larry Sanders—who sat out his fourth consecutive game Wednesday—continues to miss time due to a sore back, don't expect any drastic changes to Milwaukee's starting lineup heading into their first-round series against Miami.
The lineup below is likely what the Bucks will go with to start the playoffs. It's also possible they insert Marquis Daniels into the starting lineup at small forward.
G - Brandon Jennings
G - Monta Ellis
F - Luc Mbah a Moute
F - Ersan Ilyasova
C - Larry Sanders
They'll then likely turn to J.J. Redick and Mike Dunleavy coming in off the bench to provide significant minutes and offensive production.
It's worth noting that in three games against the Heat this season, Redick is averaging a solid 14.3 points and 3.3 assists on 45.5-percent shooting from both the field and three-point range.
After that, it's a bit of a mystery.
Both John Henson and Ekpe Udoh provided the Bucks with excellent minutes Monday against the Denver Nuggets, and their size could potentially frustrate Chris Bosh in the post.
The deeper Boylan digs into his bench, the less successful the team will be. There needs to be a tight, consistent rotation, unless players get into foul trouble or become injured.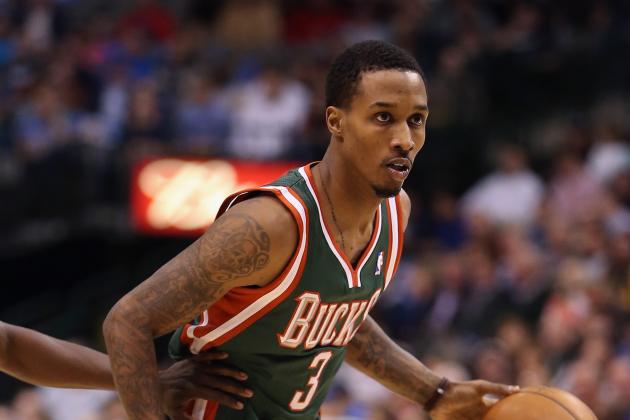 Ronald Martinez/Getty Images
Brandon Jennings must keep Miami's point guards in check.
Every series provides viewers with crucial matchups, or ones that are exciting to watch for other reasons.
Here are a few that might be intriguing in Milwaukee's first-round series:
Monta Ellis and Dwyane Wade
From now until they both retire, whenever Ellis and Wade play each other, this matchup will be a fun one to watch.
Earlier this season, Ellis stated in an interview that he's every bit the player Wade is, minus some wins and a couple of championships.
Oh, that's it?
Not only could this matchup get entertaining, but it could be crucial to the series as well.
If Wade can prevent Ellis from scoring efficiently, the Bucks stand little-to-no chance at winning more than one game, let alone the series.
Luc Mbah a Moute and LeBron James
There's probably not a single player in the NBA who can stop LeBron James from getting whatever he wants, whenever he wants.
That doesn't mean the role Mbah a Moute plays isn't of importance, though.
Arguably Milwaukee's best on-ball defender, Mbah a Moute can be a thorn in James' side and can at least attempt to make things difficult.
By playing him tough, making him work and knocking him down—within reason, of course—Mbah a Moute can show James and the Heat that the Bucks aren't about to go down without a fight.
Brandon Jennings and Miami's Point Guards
Jennings has had no issues scoring the ball against Miami this season, as he's averaging 23.8 points per game on 45.8-percent shooting from the field.
Where he'll have to step his game up—and it might be asking a lot of him—is on the defensive side of the ball.
In Norris Cole and Mario Chalmers, the Heat don't have elite talent at the point guard position, and anything those two players give them is an added bonus.
It's not rare for Jennings to slack on defense, but if the Bucks want to compete, he simply can't afford to. Preventing role players from getting easy points is just a small part of the battle.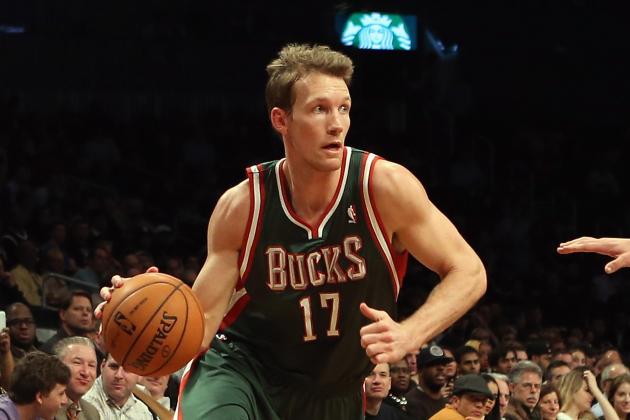 Bruce Bennett/Getty Images
Mike Dunleavy's ability to provide bench scoring could prove crucial.
Here's a quick look at how the Bucks and Heat compare to one another in some of the major statistical categories. League rank is indicated in parenthesis:
PPG: Milwaukee: 98.9 (No. 12), Miami: 102.9 (No. 5)
RPG: Milwaukee: 43.8 (No. 5), Miami: 38.6 (No. 30)
APG: Milwaukee: 22.93 (No. 9), Miami: 22.95 (No. 8)
Opponents PPG: Milwaukee: 100.5 (No. 20), Miami: 95.0 (No. 5)
Home Record: Milwaukee: 21-20, Miami: 36-4
Road Record: Milwaukee: 16-24, Miami: 29-12
Free Throws Made Per Game: Milwaukee: 15.2 (No. 26), Miami: 17.4 (No. 11)
Effective Field-Goal Percentage: Milwaukee: 47.6 (No. 24), Miami: 55.2 (No. 1)
Turnovers Per Game: Milwaukee: 14.1 (No. 9), Miami: 13.9 (No. 5)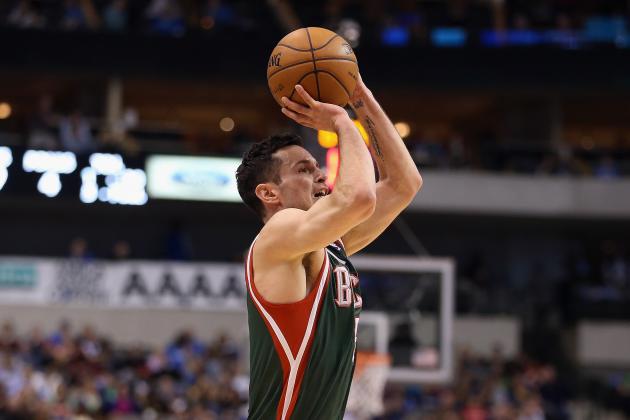 Ronald Martinez/Getty Images
The Bucks would greatly benefit if J.J. Redick can find his shot.
It's relatively safe to assume that Ellis, Jennings and Ilyasova will hit their normal averages throughout the series.
But what about some of Milwaukee's key role players? Which ones can make major differences?
J.J. Redick
The Bucks brought Redick in at the trade deadline for his ability to consistently hit shots, but it's fair to say that he's failed to live up to the lofty expectations bestowed on him when he arrived in Milwaukee.
Connecting on just 40.3 percent of his shots from the field and 32.2 percent from three-point range, there's certainly room for improvement.
As mentioned earlier, Redick has posted some solid numbers against the Heat this season during his time with both the Bucks and the Orlando Magic.
If he can hit shots at a high rate, he'll help spread the floor even more and create more room for Ellis and Jennings to work.
Not to mention that when he's on the court, the offense flows much better.
Larry Sanders
Sanders has been a difference-maker all season and could continue to be one this postseason.
In order for him to do so, though, he'll have to stay out of foul trouble and prevent his temper from getting the better of him.
When he's on the court, Sanders is a difference-maker.
Ranking second in the league with 2.8 blocks per game, Sanders' help-side defense is solid, and he's an intimidating presence in the lane. His ability to alter the shots of Wade and James will be critical if Milwaukee hopes to compete.
On the offensive end, Sanders must score and rebound.
The Heat aren't a great rebounding team and don't have a great interior presence. Sanders must take advantage of this and provide the Bucks with offense in the paint.
John Henson
Like Sanders, Henson could be a big difference-maker in this series, especially given his recent play.
Over the past five games, Henson is averaging 15 points and 15 rebounds per game. Of those 15 rebounds, six of them come on the offensive glass.
With Sanders returning, his playing time will probably decrease.
But if he can come off the bench and attack Miami's weak frontcourt by providing rebounding and scoring, it will certainly help put pressure on the Heat.
And he did have a big game against them early in the year, so he's clearly not intimidated by the stiff competition.