USC Football 2013 Spring Game: Live Analysis, Notes and Recap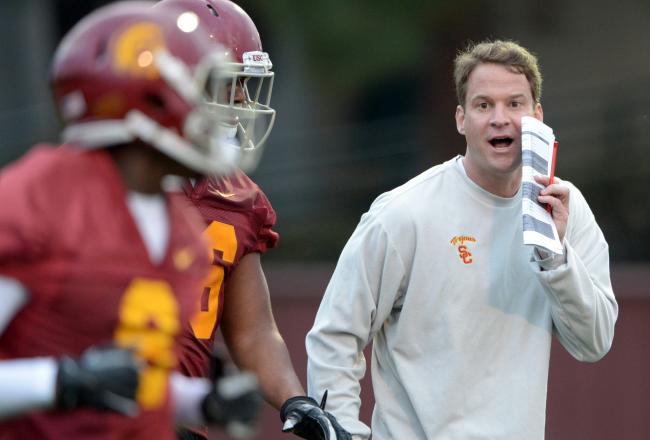 photo from photogallery.usc.edu
USA TODAY Sports
Welcome to today's USC Trojans spring game. Lane Kiffin has been mum as to how he will structure the teams because of injuries but soon we will all find out. Check back often for updates as we get an early glimpse of the 2013 version of the men of Troy.
Cardinal 42 White 36 (Final)
As postulated before, exactly how much can learned from a game where tackling is not allowed?
Nonetheless, this is what was presented to Trojan fans for their 2013 spring game and while there are still many questions to be answered, there was some illumination regarding some suspect units.
For one, all three quarterbacks looked very good and they were helped by a cadre of receivers including Marqise Lee, Nelson Agholor and Victor Blackwell, all of whom had a big day.
As far as the secondary goes, they too had their moments and can build off of this performance despite the five TD passes.
Overall, this was as interesting a game as can be had given the circumstances and for Trojan fans, they have plenty of reasons to be optimistic heading into the fall.
After another great Kessler to Blackwell toss, I am wondering, is the production of the receivers a case of great quarterback and receiving or shoddy secondary play?
I am thinking it is the former...
Max Browne was just intercepted on a deep pass that looked as though his receiver could have done more to prevent.
Browne has absolutely no fear but now the defense has closed to within nine points.
Cardinal 42 White 33 (Fourth Quarter)
The hits keep on a coming with a fabulous touchdown pass Kessler to Marqise Lee that only he could have caught.
I know I have said it before but good luck naming a starting quarterback coach Kiffin.
Cardinal 42 White 25 (Fourth Quarter)
Kessler's pass to Nelson Agholor shows why the secondary may not be as bad as many think.
I mean, how would you like to try to cover Lee, Agholor, Blackwell and the rest?
Cardinal 35 White 22 (Third quarter)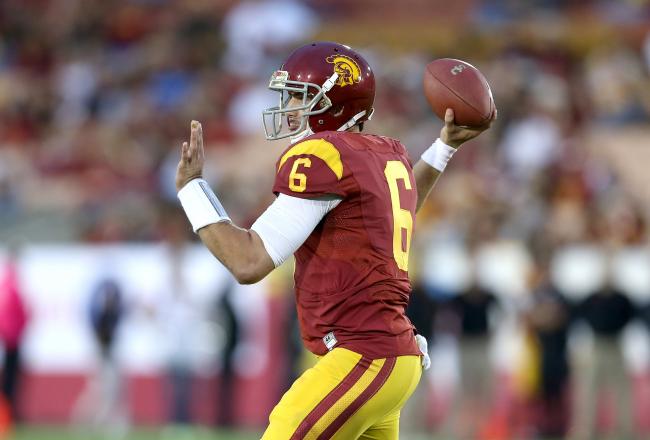 Nice pass from Kessler to Blackwell for a 49-yard reception!
It looks like Victor Blackwell is taking advantage of George Farmer's unfortunate knee injury.
#USC Spring Game 1st half: offense 4 TDs, defense 2 turnovers and 4 other stops.

— USC Football News (@USCFootballNews) April 13, 2013
#USC QB stats: Wittek 12/17, 145 yards, 2 TD 2 INT; Kessler 17/23, 236 yards, 3 TD; Browne 7/10, 82 yards, 1 TD 1 INT.

— USC Football News (@USCFootballNews) April 13, 2013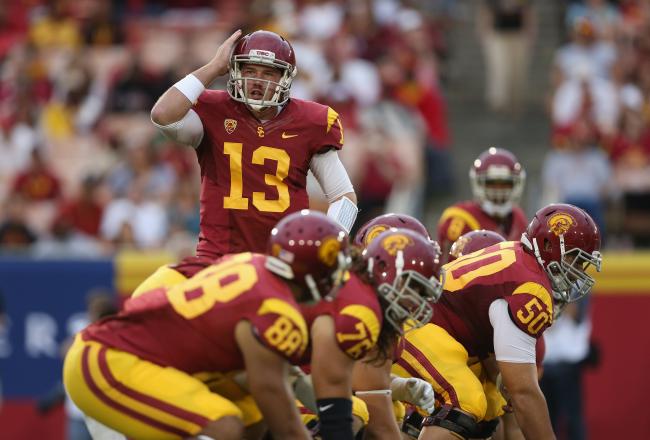 Lane Kiffin is going to have to make a tough decision on who the quarterback is going to be if this keeps up.
All three QB's have looked good with Wittek the latest to shine on his 29-yard touchdown pass to Victor Blackwell.
Cardinal 28 White 22 (Halftime)
At times the secondary looks lost and at other times it looks okay.
Devian Shelton looks like he has a lot of potential.
Browne is showing the moxie of a veteran with his TD pass to Agholor.
This kid is going to be special...but he needs to be careful as evidenced by the near pick by Chris Hawkins...
Sorry for the delay folks, the Pac-12 network has switched to the Arizona game.
Flipping brilliant...
Max Browne sure looks polished for a true freshman.
Of course, with no tackling, it is hard to ascertain just how he is responding to game situations...
Cody Kessler to Marqise Lee for a 70-yard touchdown!
Kessler continues his impressive spring while Lee continues to be Lee...
Cardinal 7 White 3 in the first quarter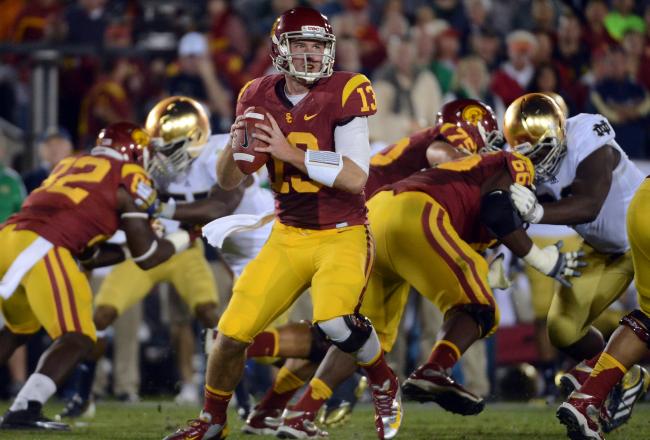 On the first drive, Max Wittek looked pretty good as he completed passes to a variety of receivers including Marqise Lee but not good enough to gain any points as the defense holds.
Score after first drive Defense 3 Offense 0
Does it seem strange to anyone else that Kiffin would allow tackling in all of the practices yet not in the spring game?
Very odd if you ask me...
No tackling allowed in the spring game. How much will we learn from this?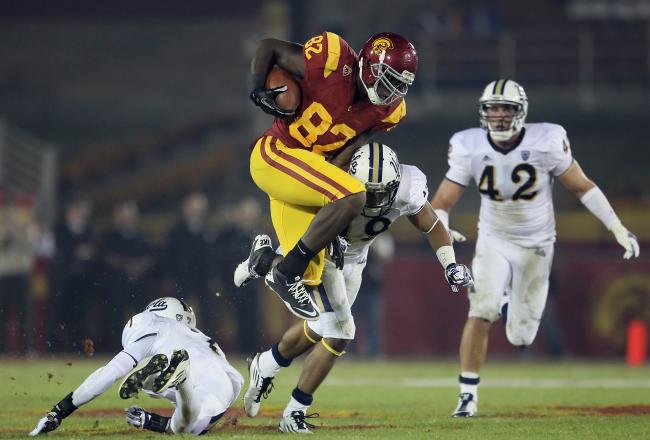 Here is what injured tight end Randall Telfer tweeted about the inordinate amount of injuries the Trojans are experiencing:
"@chosen_one_230: @randalltelfer how many players are out because of injuries?" Too many

— Randall Telfer (@RandallTelfer) April 12, 2013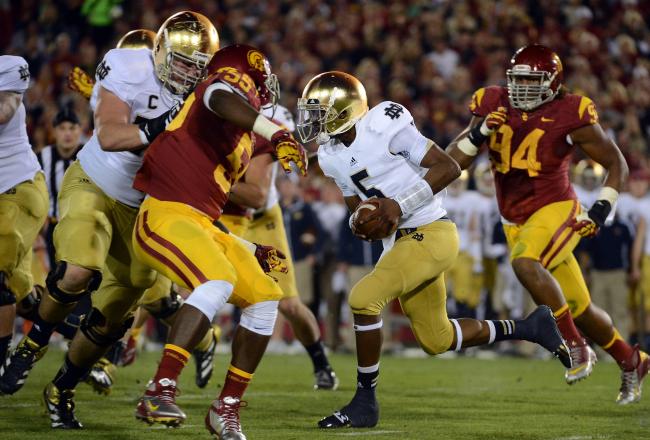 We are getting ready to go...team is gathering for last minute instructions.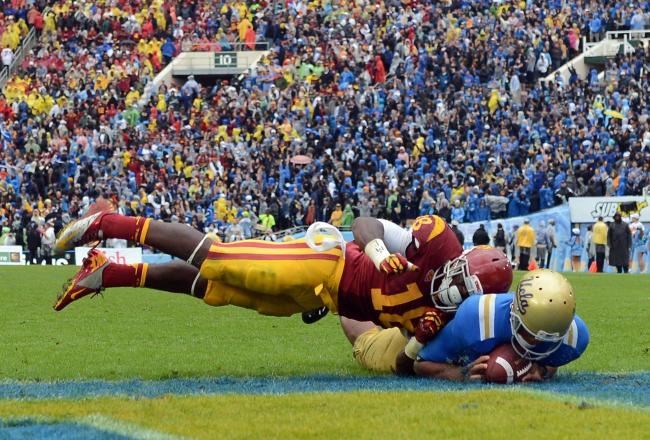 It's a picture perfect day for football in Los Angeles and Trojan fans will be excited to see what Lane Kiffin has in store for this early preview of his team.
However, he will not have a full complement of players available today and here is a list of some of them as provided by Lindsey Thiry of Scout.com:
cornerback Torin Harris, receiver George Farmer who is expected to undergo surgery to repair his torn ACL & MCL this week, safety Gerald Bowman, linebacker Dion Bailey, safety Su'a Cravens who is recovering from meniscus surgery, tailback D.J. Morgan, fullback Soma Vainuku, tailback John Akiba, defensive end Jabari Ruffin started practice but later left, linebacker Scott Starr, tailback Taylor Ross, offensive tackle Chad Wheeler, tailback Silas Redd, defensive end Jeff Miller, receiver De'Von Flournoy was wearing a sling on his right shoulder, tight end Randall Telfer who had surgery Thursday to repair a torn meniscus, receiver George Katrib, receiver Darreus Rogers, tight end Xavier Grimble, defensive end Greg Townsend, and defensive tackle Antwaun Woods.
This article is
What is the duplicate article?
Why is this article offensive?
Where is this article plagiarized from?
Why is this article poorly edited?

USC Football: Like this team?