Texas A&M Football 2013 Spring Game: Live Analysis, Notes and Recap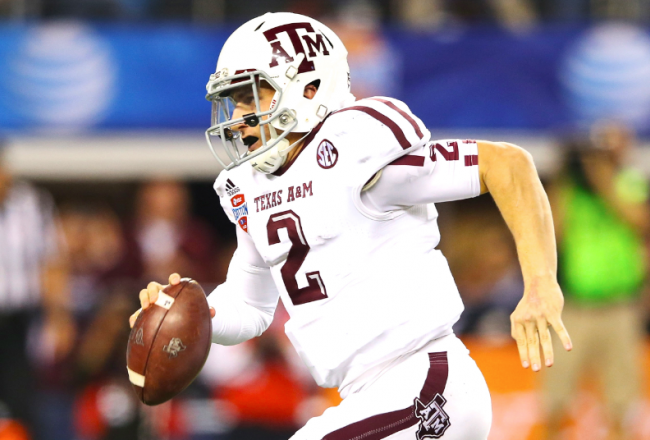 The Aggies spring game has concluded in College Station with Texas A&M finishing up a solid second spring under Kevin Sumlin.
It was a solid day for the Aggies offense that showed the proficiency of this offensive unit.
Texas A&M heads into 2013 as an outside favorite to challenge for the SEC West and this game was a preview of what's to come this fall.
Thanks for following our live updates of the Aggies spring game.
Maroon Team 43, White Team 23 – Final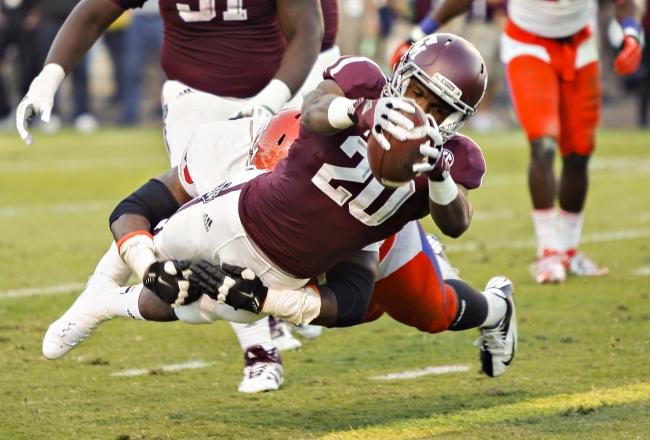 The Aggies spring game is behind us with Johnny Manziel stealing the show as expected. He led his Maroon team to five consecutive scoring drives in the first half.
There wasn't a lot of big plays that came from any early enrollees—which was disappointing—but the ground game was the story of the day.
Ben Melena was held out of the majority of the carries as he is a proven commodity. The results that came from the second line of backs was impressive.
Running backs Trey Williams and Brandon Williams will put together an unstoppable speed-back tandem in 2013. Add to the pack Ben Melena and the abilities of Manziel and this Aggies offense should be among the best in the country in rushing offense next year.
Another player that showed flashes of talent was backup quarterback Matt Davis. He has all the intangibles of Manziel, and he is now getting the experience. He led a nice drive to finish the game that showed flashes of greatness.
Defensively there were a lot of issues as the Aggies offense ran all over the field, but Donnie Baggs and Reggie Chavis stepped up big.
Chavis is a solid coverage guy that needs to improve pursuit angles in the run. Once that happens he will be a star for the Aggies.
I was also impressed with the first team defensive line despite the loss of stud Damontre Moore. This team is leaps ahead of where it was a year ago defensively, and that should scare the SEC.
It was also really good to see progression in the kicking game for the Aggies. Last year's effort was dreadful, but there were no missed kicks in today's contest. Taylor Bertolet stepped up his game this off-season.
Texas A&M heads into 2013 as an outside favorite to challenge for the SEC West and this game was a preview of what's to come from the Aggies and their reigning Heisman winner.
Thanks for sticking with us throughout the game.
Matt Davis is showing something on this latest drive.
He has put some great throws in the air, and he has been very selective with his throws. This has been the best drive by someone other than Manziel today.
Too bad it happened in the final minutes of the fourth quarter.
The Aggies had a solid attendance today with an announced crowd of 45, 212. The excitement surrounding the 2013 season is undeniable in College Station.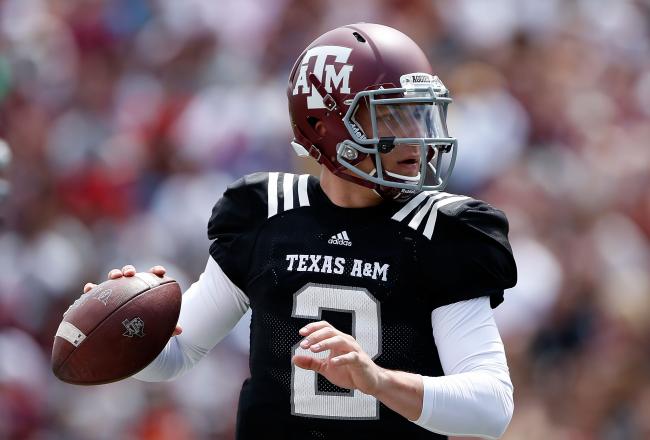 End of Third Quarter
The Aggies are heading into the final quarter of the 2013 spring game on ESPN.
The offense has ruled the day as expected, and Johnny Manziel looked every bit the part of a Heisman winner today.
Matt Joeckel just took the first team offense to a fourth down.
That was his second consecutive possession that failed to result in a score for the Aggies. The game has slowed a ton without Manziel running the offense.
We will get a look at what Matt Davis can do now.
Matt Joeckel continues to fail get the offense moving, but he is still facing off against the first team defense.
He is staying on the field to try his hand with the starting offense, and Trey Williams took the ball 20 yards on the first play.
Here is Joeckel's shot with the first unit.
More from Taglienti:
Halftime thoughts: Donnie Baggs is better in coverage than JStew was. He should be good for 80 tackles at MLB this year #Aggies #SEC

— Michael Taglienti (@miketag98) April 13, 2013
From Bleacher Report Texas A&M Featured Columnist Michael Taglienti on Twitter:
Halftime thoughts: Reggie Chevis is solid against the run but struggles to cover the Ags RBs out of the backfield (most LBs will) #AGGIES

— Michael Taglienti (@miketag98) April 13, 2013
The second half of the game is set to be four minutes shorter with the quarters dropping from 12 minutes to 10 minutes.
As previously mentioned, Johnny Manziel will likely be sidelined for the remainder of the game as there is no need to push his limits.
The backup quarterback race should really hit stride this half, but so far neither player has been able to move the ball very well against the first team defense. Perhaps the second string D will provide an easier route to the end zone.
From Sam Khan Jr. with Gigem Nation on the ESPN network on the Williams TD:
Sophomore RB Trey Williams showed some nice moves on that 23-yard TD run. Offense pounding the defense today. #Aggies

— Sam Khan Jr. (@skhanjr) April 13, 2013
End of the First Half
Johnny Manziel took the final play of halftime and made a typical Manziel-like sandlot style play.
He completed his final throw of the game on a back-foot throw that was a jump ball.

It is going to be a fun year for Aggies football.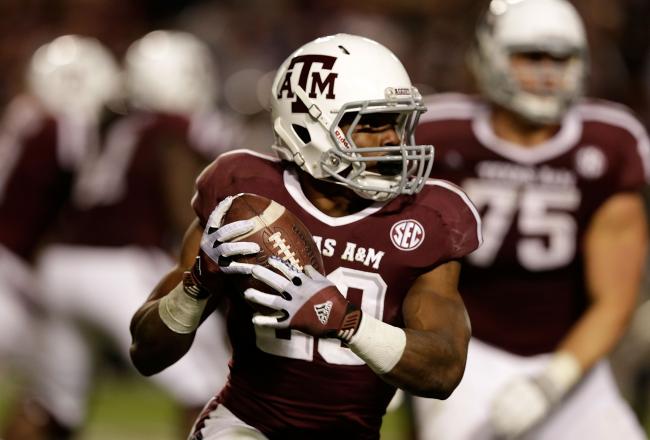 Touchdown Maroon Team!
Maroon 40, White 12
Trey Williams just scorched the White defense for a touchdown on an inside run that he took to the left outside hash.
The duo of Williams' and Melena will put a dangerous trio in the backfield for the Aggies. It may be the best in the SEC by year's end.
This has to be Manziel's last appearance of the day.
He has looked very sharp and is looking more like a pure passer than he did just a few short months ago. This staff is working hard to ensure that Manziel understands his abilities inside the pocket as well as he does outside them.
There is no question that he will be a Heisman front-runner all next year if he continues this growth.
His surrounding cast is impressive as well, which will help keep eyes off of Manziel more than last season.
More from Burch on Manziel's day:
Manziel has looked very sharp vs Aggies No. 2 defense. Not expected to play after halftime, though. Maybe 1 more possession

— Jimmy Burch (@Jimmy_Burch) April 13, 2013
It seems like Manziel may be finished. It has been a great day for him, and there is absolutely nothing left to prove.
Except maybe how bad of a down field blocker he is going to be in 2013. You can't be great at everything.
This is an insane stat from Jimmy Burch of the Fort Worth Star-Telegram:
Manziel to Brandon Williams for 10yd TD pass. Aggies have now scored on 5/5 possessions by No.1 offense #TAMU

— Jimmy Burch (@Jimmy_Burch) April 13, 2013
It has been an impressive day for the Aggies offense indeed.
Touchdown Maroon Team!
Maroon 33, White 9
Brandon Williams just showed another flash of on-field brilliance with a touchdown run on a busted play that he took to the opposite side of the field.
Ben Melena is the assumed starter in the backfield, but Williams will recieve a lot of time on the field this fall. He is by far the most impressive player of the day through the first half.
Manziel just had his first errant throw of the day on another deep seam route for the Aggies.
He has all day to make the throw, so that was a simple under throw.
This season will continue the running trend for Manziel as he just gained a first down with his feet on a third and 19. Impressive play by the stud signal-caller.
Kevin Sumlin just had a chat with guys at ESPN in the booth and told every Aggie fan what they wanted to hear: the tight end would be a major playmaker in the offense this fall.
There is a lot of talent at the position for the Aggies, and as mentioned earlier the addition of Cameron Clear provides a dimension that this offense didn't have last fall.
This team is going to be explosive, but add in the red zone ability of quality tight end play and this will be a title winning team.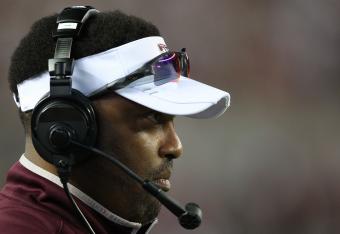 Touchdown Maroon Team!
Maroon 26, White 4
Johnny Manziel is taking the Maroon team to the end zone with nearly every drive as the Aggies continue to explode offensively.
Even the second team offense is showing some things against the first team defense today.
Kevin Sumlin is proving that he is as elite as they come as an offensive minded head coach with this progression in College Station.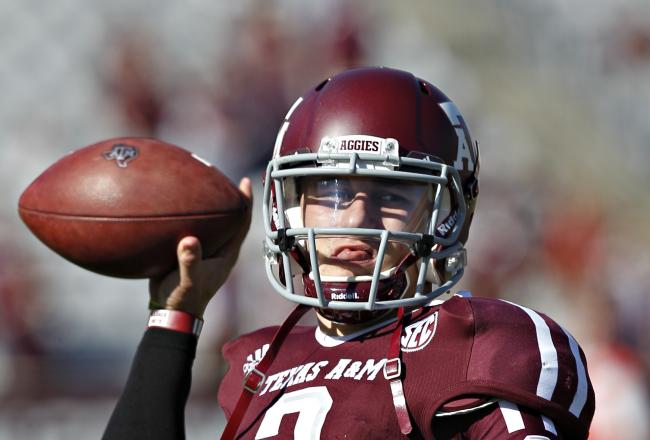 End of First Quarter
Johnny Manziel is looking like a stud today. He just danced around in the pocket and with a flick of the wrist tossed the football halfway down the field.
Mike Evans, his favorite target from a year ago, was on the catch. If he was a few steps faster it would have been a touchdown.
The second quarter is right around the corner, and this offense is sure to burn up the turf again for another 12 minutes.
Tra Carson is a player that is trying to find his way onto the field this and he is showing some progression in this game. Taking on the first team defense he looks impressive, and could be a bright spot in the future for the Aggies offense.
Brandon Williams is really playing well. He is showing a lot of proficiency in the passing game as well as on the ground.
The most impressive thing to me is his shiftiness, and one-cut ability. He is going to be special this fall for the Aggies.
This offense may be better than a year ago.
Touchdown Maroon Team!
Maroon Team 10, White Team 3
Johnny Manziel dropped an amazing pass to his receiver on a deep seam route putting the Aggies on the five yard line within seconds of the second possession by the Maroon team.
Within two more plays the Aggies had scored a touchdown.
This offense is ridiculous with Manziel at the helm. He may be a repeat Heisman if he can continue this growth.
White 3, Maroon 3
The White team picked up three points with a stop on defense.
Spring games always have strange scoring systems that give random points totals for different plays. Good for the White team to gain some points.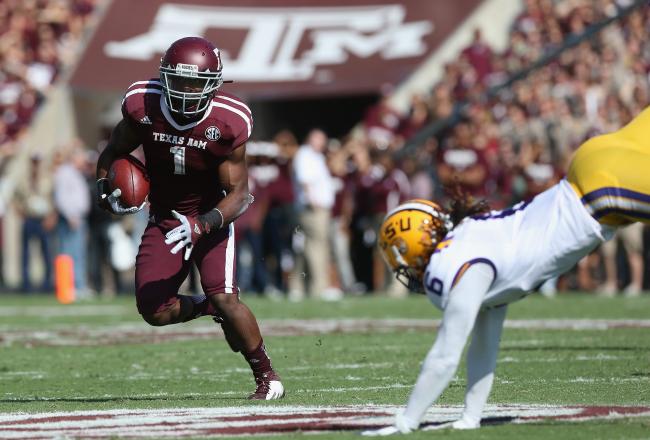 Field Goal Maroon Team!
Maroon 3, White 0
Taylor Bertolet just dumped a field goal through the uprights from around 40 yards out.
He struggled last fall going 13-of-22 on the year with a long of 54.
Kicking is a point of emphasis heading into the fall as it can win and lose ballgames.
The most impressive part of the opening drive was hands down Brandon Williams. He is explosive, and mixed with Ben Melena this backfield is loaded with talent.
This article is
What is the duplicate article?
Why is this article offensive?
Where is this article plagiarized from?
Why is this article poorly edited?

Texas A&M Football: Like this team?