Tiger Woods at Masters 2013: Day 3 Score, Highlights and Updates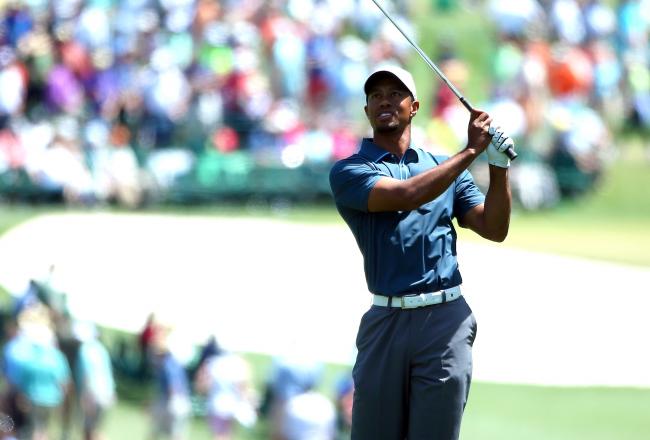 Tiger's third round was a dogged battle back into contention. Woods shot a two-under-par 70, highlighted by his strong back-nine surge where he shot a two-under-par 34, his first round under par on Augusta's second nine in eight rounds.
After two rounds of near error-free golf at the 77th Masters, Tiger Woods suddenly and unexpectedly began his round today amidst a firestorm of controversy. This morning, he was belatedly assessed a two-stroke penalty for taking an illegal drop on Friday at the 15th hole.
But Woods was resilient and put together the type of round that will place him within the final groups tomorrow, Sunday at the Masters.
Woods is currently -3 for the Masters.
Prior to this round he'd made just two bogeys at Augusta National, and today he added two more. Four bogeys over three rounds on one of the most difficult courses the pros face all year is an excellent feat.
Most importantly, Tiger has put himself in contention on a course that he loves to play on and in a championship that he believes is among the most meaningful in golf. When you blend the state of his game with his passion for winning, Woods is right in the thick of this championship.
Woods completes his final round with a two-under-par 70 to climb into contention, just four shots off the leaders, Jason Day and Brandt Snedeker.
Tiger broke his streak of eight consecutive rounds without breaking par on the back nine with a three-under-par 33.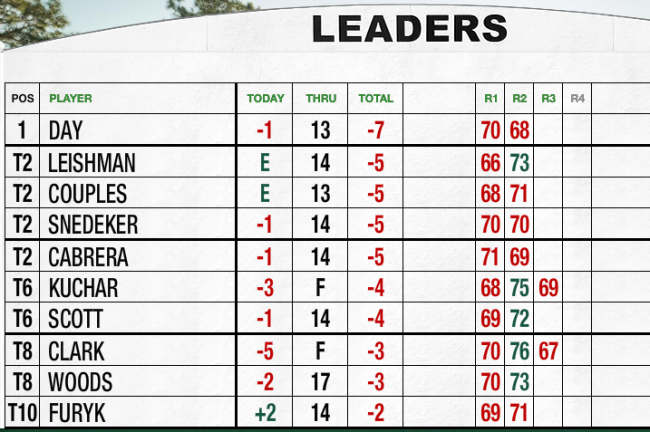 Jason Day (-7) creating some separation with a birdie at the 13th hole. Tiger (-4) now four shots back.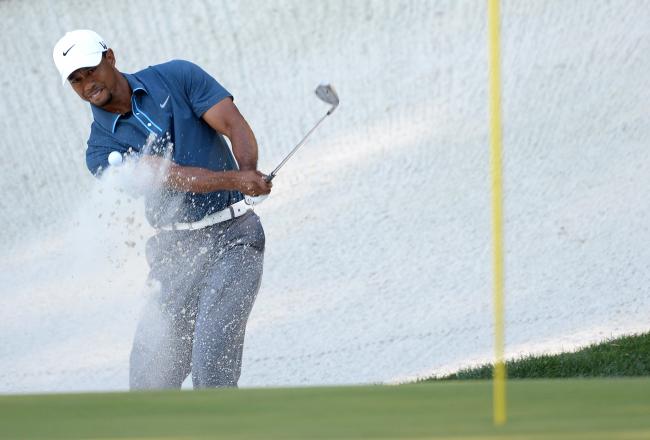 After finding the bunker with his second shot at the 17th hole, Woods blasted his ball out to the left side of the green and let the slope roll it down to within three feet of the cup.
He'd end up saving par and remains just four back of the leader, Jason Day (-7).
All in all, Tiger's had a solid round, especially impressive on his back nine where he's struggled throughout this week. He's three-under the back nine alone, and two-under-par today.
Tiger's (-3) struggled with the tee shot at the 17th all week and has once again found the pines.
The leaderboard is being shook up as Brandt Snedeker (-5) breaks his streak of 12 straight pars to make birdie at the 13th and become the only American within a shot of the leaders, Marc Leishman and Jason Day (-6).
Cabrera now with back to back bogeys...now at -5. Leishman and Day lead the way at -6 #aussieslookingtosnapthestreak

— Amanda Balionis (@Amanda_Balionis) April 13, 2013
Interesting tidbit about one of golf's greatest champions, Tiger Woods.
Of course everyone knows Tiger has never won a major when not holding at least a share of lead. Has 7 tour wins when trailing by 3 or more.

— Bob Harig (@BobHarig) April 13, 2013
After hitting it in the bunker on the par-3 16th hole, Woods gets up and down to save par and remain three behind leaders Jason Day and Angel Cabrera (-6).
He's now three-under-par on the back nine heading into a tough stretch in his final two holes.
Tiger just isn't playing all that well. And yet he is minus-3 and just three back. That's why he's still scary presence. #masters

— Dave Shedloski (@DaveShedloski) April 13, 2013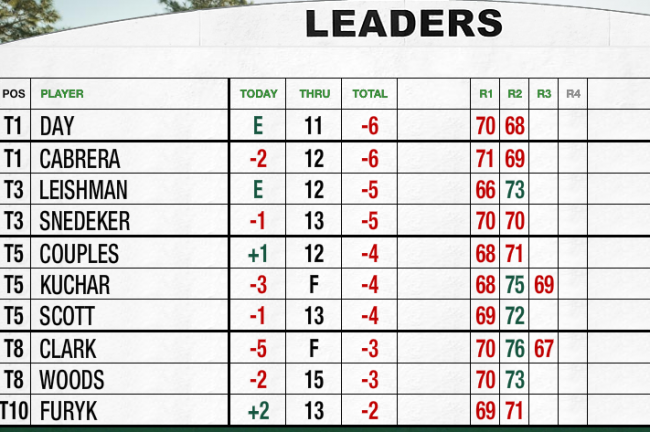 Here's your updated Masters leaderboard.
Tiger looked a bit shaky on his front nine, splitting two bogeys and two birdies to shoot an even-par 36. But he's been thriving on the back nine, now three-under-par after a trio of birdies.
He's currently -3, three shots behind leaders Jason Day and Angel Cabrera (-6).
Had Tiger not hit the flagstick yesterday or incurred the penalty, he'd be one off the lead at the 77th #Masters right now. Such is life.

— Will Leivenberg (@Will_Leivenberg) April 13, 2013
Based on the penalty yesterday, Woods carded an 8 on the par-5 15th hole. After his second shot at the same hole today, he's stared down an eagle putt.
The ball brushed just passed the cup, but he added his third consecutive birdie to reach -3 for the championship, three behind leaders Angel Cabrera and Jason Day (-6).
One of the best shots of Tiger's tournament—a long iron on the par-5 15th hole to reach the green in two.
After a gargantuan drive, Woods stuck an iron to just below the hole, about 12 feet from the cup and will now have an eagle putt to climb within three of the leader, Angel Cabrera (-7).
Tiger might have just hit the shot of the tournament on, you guessed it, the 15th.

— Shane Bacon (@shanebacon) April 13, 2013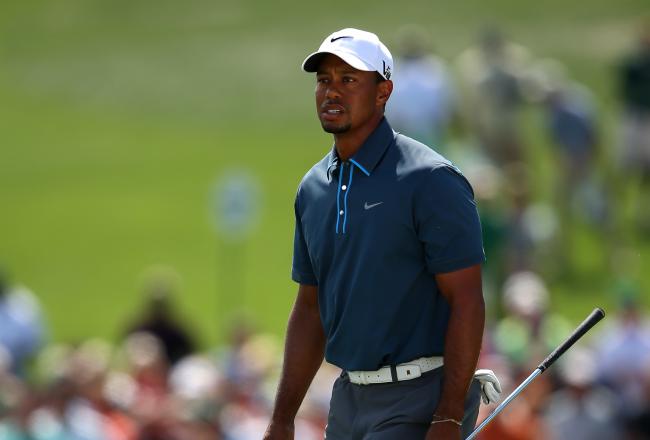 Tiger began the day at -1, five off the leader Jason Day.
We're now a few hours into round 3 of the Masters and Woods has leapt to -2, now five off the leader, 2009 champion Angel Cabrera (-7).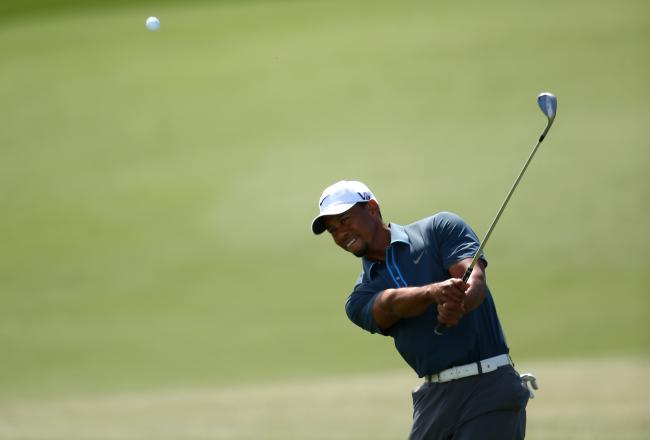 Tiger plugging along after a par at the 14th hole. He's currently two-under-par on the back nine, but faces a tough stretch of holes as he closes his round.
Remember, Woods has gone eight consecutive rounds without shooting under par on the back nine. But considering he's just four off the pace (Cabrera, -7) and has that classic look of vengeance in his eye, he's on pace to break that trend and be in contention Sunday.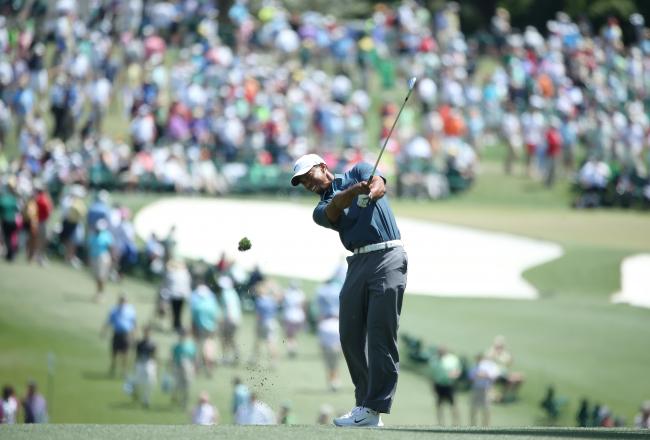 As Tiger approaches hole No. 15, it's nice to see a bit of comedy after all the controversy surrounding the penalty he incurred.
Let me be the first to say I'm rooting for Tiger to hit the pin again on No. 15.

— Kyle Porter (@KylePorterCBS) April 13, 2013
Consecutive birdies is always a good thing, but Woods needs a surge. Perhaps this moment will inspire some momentum.
Just to give you a sense of the current Masters leader, Angel Cabrera—he's been awful of late.
Inconsistent would be a gentle description of Cabrera's game, but it may not matter if he continues on his current pace.
Angel Cabrera was 69th in OWGR when he won 2009 Masters, lowest-ranked player ever to do so. Could smash that record. Now ranked 269th.

— Sean Martin (@GolfweekSMartin) April 13, 2013
Back to back birdies for the four-time Masters champion, Tiger Woods.
He's still five strokes back of the leader, Angel Cabrera, but his putter is holding up and that's a terrific sign knowing Woods' history.
Tiger drains an 8 footer for birdie on 13. He's now -2, 5 back of Cabrera's lead. #masters

— Robert Lusetich (@RobertLusetich) April 13, 2013
2009 Masters champ Angel Cabrera is on a roll, currently three-under-par today and -7 for the championship.
And we have a new leader ... Angel Cabrera #masters

— Robert Lusetich (@RobertLusetich) April 13, 2013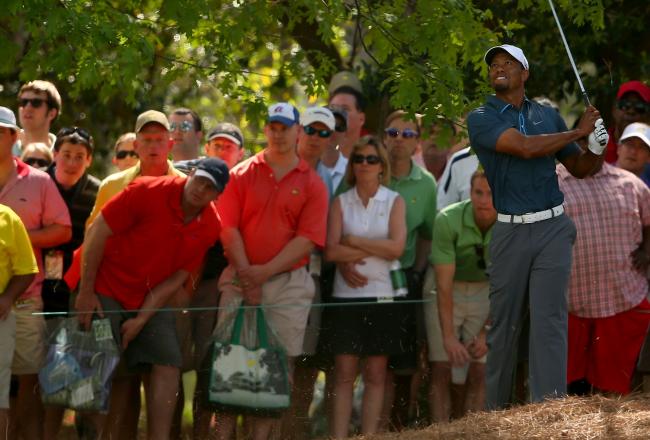 Woods' Achilles Heel this week has been turning the ball left to right.
His inability to hit a draw has been especially troubling on the par-5's, specifically holes No. 2 and 13, which reward that type of ball movement because of the slope of the fairways.
Once again, Woods wasn't able to draw the ball enough at the 13th and ended up in the pinestraw. He chose to go for the green in two and muscled a long iron to well over the green.
Tiger: Even thru 12 (-1)
Leaders: Angel Cabrera, Marc Leishman, Jason Day (-6)
Leaderboard update.
Americans Kuchar, Stricker, Dufner, Snedeker & Couples are all lined up two shots behind leaders Cabrera, Day and Leishman (-6). #TheMasters

— PGA TOUR (@PGATOUR) April 13, 2013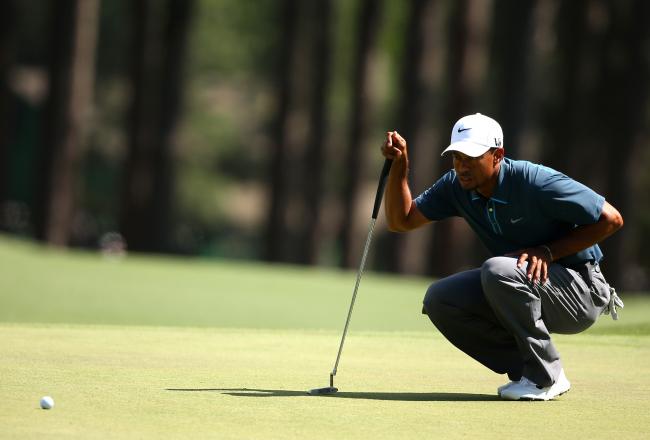 Huge birdie at the par-3 12th hole for Tiger. Talk about some needed momentum.
He's now -1 for the tournament and back to even on the day. Woods will head to the par-5 13th where he desperately needs to find the green in two and make up some ground.
Tiger: Even thru 12 (-1)
Leader: Jason Day (-6)
Tiger showed impressive consistency over his first 36 holes, but is quickly falling out of contention.
To think Tiger had two bogeys in his first two rounds. He has three bogeys today alone. Scary. #Masters He's now even and six off the lead.

— Will Leivenberg (@Will_Leivenberg) April 13, 2013
A bogey at the 11th makes it Tiger's third of the day, now +1 on the day and even for the tournament.
Tiger bogeys 11 to fall to even for the tournament. Not been a good 24 hours

— Dan Wetzel (@DanWetzel) April 13, 2013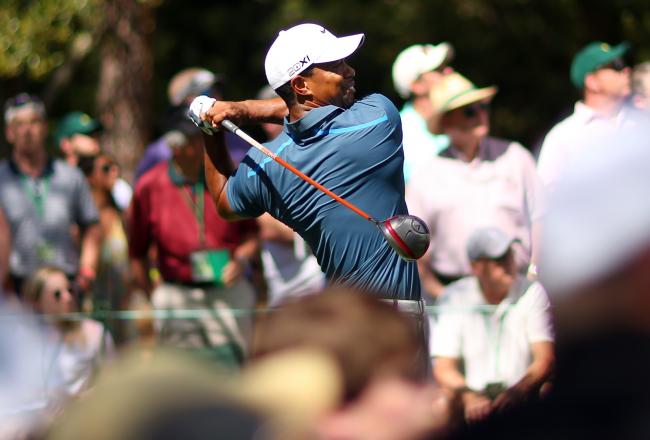 Tiger(-1) remains even on the day after making par at No. 10.
He's now delving into golf's most devilish trio of holes at Amen Corner.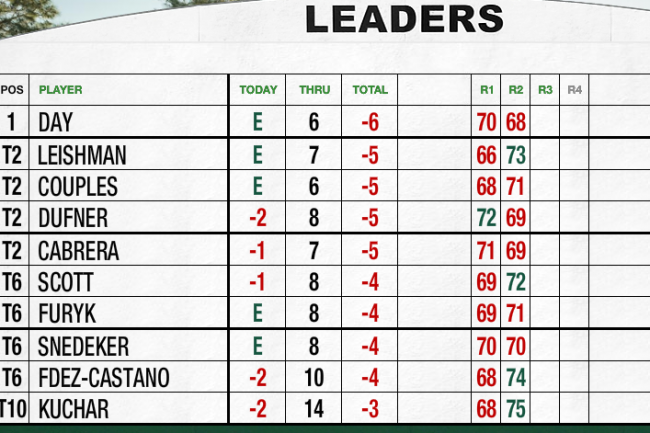 Another updated glimpse of the 77th Masters leaderboard.
This article is
What is the duplicate article?
Why is this article offensive?
Where is this article plagiarized from?
Why is this article poorly edited?