Michigan Football 2013 Spring Game: Live Analysis, Notes and Recap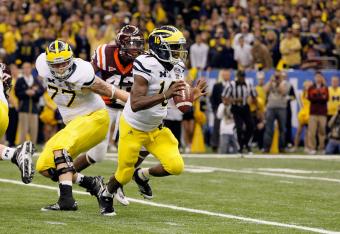 Kevin C. Cox/Getty Images
Michigan's spring game is finished.
Blue: 19, Maize 2 The red-zone drill portion of the game was lucrative for the Blue squad. (Red-zone drills are also one of the big reasons that score isn't kept.)
Michigan's defense appeared ready, and the spring game helped the coaches iron out some wrinkles in the offensive and defensive lines. Michigan looks prepared to make a run at the Big Ten title, if the spring game is any indication.
There were a lot of great things happening on the field this afternoon. The offense found its go-to players at almost every position, and the defense looked like it already improved since 2012.
Michigan fans got a sweet taste of 2013, and the Rose Bowl certainly didn't look out of reach for the Wolverines. Go Blue!
Big winners from the Michigan spring game: Devin Gardner (QB), Devin Funchess (TE), Alex Swieca (QB), Thomas Rawls (RB), Kyle Kalis (OG), Jack Miller (C), Ben Braden (OT) and the entire secondary.
Devin Gardner orchestrated the only sustained scoring drive of the day. All other scores were during the red-zone drill portion of the afternoon.
Kyle Kalis, Jack Miller and Ben Braden formed the most effective interior group for the Michigan offensive line. The offered the best, most consistent protection all day.
Thomas Rawls made a serious case for the starting running back position, and he consistently found holes (or made them himself), swerved around defenders and found first downs or touchdowns. He was a huge bright spot for the Wolverines.
Alex Sweica won the day's "Walk-on of the Game" award (unofficially from yours truly, of course). Sweica looked poised in the pocket, and he was a successful scrambler when the line broke down. On top of that, he threw very well on the run whenever he did need to scramble.
Devin Funchess was easily the most athletic target on the field, and he combined with Rawls to make a formidable duo on offense. Michigan is going to have fun with the Big Ten in 2013.
Finally, the entire secondary played extremely well. They forced quarterbacks to take sacks due to coverage, the blew up pass plays and knocked balls down all over the place. Not all of them were from backup quarterbacks, either.
Michigan is in good shape for next season, both on the recruiting trail and the football field. The Wolverines are an incredibly complete team. What they lack in depth, they make up for in talent. Here's hoping everyone stays healthy for the 2013 run.
Go Blue!
Taco Charlton logged the only true sack of the game. In case anyone wondered about that particular hit, here's Brady Hoke's weigh-in on the matter:
Hoke, on Taco Charlton hitting the QB during the Spring Game: "Freshman."

— Michigan Football (@umichfootball) April 13, 2013
When you get excited, sometimes you forget things. I guess the orange jersey wasn't bright enough after all.
Brady Hoke and the rest of the coaching staff got a ton of useful video today. Not only that, Michigan got a lot of hope as a team and as a fanbase during the wintery spring game.
From the quarterback to the secondary, Team 134 looked great. Is there room for improvement? Absolutely, but there are still a few months before football kicks off.
The good things that happened on the field on both sides of the ball definitely made Michigan look like a Top 25 team. The Wolverines may not show up in the preseason poll, but give it a couple of weeks. They'll get in there.
The defense looked really good today. Interceptions, passes defended, broken-up passes were all over the field all day long.
Sure, the defense gave up some scores, but the overall performance has to leave Michigan fans with a great taste in their mouths.
Number of touchdowns scored off sustained drives: One, by the blue team. (All other scores came off the red-zone drills.)
Two red-zone attempts in a row for the Blue team ends in two touchdowns. (No extra points attempted for the red-zone drill portion of the game.)
Gardner and Cleary were the two quarterbacks that scored.
Potential bad news for Funchess, and updates will be given as available:
Funchess apparently hurt behind bench, staggered, talking to trainer

— Mark Snyder (@Mark__Snyder) April 13, 2013
Gardner was heading off the field, and Hoke gave him some advice. Gardner took it in stride, but almost took Hoke down, too.
It seems that everyone is having fun today in the Big House.
And Devin Gardner just tried to tackle Brady Hoke jokingly. He's back off the field now.

— Michael Rothstein (@mikerothstein) April 13, 2013
Alex Swieca is looking strong for the backup position behind Gardner. He's a scrambler, and he's been throwing well on the run. Swieca vs. Cleary may be the most exciting walk-on battle in major college football this season.
If you didn't believe that Dennis Norfleet could actually be heading back to offense:
And it's only, the Spring Game. RT @nickbaumgardner: Uh oh -- Dennis Norfleet takes a handoff ... the Internet breaks.

— Michigan Football (@umichfootball) April 13, 2013
Walk-on quarterback, Cleary, is working off some of his rust. He had a good completion followed by a 20-yard pass that was just six inches too high. He's finding his rhythm and getting far less panicked than on his first series.
Thomas Rawls and Devin Funchess are making 2013 look like their year. Rawls rushed for a first down, Funchess had a huge reception, and Rawls capped it off with a touchdown run.
The extra point was good.
Thomas Rawls into the end zone for the first TD of the Spring Game ( ~ 14 yard run). Crowd reaction: mgob.lu/126iYpU

— Michigan Football (@umichfootball) April 13, 2013
Brady Hoke takes some time to go out and address the players. After silly pre-snap penalties from both sides of the ball, he let everyone know that just won't work for him.
A little issue with the quarterback/center exchange. Brian Cleary doesn't need any help looking bad today. The center has to be 100-percent with that.
Cleary isn't performing horribly, but he's not campaigning well for himself either. It doesn't help that Gardner looks spectacular.
Walk-on Brian Cleary went 0 for 2 in his first 11-on-11 series coming out of his end zone, with a wide pass and Taylor breaking up other

— Larry Lage (@LarryLage) April 13, 2013
Overall, Michigan's defense is doing a good job of containing the offense. Not a lot of negative plays, but the safety and the interception are already highlights.
While there are no official stats (or score) kept during Michigan's spring game, Gardner's first series was respectable, especially since more than three months have passed since he played in front of a crowd.
Gardner's first series: 2/4, ~ 38 yards | No official stats during the Spring Game

— Michigan Football (@umichfootball) April 13, 2013
Devin Gardner leads the game off with a 30-yard play. The defense answered with a safety. Things are going to get interesting today.
Oregon State provided the orange jersey for the Michigan quarterback today, in case you were wondering.
Pregame drills are underway, and everyone should be getting settled in for a great display of what Michigan will bring to the field for 2013.
With Ohio State likely the favorite to win the Big Ten, Michigan will have the element of surprise next year. Today is for fans.
Who will lead the team? Will the running backs come out strong? How good is the Michigan squad? Spring is the season of new beginnings. Is 2013 Michigan's year?
Taylor Lewan & teammates warming up vine.co/v/bF7Uzi9dqO2

— Michigan Football (@umichfootball) April 13, 2013
Michigan Wolverines Team 134 is ready to get going. Here is the official Tweet of the tunnel exit from Michigan Football:
Team 134 coming out of the tunnel... Notice something new? vine.co/v/bF7TX1KbPDq

— Michigan Football (@umichfootball) April 13, 2013
While you're following along here with Bleacher Report, keep in mind that this game will be broadcast on delay at 1 pm ET on BTN2Go.com.
There is also a live audio stream at MGoBlue.com. Enjoy the show, folks, this is the only hit we get until 2013 kicks off in the fall!
Clearly, Michigan's spring game is already going to be one of the most interesting of the year, regardless of what happens anywhere else in the country.
It is snowing at Michigan Stadium. Welcome to the spring game!

— Kyle Meinke (@kmeinke) April 13, 2013
This article is
What is the duplicate article?
Why is this article offensive?
Where is this article plagiarized from?
Why is this article poorly edited?

Michigan Wolverines Football: Like this team?