Tottenham Hotspur: 20 Best Spurs Players of All Time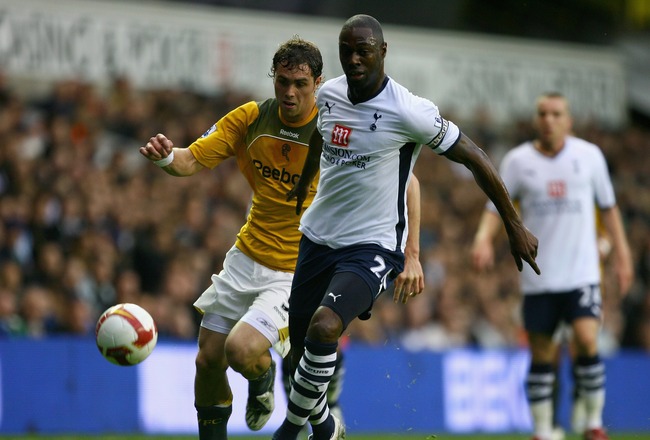 Spoiler alert: Ledley King features on the following list. Read on to find out where the former Tottenham Hotspur defender placed.
Clive Mason/Getty Images
Working out the criteria for deciding the best players to have played for any one club or country, or even in a league or decade, is not easy.
In the club category, there is no exact science in choosing between big names and cult heroes of different eras. So this is a warning that the following list of Tottenham Hotspur's 20 best-ever players—while assessing and measuring talent, success, longevity, loyalty and determination, among other things—has largely come down to this writer's opinion.
Covering only the post-World War II years (sorry Jimmy Dimmock, George Hunt, Arthur Grimsdell etc!), an attempt has been made to choose between the heroes who established the club's modern reputation in the 1950s and 1960s and more recent stars.
Feasibly, the list could have just contained players from Spurs' only two league-title winning sides. In order to make it a tad more interesting, a little more subjectivity has been applied.
Trawling back over 60-odd years of Tottenham history has been a lot of fun. Inevitably, some fantastic Spurs players have missed out on being deemed one of the club's 20 best. No list is going to completely satisfy any reader, and this one has undergone several changes over the course of writing it.
If nothing else, this one has been intended as a celebration of some of the most varied, talented and hugely accomplished players to ever wear the famous old cockerel on their chest.
20. David Ginola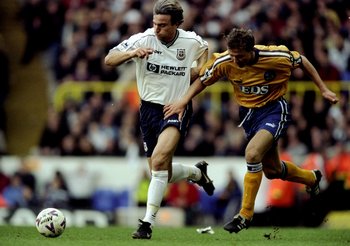 20. David Ginola.
Phil Cole/Getty Images
Unlike the majority of those occupying places on this list, David Ginola's impact at Tottenham Hotspur was comparatively short-term at three seasons. He stands above several others in that category in that he was not only a memorable and most delightful performer, but an extremely important one.
Ginola's first season of 1997-98 was likely not what he envisioned upon signing from Newcastle United. Gerry Francis left prior to Christmas and was replaced as manager by Christian Gross, the upheaval exacerbating Tottenham's difficulties in the Premier League that season.
Ginola's form was near-impervious to the struggles, and along with defensive rock Sol Campbell and a clutch of post-Christmas arrivals, the Frenchman played a large part in the club avoiding relegation.
The following season would prove his finest at Spurs, and arguably the best of his career. In a season when Manchester United would record a historic treble, Ginola was almost a one-man road block in stopping Alex Ferguson and his club from achieving further honors.
One of the stars of Spurs' run to League Cup success, Ginola was instrumental in his team's defeat of Man United at the quarterfinal stage. So impressive was he that season that he also edged in front of the Red Devils' numerous contenders to win both of English football's main player of the year awards.
There would be further magic in his final season, before Ginola was moved on by George Graham, a coach with whom he shared a strained (though often very effective) working relationship. Memories of Ginola kept Spurs fans warm in those days, and will likely do so for many a year to come.
19. Darren Anderton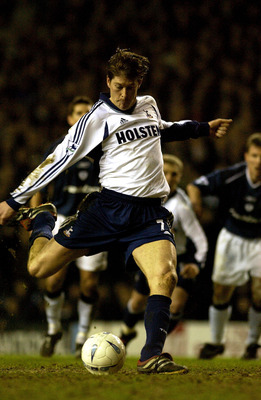 19. Darren Anderton.
Stu Forster/Getty Images
Darren Anderton is one of English football's most underrated players of the Premier League era. Even at Tottenham, his contributions were somewhat unrecognized, at least going by the abrupt fashion with which he was released at the end of the 2003-04 season. That oversight was partially corrected by his induction to the club's Hall of Fame.
Make no mistake, Anderton was one of Spurs' most significant beacons of quality in a tumultuous time that lasted throughout his White Hart Lane stay.
The early years saw Anderton at his most dazzling, a young, quick and adventurous runner whose ability at taking the game to the opposition was topped off by an emphatic and productive decisiveness in the final third.
Others with whom he would gel so effectively in the early to mid 1990s (particularly Teddy Sheringham, Nick Barmby and Jurgen Klinsmann) moved on for various reasons. Anderton stayed and evolved into the next phase of his career. But for a cruel succession of injuries Anderton too may have tried his luck elsewhere.
As it was, he remained to become Tottenham's creative linchpin through frequent managerial changes, his football mind coming to the fore to make up for diminishing pace. The likes of Ginola, Gus Poyet, Robbie Keane and Sheringham (back for a second spell) owed plenty to a teammate capable of helping them and others unlock their best.
18. Alan Mullery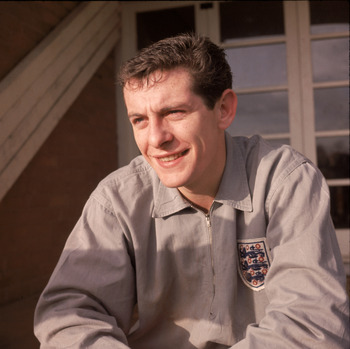 17. Alan Mullery.
Don Morley/Getty Images
To measure the importance of Alan Mullery to Tottenham, you only have to look at the two players he would help fill the void for over the course of his time there—Danny Blanchflower and Dave Mackay.
Coming in for the former was a particularly thankless task. Mullery would never replace the inspirational captain of the great Double side, but the hard-working, persistent and skillful midfielder compensated as well as anyone might have hoped for. With Bill Nicholson facing the particularly difficult job of building his next great team, Mullery was consistency personified.
After playing his part in helping Tottenham to the 1967 FA Cup, Mullery was appointed captain after Mackay joined Derby County. His inherent leadership had been evident for some time, but now officially recognized as Nicholson's on-field skipper, he rose to the occasion.
Further success would follow with victory in the 1970-71 League Cup, and then came Mullery's crowning glory in the last days of his Spurs career.
Injury problems that following season had seen him re-join Fulham on loan, but he returned for a truly memorable swansong in the UEFA Cup. First came what proved to be the winning goal in the second leg of Tottenham's semifinal with AC Milan.
Then in the second leg of the final against Wolverhampton Wanderers, Mullery scored again to set them on their way to a 3-2 aggregate win in front of an ecstatic White Hart Lane crowd.
17. Gary Mabbutt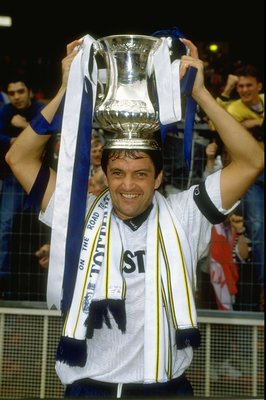 17. Gary Mabbutt
Shaun Botterill/Getty Images
Gary Mabbutt's service to Tottenham Hotspur has continued long into retirement, as a dignified and loyal ambassador in official and unofficial capacity. Notably, the former captain has taken a leading role in supporting his old teammate Paul Gascoigne's battle with alcoholism.
On the pitch, Mabbutt's contributions to the club stand out particularly for their longevity, lasting as he did from 1982-83 to 1997-98 in N17.
Initially, he was signed as a midfielder from Bristol Rovers, and it was in that position he would predominantly play early on—including several appearances in the UEFA Cup winning campaign of 1983-84.
Mabbutt's most telling impact as a Tottenham player would be in central defense, where his talents found their natural home. Assured, unyielding and as reliable and technically sound a defender as Spurs have ever had, he became the rock on which subsequent sides would be built after he was awarded the captaincy.
In 1991, Mabbutt led his side up the Wembley steps to lift the FA Cup, to this day the last time the club won the competition.
16. Ted Ditchburn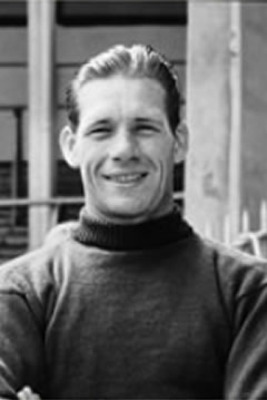 Image from http://www.tottenhamhotspur.com/sites/spurs/History%20of%20the%20Club/great-players/ted-ditchburn.page
Ted Ditchburn was goalkeeper of Arthur Rowe's legendary "push-and-run" side that won successive titles in 1949-50 and 1950-51 (Division Two, and then Division One having won promotion).
A former boxer, Ditchburn was well-known for his bravery and skill in one-on-one situations, while he was also highly regarded for his exemplary athleticism and strength.
He was the type of goalkeeper all great sides possess and was so vital to the Spurs that he was the last of Rowe's great side to leave (having fought off the efforts of Ron Reynolds to claim his spot permanently). He was only categorically forced to depart through injury.
Quite extraordinarily, he racked up over 450 appearances for Spurs, an extra-special achievement considering Ditchburn had been robbed of several years of first-class football through World War II (which he served with the RAF). Only just behind Jennings, he gets the nod ahead of Bill Brown as Tottenham's second best-ever keeper.
15. Alan Gilzean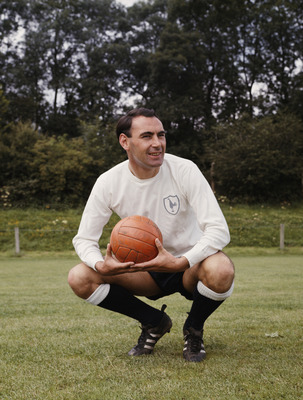 Don Morley/Getty Images
Straddling two eras at Tottenham, Alan Gilzean was one of those to come in following the successes of the early 1960s who was a genuine match in quality. The forward would, alongside Jimmy Greaves, be one of the stars who kept the club competitive in comparatively leaner years.
Then, demonstrating his adaptability, he equally thrived in a less-defined attacking role as Bill Nicholson's team won several trophies at the beginning of the 1970s.
Gilzean scored an excellent 133 goals for Spurs in over 400 appearances, but it was the sheer quality of so many of his contributions for which he stands out.
His control and touch were regarded as impeccable, with his ability to utilize both in aerial situations regarded by some as almost unparalleled in recent times.
Greaves and Martin Chivers, the two players with whom Gilzean formed such devastatingly effective partnerships, scored more for Spurs overall. But it is doubtful either would have struck as many goals had it not been for the Scotsman beside them, who was as equally adept and intelligent a provider as he was a goal scorer.
Gilzean recently returned to White Hart Lane after a lengthy absence, receiving an extremely affectionate response when making an appearance at halftime during last November's win over West Ham.
14. Martin Chivers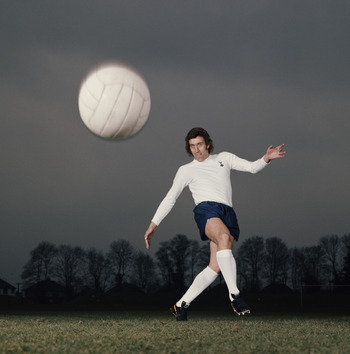 14. Martin Chivers.
Tony Duffy/Getty Images
Martin Chivers joined Tottenham when Jimmy Greaves was still in town, but it was only when the club's record goalscorer moved on that their next great marksman began to really hit his stride.
It helped that the move that took Greaves to West Ham saw Martin Peters come the other way. He, along with Alan Gilzean, would work excellently with Chivers over the coming years as the pivotal performers in the Spurs attack.
Critics viewed Chivers as inconsistent, but when he was good, he was one of the best around, playing a major role in the last great successes of the Bill Nicholson era.
Both-footed, Chivers possessed a lightness of touch and remarkable goalscoring instinct, while being strong enough to survive in a more physical area. There can be few in Tottenham history who can claim to have scored as many great goals as he did too.
His overall tally came to 174 in 367 appearances. Standing out among them were a double in the 1970-71 League Cup Final and a particularly memorable brace in the following season's UEFA Cup final first leg against Wolverhampton Wanderers.
13. Ledley King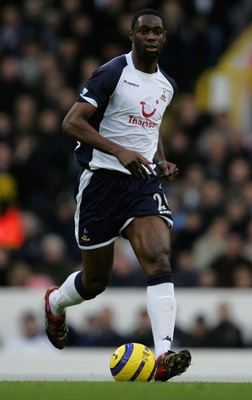 Clive Rose/Getty Images
Ledley King is this list's most recent entry, with the former Tottenham defender having only retired last summer. Talented, loyal and a massive contributor to the achievements of the last decade, he undoubtedly deserves to be recognized as one of the club's 20 best-ever players.
The importance of King to Spurs in the aftermath of Sol Campbell's departure to Arsenal cannot be underestimated. The young centre-back was not yet the player he would become, but that potential was a beacon of hope for the club's fans so hurt by Campbell's betrayal.
Over the following years King established himself as one of the best defenders in England. His reading and timing was exemplary, as were his tackling ability and command in aerial duels, not to mention his eye for a pass. For a thrilling example of his brilliance, see his superb challenge on Arjen Robben in Spurs' 2-1 win over Chelsea in November 2006.
Even with the injury problems that ultimately shortened his playing career, King developed into a player who would prove so vital to Tottenham's re-emergence as a top-six side. He overcame fitness concerns to play a big role in their 2007-08 League Cup success, and also in helping guide Spurs to the Champions League/European Cup for the first time in nearly 50 years.
12. Ron Burgess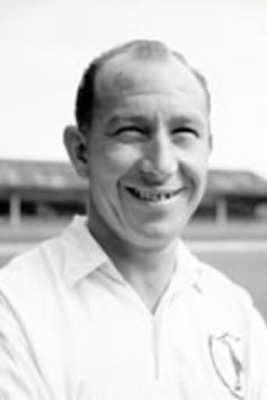 Image from http://www.tottenhamhotspur.com/sites/spurs/History%20of%20the%20Club/great-players/ron-burgess.page
It is one of the unfortunate vagaries of time that Arthur Rowe's title-winning "push and run" side
of 1950-51 came just a few years prior to an increase in the recording of football matches in England. Bill Nicholson's successful team a decade later was hardly extensively covered, but a good deal more footage survives of them—certainly of their cup final successes.
Rowe's captain, Ron Burgess, is one such player whose talent is more difficult to accurately estimate by those of us not around. But from the historical recollections of those who were there, the significance of the Welshman to Tottenham's first top-flight championship winners, and thus his place as one of the club's great, is obvious.
After World War II, Burgess soon established himself as Spurs captain. As they raced away to the 1949-50 Division Two title (today's equivalent of The Championship), it became clear he was at the heart of this emerging side.
Already in his early thirties by then, Burgess' movement and eagerness to involve himself in Spurs' play was key to the flourishing of Rowe's revolutionary tactics. A thoroughly tidy and sensible midfield presence, he was a guiding force in letting more recognizably starring players like attackers Eddie Baily and Len Duquemin excel.
11. Ossie Ardiles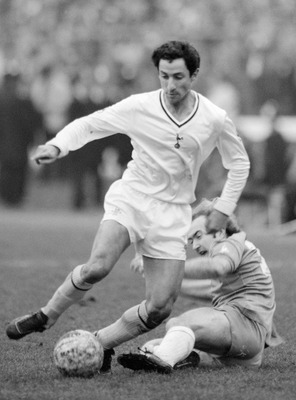 Getty Images/Getty Images
Even more so than his compatriot with whom he arrived in the country (Ricky Villa), Ossie Ardiles is quite possibly the single most important trailblazer in English football history—in regards to the mass of foreign stars that would follow.
The Argentinian was not the first to ply his trade in England's top flight, but as a World Cup winner in 1978, he was one of the first major stars.
Ardiles was a shining example in how to approach life in a new country on and off the pitch, adjusting to the demands of a new style of football while embracing a new culture and lifestyle.
He was a bargain for Spurs, who got one of world football's most talented midfielders fresh off winning the World Cup for only £325,000 (especially when you consider Nottingham Forest bought Trevor Francis for £1 million a year later).
It was certainly money well spent, with the technically impeccable Ardiles a master manipulator of the fluctuating pacing of football in his new homeland. He undoubtedly could have been the main man of Tottenham's midfield, but he ceded that role to Glenn Hoddle, instead filling a less glamorous but equally valuable role supporting.
This did nothing to detract from the quality that was on show, though, and even as injuries and the Falklands conflict cut down on his appearances in the following years, he would time and again prove his tremendous worth.
10. John White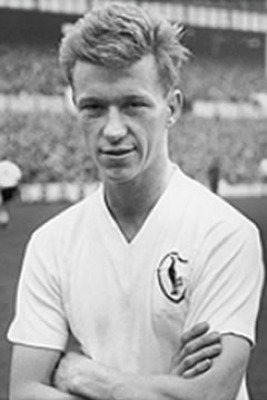 Image from http://www.tottenhamhotspur.com/sites/spurs/History%20of%20the%20Club/great-players/john-white.page
John White's tragic death in 1964 robbed his family of a husband, father, brother and son, and stopped in its tracks the career of a player who was set up to be the man around whom Bill Nicholson would build his next great Tottenham side (Scotland too had high hopes for him).
Yet for all White's unfulfilled potential, his brief career was not one short on achievement. In the five seasons the young Scotsman had been at White Hart Lane, he had been an integral member of a team that had won league championship, two FA Cups and a European Cup Winners' Cup.
White was one of British football's first great playmakers. Positionally he was a step or two ahead of opposition players, with his often unnoticed movement earning him the nickname of "The Ghost." Making the most of these earned spatial advantages, White's passing range was almost unparalleled among his peers, while he also chipped in almost 50 goals during his Spurs career.
For anyone further interested in learning about White's all-too brief 26 years on this earth, this writer highly recommends checking out The Ghost: In Search of My Father the Football Legend. Written by his son Rob and renowned football writer Julie Welch, it is an excellent biography of one of the sport's lost greats.
9. Bobby Smith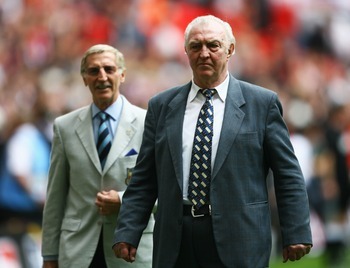 9. Bobby Smith.
Shaun Botterill/Getty Images
As the primary source of goals in Tottenham's great double-winning team of 1960-61, Bobby Smith's name will indelibly be etched alongside so many of the results from that famous season.
Considering that campaign was one of four in a row (dating back to 1957-58) in which he scored over 30 league and cup goals, contributing to an overall tally of 208 in 319 matches, Smith was obviously far more than a one-season wonder.
The 1960-61 campaign, of course, stands out in Smith's career because of its momentous place in Spurs history, but he had long before established himself as a vital part of the team.
A physically intimidating presence upfront, Smith's size and power was a large part of his game, and he stands as one of the great, traditional British forwards of that mold. Ultimately, his willingness to engage in such punishing and committed encounters with his fellow pros slowed him down a touch as Tottenham moved began to move on from the decade's early success.
Undeniably, though, Smith had class in abundance beyond those traits, something well in evidence to those luckily enough to watch him perform alongside similarly skillful practitioners such as Cliff Jones and John White.
Emphasizing his quality was the way the savvy Smith showed in adapting to European competition, where he scored frequently in the European Cup and European Cup Winners' Cup (which Spurs would win in 1963).
8. Paul Gascoigne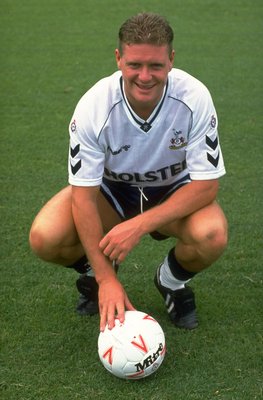 David Cannon/Getty Images
Paul Gascoigne's final competitive action in a Tottenham shirt came in the 1991 FA Cup final. Against Nottingham Forest, he was fortunate to avoid being sent off for an ugly tackle on Gary Charles, only to disastrously injure himself soon after in a similarly reckless attempt at a tackle.
Yet even had Spurs lost that match (which they won), anyone at the club would have been hard-pressed to have been angry with their talented midfielder. Coaches, teammates and fans alike were aware of the debt they owed Gascoigne in even being at Wembley that day.
Gazza scored a brutal, long-range free-kick against rivals Arsenal in the semifinal, an opening salvo to remember, before helping instigate the move for Gary Lineker's second. Throughout Spurs' run, the England midfielder had been in sensational form, inspiring his team through successive rounds.
If that cup run was Gascoigne's most tangible contribution to the Tottenham cause, it was the all-round ability that so mesmerized the White Hart Lane faithful for three seasons that sees him rank so highly here.
Gascoigne was (and still is) a hero of the English game. That he played his best football during his time at Spurs is something to cherish for the club's supporters.
7. Cliff Jones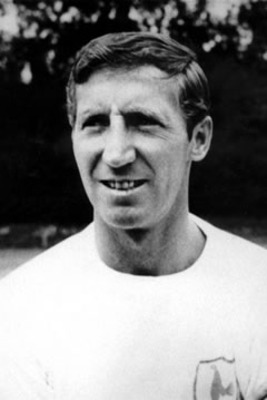 Image from http://www.tottenhamhotspur.com/sites/spurs/History%20of%20the%20Club/great-players/cliff-jones.page
The Gareth Bale of his day, except with less penchant for theatrics and creatively falling over, Cliff Jones' bravery could serve as an example to his young compatriot.
Signed from Swansea in 1957, Jones took time to settle in North London. Once he did, he did not look back.
Comparisons of Bale to Jones are not wide of the mark. A fellow Welsh wing wizard with a happy habit of scoring goals, Jones too was a tormentor of defenders who could run all day long. With Bobby Smith, Les Allen, John White and later Jimmy Greaves positioned and ready, he found worthy marksmen to finish the chances he would often provide.
The 1960-61 Double-winning team was full of tremendous talent, among whom Jones was worthy enough to be regarded as one of the best.
An invigorating presence, the Wales international time and time again would come up with the goods for his club side. Departing in 1968, he had continued to contribute even as injuries took their toll, and long after several of his teammates had moved on.
6. Steve Perryman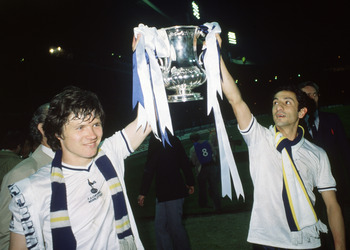 6. Steve Perryman.
Getty Images/Getty Images
Outside of Tottenham circles, Steve Perryman is probably one of the most undervalued of their former greats—at least in the eyes of history, since players like the more glamorous Glenn Hoddle or iconic Danny Blanchflower are more immediately appealing.
Perryman, though, was everything to Spurs. His versatility was his biggest strength; he excelled as a midfielder, centre-back and right-back. Of course, he is also the club's record appearance holder (854 competitive appearances, give or take a game depending on the source) and a revered and cherished captain who led his team for a decade.
Early in his Tottenham career, Perryman impressed upon getting his chance and established himself in the team. He played his part in two League Cup successes in 1971 and 1973, as well as scoring two wonderful volleys that set them on their way to a semifinal win over AC Milan in 1972 (and an eventual UEFA Cup success).
The captaincy came his way during a difficult era for Spurs, as they struggled after the highs of the early 1970s. After Bill Nicholson's departure, they had been unable to suitably rebuild and were relegated in 1977. Perryman's loyalty and determination to restore Spurs to their former heights saw him turn down a move to Liverpool.
That the champions were interested in him was not surprising. Perryman had long before established himself as a top footballer, one who could graft but was equally at home among Spurs' best ball-players.
Instead he would help his team, now managed by Keith Burkinshaw, back toward the top of English football. The second of Perryman's two UEFA Cups in 1983-84 would follow on from successive FA Cup victories, the former in 1981 being particularly sweet as it signified Spurs' successful return.
For his individual efforts, Perryman was voted Footballer of the Year by the Football Writers' Association in 1982.
5. Pat Jennings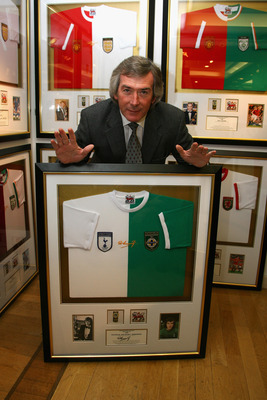 5. Pat Jennings.
Chris Jackson/Getty Images
Keith Burkinshaw got a lot right in his time as Tottenham manager, but one thing he did get wrong was in selling Pat Jennings to Arsenal in 1977 soon after Spurs had been relegated to the Second Division.
It was a judgement call by Burkinshaw, who believed Jennings' best days were gone—a mistake for sure, but one it was his job to make and what he thought was the best choice at the time.
Only after the arrival of Clemence in 1981 did Tottenham truly find a replacement for the monumental Jennings, who was still at that point going strong with the Gunners. Knowing it was not his decision, Spurs fans didn't blame the Northern Irishman like they would Sol Campbell so many years later. Besides, they can truly claim to have gotten his very best.
Upon joining from Watford in 1964, Jennings had to compete with Bill Brown for a couple of seasons, but it was an arrangement that proved beneficial as he adjusted to the demands of life at one of English football's glamor clubs.
Having cemented his place as Tottenham's No. 1, he never again looked like giving it up. Jennings was a genuine all-rounder, as dominant in the air as he was composed and controlling in denying opposition attackers on the ground.
Famous for utilizing any part of his big frame he could, Jennings would pull off extraordinary saves of such a frequent number that you could ask 50 different Spurs fans who saw him play and you might feasibly be told about 50 unique saves.
Acknowledged as a player of the year by football writers and his fellow players in '73 and '76 respectively, Jennings won an FA Cup (1966-67), a UEFA Cup (1971-72) and two League Cups ('71, '73) during his time at Tottenham.
Beyond that, all at Tottenham must just be grateful for being able to claim that, for just over a decade, they possessed one of the best goalkeepers the world has ever seen among their ranks.
4. Jimmy Greaves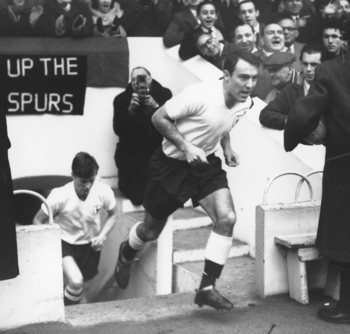 4. Jimmy Greaves.
Douglas Miller/Getty Images
Jimmy Greaves may have arrived at White Hart Lane even earlier but for confusion in the transition process between managers Arthur Rowe and Jimmy Anderson.
The teenage striker was overlooked, and it was Chelsea who would enjoy his early years: Greaves scoring an astonishing 124 goals in 157 appearances for the Blues.
Considering he would go on to score a further 266 in 381 games for Tottenham (he is still the club's record scorer), it is a tantalizing prospect to imagine how many more he might have scored had he been at the club even longer.
Of course, we do not know how circumstances might have differed had he arrived in the mid-1950s rather than in 1961, when Bill Nicholson signed him from AC Milan after Greaves had endured a difficult spell with the Italians.
Greaves was a phenomenal goalscorer for Spurs. He had more about him than his finishing, but putting the ball in the back of the net was what he lived for. During his time in North London, the striker's goal ratio stood at an extraordinary 70 percent.
Those goals counted for plenty too. In the 1962 FA Cup, he scored nine throughout the tournament, including one in the 3-1 final win over
Burnley
. Five were scored on the way to their European Cup Winners' Cup success the following season (including two in the final), while Greaves would record a further six on the way to the 1967 FA Cup win.
So then, not just Tottenham's best ever striker, quite possibly English football as a whole's too.
3. Glenn Hoddle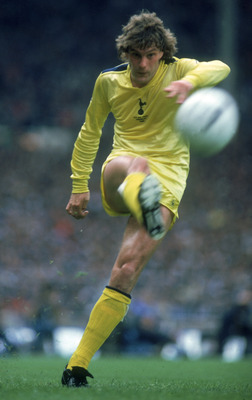 3. Glenn Hoddle.
Tony Duffy/Getty Images
Tottenham's most gifted player since the 1960s, Glenn Hoddle is the greatest footballer the club itself has produced by a long-shot.
Hoddle netted 110 times altogether for Spurs. If assists were recorded as they are now, that statistic would be similarly impressive.
Numbers, though, were not the measure of this man. Hoddle was a supreme conductor for a Spurs team that, over his time at the club, would feature many a top player who looked even better thanks to him. His glorious passing ability was based upon an interpretation of the game around him that few English players since can claim to have been blessed with.
For all the accusations of Hoddle being a luxury player, he more than held his own during a period largely more physical than today. The midfielder would not have thrived as he did if this had not been so, and having spent a year in Division Two, he had certainly tested himself in surroundings less-= appropriate for his talent.
Along with the likes of Perryman, Ardiles, Graham Roberts, Garth Crooks and Steve Archibald, Hoddle helped Spurs back to a level of company the club had gotten use to in the Nicholson years. The FA Cup successes in 1981 and 1982 were a tremendous accomplishment at a time when several top teams inhabited the English flight.
On the European stage, Hoddle often starred too. His outclassing of an aging Johan Cruyff in UEFA Cup games against Feyenoord in 1983 still today draws hushed tones from those who witnessed it.
2. Danny Blanchflower

2. Danny Blanchflower.

Danny Blanchflower's combined leadership, intelligence and understanding of football have arguably never been matched by a fellow player in the history of British football. Those attributes have seen him attain a near-mythical status in Tottenham folklore, coming from the mind of a man whose famous quote about glory remains at the very essence of the club's aspirations to this day.
What those qualities did was enable Blanchflower to serve as the on-field lieutenant for Bill Nicholson, helping implement his manager's instructions both in word and deed. When the situation demanded it, he was trusted enough to make on-field changes himself. The closest, successful modern equivalent is probably the relationship players like Xavi and Andres Iniesta had with Pep Guardiola at Barcelona.
It was not always so apparent the Blanchflower/Nicholson relationship would work. Indeed, the Northern Irishman had not always got on well with managers at Spurs and at previous clubs. The new man in charge at White Hart Lane would soon come to understand his value, a change in mindset that heralded the arrival of an incredible few years.
Blanchflower was a hungry player, demanding the ball and usually utilizing it in most effective fashion. From him stemmed so many of Spurs' sweeping, thrilling moves, as indeed did their overall style of playing in the 1960s.
Considering that it is, to this day, the club's most successful period, it is hard to ignore Blanchflower's claim as one of the club's very best players. One more may stand just above him, though.
1. Dave Mackay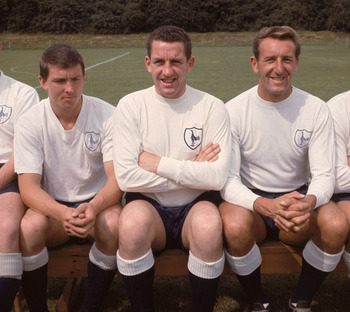 1. Dave Mackay.
Don Morley/Getty Images
"The stature of Dave Mackay in Tottenham folklore is vast and indisputable; indeed, to imagine Spurs' great 1960s side without the vibrant Scot is to picture the Huns without Attila or the Alamo without Davy Crockett."
So reads co-author Ivan Ponting's assessment of Dave Mackay in the 2008 edition of the Tottenham Hotspur Player by Player guide. Blanchflower's importance to this team is only by the smallest degree below Mackay's (arguably, if at all), but coupled with his own tremendous ability, the force of will the Edinburgh man instilled in Spurs' greatest ever team was the ingredient that transformed them from good into legendary.
The famous image of Mackay grabbing a frightened Billy Bremner has seen him egregiously cast as merely a hardman in some misinformed opinions. While he was certainly tough, Mackay was no thug; rather, he was a dominating midfield presence with footballing nous of the highest order.
Defensively, Mackay could be relied upon to do a shift and was as comprehensive as they come in winning the ball. From there, he combined ably alongside Blanchflower and in support of others like White and Jones.
Far from just a water-carrier, Mackay could be relied upon to subsequently surge forward and join those attacks. Spurs' overwhelming of countless teams, particularly in 1960-61, was in large part down to such determination. Crucially, Mackay did not lose his head this far up the pitch either and notched 51 goals in his time at the club.
Though he missed the 1962-63 European Cup Winners' Cup final through injury, he more than played his part in Spurs becoming the first English team to a win a European competition.
Four years later, he was again instrumental in their FA Cup success. By now club captain and operating from a more defensive station, Mackay's role was all the more impressive considering he had to come back from breaking his leg twice.
He would just not be denied. That spirit and intent once again helped Tottenham to a major trophy. But for Mackay, they may have found it even harder to win than they did.
Keep Reading

Tottenham Hotspur: Like this team?