Bruce Taylor: Video Highlights for Former Virginia Tech ILB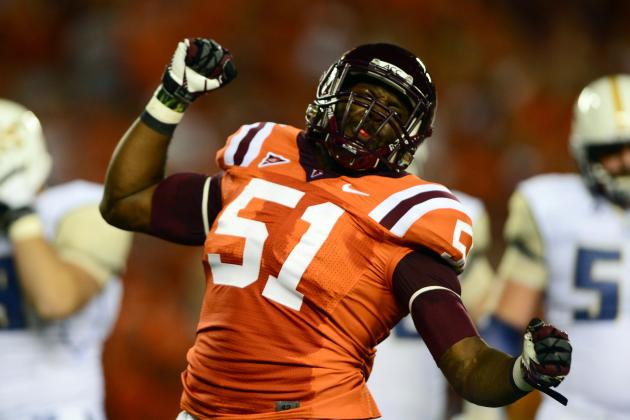 Andrew Weber-USA TODAY Sports

Virginia Tech inside linebacker Bruce Taylor appeared to be on his way to a standout college career before suffering a Lisfranc injury in 2011.
The 6'1", 237-pound Taylor dominated in 2010 with a team-high 91 tackles (15.5 for loss), six sacks and four passes defended.
Taylor picked up where he left off in 2011 with 53 tackles (eight for loss) and five sacks. He missed the last four games with the Lisfranc injury in his foot. He came back in 2012 and had 76 tackles (10.5 for loss) and 5.5 sacks, but according to NFL.com, Taylor hasn't been the same since the injury.
Taylor was an honorable mention on the coaches' All-ACC team as a junior and senior.
Begin Slideshow

»
Dec. 28, 2012
Not many teams go from 2nd-and-1 to punting two plays later, but that's what happened to Rutgers early in the first quarter of the Russell Athletic Bowl.
Taylor had a lot to do with that.
The inside linebacker fought off a block by Scarlet Knights tight end Beau Bachety and burst into the backfield to stop Rutgers running back Jawan Jamison for a two-yard loss. He shared the tackle with Alonzo Tweedy.
After an incomplete pass, Rutgers was forced to punt.
Dec. 28, 2012
Taylor filled up his highlight reel in the first quarter of the Russell Athletic Bowl at Orlando, Fla.
On 3rd-and-11 from the Rutgers 31, Taylor took advantage of a double-team on the right side and came in unblocked to knock down Gary Nova's pass.
Dec. 28, 2012
Taylor started strong and finished strong in the Russell Athletic Bowl.
Rutgers led Virginia Tech 10-3 with 12 minutes left in the game. On 2nd-and-10 from the Rutgers 32, Taylor showed the range to track plays all the way to the sideline when he ran down Savon Huggins for no gain.
Teammate Antone Exum intercepted Gary Nova on the next play, and that set up the game-tying touchdown.
Dec. 28, 2012
At the point in the game when every play is magnified, Taylor rose to the occasion at the Russell Athletic Bowl.
The game was tied 10-10 with two minutes, 20 seconds to play. Virginia Tech had just missed a field goal, giving Rutgers the ball at its own 34.
The first play of the drive was a Gary Nova screen pass to Savon Huggins. Taylor was all over it, fighting through traffic and wrapping up Huggins for a four-yard loss.
Rutgers went three-and-out and the game went into overtime. Virginia Tech won 13-10 to avoid its first losing season since 1992.
Oct. 20, 2012
Virginia Tech lost 38-17 at Clemson even though Taylor registered one of his 5.5 sacks.
On 3rd-and-14 from the Clemson 46 early in the fourth quarter, Taylor took advantage of a lapse in pass protection. Left guard David Beasley pulled to block on the right side, and center Dalton Freeman couldn't get over in time to get a hand on Taylor, who sacked Tajh Boyd for a 16-yard loss.
Oct. 20, 2012
Virginia Tech didn't complete the goal-line stand here, but Taylor added a few plays to his game tape.
Clemson, No. 19 at the time according to ESPN, led 31-17 with just over two minutes left and had a 1st-and-goal at the 1-yard line.
Tajh Boyd tried to dive over the middle on first down, but Taylor knocked him back.
On second down, Andre Ellington was swallowed up by a swarm of defenders, and Taylor was right in the middle of it.
On third down, Taylor came around on the outside and grabbed just enough of Boyd's leg to stop him short of the end zone.
Boyd scored on fourth down as Taylor was neutralized by Clemson guard Tyler Shatley.