Tony Jefferson: Video Highlights for Former Oklahoma FS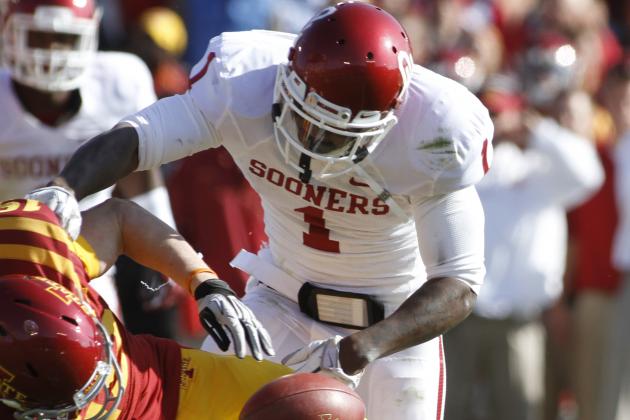 Matthew Holst/Getty Images

It's generally perceived that the 2013 NFL draft boasts one of the more talented safety classes in recent memory. That includes senior Tony Jefferson, whose hard work as a four-year player at Oklahoma will lead to an opportunity at the next level.
Jefferson excelled during his senior year, starting 13 games and recording 119 tackles. Now, his focus turns to the NFL after a quality collegiate career.
Here are a few key highlights of the former Sooners standout.
Begin Slideshow

»
In today's NFL, the safeties have been given more responsibilities, which include becoming well-established defenders against running quarterbacks.
This could bode well for Jefferson, who shows his great speed and awareness against a read-option quarterback.
With a read-option play set up by Texas, the average viewer can get an early glimpse at how Jefferson defends these mobile QBs. The result was impressive, as Jefferson blazed to the backfield and gave the quarterback zero chance of gaining any yards on the play.
It's been established that Jefferson was an elite tackler at the college level. However, any NFL viewer will continue to enjoy the hard hits he imposes on opposing receivers.
The first highlight shown here is a Texas receiver hauling in a reception with the hope of heading upfield. That hope didn't last very long, though, as Jefferson quickly covered enough ground to come in and lay a punishing hit on the wideout.
Meanwhile, the Iowa State receiver in the next clip was ready to break out a long gain on the reception, as he appeared to be the only man free on the left side of the football field. Jefferson quickly came within striking distance and wrapped him up as soon as both players made contact.
With Jefferson proving he is a quality tackler, you might assume that he would have no problem pressuring quarterbacks.
You would be correct. While Jefferson displays speed as a safety, his experience as a linebacker has given him a tough, physical edge when it comes to bringing down signal-callers.
The two sacks shown in this video are indicative of that. While Jefferson sacks the quarterback after coming on the blitz on the first play, he manages to chase down the scrambling quarterback on the second.
Jefferson hasn't earned too many interceptions in his career. When he does make an acrobatic catch, it's impressive to watch.
His interception against Ball State was indeed impressive, as Jefferson brings the ball in with one hand and maintains full possession as he approaches the sideline.
Those watching Jefferson for the first time might wonder if he has the typical skills of a safety. This should put any of those doubts to rest.
As he showed in the previous highlight, Jefferson is capable of finding himself near the football and capitalizing on turnovers.
There probably wasn't a better moment to do it than against the school's archrival, Texas. On this play, Jefferson got a very good read on the football and managed to get in front of the receiver. He maintained possession despite being incidentally tripped.
After that, he made the most out of the turnover by juking past a few of the Texas defenders and putting his team in better scoring position. His instincts prevailed.
Watching Jefferson make these punishing tackles doesn't get old, especially since he shows quarterbacks no mercy.
Texas' Garrett Gilbert was in a position to scramble to the edge of the end zone and pick up a touchdown, but Jefferson had a different idea in mind. He quickly accelerated toward Gilbert, tackling the quarterback down low and flipping him in the air as a result.
Once again, his physicality is a reason why he will be coveted by plenty of teams come draft day.