Predicting Baseball's Top 10 WAR Producers in 2013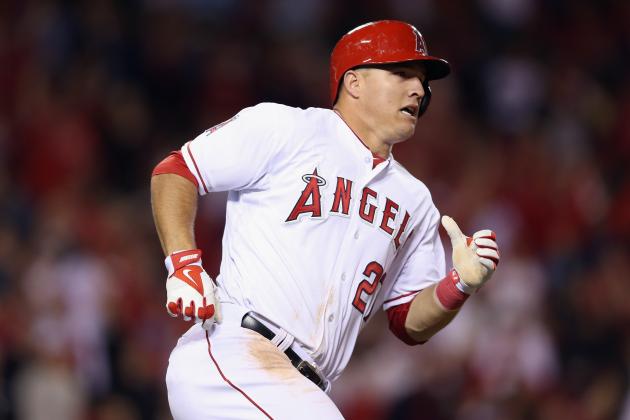 Jeff Gross/Getty Images
Mike Trout of the Los Angeles Angels led the majors in WAR last season by a wide margin.
Wins Above Replacement will determine baseball's most valuable players in 2013 by taking all their contributions and weaknesses into consideration. Before the season is too far gone, let's predict whether or not anybody can topple 2012 WAR leader Mike Trout.
The statistic uses typical replacement-level players—bench guys or those available in the minors—as a base line for comparison.
Last year, five individuals finished in Baseball-Reference.com's top 10 for the first time in their careers. Likewise, the following list includes Bryce Harper, Matt Harvey, Clayton Kershaw and Justin Upton, none of whom has ever been among the very best.
WAR certainly isn't the only thing that matters, but it has gradually become a major factor when selecting the sport's award winners.
Begin Slideshow

»
Jonathan Daniel/Getty Images
Alex Rodriguez has the highest career WAR among active players.
If interested, Baseball-Reference provides an in-depth explanation about the six components involved in calculating WAR.
Here's the gist of it: batting (overall and situational), baserunning, fielding, position and playing time influence the final number.
Ben Zobrist of the Tampa Bay Rays has famously finished with elite WAR values due to his defensive versatility and on-base percentage. On the other hand, feared slugger Prince Fielder has only been above 5.0 WAR once. Immobility at first base annually drags him down.
Earlier this millennium, Roy Halladay and Albert Pujols always ranked among the league's best, though it seems that both have entered a decline phase.
Those who cracked Bleacher Report's top 10 are all 30 years old or younger.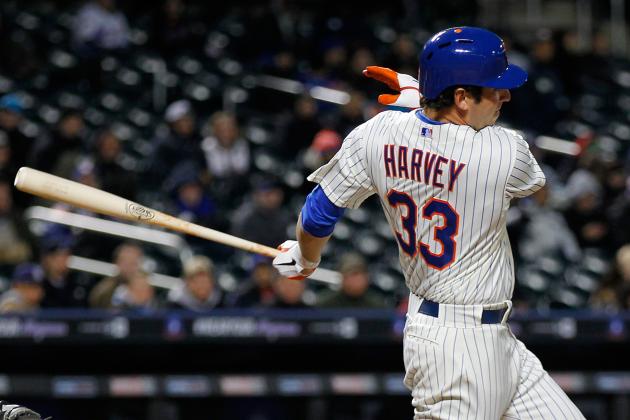 Mike Stobe/Getty Images
Offensive production will boost Harvey's WAR for the 2013 season.
2012 WAR: 2.0.
Matt Harvey has thoroughly dominated in three starts this season with a 0.82 earned run average and .088 batting average against.
It's worth noting, however, that the right-hander has only faced below-average offensive teams: the Minnesota Twins, Philadelphia Phillies and San Diego Padres.
That changes Friday. The New York Mets will oppose red-hot hitters like Bryce Harper (.364/.417/.673 batting line) and Kurt Suzuki (.360/.485/.800).
Nonetheless, Harvey should give the Mets respectable outings through season's end, regardless of who's in the batter's box. His stuff is among the filthiest in baseball.
Plus, Harvey gets a WAR boost from his offensive contributions. Entering Friday night's matchup, his career batting line is .292/.292//.375.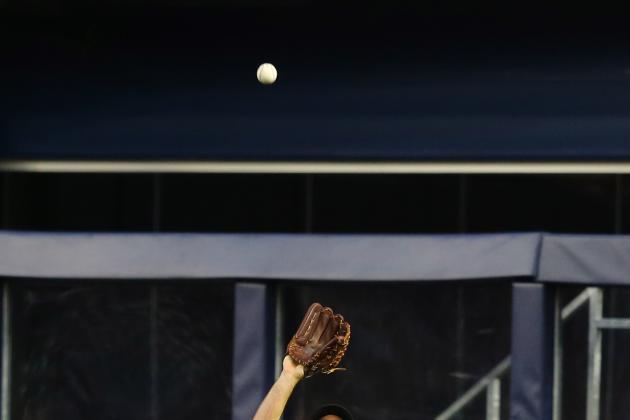 Al Bello/Getty Images
Brett Gardner.
2012 WAR: 0.2.
Three seasons ago, Brett Gardner finished fifth in the American League with a 7.4 WAR.
Expect similar value from him in 2013.
Gardner has historically been very aggressive and efficient on the basepaths, and despite a total of zero steals thus far, he can be trusted to finish with several dozen of them.
The 29-year-old also stands to benefit from Derek Jeter's latest setback (via Andrew Marchand, ESPNNewYork.com). With the captain out through the All-Star break, Gardner is assured a spot atop the New York Yankees lineup. That will result in more plate appearances and production.
Meanwhile, he should be eager for Curtis Granderson's eventual return next month.
The Yankees hoped to use Granderson in left field this season, but he didn't get much repetition at the position in spring training. Instead, Gardner will move back toward the foul line when the time comes.
Gardner's speed and instincts over-qualify him to play left, so a he should finish with an elite dWAR.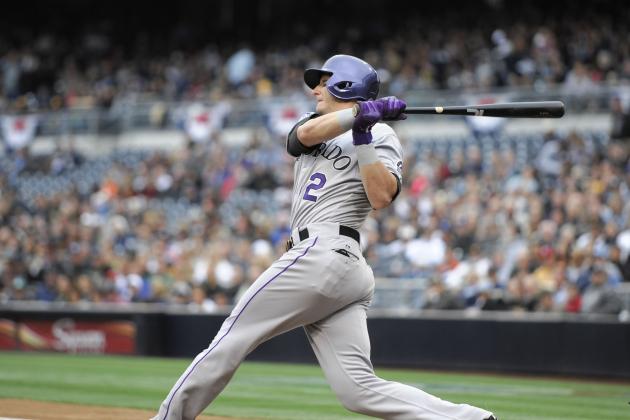 Denis Poroy/Getty Images
Troy Tulowitzki.
2012 WAR: 0.4.
It's tough to trust that Troy Tulowitzki will stay healthy considering his past stints on the disabled list.
With that said, even missing some time this season might not drop him out of the top 10. A fractured list limited Tulo to 122 games in 2010, yet he was worth 6.7 WAR.
He provides so much more power than a replacement-level shortstop could. The standard is particularly low right now with Derek Jeter and Jose Reyes facing lengthy absences, and many teams are starting light-hitting players at the position.
Because Tulo is sure-handed and gifted with an exceptional throwing arm, he gets credited with plenty of Defensive Runs Saved.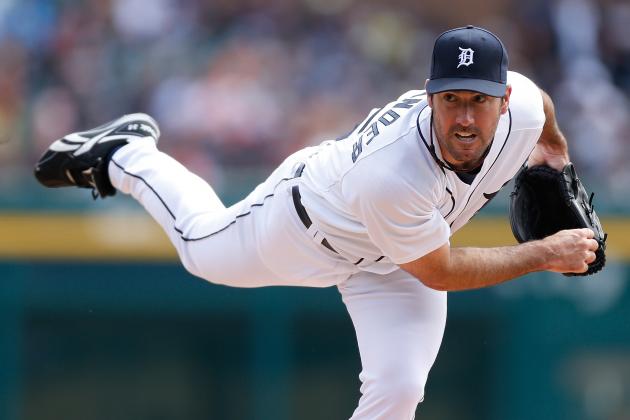 Gregory Shamus/Getty Images
Justin Verlander.
2012 WAR: 7.7.
Justin Verlander led all MLB pitchers in this statistic last summer. Once again, he has enjoyed an effective month of April.
The perennial All-Star overpowers without sacrificing any control, as evidence by his gaudy strikeout-to-walk ratio.
The Detroit Tigers' bullpen has looked very shaky in 2013. Manager Jim Leyland will not hesitate to leave Verlander on the mound into the later innings, like we've seen him do in recent seasons.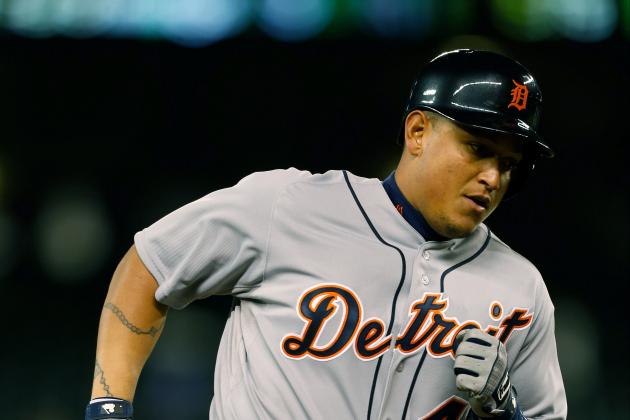 Otto Greule Jr/Getty Images
Miguel Cabrera.
2012 WAR: 7.3.
The freakishly consistent Miguel Cabrera has finished with at least 6.5 WAR in every season of the current decade.
At age 30, count on him to continue producing.
Prince Fielder joined him in the Detroit Tigers lineup last season. As a result, opponents couldn't pitch around Cabrera quite as often, so they challenged him over the plate and prayed that his hits wouldn't leave the ballpark.
The arrival of Fielder also motivated Miggy to lose weight as he shifted across the infield to third base. Though he might never be a defensive star at the position, adequacy will keep his overall WAR comparable to his oWAR.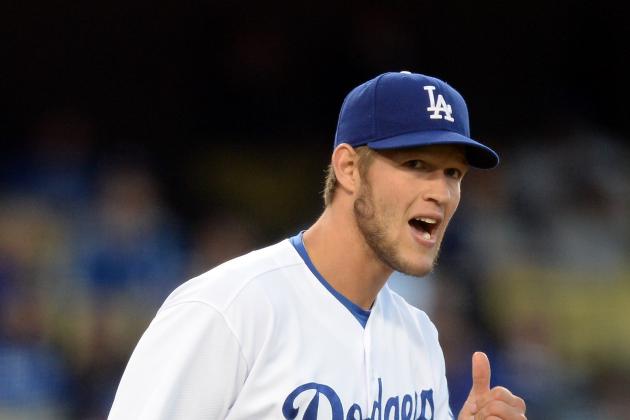 Harry How/Getty Images
Clayton Kershaw.
2012 WAR: 6.6.
Clayton Kershaw's Opening Day performance shows why he can be trusted to be baseball's most effective overall pitcher. He single-handedly won that April 1 game for the Los Angeles Dodgers by tossing a four-hit shutout and crushing his own home run.
Let's expand the sample size. Since 2011, the southpaw has a higher batting average (.217) than the batters who have faced him (.207).
L.A.'s starting rotation depth is dwindling, and the Dodgers currently lack a true long man to eat innings when a pitcher departs early. Consequently, most of the bullpen could get involved on non-Kershaw nights.
Manager Don Mattingly would rather let his ace work deep into the night than overexert his relievers.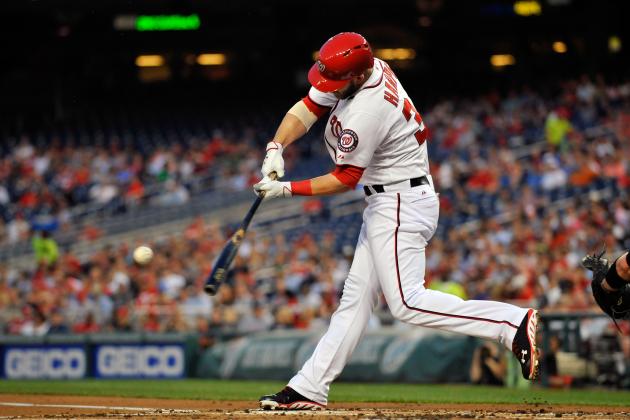 USA TODAY Sports
Bryce Harper.
2012 WAR: 5.2.
If Bryce Harper can record four hits in between puking sessions (via Jon Heyman, CBS Sports), what's he capable of in good health?
Unadulterated greatness.
Many of Bleacher Report's baseball experts picked him as their favorite in the 2013 National League MVP race. Through the first few weeks, he certainly looks capable of winning it (.364/.417/.673 with 5 HR).
But one concern is his frantic style of play, which leaves him susceptible to significant injuries.
Harper also led the sport in outfield errors as a rookie. While it didn't negate all his athletic plays, it obviously limited his WAR.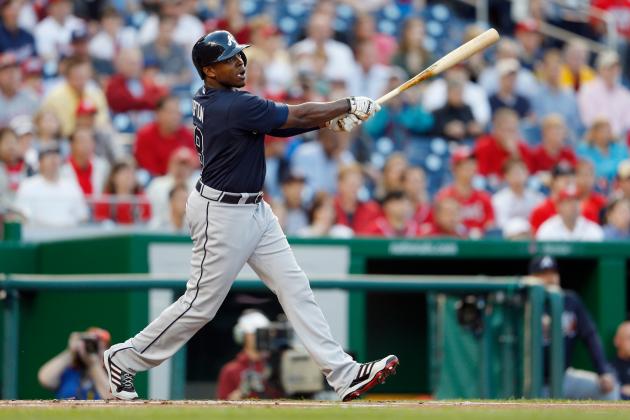 Rob Carr/Getty Images
Justin Upton.
2012 WAR: 2.3.
At this rate, Justin Upton's 2013 WAR could exceed last year's value by Memorial Day. That's both a testament to how much he underachieved with his previous team and how unstoppable he is right now.
The Atlanta Braves left fielder has nearly one extra base hit per game and solid defensive skills.
Upton's most glaring weakness is his strikeout rate, as he has annually whiffed at least 120 times.
However, that didn't hinder Jose Bautista or Matt Kemp from finishing with excellent sabermetrics in recent seasons.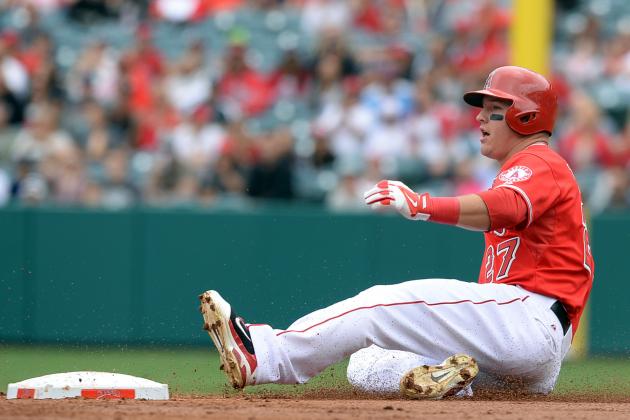 Jayne Kamin-Oncea-USA TODAY Spor
Mike Trout.
2012 WAR: 10.9.
Mike Trout won't be the runaway WAR leader for a second straight season, but he'll get awfully close.
We've seen countless instances of position players regressing in their second full seasons, and this 21-year-old "wonderboy" won't be an exception. Pitchers will exploit his reluctance to swing at the first pitch and get ahead in the count more often. Without as many opportunities to guess on particular offerings, Trout is going to total fewer home runs.
Nonetheless, his defensive value should be roughly the same, and there's no doubt that his highly paid teammates will eventually catch fire, leading to lots of runs scored.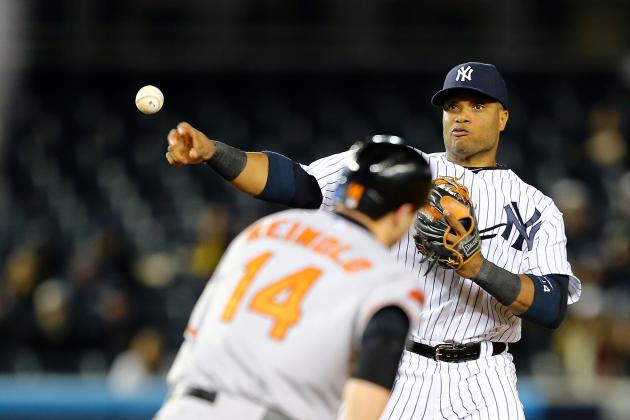 Al Bello/Getty Images
Robinson Cano.
2012 WAR: 8.5.
It's a contract year for Robinson Cano. Coupling that with the crippled state of the New York Yankees' lineup, quite a few baseball fans expect him to succumb to the pressure.
Our own Zachary D. Rymer knows better. After considering recent studies and relevant testimonies, he came to this conclusion:
We should all just stop assuming that contract preoccupation is to thank when a star player has a big walk year and is to blame when a star player has a poor walk year.
Though Cano's defensive value fluctuates from year-to-year, it is consistently positive. And hardly anyone is more dangerous with a bat in his hands. Like Troy Tulowitzki, he has the luxury of being compared to other middle infielders.
No individual since Barry Bonds has led Major League Baseball in WAR for consecutive seasons. By the smallest of margins, Cano can prevent Mike Trout from doing so.