Vikings Draft: The Best Fit for Minnesota at Every Position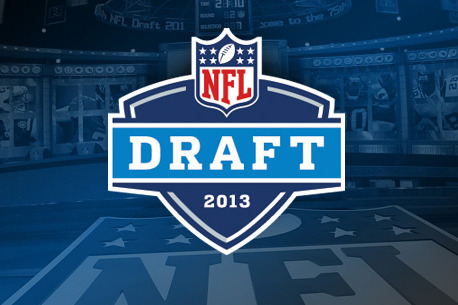 courtesy nfl.com
The Minnesota Vikings have 11 picks in the NFL Draft that starts April 25 in New York. Minnesota also has four picks in the top 100. This year's draft is going to go a long way toward determining whether the Vikings continue the upswing they started last year, or fall back to the bottom of the NFC North standings.
The following slideshow highlights each position or position group on the roster, with a choice for the best fit for the Vikings at the position.
It's not simply a ranking of the best guy for each spot, but the best that will likely be available when the Vikings look at that position in the draft. For each player, there will be an explanation of Why He Fits the Vikings' scheme and roster. There will also be reasons Why They'd Take Him and reasons Why They Wouldn't.
Click on for the best fit at every position for the Vikings in the upcoming draft.
Begin Slideshow

»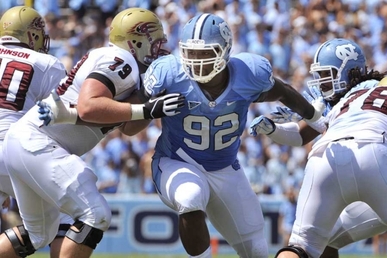 courtesy goheels.com
Why He Fits
The Vikings need a tackle that is strong enough to hold up in the middle against the running game, while still being at least something of a threat in the passing game. Williams fits the bill. He has even played some 3-technique, which would allow him to take some snaps off of the aging Kevin Williams.
Why They'd Take Him
Williams has the prototypical size for a defensive tackle, standing 6'3" and weighing in at 313 pounds. He's explosive off the ball, as his 13.5 tackles for loss and six sacks in 2012 demonstrate. He has a knack for making big plays.
Why They Wouldn't
Williams isn't the most experienced player in the draft. He only played one year of high school football and was a junior college transfer to UNC. He's only played two seasons against top-flight competition. There are also some questions about his motor. Williams can make a flashy play on one snap, then disappear for long stretches. He'll have to be more consistent to shine in the NFL.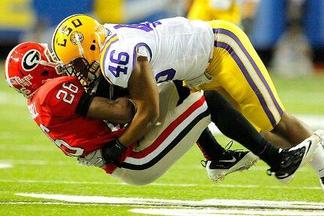 courtesy tigerhype.com
Why He Fits
Minter has the combination of size, speed and intelligence to play the middle of the Vikings' Tampa Two defensive scheme. He was the best defender on an LSU roster stocked with NFL-caliber talent. Minter has good size for the middle at 6'0" and 246 pounds, though he'll likely have to add some weight in the NFL.
Why They'd Take Him
Minter is smart and quick. He made 13.5 tackles for loss in 2012, and totalled over 110 tackles for the Tigers. He has great anticipation and is seldom out of position. Minter is one of the most polished prospects in the draft. Also, the Vikings are looking at starting Audie Cole or Marvin Mitchell if they don't draft someone to play the middle.
Why They Wouldn't
Minter lacks ideal size and isn't the most explosive tackler in the world. He tends to go for the sure stop instead of trying to jar the runner and knock the ball loose. He struggles to shed blocks once he gets tied up. Also, there's a significant chance he won't be on the board when the Vikings pick.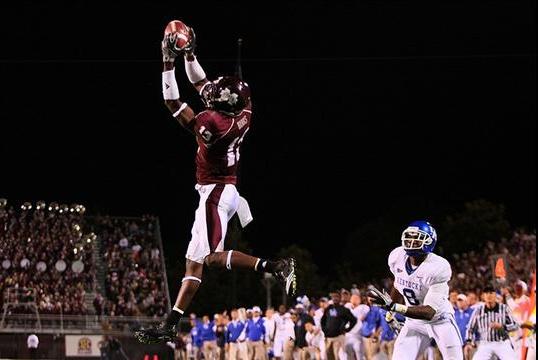 courtesy 13wmaz.com
Why He Fits
Because Mississippi State plays in the SEC, Banks played against elite competition week-in and week-out. He won't be making too big a leap to the NFL. His height (6'2") will allow him to match up with some of the big, long receivers in the NFC North. Banks can play either man or zone coverage.
Why They'd Take Him
According to 1500espn.com, Antoine Winfield has signed a deal with the Seattle Seahawks. Since the veteran isn't coming back to Minnesota, the cornerback position becomes one of need for the Vikings. Banks would be a good value pick in the second round. He is strong in coverage, seldom letting a receiver break open. He's also got excellent ball skills.
Why They Wouldn't
Banks is the consummate 'tweener. He's not quite a good enough prospect to take with the 23rd or 25th pick, but he won't likely be around when the Vikings pick in the second round (No. 52 overall). Though tall enough, Banks is very lean at 185 pounds, and sometimes looks worn out late in games.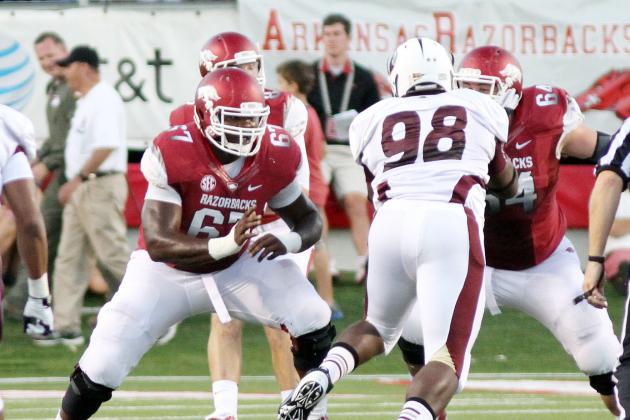 courtesy arkansasnews.com
Why He Fits
Bailey's forte is blocking in the running game, and the Vikings are a running team. He's massive (6'3", 313 lbs) and quick off of the ball. He's another SEC product, which means that he'll have less of an adjustment to make in terms of competition at the NFL level. Bailey is experienced as well, having started all 26 games in his career at Arkansas.
Why They'd Take Him
Bailey doesn't get as much press as some of the top guard prospects, like Alabama's Chance Warmack or North Carolina's Jonathan Cooper. But in the running game, he's every bit as good. Explosive off of the snap, he frequently knocks defenders off the line of scrimmage. Bailey would be an immediate upgrade over either Charlie Johnson or Brandon Fusco, the current starters at guard for Minnesota.

Why They Wouldn't
This isn't really a position of need for the Vikings. While the team would love to upgrade at the position, it's not likely that Minnesota will draft a guard in the first two rounds. It's not likely that Bailey will still be on the board when the Vikings come up in the third round (at No. 83 overall). Bailey, while fierce at the point of attack, sometimes has trouble when isolated with a defender out in space. He tends to stop moving his feet while pass-blocking.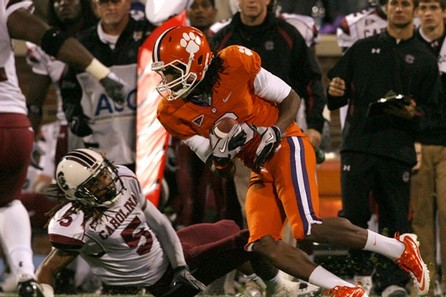 courtesy orangeandwhite.com
Why He Fits
Hopkins simply produces. In 2012, he caught 82 balls for over 1,400 yards and scored 18 times (a Clemson record). Though he's not the biggest or fastest receiver in the 2013 draft class, he gets the most out of his ability and would provide Christian Ponder with another viable weapon in the passing game.
Why They'd Take Him
Hopkins reminds some scouts of Cris Carter. He doesn't have the best measurables—lacking elite size or speed, but he gets the job done. He catches the ball well and produces yardage after the catch. He's deceptively strong, and according to NFL.com's Gil Brandt (via cbs.sports.com), Hopkins plays faster than his speed indicates.

Why They Wouldn't
As mentioned, Hopkins lacks elite size and speed. He has a lean frame (6'1", 214 lbs) and probably needs to improve his strength. He occasionally drops the ball because he's trying to run before making the catch, though that's something that should improve over time. There's a chance that Hopkins won't be around when the Vikings' first pick comes up at No. 23.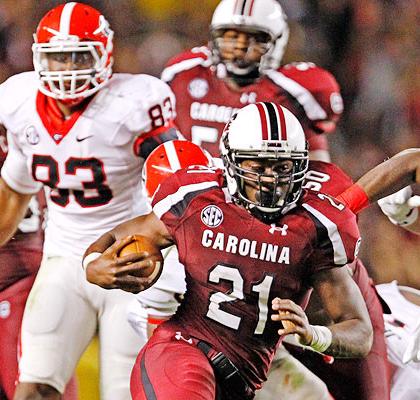 courtesy espn.go.com
Why He Fits
Lattimore reminds many observers of the Vikings' Adrian Peterson in more ways than one. He runs tough, almost never being taken down by the first tackler and seldom running out of bounds. Also reminiscent of Peterson, he's recovering from a serious knee injury that ended his college career.
Why They'd Take Him
With Lattimore's injury history, the Vikings could get great value for him. It's unlikely that he would be taken before the fourth or fifth round, and some teams have him off their boards altogether. If the Vikings could get him in the sixth or seventh round, the risk would be minimal.

Why They Wouldn't
Lattimore has suffered two serious knee injuries in the last two years. While Minnesota surely understands that a back can return from injury, it's still a big risk. It's also not a big position of need for the Vikings, who have Peterson and Toby Gerhart already under contract.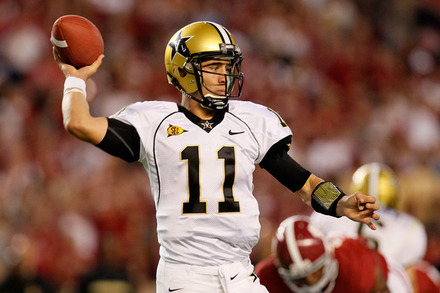 Kevin C. Cox/Getty Images
Why He Fits
Rodgers played in a spread offense at Vanderbilt, which is somewhat similar (at least in terms of the passing game) to the way that Vikings offensive coordinator Bill Musgrave likes to distribute the ball. Rodgers is smart and gritty and tends to make good decisions with the ball.
Why They'd Take Him
Rodgers is the perfect project quarterback. Like his older brother, who is currently leading the Green Bay Packers, Jordan Rodgers would benefit from a few years on the sidelines. With Christian Ponder and Matt Cassel already in place, it would be the perfect learning environment for a young QB. Rodgers is remarkably accurate in short- to medium-range passing and moves well in the pocket.

Why They Wouldn't
As stated, quarterback isn't really a position of need for Minnesota. The Vikings appear to be committed to Ponder, and Rodgers has a lot of the same skill set. Rodgers lacks elite arm strength and is somewhat inexperienced at the college level, only starting for a season and a half.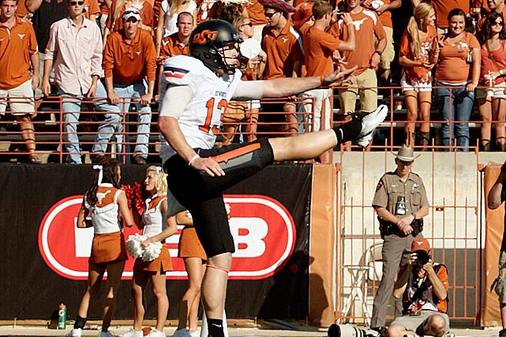 courtesy sikids.com
Why He Fits
Sharp is an interesting prospect. He handled punting, kicking and kickoff duties for Oklahoma State during his tenure in Stillwater. Obviously, he's versatile and a useful player to have on the roster in the off chance that Blair Walsh would suffer an injury. He's also a decent tackler, tallying 10 stops during his career with the Cowboys.
Why They'd Take Him
Incumbent punter Chris Kluwe was somewhat erratic last year, though still effective overall. Sharp could produce similar numbers for a lot less money. Also, a late-round pick is a good place to take a chance on a special teams ace. (Remember Blair Walsh last season?)
Why They Wouldn't
Sharp's versatility may actually work against him. As the kicker and punter for the Cowboys, he was a specialist without a specialty. He was most effective as a punter early in his college career, before he spent most of his time trying to improve his worth as a kicker. He also has a tendency to kick line drives now and then.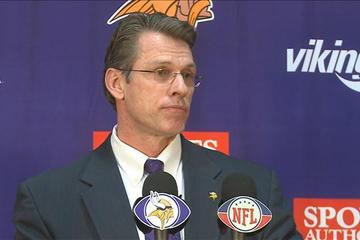 courtesy kare11.com
In his first solo draft as Minnesota's General Manager, Rick Spielman did a remarkable job. He selected Matt Kalil and Harrison Smith in the first round. Josh Robinson and Jarius Wright will likely be starters for the team this year, and Rhett Ellison already contributes on offense. Then there was the selection of Blair Walsh in the sixth round. Talk about value.
If the Vikings are going to continue their ascent in the NFC North, Spielman and his scouting staff will have to excel again this year. There are plenty of holes on the roster, and it will be critical that Minnesota drafts well in order to replenish its talent.
Who would you like to see in purple? Disagree with any of the picks here? Have some favorites of your own? Speak your mind in the comments section below.
Follow me on Twitter: