Boston Celtics vs. Miami Heat: Postgame Grades and Analysis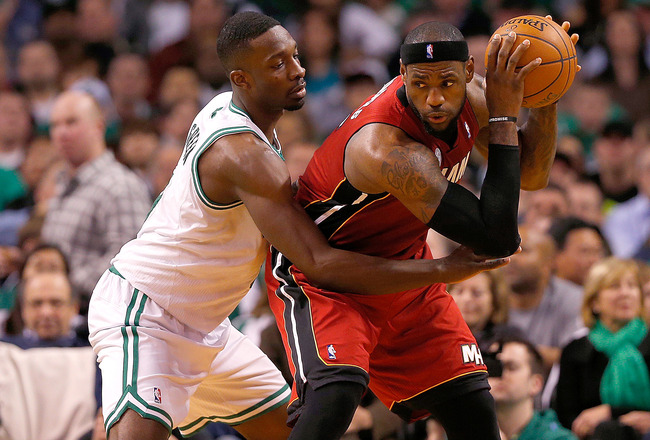 Jim Rogash/Getty Images
In a clash between bitter rivals, the Miami Heat hosted the Boston Celtics in a 2012 Eastern Conference Finals rematch. After yet another awe-inspiring battle between LeBron James and Jeff Green, the Heat emerged victorious by a score of 109-101.
So how did it all transpire?
LeBron was brilliant as always, filling up the stat sheet with 20 points, nine assists and six rebounds on 8-of-10 shooting from the field. Rashard Lewis contributed a surprising 19 points and both Chris Bosh and Ray Allen tallied 17.
With that being said, the individual star of the evening was Green.
Green continued his recent string of All-Star-caliber success, scoring 25 points and taking it to LeBron in relentless fashion. With Jordan Crawford dropping 20, the Celtics nearly pulled off this shorthanded upset without Kevin Garnett and Paul Pierce.
So how did Miami manage to escape with a victory?
Point Guards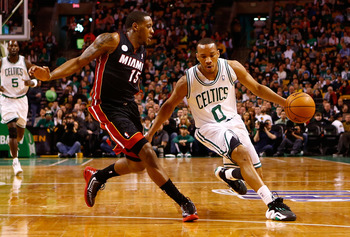 Jared Wickerham/Getty Images
Avery Bradley, Boston Celtics: C
Avery Bradley is never one to wow you with his well-rounded contributions on the stat sheet. Instead, he's going to make the garbage plays defensively and slow the opposition down.
Bradley displayed that with seven points, two assists, one rebound and four steals.
Bradley played Mario Chalmers well for the most part, not allowing him to create his own looks. Furthermore, Bradley helped collapse the defense throughout the game.
Unfortunately, it just wasn't enough as Boston missed their primary facilitator.
Mario Chalmers, Miami Heat: C+
Mario Chalmers doesn't get very many touches on an offense in which LeBron James, Dwyane Wade and Chris Bosh manage to coexist. When he does see the rock, however, Chalmers is often expected to perform at a high level.
He came up big with three key three-pointers—a number that lifted the Heat to an eight-point win.
Outside of his three-point shooting, Chalmers managed to play quality defense on Avery Bradley. He held the former Texas Longhorn to 3-of-9 shooting and prevented numerous entry passes.
The only way to put it is that this was a quality outing by Chalmers.
Shooting Guards
Steve Mitchell-USA TODAY Sports
Courtney Lee, Boston Celtics: A-
Courtney Lee is one of the better perimeter defenders in the NBA, pairing explosive quickness with a solid defensive base. In the past, he's had success against Dwyane Wade as a defender for those very reasons.
Tonight, he dominated Wade defensively and stepped up with a beautiful offensive output.
Lee finished with 18 points, three rebounds, two assists and a steal on 8-of-16 shooting from the floor. Lee also converted two three-point field goals and worked well coming off of screens to create offensive opportunities.
It doesn't hurt that he forced Wade into one of his worst performances of the season.
Dwyane Wade, Miami Heat: C
Which numbers do you evaluate when you grade Dwyane Wade's performance? Do you look at the shooting percentages and turnovers, or the rebounds and assists?
Let's be real, folks—Wade struggled, and the former numbers are all that count.
Courtney Lee smothered Wade defensively, holding him to 11 points on 4-of-12 shooting from the floor. Furthermore, Wade was just 3-of-6 from the free-throw line and committed five costly turnovers.
The seven assists and six rebounds look nice, but Wade struggled mightily.
Small Forwards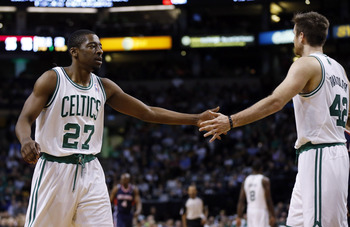 Greg M. Cooper-USA TODAY Sports
Jordan Crawford, Boston Celtics: A-
Jordan Crawford was magnificent, displaying the offensive tenacity that Doc Rivers has been calling for. Not only did he play out of position, but Crawford also embraced the starting role and put on a scoring performance worth marveling.
At night's end, Crawford tallied 20 points, made two three-pointers and tacked on four rebounds, two assists and two steals.
Crawford did the bulk of his damage during the third quarter, scoring eight consecutive points during a span of 1:15. This enabled the Celtics to fight back, thus cutting the deficit to single digits after going down by 12.
Crawford's efforts fell short, but he came up as big as you could've asked him to.
Mike Miller, Miami Heat: D-
To say that Mike Miller struggled would be a massive understatement. He was consistently out of position defensively, couldn't get a single shot to fall and would have seen a failing grade if not for his four assists.
Going 0-of-6 from the field will do that.
In his current state and age, Miller is brought in to provide a valuable scoring spark due to his outside shooting. Unfortunately for Miami, Miller missed all six of his three-point field goals and failed to counter Crawford's offensive production in any manner.
This was a rough performance from Miller.
Power Forwards
Greg M. Cooper-USA TODAY Sports
Jeff Green, Boston Celtics: A+
For the second consecutive meeting, Boston Celtics forward Jeff Green has gone off against LeBron James. After scoring 43 points the first time around, Green's encore performance consisted of 25 points and eight rebounds on 10-of-17 shooting.
Just another step on the path toward stardom that Green has made over the past month.
Green was magnificent, taking it inside and finishing around the basket at virtual will. Even with LeBron on him, Green managed to take it off of the dribble and step back for a jumper.
Although he struggled from beyond the arc, Green won the interior battle and grabbed eight key rebounds.
Green's shining moments happened early, as he threw down monstrous jams to quiet the wild Miami Heat crowd. Although his efforts ultimately fell short, Green managed to make a powerful impact on offense.
Yet another masterful performance from Green against LeBron.
LeBron James, Miami Heat: A+
LeBron James had his hands full defensively, as Jeff Green again took it to him for a high-caliber scoring output. Fortunately for the Heat, LeBron countered with one of his most efficient outings of the year.
In 29 minutes, James tallied 20 points, nine assists and six rebounds on 8-of-10 shooting from the floor.
In terms of scoring the basketball, James scored all eight of his field goals from in the paint. That's six dunks and two layups for those keeping track at home.
Why even attempt any other field goals when you're getting to the basket at such an efficient rate?
On top of his scoring, James also dished out nine dimes and facilitated a quality offensive output by Miami as a team. Against a banged-up Boston defense, James fully exploited Kevin Garnett's absence.
Did we expect anything less?
Centers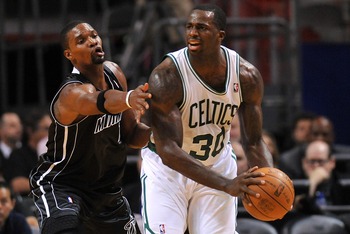 Steve Mitchell-USA TODAY Sports
Brandon Bass, Boston Celtics: A
Outside of Jeff Green and LeBron James, this surprisingly proved to be the best positional battle of the evening. This was a result of Chris Bosh's expected production and Brandon Bass' surprising rise in play.
With Kevin Garnett absent, Bass dropped 17 points and nine rebounds on 6-of-9 shooting.
Bass was brilliant, pounding it down low against Bosh and even facing up for mid-range jump shots. He made all five of his free throws and even managed to grab three offensive boards.
You couldn't have asked for much more from Bass.
Chris Bosh, Miami Heat: A
Forget about the numbers, as Chris Bosh only played 25 minutes in this win. With that being said, Bosh provided a valuable presence on the glass, countered Brandon Bass' offensive eruption at every turn and was a key to Miami's fourth-quarter closeout.
All in all, it was just another quality day for Bosh—a word that means a lot more for a star than a role player.
Bosh tallied 17 points and seven rebounds in 25 minutes of action. As the Celtics made a game out of what appeared to be a lopsided affair, Bosh made sure they wouldn't come back.
Miami is tough to beat, and this man is a major reason why.
Sixth Men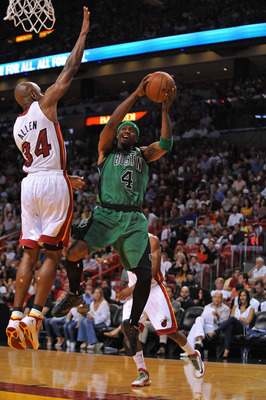 Steve Mitchell-USA TODAY Sports
Jason Terry, Boston Celtics: D
Jason Terry entered this game with the potential to be the difference between a win and a loss. With his sharpshooting abilities and the uncanny ability to take it off of the bounce, Terry could have been magnificent.
Instead, he put on one of his worst performances of the season.
Terry was just 3-of-9 from the floor, missing all three of his three-point field-goal attempts. In 28 minutes, Terry also managed to turn the ball over on four separate occasions.
This wasn't pretty from Boston's underachieving sixth man.
Ray Allen, Miami Heat: A
Against his former team, Ray Allen was absolutely sensational at doing what he does best: shooting the three-ball. With 17 points on 5-of-6 shooting from the field and 3-of-4 from beyond the arc, Allen gave Boston a flashback of what he once did for them.
Against them, Allen played like it was 2008.
With Dwyane Wade struggling and Boston's Jamal Crawford and Courtney Lee combining for 38 points, Miami needed something big at the 2-spot. Allen gave them momentum with every jump shot and helped seal this win.
A huge output by the potential Hall of Famer.
Reserves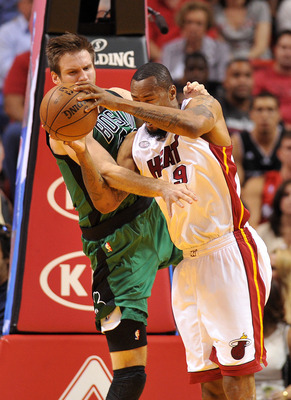 Steve Mitchell-USA TODAY Sports
Boston Celtics: F
The Boston Celtics' starting lineup was without Paul Pierce and Kevin Garnett. Even still, they managed to score 87 points.
The second unit tallied 14—three less than Miami Heat sixth man Ray Allen scored on his own.
For perspective on how Boston's bench performed, they tallied six turnovers and seven field goals made. This proved to be the difference, as they failed to match Miami's production in any manner.
A disappointing outing to say the least.
Miami Heat: A+
The Miami Heat second unit was absolutely phenomenal, scoring at will and providing a three-point spark for Miami's offense. As a collective unit, they tallied 52 points on 9-of-12 shooting from beyond the arc.
Brilliant.
Rashard Lewis led the charge, scoring a surprising 19 points on 3-of-5 shooting from distance. He did so in 24 minutes, which helped set the tone for the rest of the second unit.
With Norris Cole scoring 12, Miami's bench was solidified as elite.
The key to it all, however, was the play of Chris Andersen. Birdman managed to provide a dominant defensive performance, grabbing five rebounds, three steals and two blocks in 19 minutes.
Most importantly, Andersen kept Boston out of the paint when he was on the floor.
Keep Reading