As a second round pick, expectations are lower that you can actually develop into a solid contributor in the NBA. In the 2011 NBA Draft, the Philadelphia 76ers selected Lavoy Allen with the 50th pick in the second round.
The expectations for basketball experts of Allen succeeding were so low, that ESPN actually ranked him as the worst player in the NBA going into his rookie season last year.
When Allen was able to actually take the court last season, he showed that he was a much better player than analysts expected, and his defensive presence highly impressed coach Doug Collins. Collins trusted him enough to give him 19.7 minutes per game in the playoffs last year in 12 games.
Allen averaged 6.3 points and 4.9 rebounds, while playing impressive defense on forward Kevin Garnett of the Boston Celtics in the Eastern Conference Semifinals, where the 76ers lost in seven games.
ESPN analysts were so impressed, that they issued an apology to Allen during the series. He gained so much trust from coach Collins during that series, that this season, Allen was given the opportunity to start. He started in 37 of 75 games this season, but after mediocre/uninspired play all season long, Collins has now sent him back to the bench.
Allen hasn't started a game since February 23 and his minutes have dipped drastically since the beginning of the year. As a starting center for a good portion of the season, Allen was only able to increase his rebounding average up to five a game, only eight-tenths higher than last season.
He's clearly disappointed Collins and the 76ers fanbase. When asked by delcotimes.com writer, Christopher Vito, what he's learned since his rookie year, Allen gave a very unpromising answer.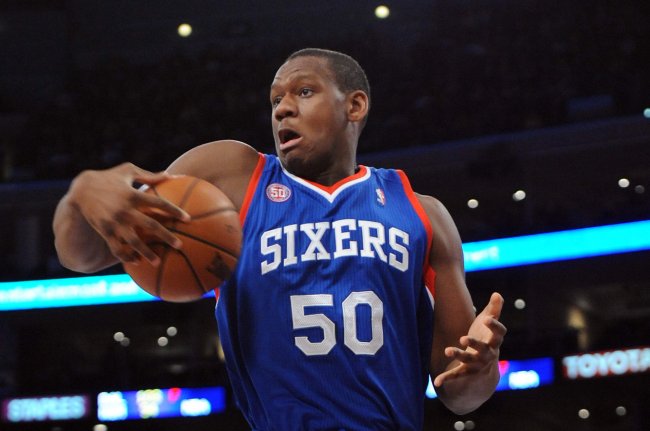 Jayne Kamin-Oncea-USA TODAY Sports
"What have I learned? I mean, what have I learned? That's a good question. Uhh, nothing really," he said. "I didn't have to do any rookie duties this year, so that's good, I guess."
Allen still has another year remaining on the two-year, $6 million contract he signed in the offseason. Not being able to grow and progress, or show the desire to do so means it would be in the best interest of the 76ers to try and make a deal for him before yet another season of turmoil.
Veteran guard Damien Wilkins told Vito what he thinks Allen should be focusing on at the moment.
"It's all on him," said Wilkins, a nine-year vet who came into the league as an undrafted rookie. "He can't control his minutes or opportunities, but he can control what he does with the opportunities. Trust me, I've been there. … I learned something every year. That's what I'd tell Lavoy (Allen). At the end of the day, it's not what I say. He's got to be his toughest critic."
The thing is, it doesn't seem like Allen has his head in the game to make those improvements. With rookie forward Arnett Moultrie making a concerted effort to grow and expand his game for the 76ers, it seems as if Allen's time is running out.