WWE Raw: Welcome to the 'We Are Awesome' Era in WWE
Use your ← → (arrow) keys to browse more stories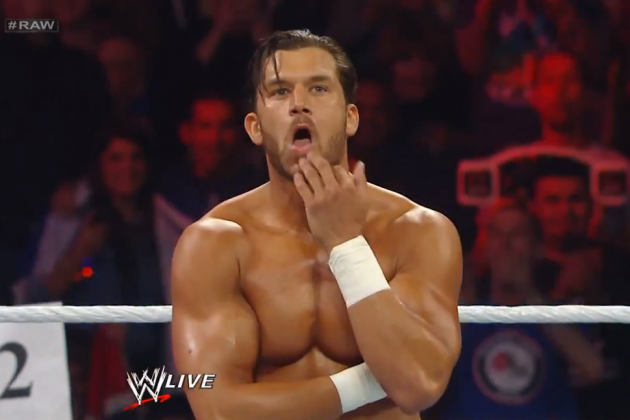 Fandango Responds to Fans Humming His Theme Song (photo courtesy of WWE.com)
WWE has just entered into a new era. Welcome to the "We are awesome" era.
Ushered in on the April 8, 2013 edition of Monday Night Raw from the Izod Center in New Jersey, this new era represents increased possibilities for audience participation during WWE programming.
Remarkably, the audience became the main event of Monday Night Raw for the entire episode. Fans in attendance influenced the show itself, which led to some moments of improvisation.
This was especially true when chants for commentators JBL, Jerry "The King" Lawler" and even Michael Cole started. Each of them had to pause and acknowledge the crowd on numerous occasions in their commentary.
When a crowd is as boisterous as the one last Monday, it cannot be ignored. Their influence has made Fandango into an overnight sensation all because of humming along to his theme song.
Even WWE.com has a poll asking fans which chant from Monday Night Raw was the best.
WWE should continue this poll every week. They should also have polls asking about which venues and crowds are the best. A little competition between different locales could make for more raucous audiences as seen last Monday night.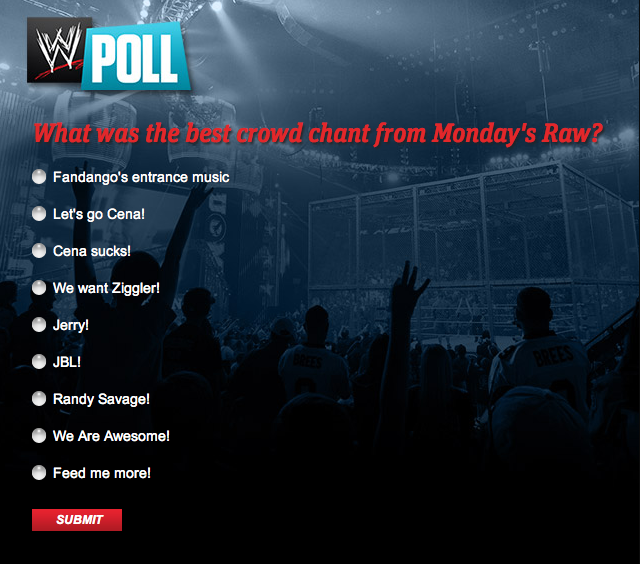 By paying attention to audiences and their reactions, rewards should be given with more events in those parts of the United States and internationally.
The only piece missing here is the role of the WWE fan that does not live in the United States. Their influence on Monday Night Raw cannot be denied.
In an interview conducted by WWE.com writer Bobby Melok, WWE Superstar and Intercontinental Champion Wade Barrett stated, "It's the best crowd America's ever seen. It's like a football crowd. I looked out in the crowd and saw a lot of U.K. flags. I think they did all the cheerleading."
The international influence was apparent when soccer chants of "Ole, Ole, Ole" broke out during the show. These chants helped bring an energized life to what could have been just another Monday Night Raw.
During the Sheamus/Randy Orton match, the crowd started to sound like a chorus chanting many different names. The Izod Center audience became an active participant in the match itself.
Sheamus vs. Randy Orton (video courtesy of WWE)
Expressing their collective opinion during the match, all kinds of names and phrases were chanted like "RVD," "ECW," "Randy Savage," "HBK" and of course "We are awesome."
The crowd also reacted when The Big Show appeared to attack both Sheamus and Randy Orton.
By merely chanting in unison, the WWE Universe became the focal point of the show.
With each passing match or segment on Raw, the crowd was a part of it. Whether they were chanting for the action going on or for something else, they were paying attention to the show.
Fans are just starting to take a more active role in WWE.
In this new era of "We are awesome," any member of the WWE Universe can be made into a star. Fans can now communicate with their favorite WWE Superstars on Twitter. WWE advertises 30-second recording online video service Tout as a way to express opinions as well.
Social media has made fans an even greater part of WWE. At the bottom of WWE.com, it states, "Follow us on your social network." Underneath that statement are logos for Facebook, Google Plus, Twitter, Hulu Plus and Tout.
Do you follow WWE via social media?
Before a WWE event, fans online who are attending can plan chants for a when a WWE Superstar appears. With this connectivity, fans can become part of the show.
What happened on Monday Night Raw the day after WrestleMania 29 captured the zeitgeist of many WWE fans.
Perhaps, more than anything else, in the "We are awesome" era, spontaneity will be prized. If people plan chants online, they may not come off very well if others in attendance do not participate.
Or, maybe we are not entering a new era at all and what was seen last Monday was just a one-time event.
Let's hope not because the WWE Universe is awesome.
Read more from Sean McCallon on the Double Axe Handle Blog.