New York Knicks vs. Cleveland Cavaliers: Postgame Grades and Analysis for NYK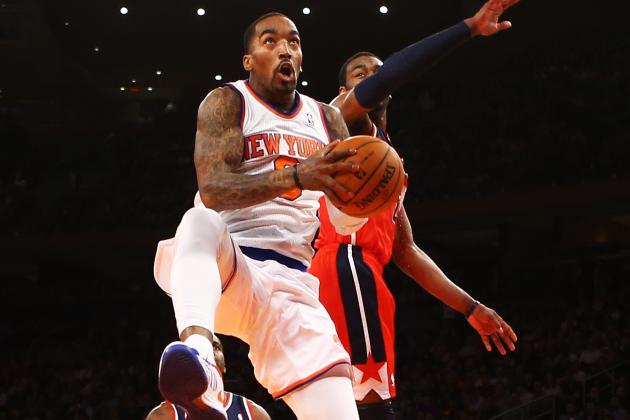 Al Bello/Getty Images
J.R. Smith and the Knicks are flying high.
With their 13-game winning streak behind them, the New York Knicks sojourned to Ohio for a tilt with Kyrie Irving and the lowly Cleveland Cavaliers. The Knicks set the Cuyahoga River on fire, running away with the game in the second quarter and not looking back. The 101-91 final score does not tell the tale.
As well as Carmelo Anthony played on Friday night—scoring 31 in his continued quest for the scoring title—J.R. Smith was even better.
The possible (probable?) Sixth Man of the Year became omnipotent in the second half, draining shots from all over the floor with ease. He scored 31 points of his own on 13-of-16 from the field, including knocking down his final 12 shots.
Kyrie Irving scored 31 in a losing effort.
After a mostly even first quarter, New York romped through the second and opened up a comfy advantage with a 13-0 run. The Cavs never sniffed the lead after that.
Cleveland kept alive some hope of a comeback, but the Knicks built a lead of at least 14 points in each of the last three quarters. New York cruised to victory down the stretch as it increased the lead to 20 points early in the fourth quarter.
With only three games remaining, the Knicks have a huge contest against the Indiana Pacers on Sunday afternoon at Madison Square Garden. With Indy's loss to the Brooklyn Nets on Friday, New York moves three games ahead of the Pacers for the No. 2 seed.
The Knicks returned to their winning ways despite playing short-handed in the second part of a back-to-back. Now let's hand out some gold stars for this fine effort.
Begin Slideshow

»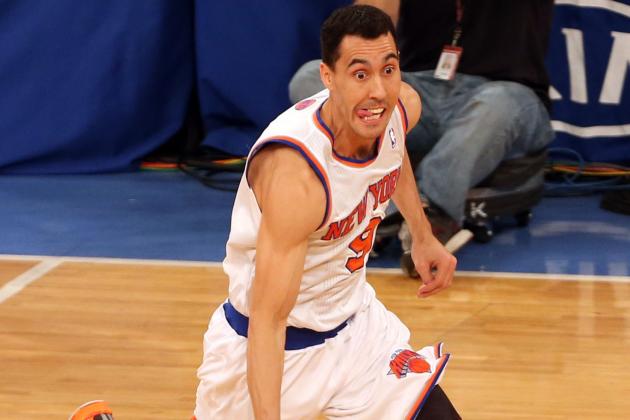 Anthony Gruppuso-USA TODAY Sport

Pablo Prigioni, PG: B
Prigioni continues to be a revelation as the starting point guard. He scored just three points on two shots, but tallied four dimes, three rebounds, three steals and a block. You have to admire his stamina too, as he logged over 35 minutes in the game.
The 35-year-old rookie has essentially become a Latin Jason Kidd. His all-around contributions and savvy play have bolstered the Knicks over the last 15 games.
While his potency might not show up in the stat line every night, his intangible value has been tremendous. Between his ability to facilitate ball movement and his pesky defense, GM Glen Grunwald struck gold with the Argentine.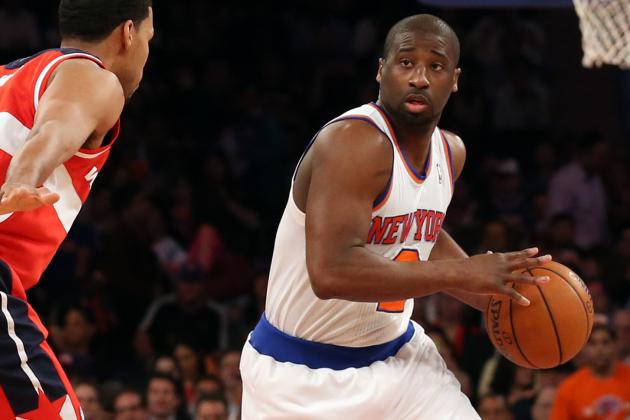 Anthony Gruppuso-USA TODAY Sport

Raymond Felton, SG: B-
Felton stepped back and let Carmelo Anthony and J.R. Smith do the heavy lifting.
Felton put up decent numbers, with seven points, four boards, three assists and a block. Knicks fans would like to see a little more offense from their starting shooting guard, or at least the aggressiveness and elusiveness that he flashed at the beginning of the year.
While he appears to have fully recovered from his broken finger, his offense has been inconsistent lately. Though Felton dropped 19 against the Chicago Bulls on Thursday, he has not had back-to-back games with more than 10 points in the month of April.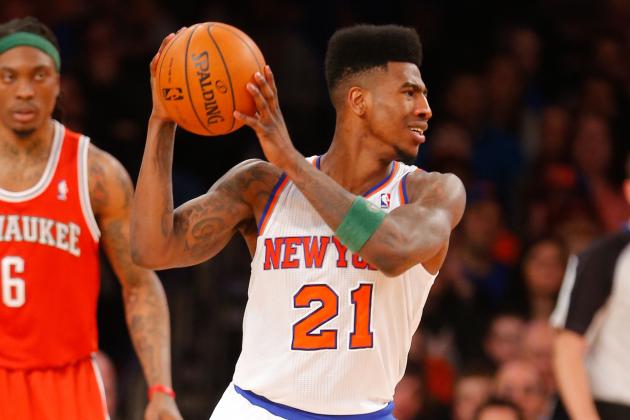 Jim O'Connor-USA TODAY Sports

Iman Shumpert, SF: B
Shumpert played heavy minutes on Friday, for reasons unknown. Was James White busy playing Word With Friends? In a game that grew into a blowout early in the fourth quarter, Shumpert was in for 35:31.
He only managed eight points on 3-of-11 shooting, but he corralled 11 rebounds, including three offensive boards. He also chipped in with three assists, a steal and a block.
Shumpert's knee looks to be in prime form, as his burst is back, and the energy he expends on defense is the only thing holding him back from bigger offensive numbers.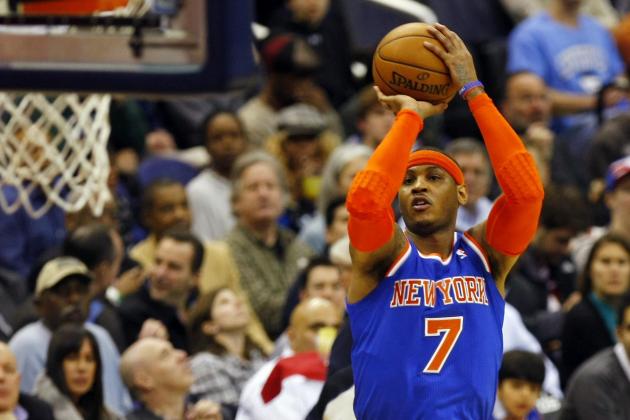 Geoff Burke-USA TODAY Sports

Carmelo Anthony, PF: A
Anthony entered Friday averaging 28.7 points per game, leading Kevin Durant by 0.4 points for the scoring title. He improved upon that mark against Cleveland, scoring 31 points in only three quarters.
Melo sat for the entire fourth as New York had the game in hand. It would have been fun to watch him go for another 40-point game, but there was no need to pile on and wear Anthony down.
But Carmelo's dominance on the glass was equally impressive, as he ripped down 14 rebounds. He power washed the offensive glass with seven boards there. And he even snagged a pair of steals.
Melo will continue his quest to be the NBA's top scorer on Sunday against the stout defense of the Indiana Pacers.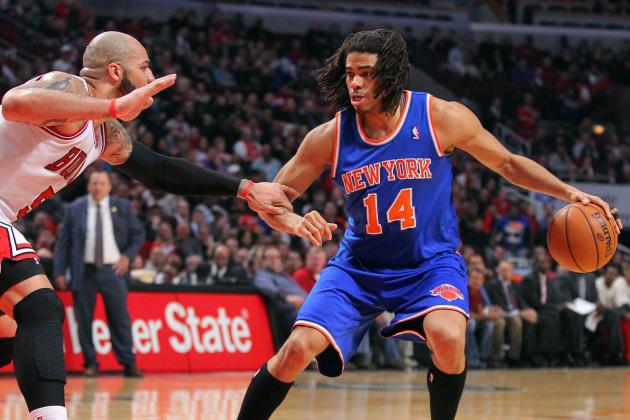 Dennis Wierzbicki-USA TODAY Spor

Chris Copeland, C: B+
With Tyson Chandler (bulging disc) and Kenyon Martin (sprained left ankle) both on the shelf, Mike Woodson crafted a small-ball lineup with 6'8" Chris Copeland essentially playing center so Carmelo Anthony could stay at the 4.
And Cope did not disappoint. His plus-17 rating tells you everything you need to know.
Copeland finished up with 12 points and two steals, but he was very effective in his 27 minutes and did not back down from Woodson's challenge. The 29-year-old has been a great role player for the Knicks, and he's shown the ability to score in bunches when he gets the chance.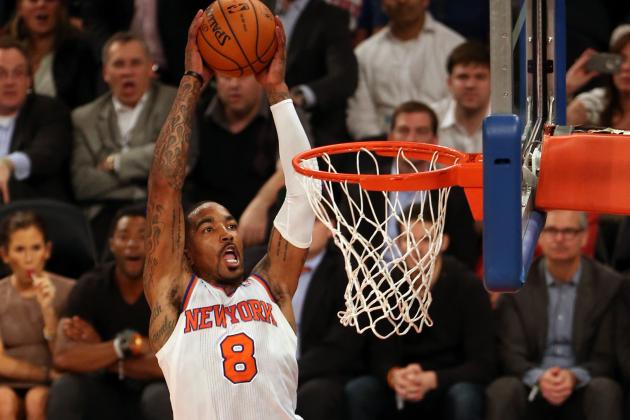 Anthony Gruppuso-USA TODAY Sport

J.R. Smith, SG: A+
The invulnerable J.R. Smith reigned supreme at Quicken Loans Arena. He was sinking shots like Chevy Chase zen putting in Caddyshack.
J.R.'s final dozen shots found the bottom of the net as he racked up a ridiculously efficient 31 points on 13-of-16 shooting. He also snatched five rebounds and two steals to go with his offensive assault.
Smith finished with a team-high rating of plus-21, and he somehow succeeded in outshining Carmelo Anthony's pursuit of the scoring title.
This came as an encouraging sign on the heels of J.R.'s 11-of-27 night against the Chicago Bulls. That came as a threat that the bad old J.R. was returning, but Smith removed any worries about that with his indomitable night in Cleveland.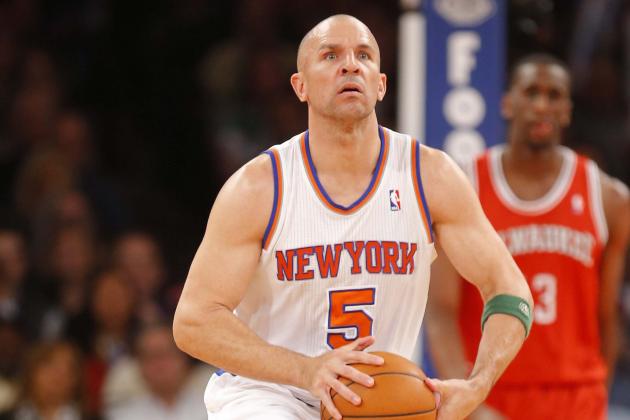 Jim O'Connor-USA TODAY Sports

Rest of Bench: C+
On a sad day that saw Kurt Thomas waived, the Knicks bolstered their frontcourt by signing Chinese leaguer Solomon Jones (per Ian Begley of ESPNNewYork.com). Most recently, the 6'10" Jones posted 15.8 points per game for Liaoning.
Jones played 12 minutes, grabbed a rebound and lost a pair of turnovers. He failed to score a point. He'll find his way into the mix over the next three games, as any Liaoning fan can tell you.
Jason Kidd knocked down a couple of threes and MSG announcer Walt Frazier observed that Kidd was using his legs more in his jump shot instead of pushing the ball. Kidd also grabbed four rebounds and finished with a plus-15 rating, the third best on the team.
Steve Novak struggled from the field, going just 1-of-7 in 25 minutes. For what it's worth, he did come up with a steal and a block, so at least he contributed something on defense.
The sharpshooter will need to get in rhythm quickly for the playoffs.
James White played four-and-a-half minutes and did not dunk. He ended the game with a team-low rating of minus-nine as the Cavs closed the deficit during garbage time.
The Knicks can clinch the second spot in the playoffs with a win over the Indiana Pacers on Sunday afternoon.