Golden State Warriors vs. LA Lakers: Live Score, Results and Game Highlights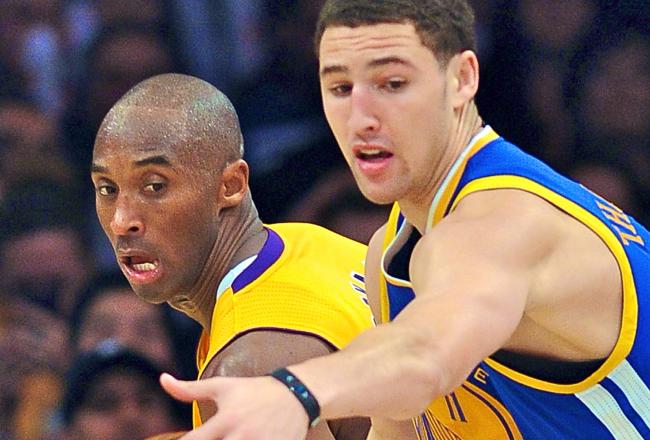 Game commentary from the Los Angeles Lakers 118-116 victory over the Golden State Warriors from the Staples Center in Los Angeles, CA on April 13, 2013.
4 Keys to Lakers Win:
1) Kobe's Determination and Example: Kobe's knees and ankles endured every tweak, twist and turn they could handle until he finally had to go back to the locker room with three minutes remaining in the game. Even so, Bryant still scored 34 points on 9-of-21 shooting and he had five boards an four assists. The real issue now becomes whether or not Kobe will be able to bounce back quick enough to help the Lakers secure a playoff spot. And beyond that, if he can play at close to full strength in the playoffs themselves.
2) Awesome Three-Point Shooting: The Lakers hit 12-of-25 from behind the arc, and the aforementioned Mamba hit four of them. Steve Blake was an identical 4-of-8 from behind the arc and he contributed 14 points.
3) Pau's All-Around Play: Pau Gasol, lost in the hype of a Steph Curry vs. Kobe Bryant showdown, had a monster game. Gasol had a triple double with 26 points, 11 rebounds and 10 assists.
4) Howard Hit Free Throws: If Howard had shot his typical under 50 percent, the Lakers would have lost this game. 14-of-22 is hardly anything to hang one's hat on, but ordinarily out of 22, we can only count on Howard hitting 10.
LAKERS 118, WARRIORS 116 — FINAL
Dwight had hit 13-of-20 from the line prior to his last trip, and he was able to hit the second only on that trip. Steph Curry launched a three-quarter court length heave that barely missed after the inbounds on the baseline (The Warriors had no timeouts), bouncing off the back iron.
Had Curry hit that, the performance would have had some legendary icing on it. Curry still managed 47 points, but scored just 15 in the second half (settle down, the "just" is joking, I promise).
LAKERS 118, WARRIORS 116 — FINAL
Pau Gasol missed a shot in close range, and the Warriors got the ball back with one last chance and 9.8 seconds to go. Steph Curry got double teamed by Dwight Howard and Steve Blake and found Carl Landry for a 16-foot jumper, but Landry missed what could have been a go-ahead basket. With 1.5 seconds on the clock and the Lakers at the line, this is likely in the books.
LAKERS 117, WARRIORS 116 — 1.5 seconds, Dwight shooting two
Klay Thompson threw it to Jarrett Jack in the corner and he stood on the baseline. Costly turnover, and that's one of the most common "unforced" turnovers we see in the NBA.
LAKERS 117, WARRIORS 116 — 29.8 seconds, Lakers ball
Steve Blake knocked down both free throws to give the Lakers a one point lead. With the Dubs down a point and 42.2 seconds to go, the Lakers will likely get the ball back. Once they do, they'll find themselves in search of a clutch scorer with the Mamba back in the locker room right now.
LAKERS 117, WARRIORS 116 — 42.2 seconds, Warriors 20-second Timeout, Warriors Ball
You can all rest easier knowing Carl Landry got the Sub of the Game award from the Warriors broadcast. In seriousness, Landry's play off the bench has been huge tonight and all year for the Warriors. He has 11 points, five rebounds and a block in 28 minutes off the bench, playing mostly the 5-spot in lieu of rookie Festus Ezeli.
WARRIORS 116, LAKERS 115 — 42.2 seconds 4th, Steve Blake shooting two
Carl Landry is listed at 6'9" and Dwight Howard is listed at 6'11". If you can look at your TV screen and tell me there is just two inches separating them...As I finish that thought, Howard throws down a massive dunk.
D12 has 27 points on the evening on 7-of-8 shooting. If that sounds impossible, it's because I neglected to mention he's shot 20 free throws (and hit 13).
LAKERS 115, WARRIORS 113 — 1:34 4th, Warriors Timeout, Warriors Ball
Kobe played to the point he literally could not go anymore. He looked physically sick, and struggled to walk off the court, going directly to the locker room. It's guys like Kobe that we should turn to as examples of how to play a sport. It was a gutsy performance, but enough was enough; is body just couldn't go anymore.
WARRIORS 109, LAKERS 109 — 2:57 4th
As gimpy as Kobe is, there is no quit in him. He nailed down a triple from the left wing to pull the Lakers within three, then came back and forced Steph Curry to pass the ball.
The fact that Bryant is at roughly 50 percent health and trying to cover a guy who's having a career night says enough about how much he wants to win this game and be in the playoffs. Sheer determination.
Kobe just knocked down another three over Harrison Barnes to tie it at 107. This is why Kobe is worth the $10-plus million more he receives than any other player in the Association, notwithstanding that the contract is a hold over from the old CBA.
WARRIORS 109, LAKERS 107 — 3:08 4th, Lakers Timeout
Klay Thompson picked up his fifth foul, too. Given that he's scored about 1/4th the Warriors points tonight, even with Steph Curry going bonkers, that's trouble for the Dubs. Thompson is remaining in the game.
WARRIORS 107, LAKERS 101 — 5:28 4th, Timeout In Play
Dwight Howard just picked up his fifth foul trying to block David Lee on the baseline. If you haven't seen a lot of the Lakers this year, their defense goes from horrible to indescribably and indefensibly disgusting when Howard hits the pine.
WARRIORS 107, LAKERS 98 — 6:35 4th
Jodie Meeks took 3.5 quarters to get on the scoreboard, but his triple from the left wing came at the right time. It pulled the Lakers within just four points, but Dwight Howard also picked up his fourth foul on the other end.
Somehow, the Lakers left Steph Curry wide open on the other end. He drilled it.
WARRIORS 105, LAKERS 98 — 7:03 4th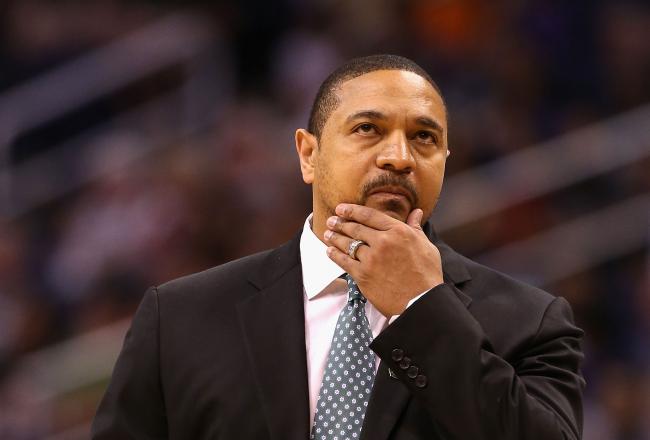 Given that Jason Kidd is still able to play in the NBA yet barely able to walk, Warriors coach Mark Jackson has to consider shedding the suit and playing every time he sees a frustrating Warriors turnover. Jackson always kept his turnovers down as a player and was a model of efficiency.
No doubt he's tried to inculcate that into his team's guards, but the frustration of being a former player surfaces when Jackson sees his guys do things he knows he wouldn't have done himself.
Amazingly, the Warriors have just five turnovers on the night and they've accrued 21 assists on their 41 field goals. Those are pretty good numbers once you consider that most of their offense is coming from their floor general.
WARRIORS 102, LAKERS 95 — 7:45 4th
Five guys with 20-plus points in tonight's game, and three of them are on the Lakers (Gasol, Bryant, Howard), yet L.A. still trails in the game. That's because of Mr. Curry's standout 39 points. The thing is, he had a mere seven in the second quarter. Can't score 50 doing that.
WARRIORS 96, LAKERS 89 — 9:34 4th, Timeout In Play
With their win over MIN tonight the Lakers sit just .5 ahead of Utah for the 8 spot. Big 12 mins coming up. TRACKER: bit.ly/LAL13tracker

— Los Angeles Lakers (@Lakers) April 13, 2013
There's a lot of people who want to see the Lakers miss the playoffs, but there also aren't many actual Utah Jazz fans outside of Utah. And I'm always one to root for the most competitive series, which is what fans will get if LA squares off against OKC. Besides that, the Jazz crept in last year and were swept 4-0 by the Spurs. They had their chance.
WARRIORS 92, LAKERS 87 — 11:00 4th
It's a 5pt deficit for the purple & gold heading to the final qtr. @paugasol on triple-double watch, 18/8/8. STATS: on.nba.com/ZS4jcN

— Los Angeles Lakers (@Lakers) April 13, 2013
It's been hard to notice Pau's all-around game given Stephen Curry's standout shooting. But this is the Gasol the Lakers need if they are going to fulfill their immense potential.
WARRIORS 90, LAKERS 85 — End of 3rd
Metta World Peace drove down the baseline to score and pull the Lakers within five going into the final quarter. Kobe Bryant had isolated for that final play, but Klay Thompson was forcing him left towards the defense and his weak side, and Mamba felt Metta had a better look down on the baseline.
WARRIORS 90, LAKERS 85 — End of 3rd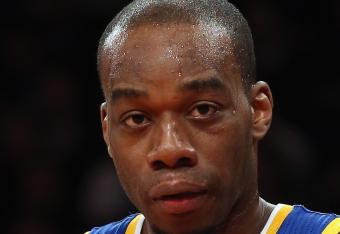 Presumably, Carl Landry is handling Dwight Howard to save David Lee's strength and efforts (and fouls) for the offensive end. Landry also has some beef to body up Howard, but No. 12 is having himself a nice night. Howard has 25 points, and it's mostly because he's knocked down his freebees.
Howard is 13-of-16 from the line tonight. With Kobe ailing, the Lakers may seek to run their offense more through their center and use Kobe to drive home the daggers down the stretch.
WARRIORS 90, LAKERS 83 — 31.4 seconds 3rd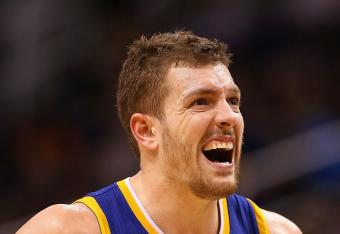 It had been all Steph Curry and Klay Thompson up until this point, but David Lee has scored the Warriors last two buckets and now has 10 points on the night on 5-of-6 shooting.
Having all three going will put this one away for the Lakers, who just received their first bench points from Metta World Peace mid-way through the third quarter.
WARRIORS 84, LAKERS 79 — 2:18 3rd, Lakers Timeout
Kobe is clearly in pain, and he's just 5-of-14 from the floor, but with the Lakers season on the line, he's not coming out unless he literally cannot walk. Limping provides enough wiggle room to do his thing, and his jumper in the paint drew the Warriors within four before a David Lee jumper re-extended the Warriors lead to six.
WARRIORS 82, LAKERS 76 — 3:35 3rd
Kobe's body is breaking down right in front of us, and he just won't come out of the game. He's gingerly walking, barely able to play, and Mike D'Antoni has brought no one off the bench to come in for him.
Kobe hasn't asked out of the game, and I'm fairly certain he'd play until he did enough damage that it really hurt his career. Someone needs to intervene here.
WARRIORS 78, LAKERS 72 — 5:51 3rd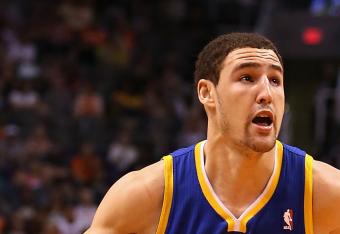 Klay Thompson's 20 points have been almost entirely overshadowed by his backcourt mate's performance. Still, Steph Curry's 39 points don't take away from Thompsons. The tandem is shooting 23-of-41 on the night (56 percent), but the rest of the Dubs are just 7-of-19 (36 percent).
Also, note that over 2/3rds the Warriors shots have come from their backcourt. Of the seven field goals scored by Warriors other than Curry or Thompson, none of them have come without the pair at least contributing the assist. Impressive.
WARRIORS 78, LAKERS 71 — 6:00 3rd
Earl Clark banged a three from the right baseline, his second triple of the game. But it's going to take a lot more than that to beat the Warriors with Steph Curry coming back and answering with another triple of his own. That's 39 and counting for Curry.
Clark has six points, but has not grabbed a single rebound, nor recorded an assist, steal or block.
Lakers need more from Earl the Pearl if they're going to pull this off, but it's not just Clark, the Lakers aren't getting much of anything outside of the production of Mamba, Dwight and Pau Gasol, who have combined to account for 52 of LA's 67 points.
WARRIORS 71, LAKERS 67 — 7:50 3rd
Kobe is back up and acting like he is fine. He is CLEARLY a cyborg sent from the future to torment the lives of all lesser beings!

— Not Bill Walton (@NotBillWalton) April 13, 2013
Kobe's leg took an awkward sideways turn as he landed between Festus Ezeli and Harrison Barnes, but he knocked down both free throws and stayed in the game. Sometimes, I wonder if Kobe even feels pain.
WARRIORS 68, LAKERS 63 — 9:10 3rd, LAL Timeout
Kobe Bryant is on the ground grabbing his knee, and the game is going to timeout. He's grimacing in pain, and the Lakers season will be defined in the next couple mins when the game returns. If Kobe doesn't come back in this, and his knee is hampered, it won't matter if the Lakers can make the playoffs without him. But let's not jump to conclusions, yet, though most Lakers fans at Staples are doing just that right now.
WARRIORS 62, LAKERS 61 — 10:30 3rd, LAL Timeout
This article is
What is the duplicate article?
Why is this article offensive?
Where is this article plagiarized from?
Why is this article poorly edited?