Duke Williams: Video Highlights for Former Nevada SS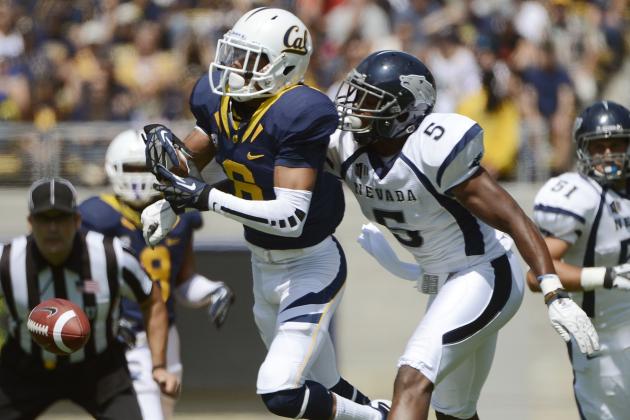 Thearon W. Henderson/Getty Images
Duke Williams is a high-octane player that can be molded into a contributor at the NFL level.
Duke Williams, former safety for Nevada, has many attributes that an NFL team would look for in a safety prospect.
He is tall enough at 5'11" and uses his strong frame as a battering ram against offensive players. Williams is fast and has a great initial burst, which allows him to quickly gain momentum when he looks to deliver a big hit.
He is also a reliable tackler in space. Williams squares up nicely to the ball-carrier and creates a good base. He gets his pad level down and wraps up the lower body of the ball-carrier for a sure tackle.
In coverage, Williams can be relied on as a single-high safety to patrol midfield, or he can be used in man coverage. His athletic ability allows him to contest for jump balls with larger wide receivers.
Here are some highlights from Williams' career while at Nevada.
Note: Williams wore No. 5 and No. 20 while with the team.
Begin Slideshow

»
This is the perfect example of the battering-ram style of hitting that Williams uses.
The quarterback made a bad decision here. He hung his running back out to dry on Williams' side of the field. You can see Williams react quickly to this play as he starts sprinting toward the would-be receiver before the ball is completely out of the quarterback's hands.
From there, Williams just lowers his pad level and uses his momentum to deliver a huge hit on the running back, which knocks the ball away and forces the incompletion.
Williams is lined up as the deeper safety in this play. The tight end on the strong side of the field runs a crossing route over the middle. Williams picks him up and stays close in pursuit.
Having timed his jump perfectly, Williams goes up at the last second to knock the ball out of the air before it reaches its intended target.
This play demonstrates Williams' ability to excel in man coverage and puts his athleticism on display.
This is a great example of the presence that Williams brings when he is up in the box in run support or rushing the passer. Williams is at his best when he is unleashed into the backfield and allowed to make plays near the line of scrimmage.
During this video, Williams showcases his ability to maintain a high motor and pursue ball-carriers across the field. He does a great job of bringing down his target once he gets in position.
Williams has a unique tackling style and will push over offensive players rather than wrap them up sometimes. However, it has proven to be effective to this point.
The first few segments of this video show Williams dropping back in coverage against deep routes.
In the first segment, Williams does a great job of positioning himself on top of the streaking receiver, which throws off the timing of the route and also makes Williams the primary target. Even though he cannot find the ball to come up with an interception, Williams does a great job in man coverage of breaking up this play.
The next clip shows Williams dropping into deep coverage yet again. This time, he is not covering the intended receiver. He does notice that the ball is thrown and realizes that he can make a break for it and attempt to make a play. He gets to the receiver just in time to make enough of a hit to jar the ball loose and prevent a touchdown.
After a replay and one short pass attempt, another deep pass is intended up the middle of the field with Williams in coverage. He trails the receiver but is quick enough to close the gap in time. He reads the receiver and gets his hands up at the last moment before the ball is within the receiver's grasp. This is enough to knock the ball away from the intended target and force the incompletion.
This is the absolute all-encompassing highlight reel of Williams' tenure at Nevada.
During this three-minute video, every aspect of Williams' game is highlighted.
This video starts off with some huge hits from Williams. This is followed by some great pursuit and solid tackling. Finally, we see some solid coverage that results in passes defensed and interceptions come into the mix.
While all of these great attributes are on display, keep in mind the absolute high motor that was revealed on previous videos. Williams does not seem to take plays off or quit on a play in progress. He may take some time to develop, but he will certainly find a role on an NFL team.