Shamarko Thomas: Video Highlights for Former Syracuse SS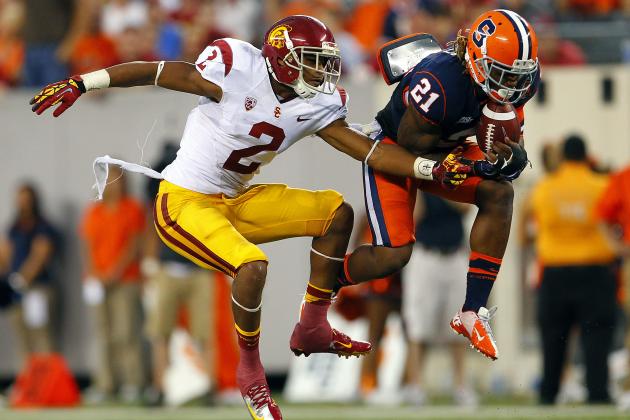 Rich Schultz/Getty Images
Shamarko Thomas is one of the fastest and most explosive safeties in this year's draft class.
Former Syracuse safety Shamarko Thomas, 5'9", seems to be a fairly undersized safety. However, he does use his natural leverage to his advantage.
Known for his aggressiveness at the line of scrimmage and against the run, Thomas is not afraid to throw his body around in an effort to make big tackles.
Thomas is not the strongest coverage safety in the draft due to his size limitations, which cause him to lose on jump balls, but he is very quick and can close gaps in the secondary very fast.
Being versatile certainly helps Thomas as well. During his years at Syracuse, he saw playing time at linebacker and cornerback before settling at safety. He is a very well-versed defensive player and would certainly be an upgrade to many NFL rosters.
Let's take a look at some highlights from Thomas' days with the Orange.
Begin Slideshow

»
This is what Thomas does best.
In this video, watch as he creeps up to the line of scrimmage just before the ball is snapped. The quarterback does not recognize the extra defender coming on the blitz, and no blocker is assigned to him.
Thomas bursts off the line of scrimmage quickly and is untouched on his way to the quarterback. He lunges forward and wraps up the quarterback nicely with both arms while hitting the football with the crown of his helmet. This causes a fumble, which is recovered by Syracuse.
Yet another highlight of how dangerous Thomas can be at the line of scrimmage.
Even though he begins this play deeper in the secondary, he recognizes the run and starts moving toward the line early. On the snap, Thomas keeps his patience while he waits to make sure that the running back will be handed the ball.
Once the exchange is given, Thomas quickly finds a hole between blockers and sprints ahead toward the ball-carrier. He gets there quickly and wraps up the ball-carrier with great technique, causing a loss on the play.
A safety that can make up this kind of ground in run support is dangerous on any defense.
This video starts out with Thomas on special teams with the kick coverage unit. He does a nice job staying in his lane and blows up a blocker on his way downfield. This will be a great trait to carry into the NFL.
One minute into the video, Thomas lines up in press coverage against the slot receiver. The ball is not thrown his way, but he maintains tight coverage, which is a plus for a player at his position.
At the 1:52 mark, Thomas is lined up against a larger outside wide receiver. He does a nice job using his strength to bump him off of his route early which forces the quarterback to look in another direction.
Throughout the video, Thomas' solid tackling and extremely high motor are constantly on display.
The first play in this video is the main focus for Thomas here. It really showcases his ability to track down a ball-carrier on the back end of a play.
Thomas starts on the weak side of the field, deep in the secondary. He begins to cheat up toward the line of scrimmage before the snap. However, the play is going away from him immediately.
He redirects himself to get a better angle and bursts across the width of the field and is able to track down and tackle the ball-carrier from behind. This play gained 12 yards but could have gained plenty more had Thomas not been in pursuit.
This is a great highlight package from Thomas' junior year at Syracuse.
The video features the best attributes that he has to offer. Throughout the video, Thomas shows off his high motor while flying across the field in constant pursuit.
His ability to tackle in a very technical fashion is one thing that Thomas does just as well as any other prospect at his position. He is certainly one of the more versatile safeties while in run support. His burst gets him into the backfield quickly, where he finishes off ball-carriers with solid tackling.